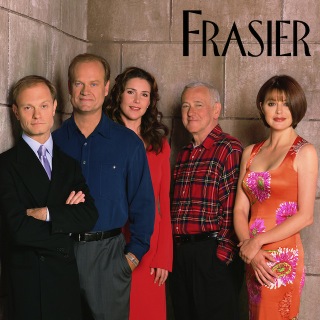 Season 0
Tuesday, May 20th, 2003

s0e1: Behind the Couch: The Making of 'Frasier'

A documentary about the creation of "Frasier".

not specified

s0e2: Frasier Crane's Apartment
Season 1
Thursday, September 16th, 1993

s1e1: The Good Son

Six months after moving back to Seattle to start his career as a radio psychiatrist, Frasier is forced to take in his father Martin, a disabled former police officer, and his dog Eddie, and to hire Daphne Moon, a housekeeper and physical therapist.

Thursday, September 23rd, 1993

s1e2: Space Quest

Still adjusting to his new home life with Martin, Daphne, and Eddie, Frasier spends a day searching for a quiet place to read his book alone.

Thursday, September 30th, 1993

s1e3: Dinner at Eight

Frasier and Niles's plan to "improve" their father's tastes by taking him to a fancy restaurant rebounds on them when he takes them to his favorite place, a rustic steakhouse.

Thursday, October 7th, 1993

s1e4: I Hate Frasier Crane

After a newspaper critic prints an unflattering column about his radio show, Frasier starts a feud which culminates in a physical challenge.

Thursday, October 14th, 1993

s1e5: Here's Looking at You

Martin meets a woman via telescope after discovering the fun of spying into other people's apartments. Frasier eagerly tries to set Martin up with Irene, but is perplexed when Martin rebuffs her.

Thursday, October 21st, 1993

s1e6: The Crucible

Frasier throws a dinner party to showcase his newest possession (a painting) and is horrified when the forgetful artist declares it a forgery.

Thursday, October 28th, 1993

s1e7: Call Me Irresponsible

Frasier deals with an ethical dilemma when he begins dating a woman after he advises her boyfriend to break up with her. When the boyfriend expresses a renewed interest in Catherine, Frasier does everything he can to prevent their re-acquaintance.

Thursday, November 4th, 1993

s1e8: Beloved Infidel

Niles and Frasier begin to suspect their father of cheating on their mother years earlier after they discover him in an apparent clandestine rendezvous with an old friend.

Thursday, November 11th, 1993

s1e9: Selling out

Frasier's agent cons him into endorsing a product he doesn't support...and which makes Frasier look a little nutty.

Thursday, November 18th, 1993

s1e10: Oops

Bulldog panics and quits the station after he overhears Frasier discussing a rumor that Bulldog will be fired. Frasier does all he can to help restore Bulldog's job.

Thursday, December 2nd, 1993

s1e11: Death Becomes Him

Frasier becomes aware of his own mortality when a man his age suddenly drops dead. Frasier attends the man's Shiva to determine how he could have died so young.

Thursday, December 16th, 1993

s1e12: Miracle on Third or Fourth Street

Frasier volunteers to work on Christmas Day when he learns that Frederick will not be visiting him for the holidays. The callers are as depressed as Frasier, who decides to cheer himself up by eating dinner at a local diner where the patrons assume he's homeless.

Thursday, January 6th, 1994

s1e13: Guess Who's Coming to Breakfast

Frasier makes a fool of himself yet again, when he talks at length on the radio about Martin's romantic rendezvous.

Thursday, January 20th, 1994

s1e14: Can't Buy Me Love

Martin convinces Frasier to participate in a charity bachelor auction.

Thursday, January 27th, 1994

s1e15: You Can't Tell a Crook by His Cover

Frasier and Niles try to protect Daphne's honor when she goes on a date with an ex-con.

Thursday, February 3rd, 1994

s1e16: The Show Where Lilith Comes Back

Frasier's ex-wife Lilith comes to Seattle, ostensibly to attend a convention, but as Frasier soon discovers, Lilith has ulterior motives.

Thursday, February 10th, 1994

s1e17: A Midwinter Night's Dream

Niles tries to patch up another disagreement with Maris with a romantic dinner, which Daphne offers to prepare. Frasier comes charging to the rescue as he realizes that Daphne and Niles are all alone on a dark and stormy night.

Thursday, February 17th, 1994

s1e18: And the Whimper Is...

At his carnivorous agent's urgings, Frasier campaigns hard to win a Seabee, Seattle radio's biggest award, only to regret his actions when he learns that Seattle's most eminent talk show host is retiring at the end of the year.

Thursday, March 17th, 1994

s1e19: Give Him the Chair!

Frasier gets himself into trouble when he throws out Martin's old chair, rationalizing that he would actually be helping his father. Frasier searches all over Seattle, and ultimately to a high school production of "Ten Little Indians" to retrieve the chair.

Thursday, March 31st, 1994

s1e20: Fortysomething

Frasier fears being a "mid-life crisis cliche" after he flirts with an attractive 22-year-old store clerk.

Thursday, April 14th, 1994

s1e21: Travels with Martin

The Cranes and Daphne set off on a road trip in a Winnebago to Mount Rushmore. Trouble ensues when Martin takes them into Canada, where Daphne, due to legal particulars, isn't allowed.

Thursday, May 5th, 1994

s1e22: Author, Author

Sibling rivalry flares when Frasier and Niles decide to collaborate on a self-help book.

Thursday, May 12th, 1994

s1e23: Frasier Crane's Day off

Frasier comes down with the flu, so food critic Gil Chesterton fills in for him. When paranoid Frasier believes both Gil and subsequent fill-in host Niles are after his job, he's more determined than ever to get back on the air.

Thursday, May 19th, 1994

s1e24: My Coffee with Niles

Frasier and Niles meet at Cafe Nervosa to discuss the one-year anniversary of Frasier's move to Seattle.
Season 2
Tuesday, September 20th, 1994

s2e1: Slow Tango in South Seattle

Frasier discovers that an old acquaintance from Boston has written a steamy romance novel that includes an incident from Frasier's life, an affair with his piano teacher when he was only 17. Fearing the exposure could embarrass his teacher, Frasier pays her a visit and finds she's not quite what he expected.

Tuesday, September 27th, 1994

s2e2: The Unkindest Cut of All

After Eddie impregnates a neighbor's dog, it's decided it's time for Eddie to get neutered. As Niles and Frasier try to catch Eddie, he flees out the door and into Seattle.

Tuesday, October 4th, 1994

s2e3: The Matchmaker

Frasier sets up a date for Daphne with the new station manager, Tom, unaware that Tom is gay and believes he's actually dating Frasier.

Tuesday, October 11th, 1994

s2e4: Flour Child

With Niles unsure he's ready for the responsibilities of fatherhood, he takes to carrying a ten-pound sack of flour around Seattle to simulate a child.

Tuesday, October 18th, 1994

s2e5: Duke's, We Hardly Knew Ye

Niles and Frasier can't bring themselves to tell Martin that they're investors in the group tearing down his favorite bar.

Tuesday, November 1st, 1994

s2e6: The Botched Language of Cranes

Frasier's advice to a caller prompts criticism after he offends all of Seattle. To get back in their good graces, Frasier agrees to emcee a charity benefit, which in true Crane style only leads to further calamity.

Tuesday, November 8th, 1994

s2e7: The Candidate

Frasier agrees to make a television commercial for his candidate of choice in a local election, only to learn some very distressing information moments before they film.

Tuesday, November 15th, 1994

s2e8: Adventures in Paradise (1)

Frasier takes a date to Bora Bora...and runs into an unexpected person.

Tuesday, November 22nd, 1994

s2e9: Adventures in Paradise (2)

Frasier makes a fool of himself in Bora Bora, obsessed with one-upping Lilith.

Tuesday, November 29th, 1994

s2e10: Burying a Grudge

While visiting Maris at the hospital (she's having a face-lift), Frasier finds Martin's old partner Artie. He convinces Martin, who hasn't spoken with Artie in years, to patch up their differences.

Tuesday, December 13th, 1994

s2e11: Seat of Power

Frasier calls in a plumber who just happens to be Danny Kriezel, the bully who terrorized Niles back in high school.

Tuesday, January 3rd, 1995

s2e12: Roz in the Doghouse

Roz accepts an offer from Bulldog to produce his sports show, ignoring Frasier's protests that Bulldog's only trying to seduce Roz.

Tuesday, January 10th, 1995

s2e13: Retirement is Murder

Martin tries to solve a case he's been unable to close for years: the "Weeping Lotus" murder, involving a prostitute, a cop and a monkey.

Tuesday, February 7th, 1995

s2e14: Fool Me Once, Shame on You, Fool Me Twice...

A conniving man steals Frasier's briefcase, then goes around Seattle impersonating Frasier.

Tuesday, February 14th, 1995

s2e15: You Scratch My Book...

Frasier agrees to write an introduction to a new book by a pop psychologist. After reading the book, Frasier realizes he can't endorse it, but he's so attracted to Dr. Honey he can't find a way to turn her down.

Tuesday, February 21st, 1995

s2e16: The Show Where Sam Shows up

Frasier's old friend from Boston, Sam Malone, drops in on Frasier with a problem: he was supposed to be married the day before and couldn't go through with it. Frasier believes he can solve all of Sam's problems, until he meets his fiancé.

Tuesday, February 28th, 1995

s2e17: Daphne's Room

Daphne decides to move out of the Crane residence after Frasier continually invades the privacy of her room.

Tuesday, March 21st, 1995

s2e18: The Club

Niles and Frasier sabotage each other's chances for acceptance into Seattle's prestigious Empire Club.

Tuesday, March 28th, 1995

s2e19: Someone to Watch over Me

Frasier becomes convinced a crazy fan is stalking him and hires a female bodyguard to protect him at the Sea Bee broadcasting awards.

Tuesday, April 18th, 1995

s2e20: Breaking the Ice

Frasier realizes that his father has never told Frasier he loves him, so Frasier tags along with Niles and Martin on an ice-fishing trip to try to get closer to his father.

Tuesday, May 2nd, 1995

s2e21: An Affair to Forget

Niles takes up a sword to fence for Maris' honor after a caller to Frasier's show gives Frasier the idea that Maris is having an affair with her fencing instructor.

Tuesday, May 9th, 1995

s2e22: Agents in America, Part III

On Bebe's advice, Frasier stages a "sick-out" to finagle a pay raise. After the station paints over his parking space, cleans out his cubicle and auditions replacements, Frasier demands that Bebe negotiate. Of course with Bebe, negotiations are never simple.

Tuesday, May 16th, 1995

s2e23: The Innkeepers

Frasier and Niles open their own restaurant, "Les Frères Heureux" (The Happy Brothers). When Opening Night arrives, everything that can go wrong does.

Tuesday, May 23rd, 1995

s2e24: Dark Victory

Martin's birthday finds everyone in a bad mood. Daphne and Martin are arguing, Niles loses a patient because of Frasier, etc. A citywide power outage does nothing to soothe jangled nerves. Frasier uses his professional training to help bring everyone together.
Season 3
Tuesday, September 19th, 1995

s3e1: She's the Boss

A new station manager, Kate Costas, takes over and disagrees with Frasier from the beginning. When Frasier refuses to implement Kate's ideas, she banishes his program to the 2:00 AM shift.

Tuesday, September 26th, 1995

s3e2: Shrink Rap

Frasier and Niles attempt to go into practice together, leading to one disaster after another. This episode begins in a psychiatrist's office with the Crane boys detailing their escapade, and goes on to tell the story through flashbacks.

Tuesday, October 10th, 1995

s3e3: Martin Does It His Way

While digging through boxes, Frasier finds an unfinished song written by Martin specifically for Frank Sinatra.

Tuesday, October 31st, 1995

s3e4: Leapin' Lizards

After yet another one of Bulldog's practical jokes, Frasier decides to retaliate by strategically placing a lizard where Bulldog (who's deathly afraid of lizards) is sure to find it.

Tuesday, November 7th, 1995

s3e5: Kisses Sweeter Than Wine

Frasier hires a contractor to buff a small scratch out of the floor on the day he is to host a wine tasting, only to find everything spiral into a major catastrophe, as problems pile onto each other. Meanwhile, Daphne can't take her eyes off the handsome contractor.

Tuesday, November 14th, 1995

s3e6: Sleeping with the Enemy (1)

The staff go into open revolt after Kate cancels their annual raise. Frasier, chosen to represent the employees, marches into Kate's office to demand raises and finds himself locked in a passionate embrace.

Tuesday, November 21st, 1995

s3e7: The Adventures of Bad Boy and Dirty Girl (2)

Kate and Frasier agree to slow their relationship down. All of Seattle hears about it when they lose their resolve and make out in the radio booth. Seattle's abuzz as they try to figure out the identity of "Dirty Girl."

Tuesday, November 28th, 1995

s3e8: The Last Time I Saw Maris

Maris throws Niles out of the house after he stands up to her. Frasier and Martin talk Niles out of crawling back, but...

Tuesday, December 19th, 1995

s3e9: Frasier Grinch

Frederick's Christmas visit to Seattle appears to be a disaster after the shipping company sends a Barbie and a Homemade Casserole set instead of a "Living Brain". Frasier heads to the mall for some last-minute shopping.

Tuesday, January 9th, 1996

s3e10: It's Hard to Say Goodbye If You Won't Leave

Frasier realizes the true depth of his feelings for Kate, only to find out that she's moving to Chicago the next day. The night culminates with the two having a long discussion in the airport lounge, finding out more about each other than they ever wanted to know.

Tuesday, January 16th, 1996

s3e11: The Friend

Frasier's on-air appeal for friendship backfires when a complete bore calls.

Tuesday, January 30th, 1996

s3e12: Come Lie with Me

Frasier lays down the law after finding out Joe spent the night in Daphne's room, leaving the Cranes paralyzed at the thought that Daphne may move out.

Tuesday, February 6th, 1996

s3e13: Moon Dance

Daphne gives Niles ballroom dancing lessons, as he prepares for the annual "Snow Ball". When his date falls ill, Niles takes Daphne to the ball, providing him with the night of his life.

Tuesday, February 13th, 1996

s3e14: The Show Where Diane Comes Back

Frasier's old love, Diane Chambers, comes to Seattle for the grand opening of her play about the "losers" at Cheers and their hopeless obsession with "Mary Anne". Frasier gets roped into financing the whole thing and narrowly avoids another fling with Diane.

Tuesday, February 20th, 1996

s3e15: A Word to the Wiseguy

Niles uses a man of questionable ethics, Jerome Belasco, to "fix" a parking ticket for Maris. Frasier advises Jerome's girlfriend, Brandy, to leave Jerome after she rattles off a list of his poor traits. Frasier and Niles fear retribution from Jerome.

Tuesday, February 27th, 1996

s3e16: Look before You Leap

Frasier suggests that everyone should take a "leap," or go outside their comfort zone, to celebrate Leap Year. For his leap, Frasier decides to sing an Italian aria instead of his usual "Buttons and Bows" for a benefit.

Tuesday, March 12th, 1996

s3e17: High Crane Drifter

A stressed Frasier resorts to physical force with a rude Cafe Nervosa patron.

Tuesday, March 26th, 1996

s3e18: Chess Pains

Frasier becomes obsessed with chess after Martin defeats him time after time after time.

Tuesday, April 9th, 1996

s3e19: Crane vs. Crane

Niles and Frasier face off when they take opposite sides in a courtroom hearing over an old man's sanity. Niles believes Harlow Safford to be as crazy as a loon, while Frasier interprets his quirks as eccentricities.

Tuesday, April 23rd, 1996

s3e20: Police Story

Frasier meets an attractive police officer, but she falls for Martin.

Tuesday, April 30th, 1996

s3e21: Where There's Smoke There's Fired

KACL is sold to Big Willy Boone, who happens to be engaged to Frasier's agent, Bebe. Big Willy demands that Bebe break her smoking habit, and enlists Frasier's help to make sure she gets it done in three days, or else.

Tuesday, May 7th, 1996

s3e22: Frasier Loves Roz

Roz dates one of Niles' patients, a compulsive womanizer. Frasier wants to warn Roz, but can't find away around his ethical obligation for confidentiality. Roz mistakes his attempts to warn her for secret yearnings.

Tuesday, May 14th, 1996

s3e23: The Focus Group

Eleven of the twelve members of a focus group think The Frasier Crane Show is perfect. Frasier obsesses about the one man who disagrees, a newspaper stand owner, and in the process inadvertently ruins the man's life.

Tuesday, May 21st, 1996

s3e24: You Can Go Home Again

Roz gives Frasier a copy of his first broadcast as a present to celebrate his three-year anniversary at KACL. As he listens, Frasier remembers the events as he first arrived in Seattle and reunited with Niles and Martin.
Season 4
Tuesday, September 17th, 1996

s4e1: The Two Mrs. Cranes

When Daphne's ex-fiance comes to visit, she tries to let him down easy by pretending to be married to Niles. However, when Frasier, Martin, and Roz get involved in the charade, the evening spirals out of control.

Tuesday, September 24th, 1996

s4e2: Love Bites Dog

Frasier can't wait to go out with the gorgeous women Roz found for him, until Bulldog steals her away right under Frasier's nose.

Tuesday, October 15th, 1996

s4e3: The Impossible Dream

Frasier and Niles struggle to interpret Frasier's recurring dream, in which Frasier finds himself in bed with Gil Chesterton.

Tuesday, October 22nd, 1996

s4e4: A Crane's Critique

Frasier and Niles are ecstatic when their father becomes good friends with reclusive author T.H. Houghton.

Tuesday, November 12th, 1996

s4e5: Head Game

Niles is the talk of Seattle after a brief session with the local basketball team's slumping star turns the player's fortunes around. Justifiably proud of himself, Niles is mortified to learn that Reggie believes his good luck is due to Niles' hair.

Tuesday, November 19th, 1996

s4e6: Mixed Doubles

Just as Niles finally gets up the nerve to express his feelings to Daphne, Frasier convinces him it could be a huge mistake. Niles is furious with Frasier after Daphne picks up a Niles-clone at a singles bar.

Tuesday, November 26th, 1996

s4e7: A Lilith Thanksgiving

The Cranes pack up and visit Lilith and Frederick for Thanksgiving. Lilith and Frasier meet with the dean of a prestigious school, hoping to enroll Frederick. After their initial visit goes poorly, they return time and time again, hoping to ingratiate themselves with the headmaster.

Tuesday, December 10th, 1996

s4e8: Our Father Whose Art Ain't Heaven

Martin misinterprets Frasier's polite compliment of a painting as genuine sincerity, prompting him to buy it for his son. An ungrateful Frasier finds it difficult to express his feelings.

Tuesday, January 7th, 1997

s4e9: Dad Loves Sherry, the Boys Just Whine

Frasier and Niles deal with Martin's abrasive new girlfriend, Sherry.

Tuesday, January 14th, 1997

s4e10: Liar! Liar!

Frasier and Niles reminisce about an incident in their prep school days where a fellow classmate was punished for their transgression. Overcome with guilt, Frasier visits the man, now in prison, to try to pinpoint the beginning of his life of crime.

Tuesday, January 21st, 1997

s4e11: Three Days of the Condo

Frasier fights against the condo board president's tyranny when his plans to install a door knocker are denied.

Tuesday, February 11th, 1997

s4e12: Death and the Dog

Eddie feels blue, so Martin hires a dog psychiatrist to determine the cause of his depression.

Tuesday, February 18th, 1997

s4e13: Four for the Seesaw

A spontaneous gesture gets the Crane boys a weekend double date with two attractive women. Frasier tries to help Niles overcome the feeling that he's betraying Maris.

Tuesday, February 25th, 1997

s4e14: To Kill a Talking Bird

Niles hosts a party to break in his new apartment. Unfortunately, his new pet bird, Baby, picks the night of the party to attach itself firmly to Niles' head.

Tuesday, March 11th, 1997

s4e15: Roz's Krantz & Gouldenstein Are Dead

Roz comes to be known as the "Angel of Death" after several people die on her while she's helping out at a retirement home. Meanwhile, Frasier begins to wonder about the effect his talk show has on people.

Tuesday, April 1st, 1997

s4e16: The Unnatural

Frederick is coming to visit and he wants to visit Microsoft. Frasier has been unable to book the visit and so takes Frederick to KACL instead. Frederick meets Bulldog and finds out that the KACL softball team is one man down as Roz injured herself during a game. Frederick suggests that his father play, and not wanting to let Frederick down, Bulldog says Frasier is too good for the team. Frederick insists to his father that he should play, since he's "really good." Frasier doesn't want to let his son down and so agrees. Of course, he knows nothing about baseball, so Martin takes him down to the park for some practice. Can Frasier learn how to play in just a few hours? Not very likely... Meanwhile Niles is jealous of his nephew's crush on Daphne, and how much attention she's paying him.

Tuesday, April 15th, 1997

s4e17: Roz's Turn

Roz decides to audition for a radio show when a slot opens up. Frasier unwittingly torpedoes Roz's potential show after an offhand remark to his carnivorous agent Bebe sets her in motion.

Tuesday, April 22nd, 1997

s4e18: Ham Radio

Frasier's ambitious plans to put on a "classic" radio drama are foiled after the actors, perturbed by Frasier's tyrannical style, revolt.

Tuesday, April 29th, 1997

s4e19: Three Dates and a Breakup (1)

Niles attends a benefit hosted by Frasier in the hopes of meeting an eligible woman. Unfortunately, Niles has to contend with Frasier, the self-professed "babe magnet," who manages to catch the eye of every attractive woman. Frasier calls Norm to gloat. Martin breaks up with Sherry over an inconsequential offense.

Tuesday, April 29th, 1997

s4e20: Three Dates and a Breakup (2)

After Martin's breakup with Sherry, Frasier realizes that his father didn't really want to leave her, so he uses his professional skills to bring them back together.

Tuesday, May 6th, 1997

s4e21: Daphne Hates Sherry

Sherry's meddling in Daphne's personal life hits a new low when she hands out Daphne's phone number to strangers. Daphne makes Niles' dreams come true when she seeks refuge from Sherry at his home.

Tuesday, May 13th, 1997

s4e22: Are You Being Served?

Niles seeks counsel from both Martin and Frasier when Maris serves him with divorce papers.

Tuesday, May 20th, 1997

s4e23: Ask Me No Questions

Niles asks Frasier whether he believes Niles and Maris are meant to be together. Frasier, touched that Niles thinks enough of him to ask him such an important question, ponders it for days, trying hard to give the question the thought it requires.

Tuesday, May 20th, 1997

s4e24: Odd Man Out

After dining at a "couples" restaurant alone, Frasier realizes the void that single living leaves in his life. He impulsively rushes to the airport to meet a total stranger after she accidentally leaves a message on his answering machine.
Season 5
Tuesday, September 23rd, 1997

s5e1: Frasier's Imaginary Friend

Frasier returns from Acapulco after a torrid affair with a supermodel/zoologist who's sworn him to secrecy regarding her identity. No one believes Frasier when he finally divulges her identity, instead believing that Frasier's finally lost his marbles.

Tuesday, September 30th, 1997

s5e2: The Gift Horse

Frasier and Niles compete to buy their father the best birthday present, culminating with Niles buying Martin's old police horse and Frasier giving him a humongous television.

Tuesday, November 4th, 1997

s5e3: Halloween

Everyone attends Niles' literary themed Halloween party, including Roz, who tells Frasier she may be pregnant.

Tuesday, November 4th, 1997

s5e4: The Kid

Roz decides to keep her baby. Frasier prompts her to talk with the child's father.

Tuesday, November 11th, 1997

s5e5: The 1000th Show

The whole town is abuzz over "Frasier Crane Day" as Frasier celebrates his 1000th broadcast with a large outdoor gala.

Tuesday, November 18th, 1997

s5e6: Voyage of the Damned

Frasier is delighted to be a handpicked celebrity on a "luxury" cruise until he discovers it's luxurious in name only. Niles and Maris are on the outs after she tells him she'll be vacationing in Switzerland on their anniversary.

Tuesday, November 25th, 1997

s5e7: My Fair Frasier

Frasier has a relationship with a high-profile criminal defense attorney, in which he finds himself in the more submissive role.

Sunday, November 9th, 1997

s5e8: Desperately Seeking Closure

Frasier desperately tries to find out what went wrong when Sam breaks off their relationship.

Tuesday, December 16th, 1997

s5e9: Perspectives on Christmas

Each member of Frasier's family tells a masseuse all about their eventful day, which includes Martin's participation in a church Christmas pageant and Niles' experience being trapped in an elevator.

Tuesday, January 6th, 1998

s5e10: Where Every Bloke Knows Your Name

Frasier tags along with Daphne to her favorite pub and realizes he's been missing a Cheers-like atmosphere ever since he left Boston. They find themselves at odds with one another when Daphne insists that Frasier stop frequenting "her" place.

Tuesday, January 13th, 1998

s5e11: Ain't Nobody's Business If I Do

Daphne accidentally finds an engagement ring in Martin's dresser, frightening Niles and Frasier with the spectre of "Stepmother Sherry."

Tuesday, January 20th, 1998

s5e12: The Zoo Story

It's re-negotiation time at KACL again. This time Frasier opts for ethics over avarice when he chooses do-gooder agent Ben (whose ideas include naming a bird at the zoo "Frasier Crane") over Bebe.

Tuesday, February 3rd, 1998

s5e13: The Maris Counselor

Niles and Maris' new counselor, Dr. Schenkman, advises Niles to inject some spontaneity into their relationship, inspiring Niles to surprise Maris in her bedroom. Niles isn't quite prepared for what he finds.

Tuesday, February 24th, 1998

s5e14: The Ski Lodge

The Crane household and Daphne's good friend Annie take a weekend trip to a ski lodge, leading to romantic misunderstandings.

Tuesday, March 3rd, 1998

s5e15: Room Service

Lilith comes to Seattle after her husband leaves her for a man, and throws herself at Frasier. Frasier uses all his willpower to resist, but Niles isn't as strong.

Tuesday, March 17th, 1998

s5e16: Beware of Greeks

The Cranes are reunited with a branch of the family when Frasier's cousin, Nikos, is getting married. First, Frasier has to soothe old wounds with Martin's sister-in-law, incurred when Frasier urged Nikos to pursue a career in juggling rather than medicine.

Tuesday, March 24th, 1998

s5e17: The Perfect Guy

The whole radio station is buzzing over the incredibly attractive and talented new radio host, Dr. Clint Webber. Frasier tries desperately to find Clint's "Achilles heel," while Martin is thrown out of the only store in Seattle selling Eddie's favorite dog food.

Tuesday, April 7th, 1998

s5e18: Bad Dog

Bulldog is falsely hailed as a hero for foiling a coffee shop robbery. Only Frasier knows what really happened, and the adulation heaped on Bulldog eats him up inside.

Tuesday, April 21st, 1998

s5e19: Frasier Gotta Have It

Frasier tries to deny that his attraction to a younger woman is purely physical.

Tuesday, April 28th, 1998

s5e20: First Date

Niles finally decides to ask Daphne out to dinner, but when the moment comes, he can't quite get up the nerve.

Tuesday, May 5th, 1998

s5e21: Roz and the Schnoz

Roz is horrified to learn that Rick's family has a history of large noses. Meanwhile, Frasier can't bring himself to tell Daphne the earrings he bought for her aren't genuine sapphires.

Tuesday, May 12th, 1998

s5e22: The Life of the Party

Tired of struggling to find dates, Frasier and Niles host a singles party that culminates with Roz giving birth.

Tuesday, May 19th, 1998

s5e23: Party, Party

It's another raucous night for Frasier, as he needs to be in three places at once; a surprise birthday party, a Safari Club initiation meeting, and a date with a potential soul mate.

Tuesday, May 19th, 1998

s5e24: Sweet Dreams

Frasier refuses to comply when the new station manager mandates that on-air talent must read commercials during their programs. Frasier leads his forces to "The Black Tower" to protest, reckoning that the might of the on-air talent will force management to accede to their demands.
Season 6
Thursday, September 24th, 1998

s6e1: Good Grief

Frasier goes through the stages of denial after being fired by KACL. Frasier winds his way through the five stages while looking for new employment.

Thursday, October 1st, 1998

s6e2: Frasier's Curse

Frasier, still unemployed, is hesitant to attend his high school reunion due to what he deems 'Frasier's Curse'. Every five years, when reunion time comes up, Frasier is temporarily down on his luck; losing his job at KACL is just another symptom of the curse. Frasier fears if he attends, he'll sit at the last table with the chess club barbershop quartet.

Thursday, October 8th, 1998

s6e3: Dial M for Martin

When Frasier begins to get on his father's nerves, Martin, Daphne and Eddie move in with Niles for a few months. Daphne announces that since Martin's hip is improving so much, she'll be looking for other employment. Martin soon fears Niles is trying to injure him to keep Daphne around.

Thursday, October 15th, 1998

s6e4: Hot Ticket

Frasier and Niles try to score tickets to the hottest play in town without lowering their social standing.

Thursday, October 29th, 1998

s6e5: First, Do No Harm

Martin fixes Frasier up with Duke's gorgeous daughter, Marie. Frasier soon begins to fear that the only reason Marie is dating him is to obtain free psychiatric advice.

Thursday, November 5th, 1998

s6e6: Secret Admirer

Maris sends Niles gifts to try to woo him back. Frasier believes the gifts were sent to him, so he risks a good relationship to try to find his secret admirer.

Thursday, November 12th, 1998

s6e7: How to Bury a Millionaire

Niles drives Frasier crazy during a temporary stay with him after he's forced to move out of his palatial abode due to a sudden decrease in cash flow. Frasier tries to help Niles adapt to his new standard of living.

Thursday, November 19th, 1998

s6e8: The Seal Who Came to Dinner

Niles hosts a party at Maris' beach house in the hopes of winning his dinner club's prestigious "Golden Apron" award. Niles panics when he discovers a very pungent--and very dead--seal on the beach.

Thursday, December 10th, 1998

s6e9: Roz, a Loan

Frasier obsesses when he feels a $1500 loan he gave Roz is being frittered away. KACL ditches its salsa format and rehires the old crew.

Thursday, December 17th, 1998

s6e10: Merry Christmas, Mrs. Moskowitz

Frasier is forced to feign Judaism when his girlfriend's Jewish mother visits. The charade is compounded by the apartment's holiday decor and Niles' participation in a Christmas pageant.

Thursday, January 7th, 1999

s6e11: Good Samaritan

Frasier doubts humankind's goodness when several charitable acts go wrong...including rescuing a woman from the pouring rain.

Thursday, January 21st, 1999

s6e12: Our Parents, Ourselves

Frasier sets Martin up with Roz's mother, Joanna. Later, he can't bring himself to tell an enthusiastic Joanna that Martin never wants to see her again.

Thursday, February 4th, 1999

s6e13: The Show Where Woody Shows Up

Frasier's old friend from Boston, Woody, visits. The two have a great time reminiscing but as the week goes on, Frasier realizes they have nothing in common...and Woody won't leave.

Thursday, February 11th, 1999

s6e14: Three Valentines

Valentine's Day experiences for Niles, Frasier, and Martin and Daphne comprise this episode. First, Niles' cozy dinner for two at Frasier's apartment is ruined when the couch catches fire. Next, Frasier can't figure out whether his ambiguous dinner companion sees him as a co-worker or a romantic prospect. Finally, Martin and Daphne dine together, commiserating about their loneliness.

Thursday, February 18th, 1999

s6e15: To Tell the Truth

Niles dumps his top-notch lawyers for a down and dirty scrapper when Maris moves to postpone their settlement. The new attorney, Donny Douglas, warns Niles that in depositions, Maris' attorneys will be asking about Niles' passion for another woman, Daphne. Niles fears Frasier's compulsive truthfulness will let the cat out of the bag.

Thursday, February 25th, 1999

s6e16: Decoys

Devastated by Daphne's blossoming relationship with Donny, Niles plans for a Crane Boys vacation to his newly acquired (from Maris in the divorce settlement) cabin. Upon learning Roz is still pining for Donny, Niles invites both Roz and Donny to the cabin, hoping to split up Daphne and Donny. When Frasier and Martin arrive earlier than expected, Niles and Roz are forced to pretend to be lovebirds to protect their scheme.

Thursday, March 11th, 1999

s6e17: Dinner Party

Frasier and Niles plan to host a dinner party to toast Seattle's newest couple. They're concerned after overhearing an errant answering machine recording questioning the Crane boys' relationship.

Thursday, March 25th, 1999

s6e18: Taps at the Montana

Niles manages to reacquire his prestigious apartment at the Montana, only to find that the tenant's association is trying to evict him due to his sub-tenant's incessant tap dancing. Niles' attempt to throw a luxurious dinner party to win over the board goes wrong when first his bird, then a guest die.

Thursday, April 8th, 1999

s6e19: IQ

Niles and Frasier compete with each other upon discovering the results of a childhood IQ test. Their all-night study sessions ruin their luncheon with three geniuses.

Thursday, April 29th, 1999

s6e20: Dr. Nora

A new radio psychiatrist infuriates Frasier with her no-nonsense conservative style.

Thursday, May 6th, 1999

s6e21: When a Man Loves Two Women

Frasier is unable to choose which women he wants to date, Faye or Cassandra.

Thursday, May 13th, 1999

s6e22: Visions of Daphne

Martin learns Donny plans to propose to Daphne. Daphne asks Niles for his advice when she "sees" a vision indicating that Donny isn't her soulmate. Niles is torn between his professional ethics and his passion for Daphne.

Thursday, May 20th, 1999

s6e23: Shutout in Seattle (1)

Niles is lonely and desperate when he realizes he has no romantic prospects while Daphne, Frasier and even Martin are all happy. Niles dates a younger woman and adopts her trendy culture. Meanwhile, Roz takes up with Bulldog, but can't bring herself to dump him after he loses his job at the station.

Thursday, May 20th, 1999

s6e24: Shutout in Seattle (2)

Niles is lonely and desperate when he realizes he has no romantic prospects while Daphne, Frasier and even Martin are all happy. Niles dates a younger woman and adopts her trendy culture. Meanwhile, Roz takes up with Bulldog, but can't bring herself to dump him after he loses his job at the station.
Season 7
Thursday, September 23rd, 1999

s7e1: Momma Mia

Frasier falls for a woman who looks exactly like his late mother.

Thursday, September 30th, 1999

s7e2: Father of the Bride

Frasier and Martin inadvertently offer to pay for Donny and Daphne's wedding. Frasier's meddling drives Daphne crazy. Meanwhile, Niles doesn't realize he's dating a prostitute.

Thursday, October 7th, 1999

s7e3: Radio Wars

Frasier is the butt of station shock-jock pranks.

Thursday, October 14th, 1999

s7e4: Everyone's a Critic

When Niles lands a job as art critic of a magazine, Frasier's jealousy leads him to cozy up to the station owner's annoying daughter in the hopes of getting a new show focusing on the arts.

Thursday, October 21st, 1999

s7e5: The Dog That Rocks the Cradle

Roz hires Bulldog to baby-sit her daughter, only to find he's harboring feelings for her.

Thursday, November 4th, 1999

s7e6: Rivals

Each brother believes the other is making a move on his newfound woman.

Thursday, November 11th, 1999

s7e7: A Tsar is Born

Frasier and Niles are overjoyed to learn they may be Russian royalty. Martin appears on The Antique Roadshow.

Thursday, November 18th, 1999

s7e8: The Late Dr. Crane

A mixup has the media reporting Frasier dead; Niles confronts his ex-wife's plastic surgeon.

Thursday, November 25th, 1999

s7e9: The Apparent Trap

Frasier reluctantly invites Lilith and their son to Thanksgiving dinner.

Thursday, December 9th, 1999

s7e10: Back Talk (1)

Frasier injures his back while blowing out birthday candles.

Thursday, December 16th, 1999

s7e11: The Fight before Christmas (2)

Frasier plans an extravagant Christmas party. Daphne feels awkward around Niles after learning of his feelings for her.

Thursday, January 6th, 2000

s7e12: RDWRER

Niles gets separated from Frasier and Martin during a trip to Idaho on New Year's Eve.

Thursday, January 13th, 2000

s7e13: They're Playing Our Song

Frasier goes overboard when he writes a theme song for his show.

Thursday, February 3rd, 2000

s7e14: Big Crane on Campus

Frasier goes on a date with a high school classmate who has a short temper.

Thursday, February 10th, 2000

s7e15: Out with Dad

An unlikely chain of events forces Martin to pretend to be gay on Valentine's Day.

Thursday, February 17th, 2000

s7e16: Something about Dr. Mary

Frasier hires a young, enthusiastic, black woman to fill in for a week while Roz is on vacation. However, he later comes to regret it when she takes over the show and starts dispensing her own advice.

Thursday, February 24th, 2000

s7e17: Whine Club

Frasier's hopes to be elected cork master of the wine club are dashed when Niles' girlfriend, Mel, convinces Niles to run against his brother. The whole Crane household vows not to tell Niles what they really think of Mel.

Thursday, March 23rd, 2000

s7e18: Hot Pursuit

Frasier and Roz are forced to room together at a broadcasting conference. Niles worries when Martin accepts a surveillance job from Donny.

Thursday, April 6th, 2000

s7e19: Morning Becomes Entertainment

Frasier and Bebe fill in as guest hosts on television's A.M. Seattle. Frasier finds the spotlight so appealing he may forsake his radio duties for a permanent job on television.

Thursday, April 27th, 2000

s7e20: To Thine Old Self Be True

Frasier tries to throw a bachelor party for Donny.

Thursday, May 4th, 2000

s7e21: Three Faces of Frasier

Frasier is honored when a classy local restaurant chooses a caricature of him to go on their 'Wall of Fame', but Frasier obsesses when the drawing isn't quite to his liking.

Thursday, May 11th, 2000

s7e22: Dark Side of the Moon

Daphne is overcome with rage when her mooching brother visits for the wedding. She also begins to believe that Niles may be more than just a friend.

Thursday, May 18th, 2000

s7e23: Something Borrowed, Someone Blue (1)

Daphne becomes extremely depressed the week before her wedding, and cannot stop crying. Niles tells Frasier that he is having second thoughts about his relationship with Mel.

Thursday, May 18th, 2000

s7e24: Something Borrowed, Someone Blue (2)

Frasier does not see Daphne again until everyone arrives at the hotel for her wedding. He offers his sympathy about Niles, but she claims that she was just suffering pre-wedding jitters. Frasier doesn't believe her. Martin warns him not to interfere unless he is absolutely sure that it is the right thing. Frasier observes Niles and Daphne sharing a dance after the rehearsal dinner, and realizes that they are obviously in love. He takes Niles upstairs to talk, and tells him about Daphne's feelings. A panicked Niles is unsure of what to do. He tries to talk to Daphne alone, but everyone keeps interrupting them. He finally tells her that he loves her and would leave Mel to be with her. Just as he asks how she feels about him, her family bursts in and takes over the room. Niles and Daphne take refuge on the balcony. She kisses him passionately and admits that she loves him, but then rejects him because she thinks it would be too hard to undo their commitments. The next day, Nil
Season 8
Tuesday, October 24th, 2000

s8e1: And the Dish Ran away with the Spoon (1)

Following on from where last season's finale left off, Niles and Daphne drive off in the Winnebago, but decide to go back and face the music. They tell Donny and Mel that they are in love with each other and naturally Donny and Mel are upset. Daphne and Roz are sending back the wedding presents (despite the efforts of Simon to keep them for himself) when there's a knock on the door. It's a deliveryman. On behalf of Donny, he's brought flowers for Daphne - and a lawsuit. Donny is suing Daphne for leaving him at the altar! Frasier goes to see Donny and tells him that he too was left at the altar (by Diane Chambers in Cheers); but when Donny finds out Frasier's involvement in getting Niles and Daphne together, he adds Frasier to the lawsuit. Meanwhile Mel has revenge on her mind as well...

Tuesday, October 24th, 2000

s8e2: And the Dish Ran away with the Spoon (2)

Niles is forced to postpone his first romantic date with Daphne due to his marriage obligations with Mel. He has to attend their phony wedding reception and act happy about it so Mel can grant him the divorce. During the party, Mel tells him he can't be seen in public with Daphne while they're still officially married. This comes as a great turn off for Daphne, who thinks Niles is taking Mel's side on the whole thing. Frasier, now threatened to be sued by Donny for revealing to Daphne how Niles felt about her, decides he's done too much harm to the story and no longer wants anything to do with it. But Frasier Crane is Frasier Crane, and he can't help himself. With some help of Martin, he convinces Daphne to go out with him while Martin takes Niles out. They take the two to the roof, where Frasier set a dinner table and a very romantic environment. Just because they can't be seen in public doesn't mean they can't have their romantic dinner.

Tuesday, October 31st, 2000

s8e3: The Bad Son

When Frasier's car breaks down, he and Roz decide to take the bus. There, Frasier spots an attractive woman whom he tries to start a conversation with, but unfortunately he slips and falls and the woman leaves the bus. But Frasier won't give up so easily: he overheard her conversation with a friend and now he knows her name and job, so he goes after her. She works in a retirement home, where Frasier takes his father to, pretending they're interested in having Martin live there. Frasier scores his date, but spends the entire time worrying about his father when Miranda tells him his father filled an application – later to be discovered that it was only done so Martin could play poker with the residents. Meanwhile, Niles and Daphne are separated during their romantic dinner on the roof when Niles gets locked in the hall.

Tuesday, November 14th, 2000

s8e4: The Great Crane Robbery

Frasier tries to make a good impression on the new station owner and ends up becoming his mentor. The guy is a young Sillicon Valley billionaire who has more money than society expertise, and seeks from Frasier the help he needs to enter the high society lifestyle without embarrassing himself. But Frasier sees his dream job go down the drain when Todd starts copying everything about him, his clothes, his furniture etc. Frasier then decides that perhaps he should be the one changing styles, but doesn't find anything that relates to him as much as his old furniture. Lastly, Frasier receives the worst news of all, Architectural Digest is doing a cover story on Todd's apartment. Meanwhile, Niles struggles to be a royal pain in the ass in front of Mel's society friends, as a part of her deal to give him the divorce, but his bad behavior actually brings good results and only makes him look even better for her friends.

Tuesday, November 21st, 2000

s8e5: Taking Liberties

Frasier hires an authentic English butler after his original boss passes away, achieving one of his many fancy dreams. Ferguson is great with the Cranes, and it doesn't take him long to start giving his opinions on the family routine. First he gives hints to Frasier on how he can charm opera board members and perhaps even get invited to join them. After that he warns Daphne about employee/employer relationships and how the social barrier is never broken. He helps Frasier organize a fancy dinner party, and Mel unexpectedly shows up, ruining once more Niles and Daphne's plans of being together. When Mel agrees on spending New Year's with some friends in the company of Niles, he draws the line and breaks up the entire marriage scam they were carrying on. Mel is devastated, and Daphne, relieved. Seeing that true love between boss and help can exist, Ferguson resigns to chase after someone he cared deeply, but never had the courage to do anything due to the social barriers.

Tuesday, November 28th, 2000

s8e6: Legal Tender Love and Care

Frasier starts dating the lawyer who is defending Daphne and him against Donny's lawsuit.

Tuesday, December 5th, 2000

s8e7: The New Friend

Frasier makes friends with Roz's new boyfriend, but when they break up Frasier hides from Roz that he's still hanging out with the guy. Roz gets back together with Luke and feels ashamed to tell Frasier about it since he was so supportive when they broke up. They keep the circle of secrets until they both get locked in Luke's closet and witness Luke making out with another girl. They both feel bad for lying to each other and accidentally get pushed out of the closet when Roz inflates Luke's boat. Meanwhile, Martin is mad at Niles because Niles put Eddie in a kennel while he was away instead of taking him to his house as planned.

Tuesday, December 12th, 2000

s8e8: Mary Christmas

Frasier learns that Dr. Mary will be his co-host for the annual Christmas parade.

Tuesday, January 9th, 2001

s8e9: Frasier's Edge

Frasier is delighted to hear that he's been awarded a lifetime achievement award, but freaks out after he receives flowers from his mentor with a card that doesn't say exactly what he hoped. Moments before the awards dinner, Frasier goes down to his mentor's office and confronts him about the reason he wrote what he did in the card, and soon beings a ride of self-analysis and looks back on his life, wondering why he feels so empty despite all his achievements. Meanwhile, Martin tries to reassure Niles he's just as good a psychiatrist as Frasier, even though he's not receiving any awards, and Roz wonders why Daphne is putting on so much weight.

Tuesday, January 16th, 2001

s8e10: Cranes Unplugged

Freddy returns and Frasier takes him and Martin on a camping trip.

Tuesday, January 30th, 2001

s8e11: Motor Skills

Frasier and Niles decide to enter an auto repair class after they embarrass themselves in front of their respective dates when their car breaks down and the women show more knowledge on engines than them. After falling behind on the course, they start to study frantically, until Roz suggests they simple coast the course. Of course the two take it too seriously and get kicked out of class. Meanwhile, Martin is overprotective of Roz's new puppy, which creates a conflict between them.

Tuesday, February 6th, 2001

s8e12: The Show Must Go Off

Niles and Frasier accidentally hire a bad actor for a play.

Tuesday, February 13th, 2001

s8e13: Sliding Frasiers

Two different scenarios of Frasier's Valentine's Day unfold: in the first he meets a beautiful artist; in the second he stays home alone. Meanwhile, Niles and Daphne either intend to fly to Hawaii or to stay home because of Niles' allergies.

Tuesday, February 20th, 2001

s8e14: Hungry Heart

Frasier intercedes to save station manager Kenny's marriage.

Tuesday, February 27th, 2001

s8e15: Hooping Cranes

Frasier, Niles and Martin go to a Supersonics game, where Niles gets to make a half-court shot during halftime.

Tuesday, March 6th, 2001

s8e16: Docu.Drama

Roz asks Frasier to narrate her space documentary.

Tuesday, March 27th, 2001

s8e17: It Takes Two to Tangle

Frasier and Niles look for a wealthy person to donate money to their closing prep school. Martin starts to date a very wealthy woman and the Crane brothers want to ask her for a donation. However, Martin finds ways to screw up the arrangement by dating multiple women at the same time.

Tuesday, April 17th, 2001

s8e18: Forgotten but Not Gone

Now that Frasier has landed a segment on Gil's gastronomic show about wine, he's ready to resign the Wine Club, just as Niles takes over the presidency duties. When no member from the club calls in his show, Frasier fears Niles is plotting against him in a vindictive sort of way, which is proven to be true when he finds out Niles forbid the members to call Frasier's show. The two start a fight and it takes Martin to yell at them in front of everybody so they will peace up again. Lastly, they get so embarrassed that they both quit the wine club and start their own. Meanwhile, Martin struggles with his new, hard-working physical therapist, Frederica.

Tuesday, May 1st, 2001

s8e19: Daphne Returns

When Daphne returns from her weight loss class, she realizes Niles didn't notice that she had gained weight because of how he remembered her being the last seven years. Meanwhile, Roz writes a children's book based on a story her mother used to tell her, but finds out it is already a book and a movie.

Tuesday, May 8th, 2001

s8e20: The Wizard and Roz

Frasier catches his mentor in a bathrobe with Roz. Niles doesn't believe Daphne is psychic, so she calls a spookologist.

Tuesday, May 15th, 2001

s8e21: Semi-Decent Proposal (1)

Frasier must take Lana to her surprise birthday party, but he takes interest in Claire.

Tuesday, May 15th, 2001

s8e22: A Passing Fancy (2)

Lana promises to set up Frasier with Claire if he tutors Kirby, Lana's teenage son. Kirby agrees to study hard if Frasier can get him a date with Roz.

Tuesday, May 22nd, 2001

s8e23: A Day in May

Niles becomes jealous when Daphne meets a dog lover. Lana becomes interested in Frasier when she tries to close a house sale. Martin meets a mystery woman.

Tuesday, May 22nd, 2001

s8e24: The Cranes Go Caribbean

Frasier is horrified when he learns Martin, Niles and Daphne are going to accompany him on his trip to Belize with Claire.
Season 9
Tuesday, September 25th, 2001

s9e1: Don Juan in Hell (1)

The hourlong ninth-season opener finds Frasier in a romantic quandary. On one hand, he's attracted to the devoted and doting Claire, his companion on the Caribbean trip in last May's finale. Yet, he's also drawn to the "challenging, sexy" Lana, the enigmatic figure from his past. Now, the torn and agitated shrink seeks help with his plight from family members and even absolute strangers. But the most forthright advice comes from two even more unlikely sources: his former fiancée Diane and ex-wife Lilith, both of whom Frasier confronts in fantasy sequences.

Tuesday, September 25th, 2001

s9e2: Don Juan in Hell (2)

Still trying to decide whether to date Claire or Lana, Frasier is confronted by Diane and Lilith in a dream sequence.

Tuesday, October 2nd, 2001

s9e3: The First Temptation of Daphne

A woman who is a wealthy business executive and a patient of Niles' has a crush on him, so Daphne looks through his patient files and goes to meet her to find out if they are having an affair. Meanwhile, Frasier and Martin try to catch a cricket loose in the apartment.

Tuesday, October 9th, 2001

s9e4: The Return of Martin Crane

Martin remembers his last days as a cop while on his way to his new job.

Tuesday, October 16th, 2001

s9e5: Love Stinks

Frasier hosts a party for the staff at the radio station to improve his image. Meanwhile, Roz dates a garbageman and Niles recalls his childhood memories with Daphne.

Tuesday, October 30th, 2001

s9e6: Room Full of Heroes

Frasier holds a "Dress as Your Hero" Halloween party, but nobody can tell who he is. Meanwhile, Niles dresses as Martin, Daphne as Elton John, Martin as Joe DiMaggio and Roz as Wonder Woman for the party.

Tuesday, November 6th, 2001

s9e7: Bla-Z-Boy

An accident causes a mess on Frasier's carpet and the destruction of Martin's chair. Meanwhile, Niles gives piano lessons to talented Roz and not-so-talented Daphne.

Tuesday, November 13th, 2001

s9e8: The Two Hundredth Episode

Frasier celebrates his 2000th radio broadcast and has tapes of every broadcast, except one. But it turns out an obsessive fan has the tape.

Tuesday, November 20th, 2001

s9e9: Sharing Kirby

Frasier and Niles compete to see some rare wine, owned by a rich relative of Kirby's girlfriend. Meanwhile, Martin must wear a blood pressure monitor.

Tuesday, November 27th, 2001

s9e10: Junior Agent

Frasier gets an annoying new agent in the middle of a competition between him and a rival radio broadcaster.

Tuesday, December 11th, 2001

s9e11: Bully for Martin

Martin's boss at his new job bullies him, so Frasier decides to try and solve the problem.

Tuesday, January 8th, 2002

s9e12: Mother Load (1)

When Daphne and Niles decide to move in with each other, Daphne's mother and Simon arrive on a surprise visit. Daphne and Niles decide to put off moving in together until her visiting relatives are gone. Meanwhile, Frasier feuds with Cam Winston, his neighbor, over where Cam parks his large vehicle.

Tuesday, January 15th, 2002

s9e13: Mother Load (2)

Daphne and Niles continue to try and hide the fact that they have moved in with each other from Mrs. Moon. She makes such a mess of things that the only way she will leave is if Simon takes care of her, but Simon has left for California. Meanwhile, Frasier's neighbor Cam drapes the American flag over his balcony, and Frasier cannot complain because it would seem unpatriotic.

Tuesday, January 22nd, 2002

s9e14: Juvenilia

To attract youth to his radio show, Frasier appears on KACL's Teen Scene. But the high school host only ridicules him.

Tuesday, February 5th, 2002

s9e15: The Proposal

Niles plans on proposing to Daphne, so he prepares his speech; buys a ring; and hires a choir, a string quartet, a trumpet player and Wolfgang Puck. But Daphne's mother is still staying with them, and on the night Niles plans to propose, Daphne begins to feel ill.

Tuesday, February 26th, 2002

s9e16: Wheels of Fortune

Frasier is suspicious of Blaine Sternin, Lilith's former-con artist brother, when he visits in a wheelchair and is now preaching.

Tuesday, March 5th, 2002

s9e17: Three Blind Dates

Niles sets Frasier up with Lisa, a patient who owns a bookstore, but they never run into each other. Roz sets Frasier up with Suzanne, an artist, who ends up hating Frasier. Martin sets Frasier up with Kris, an attractive girl from his building, who seems to know every man at the bar. But Frasier later runs into and hits it off with Lisa.

Tuesday, March 12th, 2002

s9e18: War of the Words

Frederick wins the National Spelling Bee, but the judges find that Frasier was mouthing the letters of the words during the competition.

Tuesday, April 2nd, 2002

s9e19: Deathtrap

Frasier and Niles return to their childhood home and recall what they believe to be a murder.

Tuesday, April 9th, 2002

s9e20: The Love You Fake

Frasier is still fighting with his neighbor Cam Winston, so Martin and Cam's mother pretend to be in love.

Tuesday, April 30th, 2002

s9e21: Cheerful Goodbyes

On his show one day, Frasier tells his caller Jeremy that Niles used to wet the bed. Although he doesn't mention Niles by name, Niles and most of Seattle realize who Frasier was talking about. Niles is of course angry with Frasier. A few days later the Cranes, plus Daphne, head to Boston. Frasier is giving a speech at a conference and Niles will be making the introduction. At the airport, Frasier meets his old friend Cliff Clavin, who thinks Frasier has come for his retirement party. Not wanting to disappoint Cliff, Frasier says that's what he's here for...much to Niles' annoyance, as he has booked seats at an exclusive restuarant. At the party, Martin bonds with Frasier's friend Norm Peterson, Daphne is fascinated with Cliff's stories and Frasier is enjoying telling everyone what it is like to be famous. Only Niles is not having a good time, until Carla, the waitress from Cheers, tells him some embarrasing stories about Frasier, which Niles decides to use in his introduction. Cliff ho

Tuesday, May 7th, 2002

s9e22: Frasier Has Spokane

When Frasier radio show becomes syndicated in Spokane and replaces the local radio icon's show, his callers are angry.

Tuesday, May 14th, 2002

s9e23: The Guilt Trippers

As a birthday present, Niles surprises Daphne with a trip to Hawaii for two. However, Mrs. Moon falls into a state of total despair about her failed marriage, and Daphne feels bad about leaving her alone for the weekend. Niles hatches a plan to reunite Daphne's parents and get Mrs. Moon out of the apartment. He convinces a reluctant Daphne to take her mother on the trip, and secretly heads to England to track down Daphne's father. Niles hopes to at least convince Mr. Moon to come to the U.S. and give Daphne away at the wedding. He finds him at a bar, but Mr. Moon doesn't take too kindly to the idea of reconciling with his wife. Roz, depressed about her break-up with Roger, stays at the apartment to hang out with Frasier after Daphne's party. They end up sleeping together. Roz leaves in a panic the next morning, but promises that they will get together for dinner to talk things over. She promptly skips town and nixes plans for Frasier to join her at her family reunion in Wiscon

Tuesday, May 21st, 2002

s9e24: Moons over Seattle

Niles eventually persuades the reluctant Mr. Moon to come to the U.S. and talk with his wife. He is prepared to leave immediately after Mrs. Moon rejects him, but Niles convinces him to stay for a while. Daphne is furious at Niles for interfering, as she feels her parents would eventually work out their problems on their own. She criticizes Niles for acting without consulting her. Niles and Daphne convince the Moons to join them for a romantic dinner. The plan works initially, but the couple soon gets into a brawl. Mr. Moon talks with Daphne and tells her that he and Gertrude are not going to reunite. A devastated Daphne fears that there is no point to marriage, but her father assures her that Niles is the right man for her. He cites the lengths Niles was willing to take to please Daphne as proof that he loves her much more than Mr. Moon ever loved Gertrude. Daphne realizes that he is right, and heads over to see Niles. She stuns him by telling him that she wants to marry imm
Season 10
Tuesday, September 24th, 2002

s10e1: The Ring Cycle

After Daphne and Niles elope in Reno, they are forced to go through several fake ceremonies in not to upset friends and family who wanted to be at the wedding.

Tuesday, October 1st, 2002

s10e2: Enemy at the Gate

Frasier drives Niles back from a shopping excursion. Just as they enter the parking garage, Frasier suddenly realizes that the clock in his car is incorrect and that he is going to be late for his show. He enters the garage, then immediately leaves. He is furious when the attendant says that he owes two dollars (the fee for parking for twenty minutes or less), and decides to park his car at the gate until his twenty minutes is complete. He refuses to allow Niles to pay for him because he thinks he is taking an important stand. All of the motorists become irate because Frasier is keeping them trapped in the garage. Niles disagrees with Frasier, but reluctantly stays with him to show his support. Even after he is offered several chances to leave without paying, Frasier refuses to move. The attendant calls a tow truck, and is prepared to bring in the police. Niles points out that Frasier has a habit of being stubborn and trying to force everyone to agree with him. He finally persuades him to leave before the twenty minutes is up. As he pays, Frasier gets himself in more trouble with a long-winded speech. Roz must fill in for Frasier while he is at the garage. After Kenny encourages her to take some calls, her advice to one caller inadvertently exposes the fact that she slept with Frasier. Meanwhile, Eddie has an unusual reaction as Daphne moves the rest of her belongings out of Frasier's apartment. She realizes how much Martin is going to miss her, and sets up a regular outing for the three of them.

Tuesday, October 8th, 2002

s10e3: Proxy Prexy

Frasier is desperate to finally win the presidency of the condo board after several unsuccessful attempts. However, he admits that he has no chance because he has rubbed all of the board members the wrong way at one time or another. He decides to capitalize on his father's easy-going demeanor and ability to get along with others by having Martin run against him. Frasier plans to have Martin carry out his agenda. Martin agrees to go along with this, so long as Frasier promises to help arrange for wider parking spaces in the garage. Martin is elected and becomes an immensely popular president, but soon grows tired of Frasier calling all the shots. After Frasier doesn't immediately make good on his promise for the wider spaces, Martin backs out of the deal, as he believes that he can run the board on his own. He soon finds that he is in over his head, as residents become annoyed with the complications created by the new spaces. Frasier covers for him, so Martin publicly gives him credit for his ideas. The board members turn on Frasier and accuse him of using his father, prompting an angry Martin to quit as a show of support for Frasier. Meanwhile, Daphne begins to study in the hopes of passing her citizenship test. Niles and Daphne tease Roz relentlessly after a misunderstanding over a fruit salad causes her to believe they are asking her to engage in a threesome.

Tuesday, October 15th, 2002

s10e4: Kissing Cousin

Frasier is surprised to learn that Kenny has never unpacked the boxes in his office because he views all of his jobs as temporary. Roz's younger cousin Jen comes to stay with her for the week. She is extremely cynical and opinionated, and quickly gets on Frasier's nerves. Jen remembers Roz as a fun and energetic person, so Roz has to go out partying with her every night so that her cousin will not think she has become boring. However, their outings quickly leave Roz worn out and longing for sleep. After Jen sets off Frasier by putting down Sigmund Freud, Roz sends her off with Kenny while she tries to calm Frasier. Kenny and Jen, surprisingly, take a liking to one another. Kenny admits that he longs to escape from his humdrum life and see the world. He expresses an interest in joining Jen on her planned trip to Vietnam, but she says that she always travels alone. A weary Roz tells Jen to stop trying to goad her into acting like she is still twenty. She goes off on a tirade to a caller who doesn't want to commit to his girlfriend, and states that there is nothing wrong with acting one's age. Her words about commitment and maturity stir Kenny, who decides that he is satisfied with his life. He finally unpacks his boxes. Meanwhile, Martin annoys Frasier by refusing to do his share of the chores. Frasier and Martin, still accustomed to having Daphne do their cooking and cleaning, wind up tricking Daphne and Niles into waiting on them.

Tuesday, October 29th, 2002

s10e5: Tales from the Crypt

Frasier is infuriated when Bulldog successfully pulls several practical jokes on him. He vows to get revenge, and plots an elaborate prank that he takes way too seriously. Martin and Roz predict that he will fail because he is terrible at carrying out pranks. Frasier seeks the help of an unlikely ally to prove them wrong. Meanwhile, Mrs. Moon wages a prank war of her own against a trick or treater who eggs Niles' door after he forgets to buy Halloween candy.

Tuesday, November 5th, 2002

s10e6: Star Mitzvah

As Frasier prepares for Frederick's bar mitzvah, Noel offers to translate Frasier's speech into Hebrew in exchange for an autograph from a science fiction convention. However, when Frasier doesn't keep his end of the bargain, Noel uses his wealth of Star Trek knowledge to take revenge.

Tuesday, November 12th, 2002

s10e7: Bristle While You Work (1)

Niles becomes concerned about a lingering toothache after his dentist assures him that there is nothing wrong with the tooth. He tells Roz that there is a chance that he may be suffering from referred pain; and that the pain could actually be a sign of a heart condition. Roz mocks him upon learning that there is only a one in 10,000 chance of this. However, Niles worries even more after experiencing a series of astonishingly improbable events--such as having his car struck by lightning, and twice winning a contest from a bottled water company for which there is only one winner in 10,000. He goes to see a doctor, who confirms his worst fears by telling him that he must be hospitalized immediately due to an irregularity in his EKG. Meanwhile, Frasier has difficulty finding a suitable housekeeper to replace Daphne. Martin is impressed by a young woman who is a sports fan; and insists on hiring her, in spite of Frasier's objections. However, she proves to be totally irresponsible, and rarely even shows up for work. Martin tries to handle all of her duties himself so that he won't have to admit that Frasier was right about her.

Tuesday, November 19th, 2002

s10e8: Rooms With a View (2)

Niles prepares to undergo heart bypass surgery. He is surprised to receive a call wishing him well from Maris, who had learned of his plight from a gossipy acquaintance. Frasier tries to keep Roz and the family at ease by researching the procedure (as well as the doctors' backgrounds) and printing out detailed descriptions for everyone. However, he winds up getting on the surgeon's nerves by questioning his approach to the operation. Martin tries to act as though everything is fine so that he doesn't have to deal with the fear and uncertainty of the situation. Roz tries to help the terrified Daphne stay calm. She refuses to think of other things, stating that she has no future until she knows that Niles is all right. Niles' drug-induced comment about the possibility of hospitals having "memories" about their patients prompts everyone to think back on past experiences in that hospital, from Niles' birth to a time that Roz mistook lipstick on Alice's cheek for a rash. Daphne grows more and more tense as they await word on the surgery. When Martin and Frasier repeatedly bicker about a candy bar stuck in the vending machine, Daphne smashes the machine with a fire extinguisher. She breaks down crying, and everyone does their best to console her. Niles' surgery goes even better than expected, and he begins his recovery. A relieved Daphne is finally able to bring herself to think about their future.

Tuesday, November 26th, 2002

s10e9: Don't Go Breaking My Heart (3)

Niles recovers rapidly from his heart surgery and receives the go-ahead from doctors to resume normal activities, but seems reluctant to do this. He maintains his strict post-operative diet, and refuses to exercise or share a bed with Daphne. He annoys everyone by constantly going around making speeches about his near-death experience and how much he appreciates life. Frasier refuses to argue with Niles because he promised God that he would never quarrel with his brother again if he recovered from his sickness. The frustration of having to agree with everything Niles says begins to drive Frasier crazy, especially when Niles starts monopolizing his radio show to give his own advice to callers. Frasier believes he has found a way to back out of his promise after he learns that Daphne had already made her own deal with God. In the meantime, Martin talks with Niles about the feelings he experienced after his shooting, and forces his son to overcome his fears and go on with his life.

Tuesday, December 10th, 2002

s10e10: We Two Kings

Frasier and Niles bicker over who gets to host the family Christmas celebration. When it seems that Martin will have to work, they decide to bring Christmas to him, with disastrous results. Meanwhile, Roz finds herself attracted to a hunky shopping mall Santa.

Tuesday, January 7th, 2003

s10e11: Door Jam

Frasier mistakenly receives some of Cam Winston's mail, including a mysterious invitation to an exclusive locale. Frasier and Niles are surprised to have been left out of the loop about this new hot spot, and become obsessed with finding out more information. Frasier heads to the address on the invitation, but cannot get the receptionist to tell him anything. Niles finally shows up and poses as Cam, and is told that the business is a spa. He and Frasier enjoy all of the amenities, but are disturbed to learn that the spa has a "gold level" area to which they are denied access. They constantly complain about being left out. Roz believes that they only care about the gold level because they are not allowed there, but uses her connections to a senator who has a membership to get them inside. The brothers are appeased, until they spot a platinum door. They ignore an attendant's warning and barge through the door, but aren't too happy with the result. Meanwhile, Daphne ruins Martin's enjoyment of The Rockford Files when she says that he reminds her of Rockford's father, rather than the title character.

Tuesday, January 14th, 2003

s10e12: The Harassed

Frasier is forced to give up ten minutes of his show for a new financial analysis segment. When the beautiful new stock market reporter's attitude rubs everyone the wrong way, Frasier misreads her signals, which lands everyone in a sexual harassment seminar.

Tuesday, February 4th, 2003

s10e13: Lilith Needs a Favor

Lilith comes to Seattle, and tells Frasier that she would like to have another child. She wants him to father the child through artificial insemination so that Frederick could have a full-sibling. Frasier is hesitant to go along with this, so Lilith tries to manipulate him by bringing up touching stories from Frederick's childhood. She says that creating another person as wonderful as Frederick would be the best possible legacy they could leave. Frasier agrees to do it, much to the surprise of his family. When Frasier and Lilith argue at the clinic, he begins to fear that their second-born could inherit all of their worst qualities. He believes that they are trying too hard to re-create the past. He doesn't feel this would be a good reason to bring a child into the world. Frasier worries that Lilith is missing something from her life. However, she seems to make a connection with a fellow passenger, whom she had first met on the trip to Seattle, during her flight home. Meanwhile, Daphne, Roz, Mrs. Moon and Alice embark on a road trip to a Canadian amusement park, with disastrous results. Niles obsesses over a blurry photograph at the end of a roll, which he believes to be an illicit photo of Daphne. He is more than a little disturbed when he discovers the truth.

Tuesday, February 11th, 2003

s10e14: Daphne Does Dinner

Niles and Frasier plan a party to celebrate the unveiling of a painting that Niles has just purchased. However, Daphne notes that every event the brothers host inevitably ends in disaster. She suggests that Niles instead host the party with her. Frasier is hurt to learn that he will be excluded, and says that he will not even attend the party. Daphne believes that she has everything under control, but things quickly begin to unravel. Alice writes her name in crayon on the painting. Daphne remains calm, and gives Roz the name of a man whom Niles uses to restore artwork. However, the game hens catch fire in the meantime. The caterers are too busy to replace them, so Daphne must turn to Frasier for help. He comes over to assist with the food preparation, but must hide in the pantry whenever Niles comes in the kitchen so that his role will remain a secret. Frasier becomes angry when he overhears Niles and others complimenting the food and saying how much better off they are without Frasier's involvement. Mike Shaw, the artist responsible for the painting, shows for the party after earlier declining his invitation. He doesn't care for the stuffy guests, and decides to go upstairs and watch pay-per-view boxing with Mrs. Moon. Niles hears a couple's description of Shaw (white-haired man in a flannel shirt using a cane) and assumes they have him confused with Martin. The couple who met Shaw has to leave. Martin arrives to bring Frasier some dishes, and winds up having to pose as Shaw for the other guests. Roz asks Daphne to stall the unveiling because the art restorer is painfully slow. Niles insists that dinner must be served immediately. He discovers Frasier, and they begin to argue, leading to more chaos. Daphne tries her best to salvage the evening, but an unexpected event prompts her to give up. Frasier consoles her by telling her that the disastrous party means she is officially part of the family.

Tuesday, February 18th, 2003

s10e15: Trophy Girlfriend

Tired of being humiliated in his club's annual squash tournament, Niles ditches Frasier and pairs with a younger partner. A P.E. teacher named Chelsea asks Frasier to team with her in the mixed doubles competition. They win the championship. Martin is overjoyed that one of his sons has finally earned a trophy for athletics. Niles winds up begging for Frasier to take him back after his new partner yells at him on the court. Frasier assumes that the tournament's conclusion means the end of his relationship with Chelsea, but they soon begin dating. Niles is surprised that Frasier would date a P.E. teacher after all of the abuse the brothers endured in gym class as children. When Frasier goes to Chelsea's school to pick her up, he sees her berating one of the students. This causes him to have flashbacks, and he can no longer look at Chelsea without seeing his old gym teacher, Coach Fuller. Frasier tries to convince Chelsea to be more sensitive to the children. Meanwhile, Frasier tries to persuade Roz and Julia to be more civil to one another. They cannot find any common ground, until they realize how much they enjoy insulting each other.

Tuesday, February 25th, 2003

s10e16: Fraternal Schwinns

KACL organizes a bike-a-thon to raise money for AIDS research. Frasier plans to just make a financial donation, but is goaded into participating after Julia announces her intention to take part. Daphne suggests that she and Niles also enter the event. Frasier and Niles try to hide the fact that neither of them knows how to ride a bike, and hope that they can figure it out before the bike-a-thon. After the truth comes out, Daphne tries to help them, but finds that it isn't easy. Meanwhile, Martin receives a frosty response from Cam Winston's mother, Cora, when she comes to the building to visit her son. When he asks why she never called, he learns that Mrs. Moon posed as his girlfriend and scared her away. Martin explains the situation, but Cora already has a boyfriend. A furious Martin gives Mrs. Moon the silent treatment, but she eventually goes to Cora to make amends.

Tuesday, March 4th, 2003

s10e17: Kenny on the Couch

Kenny becomes extremely depressed after his divorce is finalized. Frasier offers to refer him to another psychiatrist, but Kenny says that he would prefer to discuss his problems with Frasier. Frasier reluctantly agrees, but doesn't take any money. Frasier is thrilled about getting to work with a patient again, and quickly delves into Kenny's childhood issues and cites them as the source of his relationship problems. Kenny remains depressed, so Martin lets him tag along to McGinty's. They have a good time drinking and hanging out. Kenny decides to follow Martin's advice and start getting out of the house so that he can take his mind off his problems. He tells Frasier that he doesn't want to come in to see him anymore. Frasier is furious with Martin, and takes issue with his father's comments about psychiatry. However, Martin finally reminds him that Kenny is far from the only person with problems, and suggests that Frasier start treating patients again. Meanwhile, Niles and Daphne begin practicing yoga with an instructor who caters to Seattle's elite. Although he won't admit it, Niles grows jealous when Daphne proves to be much more flexible than he is.

Tuesday, March 18th, 2003

s10e18: Roe to Perdition

Frasier and Niles become a big hit when, at a party, they serve beluga caviar they purchased on the black market. Meanwhile, Martin has a tough time returning $40 an ATM gave him in error.

Tuesday, April 1st, 2003

s10e19: Some Assembly Required

Frasier's co-workers cajole him into helping them build a house for Habitat for Humanity. Frasier mostly seems to get in the way, and his participation is limited to stirring paint and a little bit of sanding. However, he somehow views himself as having played some huge role in the process. He becomes very attached to the house, and keeps showing up to offer the inhabitants unwanted decorating advice. Roz tries to convince him that they should be allowed to furnish and decorate the house in whatever way they see fit. Martin and Eddie give a presentation about safety to an elementary school class. They are a big hit, and the school asks them to return for an assembly. However, Martin comes down with a fever and is unable to go through with the speech. A reluctant Niles is forced to take his place. He blames the children for making Martin ill, and winds up impressing the kids with a lecture about germs. Daphne and Mrs. Moon get into a huge argument about her mother's increasingly difficult behavior. After Daphne suggests that she help around the house, Mrs. Moon responds by getting a job at Cafe Nervosa. She hopes to publicly embarrass Daphne and shame her into apologizing. Daphne, however, is nonplussed by her mother's behavior and gladly accepts her paycheck.

Tuesday, April 22nd, 2003

s10e20: Farewell, Nervosa

Frasier consults his old friend Avery for advice on his finances. Avery says that Frasier's spending habits are out of control. Frasier becomes depressed and heads out to Cafe Nervosa to think about a solution. He is disgusted to discover that the owner has hired an eccentric folk singer to perform every afternoon. He announces that he will no longer frequent the cafe, and forces a reluctant Niles to leave with him. They scour Seattle in the hopes of finding a new hangout. While at one prospect, they run into Julia. This prompts them to leave in a hurry, but Frasier returns and sees Julia kissing Avery. He agonizes over whether to tell her that Avery is married. Niles returns to Cafe Nervosa and tries to keep it a secret from Frasier. Frasier, frustrated by his inability to find a new coffeehouse, returns to Nervosa and catches Niles dancing along to Ben's performance. Ben's song intro (about doing the right thing) inspires Frasier to confront Avery. Much to his surprise, Julia is hiding in the closet. She had known all along that Avery was married. A disgusted Frasier declares that he will stop trying to be a friend to her. Julia seems saddened when Avery takes a call from his wife. She realizes that Frasier was trying to help her, and shows her appreciation by getting Ben a job at a bank so that he can no longer perform at Nervosa. Meanwhile, a woman observes Daphne's therapy techniques with Martin to help determine whether Daphne can take on other clients. Martin angers Daphne by trying to put on an act to make her look good, rather than letting her work speak for itself.

Tuesday, April 29th, 2003

s10e21: The Devil and Dr. Phil

Frasier learns that Dr. Phil McGraw is in town for a special. The two are old friends, but Frasier is angry at Phil for supposedly swindling him out of $200 in a poker game. He reluctantly agrees to take the star-struck Roz to the set to see him. Frasier is surprised to find that Bebe Glazer is Dr. Phil's agent, and becomes extremely envious. He wonder if she might be able to elevate him to the same level of stardom as Dr. Phil. Bebe agrees to meet with Frasier to discuss the matter, but also wants to seduce him. Frasier believes he can get Bebe to cave in by just teasing her with the possibility of sex, but Niles warns that the situation seems very dangerous. Frasier winds up running out of Bebe's room in a panic. Bebe shows up at Nervosa and tells Frasier that she wants to leave Dr. Phil for him, as she prefers a challenge. He excitedly agrees to increase her fee, even though she has already managed to cost him his stint at the Spokane station. He has no idea that Bebe never actually worked for Dr. Phil. Phil had only played along with her scheme to win back Frasier so that he could pay off a gambling debt. Meanwhile, Martin's supervisor punishes him for refusing to date his sister by assigning him to the graveyard shift. Martin begins to lose his mind due to the odd hours and lack of human contact. Niles and Daphne become fascinated with an older couple whom they view as future versions of themselves.

Tuesday, May 6th, 2003

s10e22: Fathers and Sons

Leland Barton, Hester's former research assistant, comes for a visit after a long absence from Seattle. Roz becomes alarmed when Leland confesses his deep affection for Hester. She notes that Leland and Frasier seem to have much more in common than Frasier and Martin (they are both psychiatrists, enjoy sherry and fine art, etc.) and even have many of the same mannerisms. Leland also shares many habits--and a couple of very rare allergies--with Niles. Roz begins to worry that Leland was the boys' real father. She accidentally shares her suspicions with Martin, who admits that Hester cheated on him and fears that Roz may be right. Roz tries to assure him that his relationship with Frasier and Niles shouldn't change, even if he isn't their biological father. Martin observes Leland's close interaction with Frasier and Niles and finally confronts him. Leland admits that he loved Hester very much--and that he is gay. Meanwhile, Niles and Daphne make plans to apply for a spot in a prestigious prep school for their yet-to-be-conceived child, but can't come up with a name to write on the application.

Tuesday, May 13th, 2003

s10e23: Analyzed Kiss

Julia becomes extremely depressed after breaking up with Avery, who had never followed through on his promise to leave his wife for her. He tries to deny her the credit for their software company, an endeavor for which she did most of the work. She decides to go down to his office to retrieve his files, and Frasier comes along for moral support. She winds up breaking into the office and stealing the files, as well as deleting his entire hard drive. As they hide in a closet from the cleaning woman, Frasier keeps trying to convince Julia to do the right thing. She surprises him with a kiss, but then trashes Avery's office. Julia tries to avoid Frasier, but later admits that she likes the fact that he has so much character. She kisses him several more times, and finally agrees to a date. A rival station approaches Roz and asks her to become its program director. She manages to get the job, despite a misunderstanding about whether or not she had once slept with the station manager. Frasier has mixed feelings, as he wants Roz to move up in the world, but will miss working with her. Niles goes along with Martin on an excursion to a shooting range and takes a surprising knack to shooting. He enjoys hanging out with "regular guys," until Martin and Daphne learn a disturbing secret about his new friends.

Tuesday, May 20th, 2003

s10e24: A New Position for Roz

Roz tries to train the woefully incompetent Noel as Frasier's new producer as she prepares to leave KACL. She becomes increasingly melancholy about the possibility of leaving Frasier, and bristles upon learning of his new relationship with Julia. During a farewell dinner with her co-workers, Roz becomes concerned by the obvious closeness between Frasier and Julia. She suddenly announces that she is turning down the program director job and staying at KACL. At Cafe Nervosa, Julia tries to call Frasier's cell phone while he is in the restroom. Roz sees that she is the caller and complains, and Mrs. Moon answers the phone and pretends that she is some woman fooling around with Frasier. Julia uncovers the truth, and Mrs. Moon immediately gives up Roz. Julia confronts Roz, who orders her to stay away because she doesn't think she's good for Frasier. Julia notes that Roz seems extremely jealous, and they argue. Roz tries to get Martin to side with her against Julia. She finally talks to Frasier and pleads with him to dump Julia. Frasier grows angry at her for interfering in his relationship, and says that it is none of her business. Roz becomes increasingly agitated and emotional, and finally orders Frasier to choose between them, threatening to leave his life forever. Frasier chooses Julia. Roz quits her job and takes the program director position. Meanwhile, Niles and Daphne discuss the possibility of having children, but realize that this cannot happen while her mother is still living with them. They ask Mrs. Moon to leave, and she prepares to return to England. Daphne holds her ground when her mother tries to lay a guilt trip on her; but Niles realizes that, in spite of their frequent arguments, the two don't really want to be on separate continents. He agrees to help Mrs. Moon find an apartment in Seattle.
Season 11
Tuesday, September 23rd, 2003

s11e1: No Sex Please, We're Skittish

When Roz regrets her behaviour toward Frasier, and dislikes her new job, she wishes to patch things up and return to KACL. However, Frasier, whose relationship with Julia is beginning to blossom, fears that there's a lot more going on. Meanwhile, Daphne and Niles decide to start trying to conceive.

Tuesday, September 23rd, 2003

s11e2: A Man, a Plan and a Gal: Julia

Niles accuses Frasier of sabotaging his relationships whenever things start to get serious. Frasier vows to "commit to commitment," and tries to win Julia back. She accepts his apology and sleeps with him, and the pair seems to be getting along well. However, Julia proceeds to offend the entire Crane family during a dinner that Niles and Daphne had scheduled to announce her pregnancy. She even inadvertently spills the beans about the pregnancy (she overheard Niles and Daphne discussing it) before the couple can make the announcement. Frasier tries to excuse her behavior because of his new dedication to commitment, but ultimately dumps her.

Tuesday, September 30th, 2003

s11e3: The Doctor Is Out

Frasier and Niles suspect that Roz's new boyfriend, Barry, is gay. They see Barry on the street and believe that he has gone into a gay bar. Frasier, worried that Barry is leading Roz on, goes inside to confront him. Niles discovers that Barry actually went into an apartment building next door to the bar. He goes into the bar to tell Frasier, and a misunderstanding causes the patrons to believe the Crane brothers are actually lovers. A caller then "outs" Frasier on his show the next day. Martin feels very uncomfortable about the public thinking his son is gay. Alistair Burke, the head of the Seattle opera guild, befriends Frasier and begins spending a lot of time with him. The rest of the family realizes that Alistair thinks of Frasier as his boyfriend, but Frasier insists that this is not true. Frasier, Niles and Daphne attend a party, where Frasier discovers that everyone in attendance thinks that he and Alistair are a couple. Frasier is finally forced to come clean with Alistair about his sexuality after learning that Alistair expects to take their relationship to the next level very soon.

Tuesday, October 7th, 2003

s11e4: The Babysitter

Frasier and Niles go to a furniture store to pick out a couch for Frasier's new office. Niles cannot stop rambling; Frasier believes he is suffering from anxiety because of his impending fatherhood. Frasier, meanwhile, is experiencing doubts about his return to private practice, as he believes he has grown rusty. Frasier spots Ronee Lawrence, the boys' old babysitter. He invites her to come over to the apartment and catch up, as he hopes this will lead to romantic involvement for the pair. However, Martin also finds Ronee attractive, and decides to make his own move on her. When Ronee is called away to work, both men follow her to the club where she performs. Frasier is devastated to find that Ronee likes Martin, and falls into a depression. Frasier and Niles accidentally learn that Martin has been taking Viagra. Martin returns for his pills, but the brothers cannot put them back in time to hide their discovery. Martin is embarrassed, and explains that he could not perform with Ronee because he keeps picturing her as a teenager. Within the span of a few minutes, Frasier is able to diagnose and solve all three of the men's neuroses. He gloats about this and declares himself fit to return to private practice.

Tuesday, October 14th, 2003

s11e5: The Placeholder

Roz tries to convince Frasier to go out with her friend Ann. She feels that Frasier is too particular about who he dates, and adds that there is nothing wrong with continuing to date around until the right person comes along. Frasier is reluctant, but soon grows tired of tagging along with Niles and Daphne and Martin and Ronee or hanging around the apartment alone. He agrees to a date with Ann, which proves to be a disaster. In the middle of the evening, he runs into Kenny, who is trying to persuade his beautiful and interesting cousin, Liz, to take a job in Seattle. Liz is leaving town the next day, so Frasier tries to ditch Ann so that he can spend time with her. Meanwhile, Niles and Daphne suspect that their maid is stealing from them.

Tuesday, October 28th, 2003

s11e6: I'm Listening

Frasier overhears Ronee making a date with another man. He tells Martin, who is furious at him for eavesdropping. Ronee later breaks the news to Martin herself, explaining that she didn't think they had an exclusive relationship. He covers by claiming to be dating a woman named Sheila. Frasier gets stuck in the kitchen and overhears the conversation, and Martin accuses him of being a chronic eavesdropper. Martin runs into Ronee and her date at Cafe Nervosa, and tries to make her jealous by having Roz pose as the fictional Sheila. Frasier urges Martin to tell Ronee how he feels about her. Ronee comes over to talk to Martin, and Frasier leaves to give them some privacy. However, Roz inadvertently drives Ronee away, and Frasier somehow finds himself listening to another private conversation as Ronee and Martin sort things out in her car.

Tuesday, November 4th, 2003

s11e7: Maris Returns (1)

Niles receives a phone call from a panicked Maris, who asks to meet him for lunch. She asks for advice on how to handle her violent, philandering lover. Niles recommends that she leave him immediately. Frasier and Martin warn Niles not to tell Daphne about the lunch, as she is experiencing severe mood swings due to her pregnancy. Niles wants to tell Daphne anyway, but changes his mind after she freaks out about a phone call from Maris. Niles ends up having to pile lie upon lie to keep the news from Daphne, and even has to throw her a baby shower at the last minute after she suspects that is the reason for his odd behavior and nervousness. Maris's lover, Esteban, shows up at the shower in search of Niles. He mistakenly punches out Frasier as he tries to retaliate for Niles' advice. Daphne is furious to learn that Niles lied to her, and storms out. She later returns, and Niles promises that Maris will never come between them again. Just then, a radio report announces that Maris has been arrested for Esteban's murder. Meanwhile, Frasier reconsiders his decision to return to private practice after his first two days are marred by a series of disastrous (and short) sessions.

Tuesday, November 11th, 2003

s11e8: Murder Most Maris (2)

Niles is questioned by the police because he loaned Maris the murder weapon--an antique crossbow--for use in a play. Maris insists that she acted in self-defense. She continually calls Niles from jail, leaving Daphne extremely angry. The media scrutiny surrounding the Cranes intensifies after Frasier--the self-appointed family spokesman--accidentally says that Niles and Maris will be "executed" rather than "exonerated." Niles and Daphne have to come stay with Frasier, and Daphne makes Niles sleep on the couch. Frasier worries that Niles is reacting too calmly, as he believes that the anxiety will build up and eventually lead to a breakdown. Overcome with stress and sleep deprivation, Niles winds up stripping off all his clothes in Cafe Nervosa. Roz and Frasier manage to handle the situation. Niles finally begins to display some anger about his predicament, and asks Maris to back off and stop calling him so often.

Tuesday, November 18th, 2003

s11e9: Guns N' Neuroses

Lilith comes to town for a one-day conference. She and Frasier try to get together, but keep having to cancel. Lilith discusses her romantic problems with a colleague at Cafe Nervosa before having to return to the conference. The woman then meets Frasier and arranges a blind date between an unwitting Frasier and Lilith. Frasier and Lilith plan to meet for drinks at her hotel before their date(s). When it takes longer than expected, Frasier calls the woman who arranged the date and says that he has to cancel. Lilith tries to save face by cancelling the date herself. She and Frasier each believe they have been stood up, but are hesitant to admit it to each other. They have a wonderful evening together, and even help the couple in the next room deal with relationship problems. Frasier winds up falling asleep and staying overnight. Meanwhile, a frantic Niles, Martin and Daphne try to undo the damage after Martin's gun accidentally discharges in Frasier's apartment.

Tuesday, December 2nd, 2003

s11e10: Seabee Jeebies

Niles gains notoriety throughout Seattle because of his involvement in Maris's murder case. He and Daphne mingle with the city's social elite (including Bill Gates), and he is able to finagle reservations at booked restaurants. Frasier grows very jealous, but hopes that his two Sea Bee nominations (which break the record for most nominations in a career) will help him return to the spotlight. Kenny arranges for an interview, and Frasier invites the reporter to the ceremony. However, everything quickly begins to go wrong. Frasier loses his date because the event has to be scheduled for the morning due to Kenny's gaffe. He then loses both of the awards, and the attention of the reporter, who is much more interested in Niles. Roz, on the other hand, experiences the thrill of a lifetime when her judgmental sister--who has a seemingly perfect life--finally gets knocked off her pedestal.

Tuesday, December 9th, 2003

s11e11: High Holidays

Frasier is shocked when Frederick comes to visit sporting his new "goth" look. Meanwhile, realising that he never rebelled in his adolescance, Niles decides to try marijuana...with unexpected results.

Tuesday, January 6th, 2004

s11e12: Frasier-Lite

KACL employees face off against another station in a weight-loss competition, with the winning team to receive a trip to Las Vegas. Tensions rise among the staffers, who become extremely cranky due to hunger as the contest proceeds. Noel starves himself and repeatedly faints after Roz suggests that he might get lucky with her in Vegas if they win the trip. Frasier refuses to get into the competitive spirit until he discovers that their opponent's general manager is a man who bullied him in high school (stealing his chess set). Meanwhile, Niles and Martin try to nurse an injured pigeon back to health; and Niles repeatedly suffers injuries of his own because the pregnant Daphne rolls over onto him in her sleep.

Tuesday, January 13th, 2004

s11e13: The Ann Who Came to Dinner

Frasier discovers that his home insurance policy has been cancelled because Martin forgot to mail the payment several months earlier. After learning that it would cost a fortune to renew with that company, Frasier tries to get a better deal by making nice with Roz's insurance agent friend Ann, with whom Frasier had a disastrous date several months earlier.

Tuesday, February 3rd, 2004

s11e14: Freudian Sleep

Frasier grows depressed because no one is calling into his show. He mistakenly believes that Martin is inviting him along on his weekend in the mountains with Ronee, failing to realize that Martin was actually talking to Eddie. Niles and Daphne also come along after Niles overhears a sarcastic remark by Ronee and mistinterprets it as an invitation. Frasier is plagued by anxieties and cannot sleep during the trip. He first dreams that he has killed Niles and married Daphne. Niles mocks him for having such a simple dream, which he says is clearly a sign that he envies his brother's life. Frasier also has a nightmare about his problems with the show. Niles dreams about being a bad father, while Daphne suffers a nightmare in which she continually gains weight and Niles fools around with other women. Martin also has an unusual dream in which he chides his family members for letting their worries overcome them, before bursting into a song and dance number about his positive attitude. Unlike the other Cranes, Martin sleeps soundly.

Tuesday, February 24th, 2004

s11e15: Caught in the Act

Roz is disappointed when she is unable to get Alice tickets to a concert by children's performer Nanny G. After his family reveals that he used to be married to her, Frasier agrees to help Roz secure tickets. He accompanies Roz and Alice to a bookstore appearance, and continually drops hints to Nanny G about the fact that he is single.

Tuesday, March 2nd, 2004

s11e16: Boo!

Frasier treats a woman who has a phobia about clowns. He plans to don a clown costume and full make-up as part of her treatment. Martin sneaks into Frasier's office and scares him by coming up behind him with one of Frasier's masks over his face. Frasier does not find this amusing, so Martin repeatedly teases him about being a "fuddy-duddy." Frasier decides to retaliate for the prank. He tells Martin that he is leaving the apartment, then puts on the clown costume and rings the doorbell. When Martin comes out to answer it, Frasier jumps out, wielding a cleaver. Martin collapses and suffers a mild heart attack. Frasier feels incredibly guilty about his actions, and is humiliated in the waiting room when the nurse reads off an account of what happened. Martin recovers quickly and returns home, but doesn't want to tell Ronee about his health crisis.

Tuesday, March 16th, 2004

s11e17: Coots and Ladders

A panicked Frasier calls Niles over to the apartment and says that he has committed a crime. He explains the series of events that led up to this. When Frasier was overcome by a coughing fit, Roz took over the show and advised a caller to seek counseling to deal with kleptomania, which she described as being the result of someone needing the thrill of stealing to deal with the emptiness in his or her life. Frasier congratulated her on knowing what to say, but Roz said that it was easy because he is so predictable.

Tuesday, March 30th, 2004

s11e18: Match Game

Frasier hires a professional matchmaker, but winds up going on a series of increasingly disasterous dates. Meanwhile, Niles and Daphne take things a bit too far while trying to get the most out of Daphne's pregnancy.

Tuesday, April 6th, 2004

s11e19: Miss Right Now

Martin worries about a visit from Ronee's mother. She dislikes him because she once saw Martin innocently comforting the teenage Ronee and assumed he was trying to "take her virtue." Meanwhile, Frasier continues to find himself consumed by thoughts of Charlotte. Roz recommends that he get over it by going to a bar and picking up someone. Frasier quickly makes a connection with a woman named Kim, and they go back to his apartment.

Tuesday, April 20th, 2004

s11e20: And Frasier Makes Three

In attempt to woo Charlotte away from her current boyfriend, Frank, Frasier begins spending a great deal of time with the two of them. However, all of Frasier's efforts to impress Charlotte end up leading him to bond with Frank.

Tuesday, April 27th, 2004

s11e21: Detour

Frasier offers Charlotte a ride to the train station, as she is headed to Portland to give a speech at a businesswomen's convention. She seems evasive when he tries to make future plans, so he insists that she explain what is wrong. She tells him that she is moving back to Chicago in three weeks, and doesn't think they should keep seeing each other because it will just make saying goodbye more painful. Charlotte ends up missing her train as they talk.

Tuesday, May 4th, 2004

s11e22: Crock Tales

As Frasier prepares for a dinner party, he considers throwing away an old broken crock pot. However, the crock pot stirs many memories of past experiences with his friends and family. Among the times he recalls are getting accidentally super-glued to a blind date after Martin tried to repair the pot; a birthday party for Roz that found Niles and Daphne feeling especially amorous.

Thursday, May 13th, 2004

s11e23: Goodnight, Seattle (1)

In part 1 of the finale of Frasier, Frasier struggles to put together a wedding for Martin and Ronee, Some of Daphne's brothers come to Seattle and Frasier gets an offer from his agent that he is considering whether to take or not.

Thursday, May 13th, 2004

s11e24: Goodnight, Seattle (2)

In part 2 of the finale of Frasier, Eddie is taken to the vet by the family during Martin and Ronee's wedding rehersals, Niles and Daphne have very good news. Martin prepares to move out of appartment 1901 and Frasier decides on the offer put to him by his agent.
Season 0
not specified

s0e3: Celebrity Voices

Tuesday, January 6th, 2004

s0e4: Marching on to Season Two

Created for the DVD release of the second season of "Frasier".

not specified

s0e5: The Mystery of Maris Continues

not specified

s0e6: Roz's Dating Tips

not specified

s0e7: The Niles and Daphne Attraction

not specified

s0e8: And then there was Eddie

not specified

s0e9: The Crane Brothers Remember Season 3

not specified

s0e10: A Conversation with Art Director Roy Christopher

not specified

s0e11: Bulldog Crazy

not specified

s0e12: The Mystery of Maris: The Break-up Begins

not specified

s0e13: Celebrity Voices

Including: Matthew Broderick, Carrie Fisher, Teri Garr, Laura Dern, Cyd Charisse, Ray Lioatta, Jodie Foster, Joan Allen, Jane Pauley, David Duchovney and more.

Tuesday, November 13th, 2001

s0e14: Frasier 200th Episode Special

Aired directly after "Frasier"'s 200th episode, Bob Costas interviews the five cast members about their thoughts on the 200 episodes, including seeing scenes from previous episodes and outtakes selected by the cast.

Thursday, May 13th, 2004

s0e15: Analyzing the Laughter

Frasier meets with an analyst for a review. He discusses his background, his relationships with his family and friends, and the major events that have transpired in his life over the past year.

not specified

s0e16: Observations, Analyses and Goodbyes

"Observations, Analyses and Goodbyes" is a 16-minute visit with the writers and producers of the series, who discuss what they were trying to attempt with this wrap-up season and avenues they wanted to explore.

not specified

s0e17: Frasier Says Farewell

"Frasier Says Farewell" is a 13-minute piece that offers interviews with the cast.

not specified

s0e18: The X Lover

not specified

s0e19: It's a Girl Thing

not specified

s0e20: Bloopers 1

not specified

s0e21: Bloopers 2

not specified

s0e22: Bloopers 3

Friday, May 2nd, 2003

s0e23: Kelsey Grammer on Letterman 05-02-03

Saturday, July 5th, 2003

s0e24: David Hyde Pierce on Letterman 07-05-03

Monday, June 2nd, 2003

s0e25: Kelsey Grammer's Malibu House

Monday, February 2nd, 2004

s0e26: Kelsey Grammer on NBC's Today Show

not specified

s0e27: Frasier on NBC's Today Show

Friday, November 5th, 2004

s0e28: David Hyde Pierce on Letterman 11-05-04

Saturday, February 5th, 2005

s0e29: David Hyde Pierce on Letterman 09-02-05

not specified

s0e31: It's Always Best To Start At The Beginning