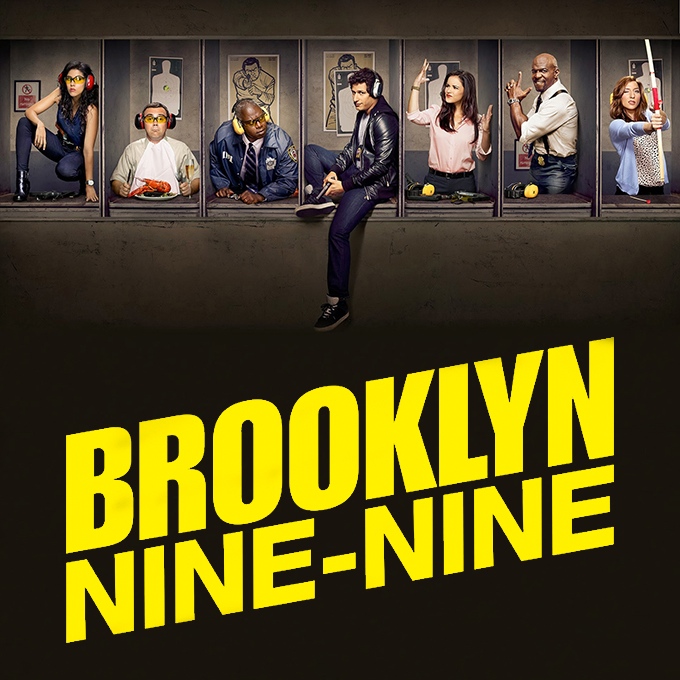 Season 1
Tuesday, October 22nd, 2013

s1e6: Halloween

It's Halloween night, a busy time of the year for any police precinct. Amy detests the holiday, and is not thrilled when she has to don a costume to go undercover on street patrol with Charles. Back at the precinct, Jake bets Captain Holt that he can steal his Medal of Valor before midnight, which results in him bringing out some costumes of his own.

Tuesday, November 5th, 2013

s1e7: 48 Hours

When Jake makes an arrest without a lot of proof, he only has 48 hours to collect evidence, or else the "perp" will be released. After his unsuccessful interrogation of the suspect, Jake forces his co-workers to spend their weekend helping him crack the case. So, while the team is stuck at the precinct, Charles judges a pie contest between Gina and Rosa, and Holt helps Terry look better in the eyes of his in-laws.
Season 0
Sunday, August 11th, 2013

s0e1: Six Minute Preview
Season 1
Wednesday, September 18th, 2013

s1e1: Pilot

Detective Jake Peralta is a talented, but carefree police detective at Brooklyn's ninety-ninth precinct who, along with his eclectic group of colleagues, are used to having a lax captain around the office. However, when tightly-wound Captain Ray Holt takes over, he is determined to make this dysfunctional group of detectives into the best precinct in Brooklyn.

Tuesday, September 24th, 2013

s1e2: The Tagger

When Jake is late for roll call, Captain Ray Holt assigns him to a graffiti case that Jake feels is below his level. However, when the culprit turns out to be the Deputy Commissioner's son, the case becomes a major problem. Meanwhile, Gina's psychic friend visits the precinct and gets inside Charles.

Tuesday, October 1st, 2013

s1e3: The Slump

Jake has a slew of unsolved cases that he can't seem to close, and the other detectives don't want his losing streak to rub off on them. Meanwhile, Holt asks Amy to run lead on the Junior Policeman Program for at-risk youth, and she enlists Rosa and Gina's help. Also, Boyle helps Sergeant Jeffords with a special case he cannot solve.

Tuesday, October 8th, 2013

s1e4: M.E. Time

Much to the team's annoyance, Jake hits on an attractive medical examiner, Dr. Rossi, at a crime scene and holds up the autopsy report. He learns his lesson when Dr. Rossi turns out to be more than he bargained for. Meanwhile, Amy's purse-snatching case is stalled when the sketch artist is out sick, but she discovers that Sgt. Jeffords has hidden artistic talents.

Tuesday, October 15th, 2013

s1e5: The Vulture

A detective from Special Crimes, takes over Jake's nearly solved murder case and steals his thunder. Over a few drinks, Jake enlists the precinct to get revenge and find the murder weapon before "The Vulture" does. Across town, Captain Holt and Gina help Terry get re-certified to carry a gun.

Tuesday, November 12th, 2013

s1e8: Old School

Jake's dream comes true when he gets to spend the day with his hero, Jimmy Brogan, a former crime reporter. But the dream becomes a nightmare when Jake's comments about Holt and the precinct are considered "on the record." Meanwhile, Terry and Charles try to teach Rosa how to be less terrifying on the witness stand.

Tuesday, November 19th, 2013

s1e9: Sal's Pizza

When Sal's Pizza burns down and the fire marshal quickly assumes that the owner is the prime suspect in the investigation, Jake does everything in his power to prove him wrong, even if it means stepping out of his jurisdiction. Meanwhile back at the precinct, chaos ensues when a computer virus publishes everyone's browser history.

Tuesday, November 26th, 2013

s1e10: Thanksgiving

Amy wants to host a Thanksgiving dinner for the entire precinct, but it turns into a holiday disaster when Holt and Jake have to leave to go catch a perp. Boyle steps in to save Turkey Day.

Tuesday, December 3rd, 2013

s1e11: Christmas

Captain Holt receives death threats and Jake is put in charge of his security, a job he enjoys and abuses as much as he can. Meanwhile, Amy attempts to get the precinct to take a Christmas photo for Holt, but a lack of enthusiasm and Rosa's refusal to smile defeats her efforts. Also, Sergeant Terry Jeffords gets his mojo back.

Tuesday, January 7th, 2014

s1e12: Pontiac Bandit

Jake is interested in one of Rosa's perps, Doug Judy who has information about the "Pontiac Bandit," a car thief whom Jake has been tracking for years. Meanwhile, the station tries to accommodate a scooter-bound Charles' every need when he returns to work, but he proves to be too much to handle. And Captain Holt struggles to find a home for two puppies.

Tuesday, January 14th, 2014

s1e13: The Bet

Jake and Amy's ongoing bet about who can make more arrests comes to a close. Meanwhile, Charles receives the Medal of Valor for getting shot in the line of duty, but the pain medication he is taking causes him to reveal his true opinions about his colleagues.

Tuesday, January 21st, 2014

s1e14: The Ebony Falcon

On his first task back in the field, Terry busts a steroid ring, and in doing so, takes cues from Jake on how to harness his emotions. Meanwhile, Amy and Rosa help solve a breaking-and-entering case at Gina's apartment.

Sunday, February 2nd, 2014

s1e15: Operation: Broken Feather

Jake and Amy investigate a string of hotel robberies together, but Jake turns on her when he finds out she may leave the Nine-Nine to work in the Special Crimes unit with "The Vulture". Meanwhile Captain Holt and Sergeant Jeffords strategize to make the precinct more efficient.

Tuesday, February 4th, 2014

s1e16: The Party

The officers in the precinct head over to Holt's house to celebrate his birthday, but they wind up making a poor impression on his husband.

Tuesday, February 11th, 2014

s1e17: Full Boyle

Detective Boyle's new romance has upped his swagger, but Jake intervenes before his colleague goes "Full Boyle" and gets too serious, too soon, with his girlfriend. Meanwhile, Rosa and Amy have trouble taking a costumed citizen crime-fighter seriously, and Captain Holt has a new opponent.

Tuesday, February 25th, 2014

s1e18: The Apartment

Jake's crushing debt finally catches up to him, and he is in danger of losing his apartment, unless Gina can find a way to bail him out. Captain Holt and Sergeant Jeffords hold performance reviews for the entire precinct, and Rosa and Boyle have a run-in with one of the weekend squad officers.

Tuesday, March 4th, 2014

s1e19: Tactical Village

The precinct heads to Tactical Village Day, a mandatory training course in which all regional precincts compete. While there, Amy runs into Teddy, a fellow officer she used to date. Meanwhile, Holt becomes addicted to a game on his phone and Rosa is pissed at Charles for not inviting her to his wedding.

Tuesday, March 11th, 2014

s1e20: Fancy Brudgom

Charles asks Jake to be the best man at his wedding, a role that requires Jake to be supportive in important wedding decisions, ranging from cake tasting to floral arrangements. Meanwhile, Terry, Amy and Gina support each other as they start a new extreme diet and Holt helps Rosa make a sincere apology.

Tuesday, March 18th, 2014

s1e21: Unsolvable

When Jake gets the weekend off, he decides to take on a cold case that everyone thinks is unsolvable, but with the help of Terry, the two try to crack the case once and for all. Meanwhile, Amy plans a romantic trip with Teddy and Gina and Rosa let Charles in on one of their best-kept secrets.

Tuesday, March 25th, 2014

s1e22: Charges and Specs

Jake's investigation of philanthropic civic leader Lucas Wint is shut down by Commissioner Podalski. Still determined to crack the case, Jake enlists Amy and a reluctant Captain Holt to help him uncover more evidence, to help him uncover more evidence, even if it means facing suspension. Meanwhile, Charles is devastated over pre-marital problems with Vivian, and Gina knows just how to cheer him up.
Season 2
Sunday, September 28th, 2014

s2e1: Undercover

Jake's undercover FBI operation ends in a successful sting, until he learns one mobster has gotten away. As Jake enlists Charles' help to track him down, Holt tests the squad's patience with practice drills.

Sunday, October 19th, 2014

s2e4: Halloween II

The Peralta / Holt annual Halloween bet continues when Jake challenges the Captain that he can steal his watch before midnight. Meanwhile, Gina is upset that her dance team, Floorgasm, kicks her off the squad and Terry confronts her about her bad attitude.

Sunday, October 12th, 2014

s2e3: The Jimmy Jab Games

The squad has time to kill when the arrival of the Serbian President's motorcade to Brooklyn has been delayed. So, Jake launches "The Jimmy Jab Games," an annual series of competitions in the precinct. Meanwhile, Terry and Holt take on a new drug task force approved by Holt's nemesis, Deputy Chief Madeline Wuntch.

Sunday, October 5th, 2014

s2e2: Chocolate Milk

Holt is taken by surprise when his longtime nemesis, Deputy Chief Madeline Wuntch arrives for an inspection of his precinct. Meanwhile, Jake and Terry test the boundaries of "work friends" vs. "friend friends" as they investigate a stabbing at a hipster chocolate milk bar.

Sunday, November 2nd, 2014

s2e5: The Mole

There's a mole in the precinct and Holt and Jake need to find out who it is before Deputy Chief Madeline Wuntch gets wind of it. Meanwhile, Terry and Rosa visit a "silent" disco to uncover new leads for their new drug task force.

Sunday, November 30th, 2014

s2e9: The Road Trip

In an attempt to add a touch of romance to their work trip, Jake invites his girlfriend Sophia, as well as Amy's boyfriend, Teddy, to join them at a B&B. Meanwhile, Rosa adamantly refuses to admit she is sick to Terry and Gina, and Charles is eager to help Holt with his anniversary breakfast.

Sunday, December 7th, 2014

s2e10: The Pontiac Bandit Returns

"The Pontiac Bandit," aka Doug Judy, is back in custody, after jamming up Jake and Rosa in his previous encounter with them. But when Rosa discovers that Judy knows the whereabouts of the "Giggle Pig" drug leader, Capt. Holt offers the perp a plea deal to help track down the drug kingpin. Meanwhile, Gina and Boyle are nervous that their parents might be getting too close, and Santiago makes Holt a Christmas gift against his wishes.

Sunday, January 4th, 2015

s2e12: Beach House

The team is excited to spend the weekend at Charles' beach house for a detectives-only-getaway, until Jake ruins the fun by inviting Captain Holt. Meanwhile, Charles helps Rosa send romantic texts to her new boyfriend, and Gina tries to get Amy drunk, simply for her own enjoyment.

Sunday, December 14th, 2014

s2e11: Stakeout

Jake and Charles' bro-mance starts to crack when they volunteer for an eight-day stakeout in very close quarters. Meanwhile, Captain Holt's nephew, Marcus, comes to Brooklyn and captures Rosa's attention.

Sunday, November 9th, 2014

s2e6: Jake and Sophia

Jake hits it off with Sophia, a woman whom he meets at a bar, only to find out she is the defense attorney for a perp he is trying to put in jail. Meanwhile, Gina and Charles work to put their relationship behind them.

Sunday, November 16th, 2014

s2e7: Lockdown

The precinct goes into lockdown mode on Thanksgiving night and Jake, who was left in charge, is confident in his ability to keep spirits high and avoid chaos. Amy is less confident, as things spiral out of control.

Sunday, November 23rd, 2014

s2e8: USPIS

While attempting to catch a drug dealer, Jake and Charles reluctantly join forces with the nerdy lead investigator at the U.S. Postal Service, Jack Danger. Meanwhile, the rest of the team helps Amy quit smoking.

Sunday, January 11th, 2015

s2e13: Payback

The squad decides it's high time Jake paid them back all the money he has owed them from over the years. Meanwhile, Amy and Holt team up to re-open the Brooklyn Broiler case.

Sunday, January 25th, 2015

s2e14: Defense Rests

When Sophia's job gets in the way of her relationship with Jake, Jake tries to smooth things over with her boss. Meanwhile, Wuntch needs Holt's help for a job recommendation.

Sunday, February 8th, 2015

s2e15: Windbreaker City

Jake is heartbroken over Sophia, but his spirits are lifted when the squad is invited to a Homeland Security terrorist training simulation. That is, until the agent in charge assigns them the lame role of playing hostages. Meanwhile, Gina administers a psychological exam to Holt, and Amy and Rosa compete for a day off from work.

Sunday, February 15th, 2015

s2e16: The Wednesday Incident

When Jake notices that Holt has been acting moody, he teams up with Holt's husband to figure out what happened. Meanwhile, at the precinct, Charles tries to get a confession out of a geriatric suspect who pretends to be senile and adorable whenever Amy and Rosa are around.

Sunday, May 3rd, 2015

s2e21: Det. Dave Majors

Jake is excited to work a case with the best detective in the NYPD, Detective Majors, until Majors shares his intentions to ask Amy out on a date. Meanwhile, Charles and Gina try to convince Terry to stay at the Nine-Nine when he considers accepting an offer to work at a private security firm.

Sunday, May 17th, 2015

s2e23: Johnny and Dora

Jake and Amy go undercover to catch Brooklyn's most notorious identity thief, and the case brings them closer together – very close. Meanwhile, the entire precinct is caught off-guard when one of their own says goodbye to the Nine-Nine.
Season 3
Sunday, September 27th, 2015

s3e1: New Captain

After Holt is transferred to the NYPD Department of Public Relations, the new captain's arrival causes the precinct to dissolve into chaos, despite Terry's best efforts to keep everyone on point. Meanwhile, Jake and Amy face the aftermath of their "for reals" kiss.
Season 0
Sunday, August 30th, 2015

s0e2: Webisode: Hitchcock and Scully (1)

Detectives Hitchcock and Scully give an inside look on how to prepare for a stakeout.
Season 3
Sunday, October 4th, 2015

s3e2: The Funeral

The Nine-Nine gets another personnel change that could put Jake and Amy's budding relationship at risk. Meanwhile, Terry assists Holt with an important public relations matter, and Rosa and Gina try to convince Charles to rethink his affection for a fellow officer.

Sunday, October 11th, 2015

s3e3: Boyle's Hunch

Jake thinks Boyle might have met his soulmate in Genevieve, an art gallery owner, and he tries to help set them up. Meanwhile, Rosa deals with inter-precinct theft and Holt seeks Amy's help with an image campaign.

Sunday, November 15th, 2015

s3e7: The Mattress

Jake and Amy convince the Captain to let them work a case together involving a new street drug, but their new relationship gets in the way. Meanwhile, at the precinct, Charles panics when he realizes he's damaged one of Holt's prized possessions and Terry teaches Rosa a lesson in discipline.

Sunday, October 25th, 2015

s3e5: Halloween III

The third installment of Captain Holt and Jake's Halloween heist culminates with a tie-breaking competition to claim the title of "amazing detective slash genius." This year, Jake and Holt split the squad into two teams to help them win.

Sunday, November 8th, 2015

s3e6: Into the Woods

Jake and Charles convince Terry to take a weekend camping trip as a much needed "babymoon," but they soon realize it might not be the idealistic weekend for which they had hoped. Meanwhile back at the precinct, Holt gives Rosa some important relationship advice and Amy enlists Gina's help to prepare her for an important presentation.

Sunday, November 22nd, 2015

s3e8: Ava

Terry leaves Jake in charge of entertaining his pregnant wife, Sharon, while he and Rosa head to Rikers to learn more about the Douglass Street murders. But when Sharon's water breaks sooner than expected, crisis ensues at the precinct. Meanwhile, due to an internet outage, Amy and Charles must process all the paperwork by hand to avoid the bullpen from overflowing with perps and Holt is forced to confront his ex-boyfriend.

Tuesday, January 26th, 2016

s3e13: The Cruise

Jake and Amy are excited to go on their first real vacation together, but Amy's perfectly planned cruise ship itinerary is thwarted when they discover an old adversary is on board with them. Meanwhile, Gina and Terry help Captain Holt survive a visit from his sister, Debbie, and Charles and Rosa vie for the same apartment.
Season 0
Sunday, September 6th, 2015

s0e3: Webisode: Hitchcock and Scully (2)

Detectives Hitchcock and Scully demonstrate how they stay awake during stakeouts.

Monday, September 14th, 2015

s0e4: Webisode: Hitchcock and Scully (3)

Detectives Hitchcock and Scully breakdown the steps of the booking process.
Season 2
Sunday, March 1st, 2015

s2e17: Boyle-Linetti Wedding

It's the day of Gina and Charles' parents' wedding, and the whole squad is given a job to fulfill for the ceremony. However, Jake and Amy get sidetracked chasing a criminal, and Terry struggles to officiate the wedding.

Sunday, March 8th, 2015

s2e18: Captain Peralta

Jake's mainly absentee father, Roger, comes to town to spend some time with his son. Jake can't wait to see him, but Charles is skeptical of Roger's intentions. Meanwhile, Holt tasks Amy, Terry, Gina and Rosa with an impossible brain teaser in exchange for Beyoncé tickets.

Sunday, March 15th, 2015

s2e19: Sabotage

After a streak of really bad luck, Jake thinks he's being sabotaged by an enemy. Holt assigns Amy and Rosa to investigate the truth. Meanwhile, Holt hurts Gina's feelings by calling her dance troupe a "hobby," and Charles is stuck working a case with Scully and Hitchcock in Jake's absence.

Sunday, April 26th, 2015

s2e20: AC/DC

After Jake injures himself on a case, Terry forces him take time off and rest -- something Jake doesn't know how to do. Across town, Holt and Rosa try to avoid intimate conversation during a double-date with their significant others.

Sunday, May 10th, 2015

s2e22: The Chopper

Holt is wary when Wuntch lets Jake work his dream case, worried that she is setting him up to fail. Back at the precinct, Amy, Rosa and Gina help Terry host a field trip for a local magnet school.
Season 3
Sunday, October 18th, 2015

s3e4: The Oolong Slayer

When investigating a serial killer, Jake enlists Holt's help in an attempt to solve the case off the radar. At the precinct, Rosa and Amy are forced to deal with demands from an old adversary and Terry discovers a new obsession.

Sunday, December 6th, 2015

s3e9: The Swedes

In an attempt to solve an international case, Jake and Rosa are forced to work with a pair of Swedish cops and things get very competitive, very quickly. Meanwhile, Amy and Terry offer to help Gina prepare for a big test and Holt enlists Charles to sub in as his squash partner for an annual tournament.

Sunday, December 13th, 2015

s3e10: Yippie Kayak

Jake, Charles and Gina are involved in a real-life "Die Hard" situation while off-duty on Christmas Eve, and Terry must leave his family celebration to try to save his squad. Meanwhile, Amy tries to prove she's just as tough as Holt and Rosa.

Tuesday, January 5th, 2016

s3e11: Hostage Situation

Charles and Genevieve want to take their relationship to a new level, but his ex-wife, Eleanor, steamrolls their plans. Meanwhile, Amy asks Terry to write a recommendation letter with disastrous results, and Holt and Rosa enlist Gina's help to solve a case.

Tuesday, January 19th, 2016

s3e12: 9 Days

When Captain Holt and Jake accidentally contract the mumps during an investigation, they decide to be quarantined together in hopes of still solving the case. Meanwhile, Rosa tries to help Boyle through a mourning process, and Terry is forced to clean up Hitchcock and Scully's mess.

Tuesday, February 2nd, 2016

s3e14: Karen Peralta

On his birthday, Jake brings Amy to meet his mother, but a surprise appearance by his dad throws a wrench in his special day. Meanwhile, Rosa and Charles struggle with a new mandate regarding body cams while on a stakeout with Terry, and Gina forgets to inform the precinct about an important plan of Holt's.

Tuesday, February 9th, 2016

s3e15: The 9-8

The Nine-Nine host the detectives from the Nine-Eight, their neighboring precinct, reuniting Jake with his old partner. Charles is immediately jealous and tries to reclaim his best friend status with Jake. Meanwhile, the rest of the precinct tries to be welcoming to the Nine-Eight, but it doesn't go as well as they had planned.

Tuesday, February 16th, 2016

s3e16: House Mouses

When Jake insults Hitchcock and Scully's work ethic in the precinct, they force their way into one of his cases in attempt to prove themselves. Meanwhile, Amy and Gina help Rosa conquer one of her biggest fears, and Holt and Boyle work a celebrity case.

Tuesday, February 23rd, 2016

s3e17: Adrian Pimento

When an unstable detective returns to the Nine-Nine after years undercover, Jake doesn't know what to make of him. Meanwhile, Charles' rebellious behavior pits him against the precinct's custodian, and Holt enlists Gina's help in directing a "fun and informational" video starring himself and Rosa.

Tuesday, March 15th, 2016

s3e19: Terry Kitties

In an attempt to prove to his old precinct that he's not a joke, Terry enlists Jake's help in solving a case from his past. Meanwhile, Adrian moves in with Charles, with mixed results, and Amy invites herself to a hyper-competitive training exercise with Holt and Rosa

Tuesday, April 5th, 2016

s3e21: Maximum Security

In an attempt to get information on a criminal operation, Amy has to go undercover at a women's prison and befriend one of the prisoners. Meanwhile back at the precinct, Holt and the team plan a fake funeral in an attempt to catch a hitman.

Tuesday, April 12th, 2016

s3e22: The Bureau

With Pimento's life still in peril, Captain Holt calls on an old friend in the FBI to help with a seemingly impossible heist. Meanwhile Amy makes a breakthrough while undercover, and Terry and Gina discover an information leak in the Nine-Nine.
Season 4
Tuesday, September 20th, 2016

s4e1: Coral Palms (1)

Tuesday, September 27th, 2016

s4e2: Coral Palms (2)

Tuesday, October 4th, 2016

s4e3: Coral Palms (3)

Tuesday, October 11th, 2016

s4e4:

(Crossover with New Girl, season 6 episode 4)

Tuesday, April 11th, 2017

s4e13: