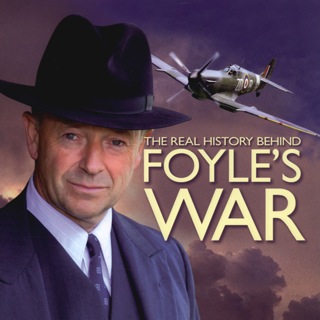 Season 1
Sunday, October 27th, 2002

s1e1: The German Woman

The German wife of a rich and influential aristocrat exempted from wartime internment is found decapitated in the midst of anti-German feeling.

Sunday, November 3rd, 2002

s1e2: The White Feather

With the English army trapped in France and a German invasion imminent, a Nazi sympathizer is murdered during a pro-Facist meeting at a country hotel.

Sunday, November 10th, 2002

s1e3: A Lesson In Murder

Foyle investigates the suicide of a pacifist and death threats to the judge who ruled against his conscientious objector status.

Sunday, November 17th, 2002

s1e4: Eagle Day

Foyle investigates a man found with a knife in his stomach in a bombed out building while son Andrew gets involved in a top secret radar program.
Season 2
Sunday, November 16th, 2003

s2e1: Fifty Ships

After Foyle is a guest at a friend's home at a dinner for an important American diplomat, a suicide victim and German agent both are discovered near the house.

Sunday, November 23rd, 2003

s2e2: Among The Few

Sam volunteers to go undercover to discover how rationed gasoline is being stolen from a fuel depot, and Andrew becomes a suspect in a murder case.

Sunday, November 30th, 2003

s2e3: War Games

When a British food corporation signs a secret agreement with the Nazis to provide essential food services to the enemy during wartime, murders result.

Sunday, December 7th, 2003

s2e4: The Funk Hole

Foyle's investigation of the death of a young black marketeer and stolen food is interrupted by his suspension on charges of sedition.
Season 3
Sunday, October 24th, 2004

s3e1: The French Drop

February 1941: Foyle again pursues a position that would allow him to contribute more to the war effort. But a local murder investigation sidetracks this endeavor as Foyle finds himself caught between rival spy organizations.

Sunday, October 31st, 2004

s3e2: Enemy Fire

February 1941: When a local manor house is commandeered for use as a special burn unit for treating injured RAF pilots, Foyle is called in to investigate a series of strange accidents.

Sunday, November 7th, 2004

s3e3: They Fought in the Fields

April 1941: Foyle questions three Land Army girls about a murder that occurs on a Hastings farm.

Sunday, November 14th, 2004

s3e4: War of Nerves

A.C. Rose orders Foyle to delegate his investigation of black marketing ring and personally look into the possibly seditious acts of a Socialist activist.
Season 4
Sunday, January 15th, 2006

s4e1: Invasion

American troops arrive in Britain and the Corps of Engineers building an airstrip on a Hastings farm is met with resentment.

Sunday, January 22nd, 2006

s4e2: Bad Blood

Foyle investigates the a mysterious disease affecting local farm animals and looks into the arrest of a pacifist accused of stabbing a war hero.
Season 5
Sunday, February 11th, 2007

s5e1: Bleak Midwinter

The apparently accidental death of a young woman in a munitions factory becomes linked with the murder of Milner's estranged wife as he falls under suspicion.

Sunday, April 15th, 2007

s5e2: Casualties of War

Foyle has his hands full dealing with illegal gambling, sabotage, and his needy goddaughter who shows up on his doorstep with her traumatized son.
Season 6
Sunday, January 6th, 2008

s6e1: Plan of Attack

Milner is unhappy with his new DCS and has asked for a transfer, but after he is murdered, Foyle comes out of retirement to replace him.

Sunday, April 13th, 2008

s6e2: Broken Souls

Foyles hones in on two murders: an unpopular psychiatrist in a trauma facility and a low security German POW on work release to a local farm.

Sunday, April 20th, 2008

s6e3: All Clear

Foyle joins a municipal committee that's preparing for the now imminent V-E Day celebration but soon finds himself investigating the deaths of two of its members.
Season 7
Sunday, April 11th, 2010

s7e1: The Russian House

It's June 1945 and Detective Chief Superintendent Foyle is still on duty as they are unable to find a replacement for him. He's approached by Brigadier Timothy Wilson, his former commanding officer from his own military service in World War I, who is looking for a Russian POW, Ivan Spiakov, who has escaped and is believed to have been seen in the Hastings area.

Sunday, April 18th, 2010

s7e2: Killing Time

Sam moves in with Adam Wainwright to help run his guest house though,due to his shyness,they are not a couple. One of the tenants, Mandy Dean,is having a tough time, raising a baby fathered by black G.I. Gabe Kelly. Her old boyfriend Tommy Duggan is devastated when he returns and makes the discovery.

Sunday, April 25th, 2010

s7e3: The Hide

DCS Foyle is replaced and is free at last - he's resigned his position and planning to travel to the United States for an extended tour. Before departing however, he's asked to look into the case of James Devereaux, a young man who joined the Nazi British Free Corps during the war.