update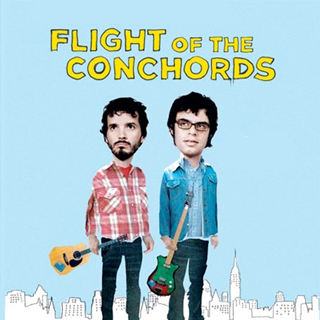 Season 0
6: Dave's Pawn Shop Commercials

7: New Zealand Consulate Meeting with Murray and Greg

10: On Air

Behind the scenes look at the cult comedy series about Kiwi folk musicians Bret and Jemaine trying to make it big in their adopted home of New York. It follows the duo in the United States before and after the release of the first series, as they speak candidly about the road to fame, and we meet the other personalities, cast and crew that helped make their show a smash hit in America, NZ and the rest of the world. As Bret McKenzie's long-term partner, director Hannah Clarke was in a unique position to gain access to the Conchords at their most relaxed, as well as their most frantic and exhausted, and was able to get an up-close-and-personal glimpse into this experience. Through her insider's eye we are granted an intimate look into the lives of this great comedy act and discover how they won the hearts of America.

11: Doggie Bounce (Original Video)

12: Rhys Darby Live: Imagine That!

14: Music Video: Robots

Music Video: Robots

15: Music Video: I'm Not Crying

16: Music Video: Inner City Pressure

17: Music Video: She's So Hot (Boom)

18: Music Video: Hiphopopotamus vs the Rhymenocerous

19: Music Video: Think About Think Think About It

20: Music Video: If You're Into It

21: Music Video: Pencils in the Wind

22: Music Video: Business Time

23: Music Video: Sally

24: Music Video: Bret You Got It Going On

25: Music Video: Bowie

26: Music Video: Albi

27: Music Video: Too Many Mutha Uckers

28: Music Video: Goodbye (Leggie Blonde)

29: Music Video: Foux Da Fa Fa

30: Music Video: K.I.S.S.I.N.G

31: Music Video: Mermaids

32: Music Video: Prince of Parties

33: Music Video: Something Special for the Ladies

34: Music Video: Cheer Up Murray

35: Music Video: Frodo

36: Music Video: The Most Beautiful Girl in the Room

not specified

3: On Air

Behind the scenes look at the cult comedy series about Kiwi folk musicians Bret and Jemaine trying to make it big in their adopted home of New York. It follows the duo in the United States before and after the release of the first series, as they speak candidly about the road to fame, and we meet the other personalities, cast and crew that helped make their show a smash hit in America, NZ and the rest of the world. As Bret McKenzie's long-term partner, director Hannah Clarke was in a unique position to gain access to the Conchords at their most relaxed, as well as their most frantic and exhausted, and was able to get an up-close-and-personal glimpse into this experience. Through her insider's eye we are granted an intimate look into the lives of this great comedy act and discover how they won the hearts of America.

Friday, September 9th, 2005

1: HBO One Night Stand

Live performances of: Jenny, Issues (Think About It), Business Time, Albi the Racist Dragon, Hiphopopotamus Vs. Rhymenoceros and She's So Hot Boom.

Friday, September 9th, 2005

13: HBO One Night Stand

Thursday, October 19th, 2006

2: A Texan Odyssey

is a rare and exciting chance for New Zealand viewers to see our most successful comedy duo do their thing on the world stage. In March 2006, Bret McKenzie and Jemaine Clement aka Flight of the Conchords embarked on a revealing and hilarious odyssey into the political and musical heart of the United States of America. The result is a very amusing comedy documentary jam-packed with the Conchords' classic hit songs. With a Gibson Group documentary crew in tow, they travelled from Wellington, New Zealand to Austin, Texas to launch their folk parody act upon one of the toughest music industry events in the world: the South By SouthWest music showcase. Superstars Morrissey, Neil Young, Peaches, Lyle Lovett and Kinky Friedman appear alongside New Zealanders Coco Solid, The Brunettes and Flight of the Conchords themselves in this enlightening look at what it takes to break into the ruthless American music market. In their first experience as documentarians, McKenzie and Clement meet famous folk and political candidates, real cowboys and regular musicians, as well as their own management and fans. Important questions are asked. Is it better to be called a band, or a duo? Can one good rock show change the world? Can a comedy act break through onto the ruthless music circuit? Has anybody in America heard of any bands from New Zealand? Is stage-diving a good idea? The answers can be shocking. In its 20 years of existence, SXSW has become widely regarded as the most important showcase of contemporary music in the world. Held every March in the state capital of Texas, approximately 1500 bands line up to tout their wares to record labels, managers, tour promoters, festival bookers and venue owners. Flight of the Conchords had a greater head-start than most when they hit the ground in Austin this year: they already had a record contract (with Sub Pop – the legendary US indie label that signed Nirvana); management (the guy behind Good Charlotte and My Morning Jacket); a legal team (who also represent the South Park lads), and a personal invitation from SXSW head honcho, Roland Swenson (who saw them on HBO and loved them). Yet this still wasn't enough to guarantee them decent sound at their gigs, fancy accommodation close to town, or cool bodyguards like Morrissey has to protect them from their fans. Things could go wrong – and they did. Flight of the Conchords: A Texan Odyssey features live performances of the Flight of the Conchords hits "Business Time", "The Most Beautiful Girl in the Room", "Boom, She's So Hot!", "Think About It, Think, Think About It" and Coco Solid's hit single "Denim & Leather".

Saturday, October 6th, 2018

4: Flight of the Conchords: Live in London
Season 1
Sunday, June 17th, 2007

1: Sally

Bret and Jemaine go to a party at Dave's, where Jemaine meets and falls for the 'most beautiful girl in the room', Sally. When it turns out that Sally used to go out with Bret, things get weird between Bret and Jemaine.

Sunday, June 24th, 2007

2: Bret Gives Up the Dream

Faced with dire financial circumstances, Bret and Jemaine look for jobs. Bret gets a job holding signs but soon he has no time for the band and Murray and Jemaine start looking for a replacement.

Sunday, July 1st, 2007

3: Mugged

Bret loses Jemaine's trust after Bret abandons him when they get mugged. To regain it, Bret tries to retrieve Jemaine's stolen "camera phone" (a phone with a camera taped to it) from their muggers, who are experiencing their own trust issues.

Sunday, July 8th, 2007

4: Yoko

Murray tries to interest Bret and Jemaine in his tour of New York band rotundas. However, Bret has a date with Coco, the girl he met at his sign-holding job. Jemaine tags along on the date, and quickly makes a habit of inviting himself along on all their dates. When Bret finally tells Jemaine that he doesn't want him to come on the dates any more, Jemaine and Murray's conclusion is that Coco is pulling a "Yoko Ono" and trying to break up the band.

Sunday, July 15th, 2007

5: Sally Returns

Sally, the ex-girlfriend of both Bret and Jemaine, from the season premiere, returns to further complicate things in the band.

Sunday, July 22nd, 2007

6: Bowie

After a photo session, Bret develops body image issues and gets some dream advice from his idol, David Bowie. Jemaine plots to cheer him up and Murray tries to get one of the band's tunes used for a musical greeting card.

Sunday, July 29th, 2007

7: Drive By

Bret and Jemaine are shocked by the prejudiced actions of a fruit vendor who won't sell to them because they are New Zealanders. Dave recommends a strong response and teaches them how to "flip the bird". Murray is smitten with the new tech support lady at the consulate.

Sunday, August 5th, 2007

8: Girlfriends

Bret and Jemaine pick up two women at a croissant shop - but end up with very different dating experiences. Meanwhile, Murray makes an album deal for the band.

Sunday, August 12th, 2007

9: What Goes on Tour

Using the band's "emergency fund," Murray organizes a warm-up tour in preparation for a big gig in Central Park. At an airport bar, the boys get hooked by some "mermaids" from a woman's water-polo team - nearly ruining the tour and their relationship with Murray.

Sunday, August 19th, 2007

10: New Fans

A performance at a local "World Music Jam" results in the Conchords gaining two new fans, but Mel is suspicious of the newcomers and their motives. Murray encourages the band to adopt a more "rock star" attitude.

Sunday, August 26th, 2007

11: The Actor

Bret and Jemaine enlist a semi-professional actor to cheer Murray up after a disappointing gig. Asked to place a good-hearted rejection call, the actor gets carried away, offering Murray and the Conchords a recording deal that's too good to be true.

Monday, September 3rd, 2007

12: The Third Conchord

Murray introduces a new bongo-playing band member on Bret and Jemaine, triggering angry dances and mutant half-bands.
Season 2
Sunday, January 18th, 2009

1: A Good Opportunity

Bret and Jemaine fire Murray for neglecting them in favour of the Crazy Dogggz and almost immediately they receive an offer to write a jingle for a commercial. Meanwhile Murray's fortunes reverse after he discovers that the Crazy Dogggz big hit is a rip-off of a 1990s Polish song.

Sunday, January 25th, 2009

2: The New Cup

Bret and Jemaine s fortunes unravel after Bret buys a new tea cup; Jemaine goes to desperate measures to supplement his income.

Sunday, February 1st, 2009

3: The Tough Brets

Bret organizes a gang to protect himself from rappers he dissed in a song; Murray and Jemaine confront a group of Aussie bullies; Mel paints a portrait Jemaine can't get rid of.

Sunday, February 8th, 2009

4: Murray Takes It to the Next Level

Murray tries to elevate Bret and Jemaine on his friendship graph, bringing his questioning pal Jim in on the plan; Mel demands an apology from Bret for inappropriate dream behavior.

Sunday, February 15th, 2009

5: Unnatural Love

Jemaine starts dating an Australian, to Bret's dismay and inconvenience.

Sunday, February 22nd, 2009

6: Love Is the Weapon of Choice

Bret and Jemaine become rivals for the attentions of the same woman, who happens to have an epileptic dog that has gone missing.

Sunday, March 1st, 2009

7: Prime Minister

Murray sets up a meeting for the New Zealand prime minister; Jemaine gets mixed up with an Art Garfunkel fan at the end of a tribute gig.

Sunday, March 8th, 2009

8: New Zealand Town

Trying to look cool for a gig at the Grand Opening of New York's one-block New Zealand enclave, the Conchords end up getting hooked on hair gel.

Sunday, March 15th, 2009

9: Wingmen

Jemaine and Dave help Bret woo the clerk at the cheap zoo (pet shop). Jemaine also helps Murry seek forgiveness from Greg.

Sunday, March 22nd, 2009

10: Evicted

Bret and Jermaine can't afford to pay their rent and are forced to move in with Mel and Doug, and Murray believes they can make some money with a theatrical production about the band.