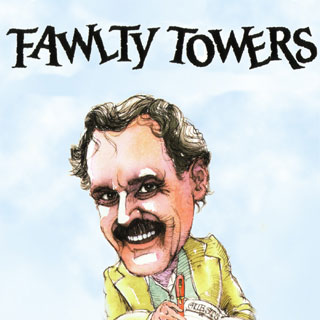 Season 1
Friday, September 19th, 1975

s1e1: A Touch of Class

A confidence trickster comes to stay at the hotel, just after Basil has taken an ad in a posh magazine to upgrade the clientele.

Friday, September 26th, 1975

s1e2: The Builders

The Fawltys take a holiday and leave Polly and Manuel to run the place just as O'Reilly's builders come to redo the lobby.

Friday, October 3rd, 1975

s1e3: The Wedding Party

Basil wants 'none of that' going on in his rooms and suspects some guests and Polly of carrying on.

Friday, October 10th, 1975

s1e4: The Hotel Inspectors

Some inspectors are in town and Basil gets paranoid, so he alternately fawns over and offends his guests.

Friday, October 17th, 1975

s1e5: Gourmet Night

To bring the right type of crowd into the hotel Basil establishes a Gourmet Night.

Friday, October 24th, 1975

s1e6: The Germans

Sybil goes into the hospital for toe surgery, leaving Basil to cope with a fire drill single-handed. After a couple of blows on the head, Basil tells some German guests where Germany went wrong in WWII.
Season 2
Monday, February 19th, 1979

s2e1: Communication Problems

A selectively deaf woman named Mrs Richards insists that she has had a large amount of money stolen at the hotel, and against Sybil's wishes Basil puts a fiver on Dragonfly.

Monday, February 26th, 1979

s2e2: The Psychiatrist

A psychiatrist and his wife come to stay and Basil thinks Sybil is telling them all about his life.

Monday, March 5th, 1979

s2e3: Waldorf Salad

An American and his wife get unsatisfactory service at Fawlty Towers when he orders a Waldorf salad, after the kitchen has closed.

Monday, March 12th, 1979

s2e4: The Kipper and the Corpse

Unknown to Basil, a guest dies in the night and he tries to serve him breakfast anyway and an obnoxious woman insists on service for her dog.

Monday, March 26th, 1979

s2e5: The Anniversary

Sybil leaves before Basil's surprise anniversary party and Basil spends the evening trying to convince their friends she's ill.

Thursday, October 25th, 1979

s2e6: Basil the Rat

The health inspector is coming and Basil tells Manuel to get rid of his pet rat, which he later finds out is named Basil.
Season 0
s0e1: Customer Service Tips

not specified

s0e2: Outtakes

not specified

s0e3: Fawlty Towers Revisited

not specified

s0e4: John Cleese Interview

An interview with the man himself, as he tells all about the making of each of the episodes of Fawlty Towers and the writing process behind them as well as the good and bad moments from behind the scenes.

not specified

s0e5: Prunella Scales Interview

not specified

s0e6: Andrew Sachs Interview

An interview with the legendary actor Andrew Sachs, in which he tells us about his time on the show and of how the much loved character of Manuel was created.

not specified

s0e7: A Visit to Torquay: Home of Fawlty Towers

not specified

s0e8: Re-Opened

To help celebrate its 30th anniversary, G.O.L.D. is throwing open the doors of TV's most famous hotel once more after a lengthy absence. New and exclusive, Fawlty Towers: Re-opened gathers cast and crew together to retrace the history of the sitcom from a rarely seen insider point of view. The one-off special leaves no English Riviera stone unturned in its search for trivia and nuggets of information from the Fawlty Towers guestbook, together with in-depth interviews with John Cleese, Andrew Sachs and Prunella Scales, as well as Connie Booth talking about her memories from the show for the first time in 30 years. Just don't mention the war.

not specified

s0e9: Basil's Best Bits

Now here's an interesting way to celebrate the 30th birthday of a classic sitcom. For the first time ever, John Cleese reveals his favourite scenes from Fawlty Towers. No clues yet as to which ones they will be but there's the added bonus of the likes of Michael Palin, Terry Jones, Mitchell and Webb, Eddie Izzard and AA Gill reminiscing about these magic moments. Possibly even more interesting will be the comments from the owners of Gleanagles Hotel, which was the real-life inspiration for Fawlty Towers.

Sunday, May 10th, 2009

s0e10: Fawlty Towers Re-Opened

Tiger Aspect Productions produced this 30th anniversary documentary for digital comedy channel G.O.L.D. The documentary features interviews with all four main cast members, including Connie Booth, who had, until now, refused to talk about the series.

not specified

s0e11: Cheap Tatty Review

'Cheap Tatty Review' was filmed as introduction to the first episode of 'Not The Nine O'Clock News', the show that was supposed to begin the week after the penultimate episode of 'Fawlty Towers'. However 'Not The Nine O'Clock News' was postponed until later in 1979 due to the imminent General Election. The sketch was aired when the final episode of 'Fawlty Towers' was shown during the first series of 'Not The Nine O'Clock News'.

s0e12: The Grange

Pictures of the "real" Fawlty Towers hotel. After being burnt down, the Grange housing estate was built in its place.

s0e13: Birth of Fawlty Towers

John Cleese tell the story behind the creation of the series.

s0e14: How to Manage Your Staff

s0e15: Tips for a Successful Marriage

s0e16: The Real Hotel

s0e17: John Cleese Interview (2)

s0e18: John Cleese Interview (3)

s0e19: John Cleese and Andrew Sachs in We Are Most Amused

not specified

s0e20: Polly What have you done to my hotel?

A very short film showing pictures of the demolished "Grange", the hotel featured in the opening title sequence and for exteriors of "Fawlty Towers"

not specified

s0e27: Guest Ledger

not specified

s0e28: Artist Profiles

not specified

s0e29: Director Commentary

Thursday, January 1st, 2009

s0e25: The Interviews

Interviews with John Cleese, Connie Booth, Andrew Sachs, Prunella Scales, John Howard Davies, Bernard Cribbins, Geoffrey Palmer, Sabina Franklyn, Nicky Henson & David Kelly. Originally filmed for 'Fawlty Towers Revisited'

Sunday, May 10th, 2009

s0e31: Fawlty Towers Re-Opened

John Cleese gives the inside story on Fawlty Towers in this special tribute. Featuring in-depth interviews with Cleese and co-stars Andrew Sachs, Prunella Scales and Connie Booth.