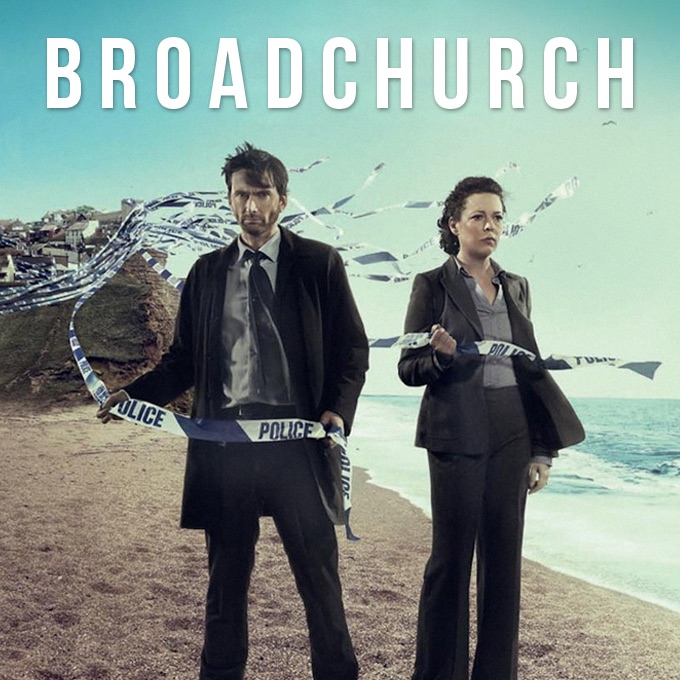 Season 0
Sunday, February 24th, 2013

s0e1: Interview 1 of 6: David Tennant and Olivia Colman

Here, stars David Tennant and Olivia Colman talk exclusively to ITV Drama about what this gripping eight-part drama entails.

Thursday, February 28th, 2013

s0e2: Interview 2 of 6: David Tennant on Chris Chibnall's script

David Tennant discusses Chris Chibnall's script, and what drew him to the part.

Sunday, March 3rd, 2013

s0e3: Interview 3 of 6: David Tennant & Olivia Colman

David Tennant & Olivia Colman give an exclusive overview of what you can expect from this gripping new drama.

Thursday, March 14th, 2013

s0e4: Interview 4 of 6: Double-act David Tennant & Olivia Colman

Olivia Colman and David Tennant discuss the strange relationship of their characters.

Thursday, March 14th, 2013

s0e5: Interview 5 of 6: Who killed Danny Latimer?

Olivia Colman and David Tennant discuss the on-set secrecy surrounding who killed Danny Latimer.

Friday, March 22nd, 2013

s0e6: Interview 6 of 6: David Tennant on his character DI Hardy

David Tennant discusses the dark secrets of his character, DI Alec Hardy.

Monday, April 22nd, 2013

s0e7: Danny's Wake

Find out what happens to the residents of the town as they gather for Danny's wake. WARNING: contains spoilers if you have not watched episode 8.
Season 1
Monday, March 4th, 2013

s1e1: Episode 1

Out-of-town DI Alec Hardy investigates the death of an 11-year-old boy in a seaside community aided by local DS Ellie Miller. The child's parent and other residents of Broadchurch try to cope with the media frenzy surrounding the case.

Monday, March 11th, 2013

s1e2: Episode 2

The Latimer family struggles to cope with their grief and the Rev. Paul Coates decides to speak to the local media.

Monday, March 18th, 2013

s1e3: Episode 3

Crime scene fingerprints lead DI Hardy and DS Miller to a suspect in Danny's murder. Steve Connelly approaches Beth claiming to have a message from her dead son.

Monday, March 25th, 2013

s1e4: Episode 4

A local journalist uncovers a new suspect. Beth and Mark try to get more national press coverage of their son's death.

Monday, April 1st, 2013

s1e5: Episode 5

Miller realises the evidence Jack handed over does not match with her knowledge of Danny's possessions. Jack, the news agent, gets unfair press treatment.

Monday, April 8th, 2013

s1e6: Episode 6

The case is stalling and morale is low. At the Broadchurch Echo, Maggie resolves to solve a mystery that has taken a very personal turn for her.

Monday, April 15th, 2013

s1e7: Episode 7

Following recent events, Miller is more isolated than ever before as she tries to find out what happened at the clifftop hut. Meanwhile, the police are circling Susan as Nige grows increasingly desperate for her to leave Broadchurch.

Monday, April 22nd, 2013

s1e8: Episode 8

The final piece of the jigsaw finally begins to fall into place. DI Hardy and DS Miller attempt to name Danny Latimer's killer.
Season 2
Monday, January 5th, 2015

s2e1: Episode 1

Joe Miller's arraignment opens painful wounds for the community of Broadchurch. Detective Hardy is forced to confront ghosts from his past.

Monday, January 12th, 2015

s2e2: Episode 2

The townspeople struggle to come to terms with recent events, and shock waves reverberate through Broadchurch. What will the impact be on the Latimers? Meanwhile, Paul continues his secret meetings and Hardy must face a figure from his past.

Monday, January 19th, 2015

s2e3: Episode 3

Hardy faces a race against time as Ellie discovers a startling new piece of evidence, forcing them to reassess their suspicions. Meanwhile, with DS Miller coming under intense pressure from all sides, life for Mark and Beth is about to change for ever.

Monday, January 26th, 2015

s2e4: Episode 4

Miller is struggling to control her sister Lucy amid family tensions, Alec must confront his demons, and Mark Latimer has to make a decision.

Monday, February 2nd, 2015

s2e5: Episode 5

As Hardy and Ellie continue their unofficial investigation into the Sandbrook case, new information forces them to re-evaluate the things they believe - is it possible that they've been wrong about everything so far? Barrister Sharon receives unexpected help, while local reporter Olly Stevens gets a major scoop.

Monday, February 9th, 2015

s2e6: Episode 6

Ellie tries to wrest back control, and time is running out for Alec Hardy. Meanwhile, Beth Latimer has to face an emotional ordeal alone.

Monday, February 16th, 2015

s2e7: Episode 7

A trap is set, but it remains to be seen whether it will have the desired result. Paul steps in to help a figure in distress, and in a turn of events she could never have foreseen, Ellie finds herself exposed and alone.

Monday, February 23rd, 2015

s2e8: Episode 8

Decisions are made, truths are revealed, and lives in Broadchurch are changed forever.
Season 3
Monday, February 27th, 2017

s3e1: Episode 1

DI Alec Hardy and DS Ellie Miller are called to investigate a serious sexual assault.

Monday, March 6th, 2017

s3e2: Episode 2

Shockwaves reverberate through Broadchurch as news of the attack spreads.

Monday, March 13th, 2017

s3e3: Episode 3

Trish receives a shocking message, and for Hardy and Miller, suspects start to come into view.

Monday, April 3rd, 2017

s3e6: Episode 6

Monday, April 10th, 2017

s3e7: Episode 7

Monday, April 17th, 2017

s3e8: Episode 8

Monday, March 27th, 2017

s3e5: Episode 5

A new witness tells Hardy and Ellie their story. This information turns Ellie and Hardy's understanding of Trish's case upside down. Katie discovers a crucial new link between the case and a key suspect. Ellie and Hardy investigate the suspect's alibi more closely and find worrying inconsistencies. Beth tells her supervisor about Trish's case. Their discussion leads them to come forward to Ellie and Hardy with new revelations. Lucas reveals what he saw on the night of the party. Jim reacts violently, telling him to keep his mouth shut. A call from the owner at Axehampton forces Ellie and Hardy to hurry back to the grounds of the house once more.

Monday, March 20th, 2017

s3e4: Episode 4

Trish returns to the scene of the crime - will she remember anything more about the attack? DC Katie Harford discovers a strong lead - a new suspect who doesn't have an alibi. Questioned by Ellie and Hardy, Cath reveals interesting new information about the night of her party. Finally, a breakthrough - Hardy and Ellie get a match on the male DNA found on Trish. An unknown woman walks into the police station. Interviewed by Ellie and Hardy, she delivers some devastating new information.