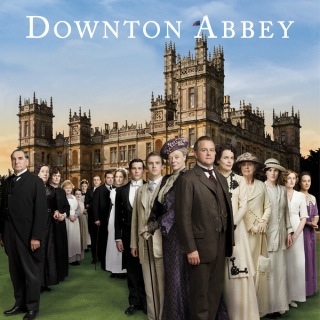 Season 0
Wednesday, December 21st, 2011

s0e1: Behind the Drama

The cast and creators of the award-winning drama series tell the story of the show from the inside. The actors talk exclusively about their characters and the gripping storylines, giving the audience a real insight into the romance and conflict portrayed in the series. There is also behind-the-scenes footage from key locations - the historic Ealing Studios in London where the 'below stairs' scenes are shot and the fabulous Highclere Castle in Berkshire, site of most of the 'above stairs' scenes. Plus there is a look at the filming of the dramatic opening of the second series, set during the Battle of the Somme and shot on location near Ipswich.
Season 1
Sunday, September 26th, 2010

s1e1: Episode 1

April 1912:- The heir to the title of Earl of Grantham,long time inhabitants of Downton Abbey,perishes on the 'Titanic'. Robert,the benevolent current earl,owes his wealth to his American wife Cora but they have only three daughters,who cannot inherit by law,so another heir must be found by marrying off Mary,the eldest girl. The Duke of Crowborough is a possibility but he is a closet gay who only has eyes for Thomas,the handsome but obnoxious footman,and soon departs. Robert's mother,the dowager,and Cora decide that the next best candidate is Matthew Crawley,a distant cousin,but Cora knows that the spirited Mary will not be happy with their choice. Downstairs there is also unrest as Thomas is passed over for promotion to valet in favour of Robert's batman from the Boer War,John Bates,who now limps due to a war wound. Along with Cora's maid Miss O'Brien, Thomas schemes to discredit Bates in the eyes of butler Carson and forces his resignation but Robert intervenes and keeps him on.Thomas vents his anger on second footman William but he has an ally in the sensible housekeeper Mrs. Hughes.

Sunday, October 3rd, 2010

s1e2: Episode 2

September 1912. Designated heir Matthew Crawley and his mother Isobel arrive and move into a house in the grounds of Downton Abbey but Matthew is uncomfortable with having servants and is not keen on an arranged marriage - something he has in common with Lady Mary. Robert's mother Violet looks down on them as they are not from her class - Matthew is a working solicitor and Isobel,a trained nurse and doctor's widow,who nonetheless impresses when she helps at the local hospital and saves the life of one of Robert's tenants. Cora upbraids the two nastiest servants,O'Brien and Thomas,for sneering at the Crawleys but impresses upon Mary the financial need for the marriage. Carson is blackmailed by Grigg, a man with whom he once had a music-hall act but Robert takes his part and sees Grigg off. Whilst Carson feels foolish for having a less than aristocratic past he is supported by Bates and the two men become friends

Sunday, October 10th, 2010

s1e3: Episode 3

March 1913. Gwen,one of the maids,has bought a typewriter and has applied for a secretarial post. Most of the staff are dismissive of her aspirations but the family - except Violet of course - are supportive and youngest daughter Sybil offers to supply a reference. Evelyn Napier,considered an eligible catch for Mary, arrives for the hunt,bringing his handsome friend Kemal Pamuk,a Turkish diplomat,who throws himself at her. He goes to her room at night for sex,during which he dies of a heart attack. Mary,Cora and head housemaid Anna return the body to his room and agree to say nothing but are seen by Daisy the kitchen maid. The gruesome twosome of O'Brien and Thomas are also suspicious. Matthew spends a delightful day with Edith,the youngest daughter,whilst Mrs. Hughes literally helps Bates out of a painful situation and they become friendly.

Sunday, October 17th, 2010

s1e4: Episode 4

May 1913. A fair comes to the village and here Mrs. Hughes meets up with an old flame,Joe,who once asked her to marry him and does so again but once more she refuses. Despite being gay Thomas escorts Daisy to the fair purely out of spite as he knows William is fond of her. The gesture is not lost on either John Bates or Mrs. Hughes. Gwen is not called for interview for the secretarial post but Sybil agrees to support future applications. A new chauffeur, Tom Branson, arrives. He is well-read and politically aware. Having got one over on Isobel regarding a medical diagnosis,Violet attempts to talk Robert out of a need for an arranged marriage but fails. Mary,seeing herself as no more than a commodity,unburdens herself to Matthew and they get a little closer.

Sunday, October 24th, 2010

s1e5: Episode 5

August 1913. O'Brien and Thomas continue to spread their malice,ensuring that Lady Edith learns from Daisy where Kemal died and attempting to frame John Bates for the theft of a snuff-box though Anna,clearly fond of John,ensures the plan backfires on them. Thomas's gossip also discredits Lady Mary's eligibility as a bride and the family must entertain the middle-aged Sir Anthony Strallen as a prospective husband. Mary is bored by him and it brings her closer to Matthew but Edith seems genuinely interested in him. Mrs. Patmore,the cook,must accept that her eye-sight is failing and Lady Sybil continues to encourage Gwen in her secretarial applications whilst Isobel actually teaches Lady Violet some altruism at the annual produce show.

Sunday, October 31st, 2010

s1e6: Episode 6

May 1914. Encouraged by politically aware chauffeur Tom Branson, the socially conscious Lady Sybil espouses politics as a means of aiding equality for women and the lower classes, to her father's anger. At a political meeting she is injured in a scuffle and rescued by Matthew. A grateful Lady Mary accepts Matthew's proposal of marriage but tells her mother she feels she should come clean about Kemal to him. Rumours about this indiscretion are now rife and Cora tells her mother-in-law how she helped Mary move the body. Edith continues to see more and more of Sir Anthony whilst O'Brien and Thomas continue to persecute John. They tell Carson they saw him steal wine and get Daisy to support them. However Daisy does the decent thing and admits she was put up to it. Bizarrely, John, though he knows Thomas to be the wine thief, offers no explanation, confessing to being a former alcoholic and offering his resignation.

Sunday, November 7th, 2010

s1e7: Episode 7

July 1914. In London former suitor Evelyn Napier assures Lady Mary that it was Edith, not he,who spread gossip about her and Kemal. Mary counters by wrecking her sister's marriage plans with Sir Anthony. Robert is reluctant to dismiss John even though O'Brien and Thomas have obtained a letter claiming that he stole from a previous employer. Anna accompanies Mrs. Patmore to London for eye tests,resulting in corrective surgery and whilst there,discovers that John took the blame for the theft for his ex-wife Vera, a fact which Robert is pleased to hear. Thomas, fed up at his failure to get John sacked,and sensing war on the way,joins the Army Medical Corps whilst Sybil finally gets Gwen her secretarial post. Cora is pregnant, a fact which puts the proposed marriage between Mary and Matthew in doubt, should the baby be a son and heir. However,thanks to O'Brien leaving a bar of soap on the floor, Cora slips and miscarries. All the staff except O'Brien cheer William on as he beats Thomas up for his unfeeling remarks on the loss. Matthew nonetheless feels that the engagement was only an act of pragmatism likely to be altered if an heir had been born and decides to leave Downton Abbey. But everybody's news is overshadowed as they hear that,as expected,Britain is at war with Germany.
Season 2
Sunday, September 18th, 2011

s2e1: Episode 1

Set in November 1916, the episode begins with the arrival of Ethel, a new housemaid, and the first appearance of John Bates' wife. With Matthew and Thomas fighting in France, those left behind at Downton organise a benefit concert to help fund the local hospital. Lady Mary receives shocking news. Branson reveals his feelings to Sybil who wants to train as a nurse

Sunday, September 25th, 2011

s2e2: Episode 2

Set in April 1917 and with many of the male staff serving in the war, Carson finds himself under pressure to make sure that duties are carried out to his exacting standard. He ends up finding himself forced to accept female staff serving in the dining room. Robert needs to hire a new valet and ends up employing Lang, who has just returned from the war. William is happy after he receives an important letter. Mrs Patmore finds out some devastating news about her soldier nephew. Thomas returns from the war and begins work alongside Lady Sybil in the local hospital. After a patient is brought in suffering with gas blindness Thomas finds himself becoming attached to the young Lieutenant. Molesley takes an interest in Anna. Matthew learns of his temporary transfer back to England for a recruitment drive in the north whilst fighting in the trenches. Carson advises Mary that if she still loves Matthew she needs to tell him before it is too late. [4] Meanwhile Lavinia is reunited with an unwelcome face from her past.

Sunday, October 2nd, 2011

s2e3: Episode 3

Set circa July 1917. The village hospital is not large enough to accommodate the large influx of wounded soldiers coming back from the front so Downton is turned into a convalescent home for many of them. O'Brien is shocked that Isobel Crawley seems to be giving most of the orders while Cora is relegated to the background and suggests that Thomas might be able to aid her from his position at the hospital. Violet strongly believes that Mary and Matthew are still very much in love and so, with the help of Rosamund, tries her best to end Matthew's engagement to Lavinia. She is also still convinced that there is much more to Lavinia's relationship with Sir Richard than meets the eye. Meanwhile, Anna runs into Mr. Bates in the village and they feel they may have a future together but, back at Downton, things are more highly charged as William asks a question of Daisy just before heading off to war and Mrs. Patmore reacts very badly to a chance remark. And what exactly is Branson up to? Whatever it is, it looks like it may cause trouble for Lord Grantham.

Sunday, October 9th, 2011

s2e4: Episode 4

Set in early 1918. Ethel's flirting with Major Bryant lands her in trouble as preparations get under way for a concert at Downton. Tensions flare between Isobel and Cora, Edith receives worrying news about Matthew and William, while Branson declares his feelings for Sybil. Robert receives a letter from Carlisle, which causes him concern forcing an uncomfortable conversation with Mary. Mrs Bird's soup kitchen receives a helping hand from Daisy and Mrs Patmore. In the servants' quarters Mrs Hughes makes a shocking discovery that ends in tears for one member of staff.

Sunday, October 16th, 2011

s2e5: Episode 5

Set in mid 1918. 16 October 2011 Set in mid 1918. Robert receives some shocking news from the front. William has sustained serious damage to his lungs and is unable to recover, prompting him to ask Daisy to marry him before he dies. Meanwhile, Matthew has suffered damage to his spinal cord, causing him to lose mobility and feeling in his legs. Worse still, he subsequently learns that his injuries have made him impotent. Lavinia insists that this changes nothing and that she is not concerned about having a sexual relationship and children but only wants to care for him. However Matthew tells her to leave and forget him, while Mary attempts to nurse him back to health. Despite not truly loving William, Daisy is pushed into marrying him by Mrs Patmore, who wants William to die happy, and by William's wishes that Daisy is left with a widow's pension so that she can be looked after. They marry while William is bed-ridden, surrounded by the other staff, Edith and the Dowager Countess. William dies in his sleep, not long after, with Daisy by his side. Bates is taken aback when Vera threatens to expose old secrets about Mary and Pamuk's death. When Mary discovers this, she confesses everything to Richard Carlisle and asks him to help. While he accepts, he does so expecting her to marry him, as she is now in his debt, even going as far to announce their engagement in the newspaper without informing her, leaving Mary in a difficult position. Carlisle tricks Vera into signing a contract, preventing her from selling the story to anyone else, but on finding out she warns Bates that she will still bring him down. A new maid, Jane is hired

Sunday, October 23rd, 2011

s2e6: Episode 6

Set in November 1918. A Canadian officer is brought to Downton for recuperation and disrupts everything. Ethel hears distressing news, Bates makes another attempt to settle matters with Vera, while Carson receives a tempting offer. Matthew gets used to life in a wheelchair with Mary as his round-the-clock carer. The war ends with Armistice not long after.

Sunday, October 30th, 2011

s2e7: Episode 7

Set in 1919. As the residents try to return to normal life following the armistice, Matthew begins to suspect that he can feel his legs. Then one day, seeing Lavinia drop a heavy tray, he suddenly gets up from his chair. Major Clarkson admits that he had been informed of this possibility by another physician but was sceptical about it himself and didn't want to raise their hopes. As a result of his recovery Matthew announces that he and Lavinia intend to be married soon. This Violet to inform him that Mary is still in love with him but Matthew feels obliged to marry Lavinia as she was prepared to sacrifice her life for him. Meanwhile, Richard Carlisle distresses Anna by asking her to spy on Mary and his behaviour leads Carson to reject his offer of employment. Bates reels from the news about Vera after it appears that she committed suicide in order to frame him. Thomas embarks on a new money-making scheme in the post-war black market. Robert is attracted to the new maid Jane and illicitly kisses her. Contemplating life after the war, Sybil makes the drastic decision to elope with Branson. However, Mary discovers her plan and, along with Edith and Anna, seeks them out and persuades Sybil to return and plead her cause openly to their parents.

Sunday, November 6th, 2011

s2e8: Episode 8

As preparations are underway for Matthew and Lavinia's wedding, Lady Sybil's attempt to inform her parents of her wish to marry Branson is unsurprisingly met with shock and horror. Robert is violently opposed to the idea but his threats of social disgrace and disinheritance do not dissuade Sybil leading him to try buying off Branson but Branson's intentions are honourable and he refuses. Lady Grantham, Carson and Lavinia are taken ill by the Spanish flu. Thomas' black market venture was a spectacular failure, leaving him penniless and without a job but Carson's illness gives him a chance to become useful in the house. While Lavinia is resting upstairs, Matthew finds himself alone with Mary and tells her what Violet said to him: that he should marry her. Both of them acknowledge he could not as it would be terribly cruel to Lavinia. However, they then kiss just as Lavinia is coming down the stairs. When her illness delays the wedding, Lavinia tells Matthew that she heard and saw everything. She feels they should end their engagement but Matthew refuses. Fearing the outcome of Lavinia's illness with regard to Matthew and Mary, Richard Carlisle comes to Downton. Daisy is distressed by William's father's request to visit him. Ethel is surprised to learn that Major Bryant's parents want to see her but his father wants to take her child away permanently. Eventually she determines not to let him go as a mother's love is more important than a wealthy upbringing. Robert finds himself unable to control his desire for Jane, who willingly responds. However, their night-time encounter is interrupted and remains unconsummated; and Jane decides to leave. With the possibility of more trouble regarding Vera's death, Anna insists that she and Bates should marry that she may be able to support him through his difficulties as his wife. They marry in secret, with Lady Mary's permission and she arranges for them to spend their wedding night in a guest room. Cora becomes seriously ill and Clarkson fears the worst. O'Brien tirelessly cares for her and tries to ask for her forgiveness. However it is Lavinia who succumbs to the flu and dies saying that it is best for Matthew. Racked with guilt, Matthew tells Mary that any relationship between them is now impossible. Somewhat chastened by the recent events, Lord Grantham reluctantly gives his blessing to Sybil and Branson. The episode ends with Bates' arrest for the murder of his wife.
Season 0
Sunday, December 25th, 2011

s0e2: Christmas Special

As we return to Downton Abbey, the household is bustling with all the Christmas preparations. But, there's tension in the air between Sir Richard Carlisle, Lady Mary and Matthew... And, Bates' trial casts a dark cloud over the festivities. Will he be found guilty of the murder of his wife?
Season 3
Wednesday, July 17th, 2013

s3e1: Episode 1

Cora's mother arrives for Matthew and Mary's wedding. New footman Alfred strives to meet Carson's high standards, under the watchful eye of his aunt O?Brien.

Wednesday, July 31st, 2013

s3e3: Episode 3

Edith's big day finally arrives, but will the family be convinced that Strallan's age does not matter? Mary takes matters into her own hands - but the price could be high.

Wednesday, August 7th, 2013

s3e4: Episode 4

Branson's political views land him in hot water and Sybil's loyalty is tested to the limit. Ethel is torn between head and heart as she makes a decision about her son's future.

Wednesday, August 14th, 2013

s3e5: Episode 5

An exciting offer for Edith divides opinion. Isobel throws Ethel a lifeline. New maid Ivy is attracting attention below stairs, and Alfred's interest is resented by Daisy.

Sunday, October 28th, 2012

s3e7: Episode 7

Anna's patience is finally rewarded. Edith has an unexpected admirer. Matthew refuses to back down over his concerns. Branson's plans for the christening cause consternation.

Sunday, November 4th, 2012

s3e8: Episode 8

There's excitement in the house and village as the annual cricket match approaches, and the event brings out Robert's competitive side. Violet's great-niece Rose shows up but a trip to London reveals there is more to her than meets the eye. Matthew and Mary look like they are keeping secrets from each other. Thomas finds out that his future lies in Carson's hands.

Wednesday, July 24th, 2013

s3e2: Episode 2

Hoping for a bailout from her American grandmother, Mary makes sure Downton puts on a bigger show than ever before. Mrs Hughes gets worrisome news. Thomas disapproves of O'Brien's attempts to boost Alfred's progress.

Sunday, October 21st, 2012

s3e6: Episode 6

Tempers fray as Isobel's kind gesture backfires. Branson's decisions are put under scrutiny. As Bates's chance of freedom slips away, he goes to extreme lengths.
Season 4
Sunday, September 22nd, 2013

s4e1: Episode 1

Mary is finding it hard to come to terms with Matthew's death. Robert and Violet fall out over how to handle the situation. Jimmy takes an interest in Ivy, while Carson receives an unwelcome reminder from his past.

Sunday, September 29th, 2013

s4e2: Episode 2

Mary starts to get over the grief she is feeling, and takes an interest in the running of the estate. Lady Rose MacClare, Lady Flintshire's daughter, ends up in a predicament at a tea dance in York. Hughes attempts to convince Carson to heal an old wound.

Sunday, October 6th, 2013

s4e3: Episode 3

An extravagant house party at the Abbey gives the Crawleys a chance to reconnect with old friends. But some guests prove more welcome than others, and along with the celebrations come skulduggery and heartache.

Sunday, October 13th, 2013

s4e4: Episode 4

Amid the fallout from the eventful house party, Mary faces a pressing question about her future. Carson reveals surprisingly intimate details of his former life, and a trip to the bright lights of London sees Rose put the reputation of the Crawleys in jeopardy.

Sunday, October 20th, 2013

s4e5: Episode 5

Change is in the air as an exciting opportunity for Alfred creates tension between Ivy and Daisy. Isobel appeals to Violet's charitable nature, but it does not come without a fight, and Branson considers a new future for himself and baby Sybbie.

Sunday, October 27th, 2013

s4e6: Episode 6

A birthday party is planned for Robert, but Rose's surprise contribution to the event ruffles feathers above and below stairs. A new farming venture on the Downton estate comes with dramatic repercussions for Mary, and Edith receives more unwelcome news.

Sunday, November 3rd, 2013

s4e7: Episode 7

Cora's playboy brother has got himself into a spot of bother and Robert has to make a trip to America to bail him out. Blake and Mary are forced to put aside their differences to deal with a new farming venture on the estate. When Violet is taken ill, help comes from an unlikely quarter. In spite of Mrs Hughes, Mrs Patmore and Carson's attempts to keep the peace, romantic tensions below stairs cause problems.

Sunday, November 3rd, 2013

s4e8: Episode 8
Season 0
Wednesday, December 25th, 2013

s0e5: Christmas Special

It is summer and debutante Rose is to be presented at Buckingham Palace. The family are at Grantham House, their London home, preparing for the busy social programme. Never one to miss out on such a grand occasion, Martha Levinson sails in from New York with Cora's recently disgraced brother Harold in tow. Both outspoken and larger-than-life, they create quite an impression amongst certain members of London's high society. When the Crawleys are implicated in a scandal that threatens to engulf the monarchy, Robert goes to great lengths to protect the royal family, as well as his own.
Season 5
Sunday, October 19th, 2014

s5e5: Episode 5

Simon Bricker returns to Downton to discuss the painting with Cora. Branson makes a difficult decision about Sarah Bunting. Rose encounters a handsome stranger. Determined to stop Isobel making the wrong decision about Lord Merton, Violet enlists the help of Doctor Clarkson. Charles Blake surprises Mary with a cunning plan to help her get exactly what she wants. Mrs Patmore seeks Carson's advice on a financial matter. Inspector Vyner returns with some ominous words of warning for Anna.

Sunday, October 26th, 2014

s5e6: Episode 6

Relations between Robert and Cora continue to be strained. Blake's scheming starts to come to fruition when Mary is unexpectedly pitted against her love rival. Edith receives some terrible news and decides to take drastic action. Following a mysterious tip off, Baxter becomes embroiled in the investigation of Green's death. Thomas' condition deteriorates, prompting him to finally reveal the truth to Baxter. Love is in the air for more than one member of the Crawley family.

Sunday, September 28th, 2014

s5e2: Episode 2

With the house recovering from the night's dramatic events, Robert is faced with a very difficult decision. As Daisy continues to struggle with her studies, Mrs Patmore has an idea which might solve everything. Thomas has it in for Baxter. As Rose tries to convince Robert of the virtues of a wireless at Downton, Lord Merton continues his hot pursuit of Isobel. When Mary puts her reputation on the line, Anna is made a reluctant accomplice.

Sunday, October 12th, 2014

s5e4: Episode 4

Sarah Bunting continues to cause waves above stairs, but this time she may have gone too far. On returning to Downton, Thomas suffers an inexplicable illness and Baxter suspects there's more to it than he's letting on. Violet reveals to Isobel the surprising truth of her past with Prince Kuragin. Mary comes to a decision concerning Lord Gillingham, but things don't go quite as planned. When Rose's father returns to Downton, he breaks news that will shock the whole family.

Sunday, October 5th, 2014

s5e3: Episode 3

Mary's secret assignation is very nearly blown, but Violet's quick thinking saves the day. Robert is left red faced and furious when things do not go as planned. The events surrounding Green's death come under scrutiny once again. Mrs Patmore is devastated when old wounds are reopened but Carson is unsympathetic. Branson receives an interesting proposition concerning the future of the Downton estate. A figure from Violet's distant past suggests she has buried secrets of her own.
Season 0
Sunday, September 21st, 2014

s0e7: Downton Abbey Rediscovered

Hosted by Bernadette Peters, this is a special to review the first 4 seasons of Downton Abbey and explore whats in store for Season 5.

Friday, December 26th, 2014

s0e6: Christmas Special

It is the autumn of 1924 and Rose's father-in-law Lord Sinderby has rented Brancaster Castle in Northumberland for the grouse shooting season. The Crawleys are invited to join the party. Although there is good sport, a butler with an axe to grind and a scandalous secret threaten to derail the holiday. As the two families get to know each other better, some new faces arrive on the scene. Back at Downton Abbey, the servants hold the fort - and there are some surprising romantic moments. Behind bars, Anna continues to face an uncertain future, while Bates takes drastic measures to clear her name. Christmas is celebrated at Downton. As the family and their servants enjoy the festivities, there is romance, a heart-breaking farewell, sad memories of lost loved ones and a joyful reunion.

Friday, December 19th, 2014

s0e8: Downton Abbey Text Santa Special

It's Christmas at Downton and Lord Robert Crawley seems to be facing financial ruin once again. He's beginning to wonder if his family may be better off without him but divine intervention in the form of a very special heavenly body gives him a view of what life would really be like without his guiding spirit.
Season 5
Sunday, November 2nd, 2014

s5e7: Episode 7

Rosamund shows up at Downton following Edith's surprise departure. Rose is pleased to introduce Atticus and his parents to everyone. Anna and Bates think about a fresh start, now that that their problems seem to be behind them. Molesley is worried after Daisy becoming disillusioned with her studies. Mary and Blake seize a chance to send Gillingham a strong message.