update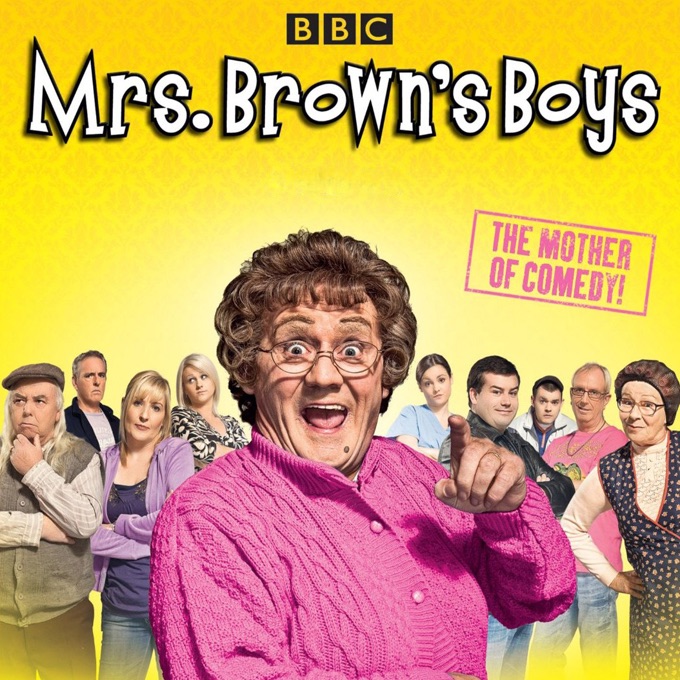 Season 0
not specified

22: Best Bits

Best Bits

Monday, October 3rd, 2011

1: Dermot's Dilemma (Pilot Episode)

The original BBC pilot episode that was never broadcast. It was used as a demo internally to assist commissioning of the first series.

Sunday, December 25th, 2011

2: Mammy's Ass (2011 Christmas Special)

All over Dublin, mothers are excitedly looking forward to seeing their loved ones return home for Christmas. But Agnes Brown is depressed. Her son Trevor is on the missions in Canada, and can't possibly afford to make it back. With Maria's posh mum Hillary pressing the newlyweds to spend Christmas at her place, Agnes decides to compete for their love by providing an even more lavish Christmas celebration than Hillary's - even if Buster is having trouble delivering the turkey.

Monday, November 12th, 2012

3: Good Mourning Mrs Brown (Live Tour)

Prepare for a riot of bad behaviour as you see Mrs Brown Live and unleashed for the first time in a show jam packed with all the laughs and drama you can expect from the mother of all comedy. Featuring your favourite characters from the series, the live show is even ruder and cruder than the hit TV show and guaranteed loads of big laughs.

Monday, December 24th, 2012

4: Mammy Christmas (2012 Christmas Special Part One)

With the festive season fast approaching, Agnes Brown finds herself facing her busiest Christmas yet. Spiritual son Trevor is visiting from the missions, grandson Bono is sleeping over on Christmas Eve, and there are three new faces to feed on Christmas Day now that Agnes's youngest son Dermot is the father of triplets. Visiting, priest Father Damien announces that the Finglas Nativity play has been cancelled. Agnes vows to stage a Nativity play of her own in the local community centre. She meets stiff resistance from Father Damien, who is wary of meddling mothers like Agnes and refuses to ask permission from the Bishop. Cathy is furious when she discovers that Agnes has been reading her mail and decides to play a prank on her interfering mother. Convinced that she has been entered into a 'Best Christmas Mother' competition, Agnes starts being unusually nice to everyone...

Wednesday, December 26th, 2012

5: The Virgin Mammy (2012 Christmas Special Part Two)

Agnes Brown has finally been given permission to stage her own Nativity Play and is determined to put on the greatest show on Earth. The only thing standing in her way now is Father Damien.

Wednesday, December 25th, 2013

6: Buckin' Mammy (2013 Christmas Special Part One)

With Christmas just around the corner, nobody knows what Bono wants for a present. He has already posted his letter to Santa, so how can Mrs Brown find out in time? Meanwhile, at her family games night, Agnes struggles to control her temper when none of the guests will play by her rules. But at least Agnes knows there should not be any problems with the Christmas tree - she is having a very special one delivered...

Monday, December 30th, 2013

7: Who's a Pretty Mammy? (2013 Christmas Special Part Two)

Agnes is on a mission to make sure grandson Bono is not sent to the local primary school.

Friday, June 27th, 2014

8: Mrs Brown's Boys D'Movie

A company tries to shut down Mrs Brown's fruit and veg stall. They can feck off.

Thursday, December 25th, 2014

9: Mammy's Tickled Pink

Winnie drops a Christmas bombshell. Maybe her unusual new Christmas tree will bring Agnes some festive cheer?

Thursday, January 1st, 2015

10: Mammy's Gamble

After a spate of burglaries in Finglas, Agnes asks Buster Brady to fit a new alarm system.

Friday, December 25th, 2015

11: Mammy's Christmas Punch

Agnes Brown is determined to have a wonderful Christmas this year, but it isn't going like she planned it: Mark and Betty are rowing over the reappearance of his first love, Bubbles; the carol singers are haunting her; and Buster is installing an unusual Christmas tree...

Friday, January 1st, 2016

12: Mammy's Widow's Memories

A handsome stranger appears in Foley's Pub, surprisingly to find Agnes Brown. The question is: will she go on her first date in years and what will happen during this date?

Saturday, July 23rd, 2016

13: Mammy Sutra

As Dermot's business grows, he has a difficult decision to make about his best friend Buster. Meanwhile, when Agnes discovers that Mark and Betty are having bedroom problems, she takes it upon herself to help.

Sunday, December 25th, 2016

14: Mammy's Forest

Agnes Brown has had enough hassle with Christmas trees to last a lifetime, so this year she refuses to have one.

Sunday, January 1st, 2017

15: Chez Mammy

Cathy has a new, French boyfriend. He doesn't make the best first impression, which might be an issue if he is to survive meeting Mrs Brown.

Monday, December 25th, 2017

16: Mammy's Mummy

Grandad is convinced that the house is haunted.Cathy has a new internet date, Agnes has been given a special Christmas tree to cheer her up and Rory has had plastic surgery.

Monday, January 1st, 2018

17: CSI: Mammy

When a crime wave hits Finglas, Father Damien and Maria put together a neighbourhood watch scheme.

Tuesday, December 25th, 2018

18: Exotic Mammy

It's the festive season once again in the Brown household, and Father Damian has organised a Christmas decoration contest to support the local football team.

Tuesday, January 1st, 2019

19: Mammy's Motel

There's a storm blowing in Finglas and it soon claims its first victim when the pipes in Winnie and Sharon's house burst.

Wednesday, December 25th, 2019

20: A Wonderful Mammy

Agnes' world is turned upside down when an angel arrives in Finglas and grants her a wish to see what life would be like if she had never been born.

Wednesday, January 1st, 2020

21: Orange is the New Mammy

Everyone in the Brown household is concerned at the news that the accused murderer Peggy Piper has been released from prison, Winnie especially, being a witness.
Season 1
Saturday, January 1st, 2011

1: The Mammy

Agnes Brown has family troubles to contend with: her son Dermot has fallen out with Maria Nicholson, his long-term girlfriend, and Grandad is feeling poorly. After a sleepless night, Mrs. Brown decides to try to sort out Dermot and Maria's problem by giving Maria the benefit of her advice. But her heart-to-heart with Maria only succeeds in making the dispute worse.

Saturday, January 8th, 2011

2: Mammy's Secret

Agnes Brown worries that her family is keeping too many secrets when Cathy will not reveal any information about her new boyfriend, Mark will not confess why his wife has thrown him out and Dermot lies to his fiancee's parents about the status of his job

Saturday, January 15th, 2011

3: Mammy's Merchandise

Agnes becomes concerned when Dermot announces he wants to ask his childhood friend Buster, a known criminal, to be his best man. Mrs Brown is distracted when her neighbour Winnie's husband is rushed to hospital, leaving her son trying to raise money for his wedding by becoming embroiled in a money-making scam with his friend.

Saturday, January 22nd, 2011

4: Mammy Rides Again

Agnes is disappointed when she discovers she is not invited to Maria's hen party because she is too old, so she and Winnie decide to crash the event, but end up in the wrong venue. She invites Maria's mother round for dinner and is so nervous about impressing her that she gets drunk and the evening descends into chaos.

Saturday, January 29th, 2011

5: Mammy Of The Groom

Dermot's pre-marriage nerves get the better of him and he locks himself away in a cupboard, so it is up to Agnes, Fr Quinn and best man Buster to try to calm him down. Meanwhile, Rory tells his mother he is gay.

Saturday, February 5th, 2011

6: Mammy's Miracle

Newlyweds Dermot and Maria argue over whether they should buy their own home. Meanwhile, Mrs Brown tries to make Grandad happy by secretly staging a funeral for him, but the plans go awry when she mistakes two Mormons - who have been stealing Father Quinn's parishioners - for the men who are supposed to be delivering the coffin.
Season 2
Saturday, December 31st, 2011

1: Mammy Pulls It Off

Agnes Brown's son, Dermot, and his new wife, Maria, have a baby on the way, and they are desperate for a place of their own. The newly-weds just can't afford to move out, but Mrs. Brown has a plan to help her son. Loving mother that she is, Agnes has promised the couple the money from Granddad's life insurance policy payout for a deposit for their own home. There's just one minor hitch – Granddad is not dead. Caught between a suspicious insurance company and her God-fearing son, Trevor, Agnes has to resort to desperate measures to keep Granddad out of sight and her dream alive.

Saturday, January 7th, 2012

2: Mammy's Coming!

Agnes is upset that her son Trevor has been called back to the missions in Africa, but is determined to give him a massive send-off to remind him what a loving family he has back home in Ireland. Meanwhile, daughter Cathy's family counselling session descends into chaos, and Buster and Dermot run into trouble with a circus lion. The only person having a good day is neighbour Winnie: thanks to his new medication, her husband Jacko's libido is back. But while Winnie delights in reminiscing about her former bedroom antics, Maria reveals a shocking secret about Cathy's boyfriend Mick; that he is, in fact, married: which leads to him getting a good telling off by Agnes!

Saturday, January 14th, 2012

3: iMammy (Batteries Not Included)

With Dermot and Maria's baby due very soon, Agnes is excited about the prospect of having a new Brown in the house. But in the meantime, she has to make do with the robot baby which the expectant couple have been given to practice with at their pre-natal classes. Unfortunately, the new addition to the family keeps crying and disturbs everyone at night. Agnes kindly offers to babysit the robot baby and seems to have the magic touch, but her methods are not exactly orthodox (including removing the batteries). Meanwhile, Cathy is feeling down about her love life. However, there's a new man on the horizon: her psychology lecturer Professor Thomas Clowne.

Saturday, January 21st, 2012

4: SuperMammy

Agnes is feeling self-conscious about her weight after some less-than-flattering comments from her family. She decides to go on a diet but struggles to keep her resolve when she sees her favourite foods. Meanwhile Rory is in good spirits after securing a promotion as manager of the local hair salon. However he is immediately thrown in the deep end when he has to deal with a major staff incident. And as if that wasn't stressful enough, boyfriend Dino is in a foul mood with him after being overlooked for the job.

Saturday, January 28th, 2012

5: Mammy's Going

When Spartacus the old family dog starts looking poorly, the Brown children reluctantly decide the time has come to put her in a home. But when the Brown children decide how to break the sad news to their mother, Agnes gets the wrong end of the stick. Under the impression that her children are planning on putting her in a nursing home, a furious Agnes sets out to persuade her children she's not going senile. Meanwhile, Cathy's new boyfriend Professor Clowne is determined to interview Agnes for his new book about motherhood and won't take no for an answer. Agnes reluctantly agrees to the interview but then becomes convinced that Clowne actually wants to study her to prove that she's going senile. Moreover, with Agnes's birthday fast-approaching, the Brown family have decided to throw their mother a surprise party. But poor Agnes is expecting a completely different surprise...

Saturday, January 28th, 2012

6: New Mammy

Agnes is upset about all the unrest at home but realises that she has an equally frosty relationship with Maria's mother Hilary. With Maria about to give birth, Cathy convinces Agnes to build bridges and invite Hillary out for dinner. Agnes takes Hillary for dinner in a rather unusual setting and relations between the pair gradually begin to thaw - particularly as Hillary gets increasingly drunk. Meanwhile back at home Maria suddenly goes into labour. With Buster panicking, Dermot fainting and the rest of the family out the house, will the ambulance arrive in time?
Season 3
Tuesday, January 1st, 2013

1: Mammy's Spell

A hypnotist is booked to provide the entertainment at the triplets' baptism - and Agnes soon finds herself under his spell. Meanwhile, the matriarch's kitchen is falling apart - but that turns out to be the least of her problems when son Mark delivers some heartbreaking news.

Monday, January 7th, 2013

2: Mammy's Inflation

Agnes is disappointed with Cathy when she decides to get a boob job to impress her boyfriend, Professor Clowne. Agnes is also distinctly unimpressed with Buster when she meets the man he has hired to measure up her kitchen. Meanwhile, Professor Clowne has a life-changing proposal for Cathy - if he could only find the perfect moment to ask her his very important question.

Monday, January 14th, 2013

3: Mammy's Break

Agnes is desperate for a holiday but cannot find anyone to look after Grandad. It seems her only option is to convince a health inspector that Grandad is losing his marbles. Sparks fly when Rory and Dino move into Mrs Brown's house, and Agnes' late husband Redser gets in touch from beyond the grave with some very ominous news...

Monday, January 21st, 2013

4: Mammy's Valentine

It seems that everyone in the Brown family has a date for Valentine's Day except Agnes, so she resorts to the internet to find herself a man. Dermot tries to come up with a loving gesture to prove to Maria that he can still be romantic - but he makes the mistake of taking advice from Buster - while Agnes and Winnie are fascinated by Betty's sex manual and Grandad ends up addicted to Viagra.

Monday, January 28th, 2013

5: Mammy?

A secretive phone call from a solicitor to Mrs Brown leaves her children suspecting one of them may be adopted, while Father Quinn returns from rehab and asks Agnes to help out at his annual garden party - although as she proceeds to drive him crazy with a smartphone, his recovery may be short-lived. Meanwhile, Cathy receives a blast from the past, Rory and Dino have a bust-up, and Mark and Betty deliver bad news - they are leaving for Australia right away.

Monday, February 4th, 2013

6: Mammy Swings!

The Browns are excited as preparations for Rory and Dino's big day are in full swing - although Agnes's mood is dampened when she meets flamboyant celebrity wedding planner La La Doggy. The foul-mouthed matriarch also clashes with Father Damien when he raises some religious concerns about the ceremony - and to top it all off, she gets more than she bargained for when she invites Cathy's boyfriend's parents over for the evening.