update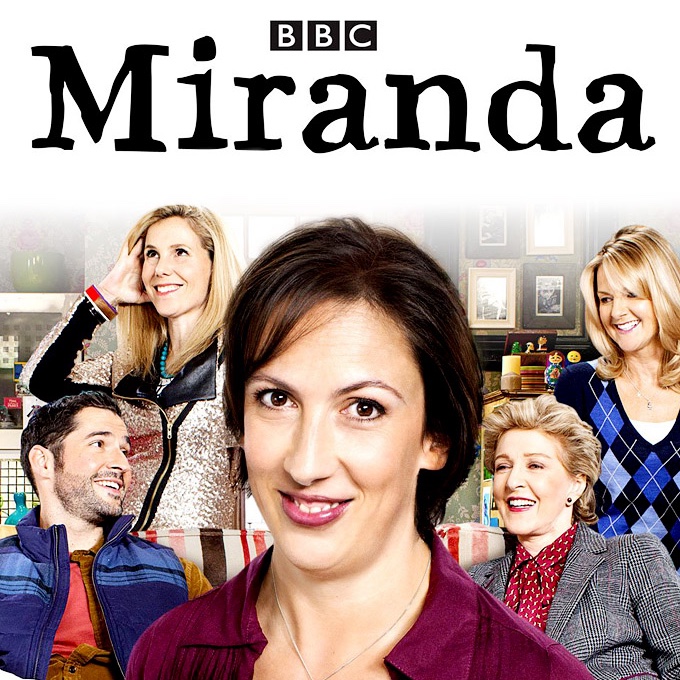 Season 0
not specified

0: Behind the Scenes

Series 1 special features

not specified

6: Christmas Special

not specified

7: Miranda Interviews Clare Balding

not specified

8: Miranda Interviews Frank Skinner

not specified

9: Miranda Interviews Adrian Scarborough and Sally Phillips

not specified

10: Miranda Interviews Tom Ellis

not specified

11: Miranda Interviews Patricia Hodge and Mum

not specified

12: Miranda Interviews The Cast

not specified

14: When Miranda Met Bruce

Friday, March 18th, 2011

1: Miranda's Pineapple Dance Studios

A sketch for the BBC's Comic Relief appeal on Red Nose Day 2011. Miranda Hart has taken over from Louis Spence as Artistic Director at Pineapple Dance Studios! Other familiar faces from Miranda's world are helping out too! Louis Spence and JLS pop in for some advice and Heather Small gets some tips from Stevie

Friday, March 23rd, 2012

2: Miranda Does Sport Relief

Sport Relief Special 2012. Miranda finds herself playing tennis at the Royal Albert Hall while Penny and Stevie act strangely in the VIP area.

Friday, March 23rd, 2012

13: Miranda Does Sport Relief

Sport Relief Special 2012. Miranda finds herself playing tennis at the Royal Albert Hall while Penny and Stevie act strangely in the VIP area.

Thursday, December 25th, 2014

3: I Do, But To Who?

Miranda has to decide how to handle the two proposals she has received.

Thursday, January 1st, 2015

4: The Final Curtain

Will Miranda finally learn to accept herself and find contentment?
Season 1
Monday, November 9th, 2009

1: Date

Miranda gets overexcited by the prospect of her first real date and decides it's time to try to be more girly, but her makeover doesn't go quite to plan.

Monday, November 16th, 2009

2: Teacher

Miranda takes A French class and Tango lessons so Gary willl see her in a sexual light. Things don't quite go to plan.

Monday, November 23rd, 2009

3: Job

Miranda's mother is ashamed of her joke shop job, so Miranda decides to find a new career.

Monday, November 30th, 2009

4: Holiday

Being young, free and single has its advantages, like jetting off to Thailand on holiday for a few days. Miranda however, sets her Holiday sights lower.

Monday, December 7th, 2009

5: Excuse

An old school insists on throwing Miranda a party to introduce her to a suitable man. Miranda is notoriously bad at coming up with excuses, but when she sees a photo of her intended date he's so bad that the only option left is to lie and come out to her mother.

Monday, December 14th, 2009

6: Dog

When a handsome guy leaves his wallet in the shop, Miranda and Stevie argue over who he'd prefer to take to dinner if he had to choose one of them. Meanwhile, Miranda is invited to a Regatta and is determined to be able to cope at a tricky social occasion just once.
Season 2
Monday, November 15th, 2010

1: The New Me

Since Gary left for Hong Kong, and her chance at a relationship with him gone, Miranda has been watching telly all day in her pyjamas with a packet of biscuits for company. However, Stevie eventually persuades her to stop wallowing and Miranda decides to move on, start a new regime and become the new her, like we all attempt to do every New Year. She will get fit, loose weight and become the type of woman her boarding school nemesis Tilly, and hard to please mother, Penny, would be proud of. She goes for lunch with the girls and meets the new chef, Danny, but her attempt at re-invention goes horribly wrong. Well, Sushi restaurants are hard to deal with and Miranda has never coped around attractive men. All not helped by the fact that Penny has left Miranda's father and moved in with her. You are never going to feel good when your mother tells everyone she is washing your control pants. She nearly gives up when she meets a woman who fills her with a new 'girl power' confidence. Can she get the new chef and maintain the new her?

Monday, November 22nd, 2010

2: Before I Die

Miranda is a clumsy woman but falling in a grave at the end of a funeral service was something not even she was expecting. The experience gets her thinking about what people will say at her funeral and she wants it to be good, so she signs up a for a charity parachute jump, reads to the elderly and helps her mother Penny and her boarding school nemesis Tilly organise a charity wine tasting event. Hilariously, her good deeds do not go as well as planned.

Monday, November 29th, 2010

3: Let's Do It

Things look up for Miranda's love life after she finds herself with two dates - one with the best man of Tilly's fiance, the other with a charming acquaintance of Stevie. She is especially thrilled by the unusually smooth running of her rendezvous with the latter - but problems arise when she attracts even more attention from an unwanted source.

Monday, December 6th, 2010

4: A New Low

Miranda and Stevie compete to be best friends with the new waitress at the restaurant, Tamara. The trouble is Tamara is 22 and they both find keeping up with an energetic 20 something surprisingly tiring. Their age becomes an issue after an art class, followed by all night karaoke, followed by a swimming experience that puts Miranda face to face with her nudity issues.

Monday, December 13th, 2010

5: Just Act Normal

Miranda and Penny are forced into therapy for an assessment. How will they cope when trapped in a room together for a half hour session with an unnervingly silent therapist? All they have to do is sit quietly and control themselves. Testing times for any mother and daughter, let alone Miranda and Penny.

Monday, December 20th, 2010

6: The Perfect Christmas

It's Christmas and Miranda would like a relaxing and fun time without her parents After Penny's Best Christmas Jumper Party on the 23rd of December, Miranda and Stevie try to spend Christmas at the shop with Gary, Clive and Tilly. What could possibly go wrong? Well, after the online present shopping doesn't arrive, the infuriating encounter at the post office (is there anything more annoying than a 'we tried to deliver but you were out' card?), a run-in with some carol singers and a couple of arguments with friends, maybe Christmas would be better with her family.
Season 3
Wednesday, December 26th, 2012

1: It Was Panning

Penny threatens to cancel Miranda's Christmas unless she attempts to sort her life out. She makes her go into detox. Stevie has a new executive job and Miranda decides to try and get an office job as well but it all ends up proving too much.

Tuesday, January 1st, 2013

2: What a Surprise

Penny manages to embarrass her daughter after she decides to run for local councillor with Tilly supporting her. Gary decides to join the dating scene and Miranda decides she has to do the same. They both attempt to find dates for Stevie's birthday party.

Monday, January 7th, 2013

3: The Dinner Party

Miranda has decided to prove to herself and her friends she can officially be an adult.

Monday, January 14th, 2013

4: Je Regret Nothing

Trapped in her flat and being shouted at, Miranda is forced to think about her regrets.

Monday, January 21st, 2013

5: Three Little Words

Will Stevie persuade Miranda to declare her true feelings towards Gary?

Monday, January 28th, 2013

6: A Brief Encounter

A fed-up Miranda makes a big life decision: she's going travelling.