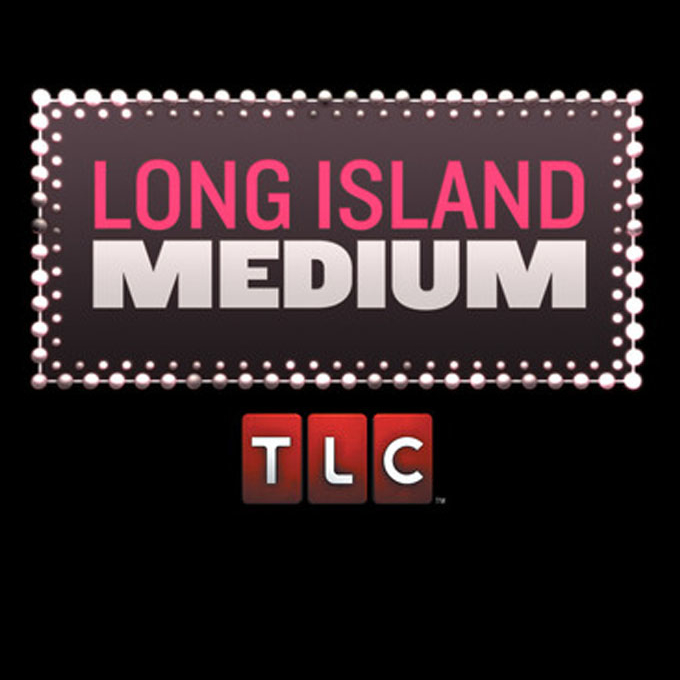 Season 0
Sunday, October 7th, 2012

s0e1: Theresa On The Road

Sunday, November 4th, 2012

s0e2: Behind the Read
Season 1
Sunday, September 25th, 2011

s1e1: No Turning Off

We are introduced to Theresa and her family. She finds it very hard to "turn off" her gift and her daughter bets her she can't make it through a family BBQ without reading all of their guests.

Sunday, September 25th, 2011

s1e2: Driving Me Nuts

Theresa is enlisted to teach her 16 year old daughter Victoria how to drive. Theresa's nerves and Victoria's lack of skills behind the wheel combine to make the lesson an unpleasant experience. Later Theresa reads a distraught mother.

Sunday, October 2nd, 2011

s1e3: Spirit Release

The spirit of a 6-year-old boy comes to Theresa and won't leave. This spirit is taking a serious emotional toll on Theresa, interfering with her work and her life. To make matters worse she doesn't know how or if she will be able to release this energy.

Sunday, October 2nd, 2011

s1e4: This Isn't Working

Theresa meets with many of her clients in the comfort of her home, requiring her family to stay away. Larry, her newly retired husband is having a hard time with this. Also, Theresa reads two men trying to connect with a friend who passed away suddenly.

Sunday, October 9th, 2011

s1e5: Theresa's Upgrade

After incessantly teasing her about the cassette recorder she uses to tape her sessions, Theresa's kids decide to get her something more advanced. Now she just needs to figure out how to use it. Also, a woman seeks closure following her sister's death.

Sunday, October 16th, 2011

s1e6: Reconnecting

Theresa plans a "girls" trip to a local winery to reconnect with her friends. However, the relaxing trip becomes stressful for Theresa when a skeptic comes along. And, Theresa reads a couple who lost a close friend.

Sunday, October 23rd, 2011

s1e7: Blessing & A Curse

Theresa loves to use her ability to help people, and as a result she finds herself putting spirit first, and her family second. Later, Theresa reads a woman who wants to hear from her deceased father.

Sunday, October 30th, 2011

s1e8: Theresa Explains It All

Theresa is so touched reading a woman whose son passed away in jail, she decides to do a group reading in a Long Island prison. While there, Theresa connects a woman with her family, in one of the most touching and surprising readings to date.

Sunday, November 6th, 2011

s1e9: Sailing with Spirits

Theresa is invited to do a group reading on a cruise ship travelling to the Bahamas. With no escape from the spirits on the ship, how many people will Theresa read? And, Theresa's husband shocks her with the surprise of a lifetime.
Season 2
Sunday, March 25th, 2012

s2e1: Meeting the Parents

In the second-season premiere, Victoria hopes that her mother's abilities can take a night off when her boyfriend and his parents come for dinner.

Sunday, March 25th, 2012

s2e2: Drumming and Healing

With her busy schedule weighing on her, Theresa decides to host a drumming circle at the house to 're-ground' herself, and invites her spiritual healer Pat, who helped Theresa realize she was a medium.

Sunday, April 1st, 2012

s2e3: Losing It

Sunday, April 1st, 2012

s2e4: Poor Petey

The Caputo family has some tough decisions to make, as the health of their beloved dog, Petey, starts to decline. While at the vet with Petey. And Theresa reconnects a woman with her deceased husband.

Sunday, April 8th, 2012

s2e5: Christmas Spirit

It's Christmas on Long Island and in true holiday fashion, Theresa spreads the gift of giving when she brings her family to volunteer at a local soup kitchen. When spirit interrupts Theresa's philanthropy, a skeptic is left in absolute shock.

Sunday, April 8th, 2012

s2e6: Spirit Al Dente

Tired of hearing her family complain about her lack of culinary chops, Theresa aims to prove to her kids that she can do more than just order takeout. But while attending a cooking class, spirit gets in the way of Theresa becoming an expert chef.

Sunday, April 15th, 2012

s2e7: Car Crazy

Sunday, April 15th, 2012

s2e8: Just Like Me

Sunday, April 22nd, 2012

s2e9: Wheelin' & Dealin'

Theresa's parenting skills are put to the test when she urges Victoria to earn her keep around the house. But will Victoria's efforts backfire on her mother? Also, Theresa helps a woman who struggles with letting her grandmother go.

Sunday, April 22nd, 2012

s2e10: Long Island Romance

With Valentine's Day fast approaching, planning a last minute romantic night becomes a more difficult task than Larry had expected. Plus, Theresa meets with one of her biggest skeptics yet.

Sunday, April 29th, 2012

s2e11: Bellies & Babies

After Larry Jr. critiques the odd idea of his mother doing a reading at a Baby Shower, Theresa instantly feels nervous about possibly cramping the celebration. Will the expecting mother be happy to have a medium at her party?

Sunday, April 29th, 2012

s2e12: Apply Yourself

Theresa and Larry stress the importance of college to their daughter. However, their stern methods and the pressure of senior year become a little too much for Victoria. Plus, the tables are flipped when Theresa becomes the skeptic at her friend's house.

Sunday, May 6th, 2012

s2e13: Uneasy

Sunday, May 6th, 2012

s2e14: Spirit and the City

Booked for a group reading in NYC, Theresa and the family decide to take a day trip to the Big Apple. Will the hustle and bustle of the city get in Theresa's way of channeling or will spirit fall on Manhattan?
Season 3
Sunday, September 9th, 2012

s3e1: Homecoming

When her graduating son returns home from college, Theresa tries to convince him to stay in the house forever. Also, a woman is able heal from the tragic loss of her daughter after a shocking discovery from spirit.

Sunday, September 9th, 2012

s3e2: A Medium Surprise

With her birthday fast approaching, Larry and the kids decide to throw a surprise party for Theresa. But surprising a medium isn't the easiest thing to do. And a woman's deceased husband delivers a message to his wife that she's been longing for.

Sunday, September 16th, 2012

s3e3: Help Me

With Theresa's schedule filling up, she decides to venture out of her comfort zone and hire a helping hand. Also, a young man takes desperate measures in trying to cope with the loss of his brother.

Sunday, September 16th, 2012

s3e4: The Princess and Her Prom

When Theresa's daughter Victoria pays the family a short visit from college and shocks them with some major changes, they wonder about her newfound independence . Plus, Theresa connects a young boy with his sister who passed away.

Sunday, September 23rd, 2012

s3e5: The Flying Larrys

Now that Theresa's son is finished with his academic duties, he decides to explore his wild side and go skydiving. Also, Theresa encounters one of her biggest skeptics while cleansing a restaurant of its negative energy.

Sunday, September 23rd, 2012

s3e6: My Keys Now

Victoria gets into her first car accident. Theresa sympathizes with her daughter until she has a second fender bender in the same week. Also, Theresa enables a young lady to heal from the sudden loss of her mother at a group reading.

Sunday, September 30th, 2012

s3e7: Beach Bonding

Theresa 's off to the beach for some one-on-one relaxation time with her husband Larry. But since Theresa is never really alone, their beach bonding day isn't all that calming. Also, Theresa shocks a woman with specific details of her deceased husband.

Sunday, September 30th, 2012

s3e8: The Graduate

Victoria is finally graduating from high school and the Caputo family could not be any prouder. Plus, Theresa helps a man embrace his future after the tragedy in his life is revealed during a reading.

Sunday, October 14th, 2012

s3e9: The Family Photo

When Theresa suggests taking a family picture, she is met with resistance from the Caputo clan. Also, Theresa helps a grieving woman cope with her brother's tragic death.

Sunday, October 14th, 2012

s3e10: Joe Skeptic

Theresa and Larry go on a double date with their skeptical friend Joe, will her abilities finally turn him into a believer? Also, a couple seeks help from Theresa with the mysterious death of their son.

Sunday, October 21st, 2012

s3e11: FAQ

In this very special episode, Theresa gives an exclusive look into her life as a mother and a medium. With her family by her side, Theresa answers questions from curious fans that want to know more about her gift and how spirit affects her daily life.

Sunday, October 21st, 2012

s3e12: Never Before Seen

In this special episode, Theresa opens up the vault of never before seen footage detailing validations that have empowered people to connect with their lost ones.

Sunday, October 28th, 2012

s3e13: Theresa and the Tent

Sunday, October 28th, 2012

s3e14: Like, Father, Not Like Daughter

Theresa's father has always been a little freaked out by her gift. So during an anxiety-driven fishing trip with her dad, Theresa invites him to experience a group reading up close. Will the reading change her dad's mind or will he remain in disbelief?

Sunday, November 4th, 2012

s3e15: Halloween Spirit

Theresa's least favorite holiday is Halloween but when she gets a call to do a group reading in costume she reluctantly agrees. Will she be able to channel spirit in her Halloween get-up? Also, Theresa helps a mourning couple.

Sunday, November 4th, 2012

s3e16: Hello College

Sending off their baby girl to college is not an easy task for the Caputo family. After moving their daughter into her new dorm, Theresa and Larry leave their little girl behind and begin the next chapter of their lives.
Season 4
Sunday, June 23rd, 2013

s4e14: The Patient

Long Island Medium: The Patient Theresa is in total disarray after a mole removed from her foot is being tested for melanoma. Plus, a couple hears from their deceased child in one of Theresa's most powerful group readings.

Sunday, June 30th, 2013

s4e15: Unseen

Monday, August 5th, 2013

s4e20: spirit left behind
Season 5
Monday, May 5th, 2014

s5e15: The Show Must Go On
Season 7
Sunday, March 8th, 2015

s7e1: 25 and counting

Sunday, March 15th, 2015

s7e2: Dog eat dog summer

Larry and Theresa visit the oil company where they met; Theresa reads the woman who works there.

Sunday, March 15th, 2015

s7e3: Back to My Roots

Theresa goes to a genealogist to learn about her family history; a message from a spirit.
Season 4
Sunday, December 22nd, 2013

s4e34: Unseen 2 FINALE

Sunday, December 15th, 2013

s4e33: Christmas At The Caputos

Sunday, December 8th, 2013

s4e32: Behind the Read 3

Sunday, December 1st, 2013

s4e31: On the Road: Niagara

Once again Theresa is leaving Long Island behind and surprising the great people of upstate NY with readings. On her journey, the medium reconnects a grieving mother with her daughter and she meets a woman who is distrayght after the loss of her husband.
Season 8
Sunday, March 13th, 2016

s8e14: Before the Wedding

Bells are ringing in this special episode as Theresa conducts readings surrounding upcoming weddings. A man surprises his fiancee with a reading from Theresa, who hopes to connect with the father she is heartbroken will not walk her down the aisle.

Sunday, March 20th, 2016

s8e16: Was It My Fault?

In the first half of a combined season finale, people who blame themselves for the loss of loved ones are connected with the departed.
Season 9
Sunday, March 26th, 2017

s9e6:

Sunday, April 2nd, 2017

s9e7:

Sunday, April 9th, 2017

s9e8:

Sunday, April 16th, 2017

s9e9: