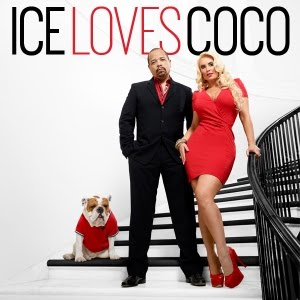 Season 0
not specified

s0e1: Season 1 Special
Season 1
Sunday, June 12th, 2011

s1e1: Baby Got Bridal

Ice gives Coco advice with her photo shoot; Coco brings Spartacus to an agent.

Sunday, June 19th, 2011

s1e2: Baby Got Baby?

Coco's pregnant sister visits and makes a surprising request. Meanwhile, Ice prepares for a university lecture.

Sunday, June 26th, 2011

s1e3: Baby Got Birthday

Ice tries to write a song for Coco's birthday, while she attempts to keep Ice's buddy from dating her friends.

Sunday, July 10th, 2011

s1e4: Baby got Business

Coco tries to launch her own clothing line; Ice trains Spartacus for his first acting job. read more

Sunday, July 17th, 2011

s1e5: Baby Got Family

Ice and Coco travel to Arizona to throw Coco's sister a baby shower; Coco deals with the pain she still feels from her parents' divorce.

Sunday, July 24th, 2011

s1e6: Baby Got Ghost

Coco and her mom get a reading from medium James Van Praagh; Ice gets jealous when Coco takes salsa dance lessons from a sexy instructor.

Sunday, July 31st, 2011

s1e7: Baby Got Vows

Ice and Coco renew their wedding vows and throw a party to celebrate.

Sunday, August 7th, 2011

s1e8: Baby Got Birth

The honeymoon is delayed for Ice and Coco when Coco's sister goes into labor and Coco must leave to deliver the baby.
Season 2
Sunday, February 19th, 2012

s2e1: Baby Got Bad News

Coco's changing body convinces her that she's pregnant, but a doctor's visit brings different news; Ice does damage control.

Monday, February 20th, 2012

s2e2: Baby Got Besties

Sunday, March 4th, 2012

s2e3: Baby Got Third Wheel

Sunday, March 11th, 2012

s2e4: Baby Got Backseat Driver

Sunday, March 18th, 2012

s2e5: Baby Got Separation Anxiety

Sunday, April 1st, 2012

s2e6: Baby Got Guest Star

Sunday, April 8th, 2012

s2e7: Baby Got Godparents

Ice has a family reunion in Arizona with his daughter, grandson & son, Little Ice. While there, Kristy & Derek ask Ice & Coco to be the godparents of their children.

Sunday, April 15th, 2012

s2e8: Baby Got Sundance

Ice and Coco go to the Sundance film festival and Coco gets a movie role offer giving her a hard decision to make.

Sunday, April 22nd, 2012

s2e9: Baby Got Hawaii

Ice and Coco go to Hawaii for their 11th anniversary and Ice tours his former army base.

Sunday, April 29th, 2012

s2e10: Baby Got Puppies

Ice and Coco are nervous about their visit to the doctor's; Spartacus' puppies are born.
Season 3
Sunday, October 28th, 2012

s3e1: Baby Got Haters

Coco faces her critics by doing a fashion show; Ice and Coco disagree about their new home.

Sunday, November 4th, 2012

s3e2: Baby Got Bridesmaids

Coco plans to open an indoor dog park with her mom; Coco's best friends wedding.

Sunday, November 11th, 2012

s3e3: Baby Got Forecast

Ice and Coco look into freezing her eggs; Coco gets to be a Meteorologist for a day.

Sunday, November 18th, 2012

s3e4: Baby Got Laughs

Ice has his comedy debut at a benefit for Bulldogs but worries that his hard persona won't be family friendly enough. Coco decides to give back by shooting a calendar with Spartacus and Maximus.

Sunday, November 25th, 2012

s3e5: Baby Got Balls

Ice hands over an important music project to producer Marc Live, and gives Coco a hard time about getting Spartacus neutered.

Sunday, December 2nd, 2012

s3e6: Baby Got Super Powers

Coco gets to play superhero at the New York Comic Con, while Ice tries to scare Little Ice back on the straight and narrow after a run-in with the police.

Monday, December 17th, 2012

s3e7: Baby Got a Big Break

Coco attempts to build the dog park of her dreams but her life gets turned upside down when she is offered a headlining role in a Las Vegas musical and must decide if she can be away from Ice for 3 months.

Monday, December 24th, 2012

s3e8: Baby Got Hurricane Heels

When Hurricane Sandy hits the East Coast, Ice and Coco are left without power and struggle when some unexpected house guests arrive. Coco decides to team up with the Salvation Army to give back to those affect by the storm.

Sunday, December 30th, 2012

s3e9: Baby Got Good Bye

Coco begins rehearsals for Peep Show but starts to have second thoughts about being apart from Ice.

Sunday, January 6th, 2013

s3e10: Baby Got Stage Presence

Season 3 comes to a close when Coco arrives in Las Vegas and makes her "Peepshow" debut.