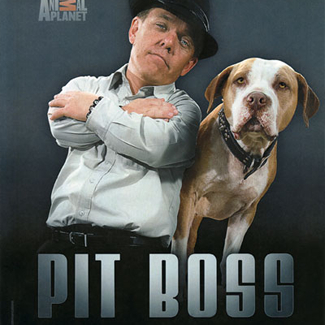 Season 1
Saturday, January 16th, 2010

s1e1: Dogged Pursuit

Shorty Rossi, an ex-con who runs a talent-management company, and his friends rescue and rehabilitate pit bulls in Los Angeles. In the series opener, Shorty runs into trouble while trying to find an abandoned dog's owner.

Saturday, January 23rd, 2010

s1e2: The Big Dog Is Back

Shorty retrieves a mistreated pit bull from its negligent owner. Later, he tries to rescue a dog about to be euthanized at a shelter.

Saturday, January 30th, 2010

s1e3: All in the Family

The team tries to help a man struggling to make ends meet keep his pooch. Meanwhile, Ronald is unhappy about a job that involves wearing a crawfish costume.

Saturday, February 13th, 2010

s1e4: Home Sweet Home

Actress Linda Blair helps Shorty after he rescues 10 puppies; the team has difficulty finding a home for a rambunctious pit bull.

Saturday, February 20th, 2010

s1e5: Ashley's Big Adventure

An abandoned pit bull is left at Shorty's office and Ashley tries to find a home for it. Meanwhile, Shorty takes his dog to an audition and must convince the director that a pit bull can play the role.

Saturday, February 27th, 2010

s1e6: The Biggest Little Car Wash

In the first-season finale, Shorty organizes a fund-raiser to offset the cost of his dog rescues. Elsewhere, Ronald loses his cool with an acting coach.
Season 2
Wednesday, July 14th, 2010

s2e1: The Boss Is Back

Shorty and his staff settle into their new offices, then probe the case of a stray pit bull that may have been involved in dog fighting causing Shorty to break one of his own rules.

Saturday, July 24th, 2010

s2e2: Shorty Goes Medieval

A trucking employee must contain his rescue animal in 48 hours or its Death Row; the staff gets a gig at a Renaissance fair.

Saturday, July 31st, 2010

s2e3: Surprise, Surprise

Sebastian, Ronald and Ashley return from the animal shelter with a pit bull; Ashley visits an LA comedy club; Shorty and Seb plan a surprise birthday for Ronald and Ashley.

Saturday, August 7th, 2010

s2e4: Breaking Away

Shea comes to town; Sebastian contemplates his future; Shorty and Ashley help an abused pit bull.

Saturday, August 14th, 2010

s2e5: Show Me The Money

Shorty complains of back pain, then goes on radio to set the record straight about Pits; Hercules is given a gig that no one in the staff agrees with; staff members auction themselves to raise money at the Pet Expo.

Saturday, August 21st, 2010

s2e6: Shorty's Family Reunion

Shorty helps Jordan; Ashley works on her comedy routine with James Davis.

Saturday, August 28th, 2010

s2e7: Breeders And Followers

Shorty finds an abandoned dog in a high-end foreclosed home; Ashley books a gig; Sebastian moves.

Saturday, September 11th, 2010

s2e8: Shorty Knows Best

Shorty and his team get an emergency phone call about a pit bull locked inside an abandoned car; Ronald's best friend from college visits and they share a week of partying and fun.

Saturday, September 18th, 2010

s2e9: Smackdown

A parolee from Utah has to choose between saving his family pit bull and going back to jail. Shorty, Sebastian, and Ronald teams up with an MMA club to promote an anti-dogfight campaign.

Saturday, September 25th, 2010

s2e10: The Seventh Dwarf

Shorty and his team help save a pit bull and a dalmatian tied to a post in LA's Skid Row.

Saturday, October 2nd, 2010

s2e11: Back Behind Bars

Shorty returns to the California Youth Authority, a juvenile reform facility where he once stayed.

Saturday, October 9th, 2010

s2e12: Great Balls of Fire

Shorty and the team get a surprise while searching for a reported stray pit bull in an RV yard.

Saturday, October 16th, 2010

s2e13: The Great Escape

Shorty surprises his staff with an R & R trip to Mexico.

Saturday, October 23rd, 2010

s2e14: So Long, Shorty

A dangerous dog rescue leaves Shorty hurt, and his sister rushes to his bedside. Also, due to acting classes, Ronald quits working for Shorty.
Season 3
Saturday, January 29th, 2011

s3e1: Shorty Breaks In

Saturday, February 5th, 2011

s3e2: The Showdown

Saturday, February 12th, 2011

s3e3: Pit Bulls and Paintball

Saturday, February 19th, 2011

s3e4: Shorty Goes Home

Saturday, February 26th, 2011

s3e5: The Prodigal Son Returns

Saturday, March 5th, 2011

s3e6: Little Chippendales

Saturday, March 19th, 2011

s3e7: Shorty the Ghostbuster

Saturday, March 26th, 2011

s3e8: Shorty's Confession
Season 4
Saturday, July 16th, 2011

s4e1: Dreams Come True

A nighttime rescue in a deserted building in downtown Los Angeles goes horribly wrong when Sebastian is not able to hear Shorty's shouts for assistance; Shorty and his team go to great lengths to fulfill a young Make-A-Wish Foundation recipient's wish.

Saturday, July 23rd, 2011

s4e2: Death in Denver

Shorty goes to Denver to try to change the minds of lawmakers who have passed breed-specific legislation that bans pit bulls from being inside the city limits; Shorty helps reunite a pit bull owner with her dogs and joins a nonviolent protest.

Saturday, July 30th, 2011

s4e3: Pit Bulls and Pinot Noir

Shorty and his team help raise money for an impounded dog in serious need of a leg operation; Shorty attempts to convince the owners of three abused pit bulls to surrender their dogs; Ashley gets stage fright prior to her improvisational performance.

Saturday, August 6th, 2011

s4e4: Bad Owners Mad Neighbors

Shorty goes on a rescue by himself to save a friend's trapped pit bull, and he comes face-to-face with an irritated neighbor who is not fond of the breed; Sebastian and Ronald are given the opportunity to co-star in a major motion picture; Ashley gets stage fright prior to her improvisational performance.

Saturday, August 13th, 2011

s4e5: For Our Fans

A "Best Of" special episode that takes a look back at some memorable moments from the series. In addition to highlights, Shorty and his crew share outtakes, bloopers and unseen footage from action-packed rescues.

Saturday, August 20th, 2011

s4e6: The Betrayal

Shorty renews his commitment to hold a series of frequent pit bull-only adoption events. Meanwhile, Sebastian books a secret entertainment gig on the side to help pay for his new hearing aides and convinces Ronald and Ashley to help out.

Saturday, August 27th, 2011

s4e7: Separate Ways

Shorty's angry confrontation with Sebastian leaves everyone reeling.
Season 5
Saturday, January 14th, 2012

s5e1: Trouble in Shortywood

Shorty and Ashley hear about a puppy that is trapped in a car, so they call on Hercules to find it before time runs out; a rescue in a graveyard goes terribly wrong, and Shorty's new employees are caught in a deadly situation.

Saturday, January 21st, 2012

s5e2: Crossroads

Shorty and his new rescue crew hear about a stranded pit bull and spring into action; choppy water and a drifting houseboat put an operation and lives in peril; Ashley attempts to convince Ronald and Sebastian to return to Shorty's Rescue.

Saturday, January 28th, 2012

s5e3: Mending Fences

Sebastian goes on a rescue mission at a horse stable in hopes of repairing his damaged relationship with Shorty; a situation gets out of hand when a pit bull faces off with an agitated mare; Ashley tries to show Shorty that she can be a good manager.

Saturday, February 4th, 2012

s5e4: When Good Rescues Go Bad

Shorty Rossi and Sebastian Saraceno's lives are in danger when a seemingly normal rescue that involves a severely abused pit bull goes wrong; Shorty learns that a pit bull is terminally ill, and he faces a devastating decision.

Saturday, February 18th, 2012

s5e5: Four Feet Tall and Rising

Ashley returns from a trip to Maryland and decides to step up her game by booking a big-time client, but when she lands the gig, it jeopardizes her friendship with Mikey; Shorty visits his sister and breaks big news about his upcoming, tell-all book.

Saturday, February 18th, 2012

s5e6: The Roast

Shorty is determined to help financially strapped Dawn with a rescue; Shorty volunteers to raise money by appearing as the guest of honor at a roast; Shorty has no idea what is in store for him when he takes center stage.
Season 6
Saturday, January 5th, 2013

s6e1: When the Pit Boss is Away...

Shorty and Hercules hit the road to promote pit bull tolerance and his new book, but Shorty ponders what being an open book to the world will mean to his family: Ashley is left in charge but it's possible that the power may be going to her head.

Saturday, January 12th, 2013

s6e2: Shorty's Master Plan

Shorty may expand his operation after a local rescue refuses to taken in pit bulls; Ashley gets the chance to show growth as a manager when a deal goes bad; Seb wants to devote more time to pit bulls, but Ronald is still fixed on stardom.

Saturday, January 19th, 2013

s6e3: Racetrack Rescue

Shorty has a new pit bull kennel up and running but he may have underestimated how much hard work there was to be done and what kind of shape he was in to do it. Ashley feels she needs to devote her time to the talent-agency and not the kennel.

Saturday, January 26th, 2013

s6e4: Dog Days at Shortywood

Shorty gets a little person he's mentoring to help out at the kennel when things get a bit strained. Shorty takes risks to rescue a pit bull trapped in an abandoned house. Ashley gets in trouble for going over budget on a commercial for Shortywood.

Saturday, February 2nd, 2013

s6e5: Clash of the Titans

Shorty attempts a risky rescue at a farm and must take Ashley because the businesses are understaffed and Sebastian is leaving to visit his family. Ashley fusses at Shorty for ignoring the business when Ron doesn't show up for a big gig she booked.

Saturday, February 16th, 2013

s6e6: The Boiling Point

Saturday, February 23rd, 2013

s6e7: Everybody's Changing

Saturday, March 9th, 2013

s6e9: Barely Staying Afloat

As Ashley adjusts to her new job as talent agent for the Sid Levine Talent Agency, Ron and Sebastian struggle to fill in for her at the Shortywood offices and on rescues, but sadly Shorty is no help as he attends his niece's graduation ceremony.