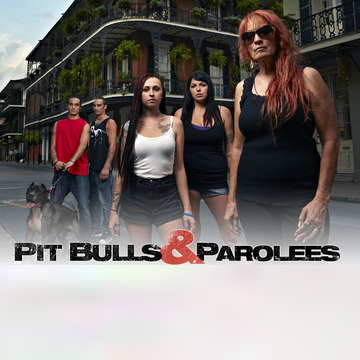 Season 0
Saturday, February 11th, 2012

s0e1: Season 3 Unleashed

Tia Torres recalls memorable events from the show's third season, and updates featured stories.

Saturday, February 16th, 2013

s0e2: Season 4 Unleashed
Season 1
Friday, October 30th, 2009

s1e1: Second Chance Ranch

Tia Torres and a team of parolees work together to rescue and rehabilitate pit bulls at the Villalobos Rescue Center, the largest pit bull rescue facility in the country.

Friday, November 6th, 2009

s1e2: Redemption

Tia Torres and her team of parolees work with a cast of Renaissance fair pirates who are looking to adopt a pit bull. Meanwhile, Tia's husband goes to court to face a bail hearing.

Friday, November 13th, 2009

s1e3: Whiteout

While Tia is traveling with her daughter to rescue a pit in Sacramento and a stray outside Wasco state prison, the parolees deal with a sudden snowstorm back at the ranch.

Friday, November 20th, 2009

s1e4: Crisis

Tia Torres deals with a missing parolee and has trouble convincing her daughter to pull her own weight at the rescue center.

Saturday, November 28th, 2009

s1e5: On the Run

Tia Torres and her team of parolees track down a wild pit bull living in a local park.

Friday, December 4th, 2009

s1e6: Sin City

Tia Torres travels to Las Vegas for a benefit supporting the struggling rescue center.
Season 2
Saturday, October 30th, 2010

s2e1: Return to the Ranch

Saturday, November 6th, 2010

s2e2: A Battle of Wills

Saturday, November 13th, 2010

s2e3: A Final Verdict

Saturday, November 20th, 2010

s2e4: A Fighting Chance

Saturday, November 27th, 2010

s2e5: Devastation

Tia travels with her son to New Orleans, where a dog rescued during Hurricane Katrina is slated to be adopted. While there, Tia saves a stray during a lightning storm.

Saturday, December 4th, 2010

s2e6: Beware of Dog

Saturday, December 11th, 2010

s2e7: Breaking Point

Saturday, December 18th, 2010

s2e8: Mission of Mercy

Saturday, January 8th, 2011

s2e9: Saving Tia Torres

Saturday, January 15th, 2011

s2e10: Trial by Fire

Tia considers another property when the ranch is threatened by a wildfire.

Saturday, January 22nd, 2011

s2e11: Life in the Spotlight

Tia follows-up on the most memorable moments of the past year, and looks ahead to life beyond the second season and the challenges that await her as she prepares to move.

Monday, January 24th, 2011

s2e12: The Next Chapter

Tia is faced with the daunting task of moving her family, the parolees, the kennels and the nearly 200 pit bulls that call Villalobos home. But with no water, no electricity and construction yet to begin, moving may be Tia's greatest challenge yet.
Season 3
Saturday, November 12th, 2011

s3e1: Judgement Day

Tia's dream of relocating becomes a nightmare as fate turns against her. And, a call from the former owner of one of Villalobos most aggressive dogs leads to the ranch's most emotional reunion yet.

Saturday, November 19th, 2011

s3e2: Prison Break

Tia sends Jake and Armando on a rescue mission to Texas, after hearing about two pit bulls who were wounded in a run-in with a porcupine. Then, when a second story about a dog in death row comies in, the guys need to kick it into high gear.

Saturday, November 26th, 2011

s3e3: New Blood

Tia decides to hire new parolees, but one parolee may blow his chance at redemption before the first day is done. And then, one of Villalobos most beloved dogs, Creature, is on the receiving end of shocking news which may end his chances of being adopted.

Saturday, December 3rd, 2011

s3e4: Trapped

It's a time of celebration as Armando's wedding day approaches, but even on this happy occasion the dogs come first. When a rescue mission becomes more than she bargained for, Tia is the one racing to the altar, not wanting to miss Armando's big day.

Saturday, December 10th, 2011

s3e5: Southern Uprising

Tia and the twins hit the road after she receives back to back calls for help from the South. After helping an army veteran with a new litter of puppies, the team find themselves on a wild chase after an injured dog through the streets of Jackson, MS.

Saturday, December 17th, 2011

s3e6: Heart Broken

Tia's daughter faces a difficult decision when her beloved dog's health takes a turn for the worse. Then, Tia sends her team to rescue a mother pit bull and her puppies from horrific conditions in an abandoned home.

Saturday, January 7th, 2012

s3e7: Burn Out

A parolee goes off track, forcing Tia to make a hard choice; a short-term home is needed for a dog whose owners' home was ravaged by a fire.

Saturday, January 14th, 2012

s3e8: Pushing the Limits

Three roommates contact Tia about adopting a pit bull who can fit in with their extreme, fast-paced lifestyles. And, the parolees are sent running for cover when they uncover three beehives.

Saturday, January 21st, 2012

s3e9: Cut Loose

Tia, Mariah, the twins and the parolees launch a massive rescue effort to track down a pit bull and her puppies that have been dumped in the Mojave Desert.

Saturday, January 28th, 2012

s3e10: Path of Destruction

Saturday, February 4th, 2012

s3e11: Don't Blow It

Bryan aces a rocky path to redemption; a rescued pit pull steals the heart of a potential adopter.

Saturday, February 11th, 2012

s3e12: End of the Road

Tia contends with a shocking rescue and a surprise animal-control inspection.
Season 4
Saturday, October 6th, 2012

s4e1: New Orleans, Here We Come

In the Season 4 premiere, Tia relocates to New Orleans' 9th Ward, where she hopes to build a new Villalobos and recruit local parolees to join her staff.

Saturday, October 13th, 2012

s4e2: Face Off

A family that lost a dog to cancer are hoping to adopt another pet; Tia and her daughter confront a sick and angry dog in New Orleans' 9th Ward.

Saturday, October 20th, 2012

s4e3: A Gift from Heaven

A volunteer at Villalobos adopts a dog with an uncommon history; a man who rescued two dogs needs help caring for them from Tia and her daughter Mariah.

Saturday, October 27th, 2012

s4e4: Ghost Dog

A pit bull is saved from drowning in a canal by a young girl after it evaded Tia for weeks; Tia must hire another parolee when twenty new puppies arrive at Villalobos.

Saturday, November 3rd, 2012

s4e5: Saving Prada

Tia goes to Nashville with Tania and a new parolee to rescue a dog that's about to be put down. Meanwhile, back in New Orleans, Mariah tries to keep Villalobos safe during a storm; and a puppy rescued from the 9th Ward may find a new home.

Saturday, November 10th, 2012

s4e6: Swamped

Tia and the twins board a boat to rescue a dog abandoned in a swamp outside New Orleans. Meanwhile, a young parolee is stressed out by work and parenthood.

Saturday, November 24th, 2012

s4e7: Trapped Below

A mother and her puppies are in distress and require a dangerous rescue mission; Tia is shocked by one of her most loyal parolee's future plans.

Saturday, December 1st, 2012

s4e8: Band of Brothers

Tia and the twins try to make the best of a bad situation after they learn of Chong's cancer diagnosis.

Saturday, January 5th, 2013

s4e9: Boiling Point

Tia addresses her lazy parolees, which leads to a fiery confrontation with Randy; a strange-looking dog is rescued from the searing heat.

Saturday, January 12th, 2013

s4e10: Buried Alive

NBA star Zach Randolph contacts Tia about a pit bull rescued from a drainage pipe in Memphis. Parolee Dameon has big news for Tia. Mariah and Earl help a puppy from the 9th ward get a new home.

Saturday, January 19th, 2013

s4e11: Freedom Fighters

Tia and her rescue team land in a dangerous situation when an anonymous tip leads them toward a dog-fighting ring; one lucky pit bull awaits permission to enter a new home.

Saturday, January 26th, 2013

s4e12: A Family Affair

New arrivals at Villalobos overcrowd the kennels after a friend of Mariah's passes away, a family hope to adopt four dogs, but it requires a trip back to California.

Saturday, February 2nd, 2013

s4e13: Making Miracles

A dangerously ill dog is rescued by Tania and Tia from the streets of New Orleans. Villalobos favorite, Chong, takes a turn for the worse as his cancerous tumor grows. And Tia offers to help with a long distance adoption in New York City.

Saturday, February 9th, 2013

s4e14: Storm on the Horizon

Tia readies for the worst as hurricane season approaches; a clue may help Mariah and the twins locate a dog's owner; Rico's grandparents adopt a shy dog.

Saturday, February 16th, 2013

s4e15: Storm Surge

Saturday, February 16th, 2013

s4e16: Season 4 Unleashed
Season 5
Saturday, December 7th, 2013

s5e6: Flood Watch

Tia receives a call about a puppy stuck in a pipe at the edge of the river and enlists the help of the twins and the parolees to rescue the dog. Then, it's up to Tania and Perry to help build up a shy puppy's confidence when an adopter comes calling.

Saturday, December 14th, 2013

s5e7: A New Future

Tia brings in reinforcements to rescue a dog from a dangerous part of New Orleans. Tania is left stunned when she becomes the center of attention at her boyfriend's birthday party.

Saturday, February 1st, 2014

s5e12: Almost Perfect

A dog left for dead in a dangerous part of town must be rescued by Tia and two parolees; a college girl from South Carolina wants to adopt a special-needs dog; a dog is dumped on Villalobos' doorstep.

Saturday, February 8th, 2014

s5e13: Rescue Resurrection

Tia gets a call about a dog loose at a construction site, and is shocked by what she discovers. A family with an unusual lifestyle comes looking to adopt a new puppy. And, when a favourite dog's cancer returns, Tia gets an emotional punch to the gut.
Season 8
Saturday, December 10th, 2016

s8e5: Rock City Rescue

Tia goes to Detroit to assist a rescue operation that's in danger of closing. Back in New Orleans, the team is on the lookout for a stray pit bull; and a grieving adopter begins her search for another companion.

Saturday, January 14th, 2017

s8e8: Hounded

Saturday, January 21st, 2017

s8e9: Going the Distance

Saturday, January 28th, 2017

s8e10: Unleased