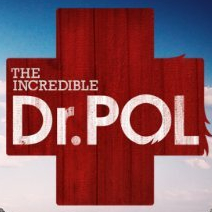 Season 1
Tuesday, November 29th, 2011

s1e1: Vet and Wild

Tuesday, November 29th, 2011

s1e2: How Now Downed Cow?

Thursday, April 12th, 2012

s1e3: Up Sheep's Creek

It's another unpredictable, busy week for Dr. Pol as he does pregnancy checks on 60 feisty heifers, treats an injured alpaca and tries to save a sheep with a prolapsed uterus.

Friday, April 13th, 2012

s1e4: Got Your Goat

Got Your Goat-Dr. Pol tackles a variety of cases, include a sick pup from a puppy mill, a baby goat who was kicked in the head by a horse, and a French bulldog who arrives at the clinic in critical condition after being hit by a car.
Season 2
Saturday, August 25th, 2012

s2e1: Polnado Warning

Saturday, September 1st, 2012

s2e2: Udder Madness

Saturday, September 8th, 2012

s2e3: All Vets Are Off

Saturday, September 15th, 2012

s2e4: Down and Derby

Saturday, September 22nd, 2012

s2e5: Holy Bat Attack!

Saturday, September 29th, 2012

s2e6: Whoa Mama!
Season 4
Saturday, February 1st, 2014

s4e5: Dog Dazed Afternoon
Season 6
Saturday, March 14th, 2015

s6e10: Black and White and Pol All Over

A swift kick from a horse forces Charles to sit out farm calls, so it's up to Diane to fill his coveralls.

Saturday, March 7th, 2015

s6e9: Dog-a-POL-ooza

It's all dogs, all day this week at Pol Veterinary Services! Dogs are an incredibly important part of the Pols' lives, as both personal pets and clients. From unclaimed strays to nosy farm dogs, there's no pup Dr. Pol and crew won't treat.
Season 5
Saturday, August 30th, 2014

s5e2: The Amazing Dr. Brenda

Dr. Brenda's 21-years working at the clinic is taken a look at. A horse receives help with weight management whilst a dog with a stomach wound is helped.

Saturday, August 23rd, 2014

s5e1: Piggin' Out

Dr. Brenda tries to save a calf with a dislocated hip. Dr. Pol helps a hedgehog and a retired stallion and then judges a chili-cook off.
Season 7
Saturday, September 5th, 2015

s7e7: Hook, Feline and Sinker

Joe Bott has called Dr. Brenda out to his family run dairy farm to treat a heifer in stalled labor. Heifers - the technical term for a first time mother - often have issues during their first calving. Upon arrival Dr. Brenda immediately begins a physical examination to determine the position of the calf.
Season 0
Saturday, January 2nd, 2016

s0e4: Pol-ar Vortex

The vets at Pol Clinic combat icy roads, hail storms and frigid temperatures to do what they do best...take care of their clients, one case at a time.
Season 8
Saturday, January 9th, 2016

s8e1: Freezin' Pol'd

It's the dead of winter in Michigan, but the arctic temperatures can't stop clients from blowing into the Pol Veterinary Clinic — from Nugget the hedgehog who has a sticky situation, to Tiny the quarter horse who has a severely torn eyelid — and not snow, nor sleet, nor ice will slow down the Pol vet team when an animal's in need!

Saturday, January 16th, 2016

s8e2: Dairy Queens

The elements have never stopped the staff at Pol Veterinary Services from working their tails off — not even lots of snow and ice! They are in the midst of one of Michigan's toughest winters, but the team won't let the frigid temperatures slow them down. The clinic receives a call about an agitated cow at a nearby farm. The situation is not looking good for the cow, who recently birthed a calf. Will she even let Dr. Pol close enough to help her?

Saturday, January 23rd, 2016

s8e3: Frostbitten in the Mitten

Central Michigan is in the throes of yet another brutal winter, but the staff of Pol Veterinary Services remain undeterred — no matter the conditions, there are sick animals that need care, and these are just the vets for the job. The deep freeze of late winter has everyone feeling uncomfortable — but Dr. Pol won't let the temperatures stop him from taking on a new home improvement project.

Saturday, January 30th, 2016

s8e4: The Color Purr-Pol

Dr. Pol treats animals of all shapes and sizes. Yet there's still one thing even the incredible Dr. Pol cannot do with precision — get his colors straight. He may be partially colorblind, but that doesn't stop him from appreciating the finer details of life. So when Charles hears of a new technological breakthrough, he decides it's time to give his dad the greatest gift of all — the gift of color. Things aren't always as clear as black and white for this country vet!

not specified

s8e5: Episode 5

Saturday, March 19th, 2016

s8e11: Udderly Unpredicta-Pol

Saturday, March 12th, 2016

s8e10: Mommy Reindeerest

Early springtime in Michigan means mothers, including Diane Pol, are being celebrated across the state! From a cow's dangerous breech birth to a very pregnant mare who escapes, the clinic will rest at nothing to nurture moms and their youngsters during this magical time of year.

Saturday, March 26th, 2016

s8e12: That's Incredi-Pol!
Season 9
Saturday, August 13th, 2016

s9e5: Blue Ribbon Kids

Saturday, August 20th, 2016

s9e6: A Pol Lotta Pressure