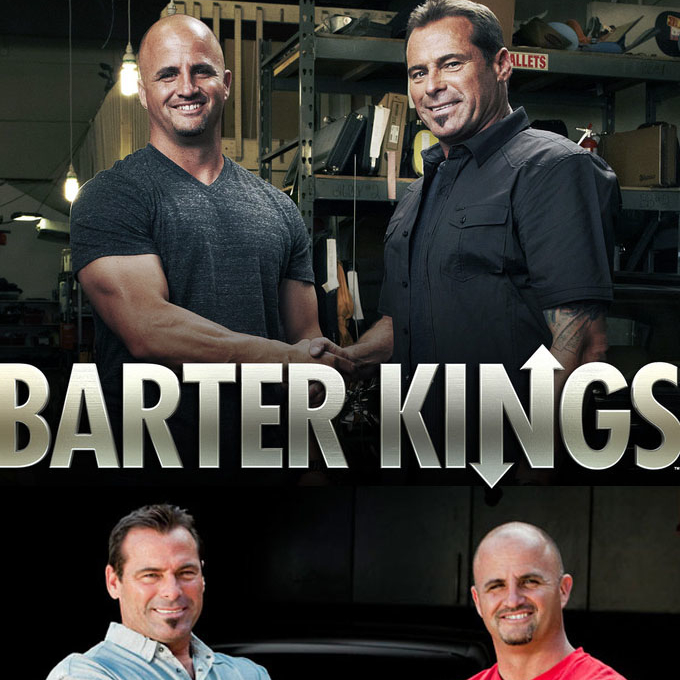 Season 1
Tuesday, June 12th, 2012

s1e1: No Cash, No Problem

Entrepreneurs carry out strings of cashless trades in order to obtain items of increasingly greater value. In the series opener, a speedboat is desired by a trader who starts out with Elvis memorabilia, and a used laptop computer is bartered in an attempt to obtain a pickup truck.

Tuesday, June 12th, 2012

s1e2: Cart Before the Horse

Traders barter for a horse and a custom golf cart.

Tuesday, June 19th, 2012

s1e3: Diamond in the Rough

Traders barter for a diamond and Jet Skis.

Tuesday, June 19th, 2012

s1e4: Rock and a Hard Place

Traders barter for a car and a pool table.

Wednesday, June 27th, 2012

s1e5: Bah-Bam!

The traders compete against each other in a bartering contest.

Wednesday, June 27th, 2012

s1e6: Not-So-Easy Rider

Traders barter for a motorcycle and a hot tub.

Wednesday, July 11th, 2012

s1e7: Dune Buddies

Traders barter for a motor home.

Wednesday, July 11th, 2012

s1e8: Happy Camper

Traders barter for a sandrail buggy. Also: a sand-dune race.

Wednesday, July 18th, 2012

s1e9: Four Wheeling and Dealing

A trader barters for an ATV while his parter attempts to trade up from a welder's mask.

Wednesday, July 18th, 2012

s1e10: Divide and Conquer

The traders split up and barter individually in an effort to maximize their profits.

Wednesday, July 25th, 2012

s1e11: Shake Your Money Maker

Wednesday, July 25th, 2012

s1e12: Barter Up!

Wednesday, August 1st, 2012

s1e13: Winner Takes All

Wednesday, August 1st, 2012

s1e14: Home Is Where the Barter Is
Season 2
Wednesday, January 9th, 2013

s2e1: Snakes on a Trade

Steve and Antonio welcome a new member to their team, and when they decide to go after a food truck for Steve s wife, Steve is forced to confront his greatest fear.

Wednesday, January 16th, 2013

s2e2: The Traders Went Down to Georgia

After discovering there s a big market for small airplanes, Steve and Antonio start trading up to one. But trading up for one of their biggest goals, unexpectedly takes them across the country to Georgia.

Wednesday, January 23rd, 2013

s2e3: Big Rig or Bust

Antonio recruits Steve to help him trade up to a big rig for an old friend who is down on his luck.

Wednesday, January 30th, 2013

s2e4: Swingin' Deals and Screamin' Wheels

As Steve and Antonio face an entire week of Spring Break with their hyperactive kids out of school, the two dads split up to trade for some incredible toys that ll keep the boys outside and occupied.

Wednesday, February 6th, 2013

s2e5: First Comes Love, Then Comes Trading

With his 19th wedding anniversary around the corner, Antonio enlists Steve to help him trade up for the classic car his wife always dreamed of. Meanwhile, Steve is also secretly trading up to surprise them both with a hot air balloon ride.

Wednesday, February 13th, 2013

s2e6: For Sail. Will Consider Trade

Steve and Antonio decide to barter up to one of their biggest cash outs yet -- a deck boat -- but to do so, Steve must cross the desert on a Land sail and face an unruly trader from his past. Meanwhile, Kendall finally leaves the nest to go tackle her own trades for the shop.