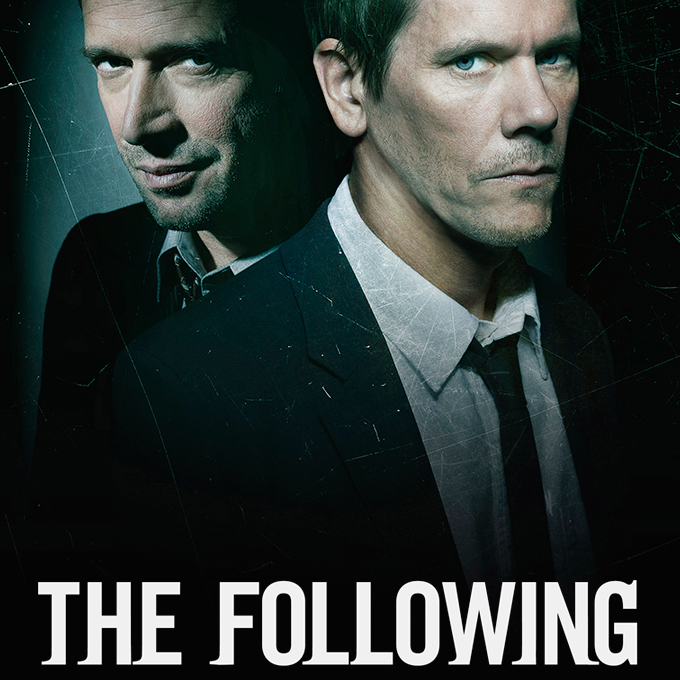 Season 0
Saturday, January 19th, 2013

s0e1: Inside the Following

This special documentary takes viewers inside the minds of the cast and crew of the new FOX series 'The Following' with in-depth, behind-the-scenes interviews, and never-before-seen production footage.
Season 1
Monday, January 21st, 2013

s1e1: Pilot

Former FBI agent Ryan Hardy is drawn out of retirement when serial killer Joe Carroll escapes from prison; the investigation reveals that Carroll has a cult following.

Monday, January 28th, 2013

s1e2: Chapter Two

Ryan, Agent Weston and FBI Specialist Debra Parker investigate the history of Carroll's psyche; Emma, Jacob and Paul hold Claire's son while they plan for their next move.

Monday, February 4th, 2013

s1e3: The Poet's Fire

Hardy and the FBI try to predict the actions of a new follower named Rick (Michael Drayer); Paul's jealousy reaches a breaking point; the beginning of Carroll and Hardy's relationship is revealed.

Monday, February 11th, 2013

s1e4: Mad Love

Maggie devises a plan to put an end to Hardy; Paul reveals a secret that Jacob has been hiding from Emma; Hardy and Claire's relationship is explored.

Monday, February 18th, 2013

s1e5: The Siege

As Hardy and the team make their next move, panic spreads at the followers' hideout; Carroll seeks out a lawyer from his past.

Monday, February 25th, 2013

s1e6: The Fall

A new follower reveals Carroll's true intentions; Hardy tries to turn Jacob, Emma and Paul against one another; Emma makes a surprising decision.

Monday, March 4th, 2013

s1e7: Let Me Go

Joe Carroll makes a case to be transferred to a different facility, raising Ryan's suspicions; Emma and Joey come across one of Roderick's men.

Monday, March 11th, 2013

s1e8: Welcome Home

Ryan and Parker are upset when the FBI makes Nick Donovan (Mike Colter) lead investigator as the search for Joey Matthews and Joe Carroll continues; a follower and Joe Carroll form a deadly plan.

Monday, March 18th, 2013

s1e9: Love Hurts

Ryan and Parker try to outwit their new leader; Joe demands information on Claire's location from Ryan; past followers return.

Monday, March 25th, 2013

s1e10: Guilt

Joe sends followers to capture Claire; Jacob's stress over recent decisions affects his reunion with Emma.

Monday, April 1st, 2013

s1e11: Whips and Regret

Ryan and Parker try to recover after losing Claire to Joe's followers; Claire has an unexpected reunion as she adjusts to life at the mansion; Jacob struggles with Emma's betrayal.

Monday, April 8th, 2013

s1e12: The Curse

Ryan finds a follower who may be able to lead the way to Joe Carroll; Agent Weston returns, possibly more affected by his run-in with the cult than anyone realized; Claire and Emma come together for the first time since Joey's abduction.

Monday, April 15th, 2013

s1e13: Havenport

When Roderick's role as sheriff is called into question, he makes a shocking decision that impacts Joey; Ryan tries to gain the trust of one of Joe's followers.

Monday, April 22nd, 2013

s1e14: The End Is Near

Weston, Parker and Ryan plan to storm the mansion, but Joe has already orchestrated his escape; followers create a diversion at the town evacuation center, causing panic and leading to the abduction of an FBI official.

Monday, April 29th, 2013

s1e15: The Final Chapter

Ryan tries to stop Joe Carroll from achieving his goal; Joe guides Claire to a special location.
Season 0
Saturday, January 4th, 2014

s0e2: The Following: Revisited

Catch-up on the entire first season with "The Following Revisited" special, complete with exclusive interviews, Season One highlights, and a sneak peek of Season Two! Special Preview SUN JAN 19 | MONDAYS 9/8c
Season 2
Sunday, January 19th, 2014

s2e1: Resurrection

Despite appearances a healed Ryan Hardy has gotten his life together, he continues to obsess about Joe Carroll; a murderous rampage on the anniversary of Joe's death leaves everyone determined to uncover the truth.

Monday, January 27th, 2014

s2e2: For Joe

Ryan receives mysterious phone calls that lead to an encounter with a major threat; revelations about Joe's new life come to light.

Monday, February 3rd, 2014

s2e3: Trust Me

The FBI becomes more aware of Ryan's undercover agenda as he searches for a link between the tragedies in New York and the remaining members of the Havenport cult; a shocking event leads to Joe starting a new plan.

Monday, February 10th, 2014

s2e4: Family Affair

After the latest shocking revelation in the case, Ryan and Max attempt to put the pieces together and stay two-steps ahead of the FBI, despite Weston's constant warnings to stay out of the way. Meanwhile, Emma becomes even closer to Mark and Luke, while Joe and Mandy meet up with a follower in search of assistance.

Monday, February 17th, 2014

s2e5: Reflection

In an attempt to learn new information, Ryan and Max capture a suspect. But complications lead to a game of dangerous cat and mouse. Also, Joe grows accustomed to his surroundings and establishes a plan of his own, while Emma realizes she is in dangerous company.

Monday, February 24th, 2014

s2e6: Fly Away

Ryan and Max turn to the FBI for back-up on their plan; Joe's relationship enters uncharted territory; Luke ends up in a troubling situation.

Monday, March 10th, 2014

s2e8: The Messenger

In hope of finding new answers, Ryan searches for the man who taught Joe to kill; Mandy and Emma wait for Joe to reveal his plan.

Monday, March 17th, 2014

s2e9: Unmasked

New information leads Max, Ryan and Weston closer to uncovering the mole within the FBI; Joe and Micah launch a plan that sends a message to Ryan and the world.

Monday, March 3rd, 2014

s2e7: Sacrifice

Ryan and the FBI's search for Lily Gray is redirected when Max is faced with a new threat; Joe, Mandy and Emma realize everything isn't what it seems at their new hideout.

Monday, March 31st, 2014

s2e11: Freedom

Ryan and Mike suspect a new cult leader may be on the rise after another deadly massacre; Joe confirms his new plans for the Korban cult.

Monday, March 24th, 2014

s2e10: Teacher's Pet

Joe's power over the Korban cult grows, new followers carry out his demands; Max and Ryan try to contact Joe and identify his whereabouts.

Monday, April 7th, 2014

s2e12: Betrayal

Joe chooses a new target; Ryan is confronted with news of Claire's reappearance; Mandy makes a decision that could undo everything Joe's been working for.

Monday, April 14th, 2014

s2e13: The Reaping

Ryan's mission to infiltrate the Korban compound and capture Joe doesn't go as planned; Claire asks Carrie to give Joe a message; Weston makes a life-changing decision.

Monday, April 21st, 2014

s2e14: Silence

Many lives are threatened as Joe enacts his final plan; Claire's decision puts her in treacherous territory; Mark and Luke must decide what to do next.

Monday, April 28th, 2014

s2e15: Forgive

When Mark and Luke turn the tables on Joe and Ryan, the two enemies are forced to work together to save the woman they love.
Season 3
Monday, March 23rd, 2015

s3e5: A Hostile Witness

On the day of an important trial, things go awry, causing the FBI to split up to hunt down a missing person. With his team breaking apart, Ryan enlists the help of a former enemy to defeat a greater one.

Monday, March 23rd, 2015

s3e4: Home

As Mark, Kyle and Daisy plan to make a personal attack on Ryan, the FBI receives a tip leading them to a secret location, which gives them a leg up in the case.

Monday, March 16th, 2015

s3e3: Exposed

Ryan, Weston and Max hunt down the person responsible for the latest atrocity, leading Ryan to take a deadly risk. Meanwhile, Mark questions Kyle and Daisy's loyalty.

Monday, March 2nd, 2015

s3e1: New Blood

Joe Carroll is on death row and his followers are no more, but a fresh series of brutal killings reopens old wounds for Ryan Hardy and a terrifying new nemesis awaits him and the team.

Monday, March 9th, 2015

s3e2: Boxed In

Ryan may have been able to connect Andrew to Mark, but he and the FBI are unsure of how things may tie into Joe Carroll. Meanwhile, tension mounts among Mark, Kyle and Daisy, and Ryan is placed in a serious situation.

Monday, March 30th, 2015

s3e6: Reunion

With their latest target on the run, Ryan and Mike follow a tip to a small town to investigate and confirm he isn't seeking protection. While in town, they both discover an even larger threat who has managed to avoid suspicion up until now. Meanwhile, Max struggles to make a confession.

Monday, April 6th, 2015

s3e7: The Hunt

With only a few days before Joe Carroll's execution, Ryan and Mike shift their focus to a new threat. Meanwhile, after being approved to start work again, Max rejoins the task force and comes dangerously close to a deadly menace.

Monday, April 13th, 2015

s3e8: Flesh & Blood

The FBI closes in on a suspect whom they believe to be the culprit behind the latest murders, but Ryan is convinced the killer is still out there, leading him to dig deeper into dangerous territory. Joe undergoes evaluation in the days leading up to his execution and a new threat tries to cover his tracks.

Monday, May 18th, 2015

s3e14: Dead or Alive

The FBI hunt for Theo continues and the stakes are higher than ever as some of their own come under attack.

Monday, May 18th, 2015

s3e15: The Reckoning

As suspicions rise alliances are shaken and no one is safe in the harrowing final heart-stopping moments.

Monday, April 27th, 2015

s3e10: Evermore

With Joe Carroll's execution day upon them, the team remains on edge, expecting that he won't go easily. Ryan's presence is demanded at the scene when a hostage situation ensues, as the world stands by watching the heavy news coverage of the day's events.

Monday, May 4th, 2015

s3e11: Demons

The investigation leads the team to a dangerous serial killer linked to Theo, while Theo and Penny seek refuge from an unknown source with the means of helping them disappear. Meanwhile, Ryan struggles with recent events, sending him into a downward spiral, and the search continues into which agent has been accessing Daisy's laptop from inside the FBI.

Monday, May 11th, 2015

s3e13: A Simple Trade

A deadly deal is made, but things don't go as planned, and Ryan makes a decision for his future.

Monday, May 11th, 2015

s3e12: The Edge

An increasingly reckless Ryan continues his search for Theo, as Mark and Daisy discover information that leads them closer to the FBI than ever and puts Mike in a dangerous situation.