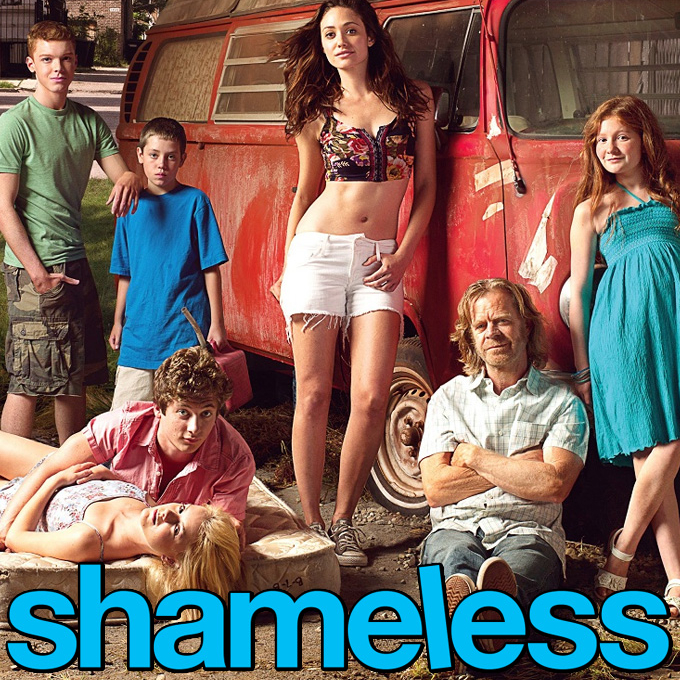 Season 3
Sunday, January 13th, 2013

s3e1: El Gran Cañon

Fiona struggles to accept the new Jimmy; Frank wakes up in a place completely foreign to him.
Season 0
not specified

s0e12: The Ghetto Girl and the Car Thief

not specified

s0e13: Sibling Rivalry

not specified

s0e14: The Bartender and the Sex-Cam Worker

not specified

s0e15: Juvenile Delinquents

not specified

s0e16: The Agoraphobe and the Beautiful Mess

not specified

s0e17: Season 3 Sneak Peek

Sunday, December 12th, 2010

s0e1: Sneak Peek

Wednesday, December 14th, 2011

s0e2: Christmas Carol

The Shameless Cast celebrates Christmas with a song as only the Gallaghers could.

not specified

s0e3: Bringing the 'Fun' to 'Dysfunctional'

not specified

s0e4: Bringing Shameless to America

not specified

s0e5: A Shameless Discussion About Sex

not specified

s0e6: Season 2 Sneak Peek

not specified

s0e7: Season 1 Deleted Scenes

not specified

s0e8: Season 2 Deleted Scenes

not specified

s0e9: The Complicated Life of Fiona Gallagher

not specified

s0e10: The Art of Acting Drunk

not specified

s0e11: Writing the Shameless Version
Season 1
Sunday, January 9th, 2011

s1e1: Pilot

Drunken father Frank is of no use to his dysfunctional family; Fiona meets a handsome stranger when her purse is stolen; Lip is shocked to discover his brother Ian is gay and tries to hook him up with a willing neighbor.

Sunday, January 16th, 2011

s1e2: Frank the Plank

Frank has a drunken run-in with Karen's father and takes it out on Ian. The family starts a manhunt when Frank is nowhere to be found on disability check day.

Sunday, January 23rd, 2011

s1e3: Aunt Ginger

Fiona turns her attentions to Tony, a cop who has had a crush on her since childhood, but Steve isn't willing to give up without a fight; Ian is targeted by the brothers of a girl he spurned; the whole family searches for elderly Aunt Ginger, who owns their house.

Sunday, January 30th, 2011

s1e4: Casey Casden

Debbie, sad and lonely after Aunt Ginger leaves, steals a little boy from a birthday party. In classic Gallagher style, the family hatches a plan to return the toddler safe and sound without attracting attention from the Chicago Police Department, who has made the kidnapping a top priority. Karen, in complete defiance of Eddie, starts to tease Frank sexually. Frank not knowing what to make of it keeps himself busy with booze, picking up Sheila'­s meds from the pharmacy and concentrating on finding the missing boy. What began as an innocent lie for Kevin to protect himself from a hot girl ultimately becomes a proposal of marriage for Veronica.

Sunday, February 6th, 2011

s1e5: Three Boys

When the Gallagher's find out Veronica comes from a wealthy family, they try to scheme a fake wedding for the dowry. Meanwhile, Frank gets some bad news about his health.

Sunday, February 13th, 2011

s1e6: Killer Carl

Fiona tries to prove the Gallagher home is suitable for rehabilitating a delinquent after receiving a letter from Carl's teacher; Lip gets busted taking the SAT for fellow students in exchange for cash; Kash and Ian are ashamed at their failure to stop a string of robberies at the Kash and Grab; Frank's poor business acumen continues to have negative consequences.

Sunday, February 20th, 2011

s1e7: Frank Gallagher: Loving Husband, Devoted Father

Frank gets into trouble with two goons he owes money. Fiona asks Sheila to take care of Liam while she spends a night with Steve, and Ian tries to stop Mickey from bullying Kash.

Sunday, February 27th, 2011

s1e8: It's Time to Kill the Turtle

Sheila fears to lose Frank when he gives up drinking. While Lip suspects their dad hasn't changed, Debbie and Carl enjoy having Frank back in their life. Meanwhile, Fiona tries to find a better paying job.

Sunday, March 6th, 2011

s1e9: But at Last Came a Knock

Monica comes back when Frank needs her to sign documents and decides to take Liam with her. Meanwhile, Steve and Fiona move together.

Sunday, March 13th, 2011

s1e10: Nana Gallagher Had an Affair

The children's paternity is put into question and Frank needs Carl's help.

Sunday, March 20th, 2011

s1e11: Daddyz Girl

Tony comes closer to discovering what Steve is doing, while Fiona makes a new friend. In the meantime, Lip helps Ian look for his father.

Sunday, March 27th, 2011

s1e12: Father Frank, Full of Grace

Steve tries to convince Fiona to skip town with him now that his true livelihood as been discovered; Frank and Karen's secret is revealed, forcing Frank to go into hiding; Fiona tries to figure out how to get Lip and Ian out of jail after their arrest for car theft.
Season 2
Sunday, January 8th, 2012

s2e1: Summertime

Fiona spends her summer with a new guy and bartending, while Debbie runs a daycare at their home. Meanwhile, Kevin realizes his extended weed-growing left him with a huge electrical bill and Frank borrows his youngest son Liam to help him pay a debt.

Sunday, January 15th, 2012

s2e2: Summer Loving

As Sheila conquers her agoraphobia, a worried Frank finds a new financial plan in fellow bar patron Dottie, whose declining health and city pension make her an ideal match; Fiona juggles her job, the kids and her burgeoning love life, and Jasmine tries to help by setting up Fiona with a sugar daddy; Veronica takes some old folks from the home on an excursion; Lip worries about Karen's growing relationship with Jody; Ian tries to land a recently released Mickey a job at the Kash and Grab; Debbie wants her own room; Carl moves into the van.

Sunday, January 22nd, 2012

s2e3: I'll Light a Candle for You Every Day

Fiona hopes her moral compass isn't leading her astray when she reconnects with her married high school crush, but when she finds an abandoned purse with over five hundred dollars inside, she assumes her luck is finally changing; Frank is willing to do just about anything to stay in Dottie's good graces, even marry her; after Harry's passing, Debbie becomes obsessed with death; Kevin thinks about buying the Alibi; Lip meets with a colonel to glean information for Ian about West Point; Jody asks Frank for Karen's hand in marriage.

Sunday, January 29th, 2012

s2e4: A Beautiful Mess

Fiona deals with the consequences of sleeping with Craig when his angry wife shows up at the door; Debbie develops a stress-rash and Fiona wonders if she's putting too much responsibility on the kids; Sheila has made it all the way to the hair salon and Frank realizes his days in the Jackson household are numbered; no longer having sex with Karen, Lip tries to dig up dirt on Jody; Ian continues on the path to West Point; Carl house-sits with his friend, Little Hank; Ethel meets Malik, a boy on Kevin's youth basketball team.

Sunday, February 5th, 2012

s2e5: Father's Day

Frank tries to claim Eddie's insurance benefits and pension, despite being a prime suspect in his death; Fiona attends a ritzy wedding with Richard and lies about her background; Lip is devastated by Karen's rejection; Carl rents Frank's room to a hooker.

Sunday, February 12th, 2012

s2e6: Can I Have a Mother

Grammy Gallagher shows up on a medical furlough and tries to track down a former meth lab protege that owes her money; Sheila plans Karen's wedding reception; Fiona double dates with Steve and his Brazilian girlfriend, and discovers that Steve is married; Ethel reacts to Clyde's death; Frank discovers the identity of Eddie's insurance beneficiary.

Sunday, February 19th, 2012

s2e7: A Bottle of Jean Nate

Lip tries to get back in Karen's good graces by crafting a prenuptial agreement for her and Jody, while Ian continues to give Lip the silent treatment; Frank wants to kick Grammy out but Fiona resists until the basement meth lab explodes; Fiona is invited on a boat trip but doesn't realize Steve and his girlfriend are also attending.

Sunday, March 4th, 2012

s2e8: Parenthood

With Grammy near death, Frank exits the house but walks in on Ian and Mickey locked in passion at the Kash and Grab; when Lip drops out of school, Fiona proposes a deal where they both earn their diplomas, but Lip acts out and gets himself expelled when he realizes that Karen plans to sell their baby to the highest bidder.

Sunday, March 11th, 2012

s2e9: Hurricane Monica

Monica returns to party and plot scams with Frank, but the rest of the family suspects she hasn't returned to stay; Fiona reconsiders her decision to kick Lip out of the house; Grammy's death affects everyone differently, and leaves Frank determined to make sure he gets every last penny his mother left behind; Sheila and Jody think Eddie's ghost is haunting the house.

Sunday, March 18th, 2012

s2e10: A Great Cause

Fiona starts to plan for her future now that Monica is back but her reprieve may be short-lived as Monica falls apart, spends the squirrel fund and gets arrested; Steve conspires to reunite Estefania with her true love so that he can be with Fiona; Lip and Ian learn the true identity of Mandy's baby; Sheila takes in a homeless crack addict.

Sunday, March 25th, 2012

s2e11: Just Like the Pilgrims Intended

It's a typical Gallagher nontraditional Thanksgiving that includes a suicide attempt by Monica, Carl shooting a bald eagle, and Karen going into labor; Steve agrees to allow Estefania's boyfriend to steal his identity; Ian sleeps with a businessman named Ned; Frank tries to get his share of his mother's money from his brother Clayton.

Sunday, April 1st, 2012

s2e12: Fiona Interrupted

A lonely Frank schemes to break Monica out of the psychiatric facility. Jimmy earns his way back into Fiona's good graces and she asks to meet his family while Ian runs into Ned again.
Season 3
Sunday, January 20th, 2013

s3e2: The American Dream

Fiona is stressed about the money she used for her club night; Frank makes his way home.

Sunday, January 27th, 2013

s3e3: May I Trim Your Hedges?

Frank tells Carl he has cancer to scam a charity foundation; Lip hunts down pedophiles in the neighborhood.

Sunday, February 10th, 2013

s3e4: The Helpful Gallaghers

Carl says his goodbyes; Frank is on babysitting duty; Sheila wants to introduce Jody to toy time.

Sunday, February 17th, 2013

s3e5: The Sins of My Caretaker

The city needs to work on the sewer main and Frank must find Aunt Ginger's bones in the yard before they dig.

Sunday, February 24th, 2013

s3e6: Cascading Failures

Fiona is desperate to get the children back after the Department of Family Services hauls them away.

Sunday, March 3rd, 2013

s3e7: A Long Way From Home

Frank and Fiona go to extreme lengths in court to claim custody of the kids.

Sunday, March 10th, 2013

s3e8: Where There's a Will

The family gathers for the real Aunt Ginger's fake funeral.

Sunday, March 17th, 2013

s3e9: Frank the Plumber

Fiona starts a new office job but has a hard time fitting in with the corporate culture. In an attempt to get medical coverage, Frank inadvertently becomes involved in the gay rights movement where he meets Abraham Paige, a powerful activist.

Sunday, March 24th, 2013

s3e10: Civil Wrongs

Fiona's job has brought structure ito her life, but when Jimmy drops a bomb on her things fall apart. Frank is happy with his newfound celebrity as the face of the gay rights movement.

Sunday, March 31st, 2013

s3e11: Order Room Service

Fiona takes the kids on a camping trip. Essentially homeless, Frank seeks out Carl who sneaks him into the Gallagher van for the night.

Sunday, April 7th, 2013

s3e12: Survival of the Fittest

Fiona and the family prepare a surprise high school,graduation party for Lip. Frank wins a bet and uses the winnings to take Lip out for lobster and some quality father/son time.
Season 4
Sunday, February 23rd, 2014

s4e7: A Jailbird, Invalid, Martyr, Cutter, Retard, and Parasitic Twin

Fiona is released; Lip takes over guardianship duties, receiving unexpected assistance.

Sunday, March 9th, 2014

s4e8: Hope Springs Paternal

To prepare for a visit from her probation officer, Fiona must remove all paraphernalia from the house; Ian is kicked out of Mickey's house.

Sunday, March 16th, 2014

s4e9: The Legend of Bonnie and Carl

Carl connects with a girl in detention; Lip and Amanda grow closer; Sheila returns with big plans; Fiona searches for a job; Mickey spends time with Ian.

Sunday, March 23rd, 2014

s4e10: Liver, I Hardly Know Her

Fiona violates terms of her probation, sending the family into search party mode.

Sunday, January 12th, 2014

s4e1: Simple Pleasures

Frank returns, disrupting life; Lip attends college; Ian is missing; Fiona tries to connect with Debbie and Carl.

Sunday, March 30th, 2014

s4e11: Emily

Fiona is taken to a correctional facility; Frank suffers post-operative delirium; Ian crashes Mickey's son's christening; Amanda's parents use bribery to keep Lip away from her; Debbie meets an older student.

Sunday, April 6th, 2014

s4e12: Lazarus

Sheila fights for custody and clashes with Sammi; Lip catches up on bills; Fiona is released; Frank begins to feel like himself.
Season 5
Sunday, January 11th, 2015

s5e1: Milk of the Gods

Fiona juggles her job and a crush. Lip heads back home.

Sunday, January 18th, 2015

s5e2: I'm the Liver

Sheila gets an offer to buy her home. Plus, Fiona is off house arrest!

Sunday, March 29th, 2015

s5e11: Drugs Actually

Frank grows concerned as Bianca's behavior becomes increasingly more erratic and dangerous - but he'll do just about anything to show her a great time.

Sunday, March 15th, 2015

s5e9: Carl's First Sentencing

Frank has a check-up with his uptight doctor, Bianca, who's cracking up after getting a terminal cancer diagnosis. Discovering she hasn't truly 'lived,' he agrees to be her tour guide to the seedier side of life. Meanwhile, Fiona preps an uncooperative Carl for his sentencing hearing. Plus, Lip sleeps with a professor on the assumption he's only days away from being kicked out, Ian realizes it's time to get back on his meds and Kev finds himself enjoying college life as campus 'rapewalker.'

Sunday, March 1st, 2015

s5e7: Tell Me You Fucking Need Me

Ian begins to regain some of his senses - and finds himself under a mandatory hold at the psych ward. Meanwhile, Sammi is forced to take drastic measures to teach Frank a lesson. Plus, Fiona makes a decision regarding her potential romantic futures with Jimmy and/or Gus, Lip learns that his tuition is short twelve grand, Carl seizes an opportunity to make Chuckie his slave, and after V moves out, Svetlana moves in with Kev in exchange for the performance of some odd 'wifely duties.'

Sunday, February 1st, 2015

s5e4: A Night to Remem… Wait, What?

Frank retraces the path of an epic bender. Fiona and Gus head to city hall.

Sunday, March 22nd, 2015

s5e10: South Side Rules

Frank is having a ball with Bianca, his new sick friend and formerly uptight doctor. But when Bianca thinks Frank might be developing feelings for her she kicks him to the curb. Frank, however, returns to put up a fight.

Sunday, April 5th, 2015

s5e12: Love Songs (In the Key of Gallagher)

Fiona reunites with Gus after he returns from his tour, but she struggles with the fact that her feelings for Sean have turned into love. In Costa Rica, Frank has love struggles of his own while he works to keep Bianca happy.

Sunday, February 15th, 2015

s5e6: Crazy Love

Fiona is thrown into chaos by the return of Jimmy. Ian takes Mickey's baby.
Season 6
Sunday, January 17th, 2016

s6e2: #Abortion Rules

Debbie carries a bag of flour around - determined to prove Fiona wrong.

Sunday, January 24th, 2016

s6e3: The F Word

Frank teaches Debbie how to work the system. Kev and Veronica visit Yanis.

Sunday, January 31st, 2016

s6e4: Going Once, Going Twice

Fiona confronts Patrick. Ian makes a discovery at the firehouse.

Sunday, February 7th, 2016

s6e5: Refugees

Frank helps Erica as Debbie ups her game. Lip tries to protect Helene.

Sunday, February 14th, 2016

s6e6: NSFW

Ian and Caleb get serious. Lip appears before a disciplinary committee.

Sunday, February 21st, 2016

s6e7: Pimp's Paradise

Carl struggles with Nick's absence, continuing to put up false hood bravado. He takes over the Gallagher home, remaking it as his "crib" and inviting his friends over to party and make music. Frank and Queenie rule the house - and Debbie returns when she's let go by Erica and Tyler.

Sunday, March 6th, 2016

s6e8: Be a Good Boy. Come for Grandma.

Fiona, now living with Sean, attempts to get his son, Will, to like her. He starts to come around, but when Will snags one of Carl's guns at the Gallagher house, Sean catches him and is furious with Fiona, worried he'll lose custody.

Sunday, March 13th, 2016

s6e9: A Yurt of One's Own

Fiona tries to make amends with Sean, who isn't giving her the time of day. Meanwhile, Debbie and Queenie travel to Queenie's rural commune along with Frank who is trying to escape G-Dogg who's after him for stealing his drugs.

Sunday, March 20th, 2016

s6e10: Paradise Lost

Sean officially moves into the Gallagher house; Fiona plans a traditional wedding; Kev tries to find a way around V and Svetlana's pending green card marriage.

Sunday, March 27th, 2016

s6e11: Sleep No More

Frank offers to pay for Fiona's wedding reception and then goes scamming around town to raise the money. Meanwhile, Sean fears that Frank will end up hurting Fiona and confronts him on it. Their difference of opinion quickly descends into a brawl.

Sunday, April 3rd, 2016

s6e12: Familia Supra Gallegorious Omnia!

During Fiona's wedding Debbie shows up at the church with Franny, and Frank arrives uninvited and high, and reveals that Sean is still a practicing junkie. Meanwhile, Ian brings Caleb to meet the family; and Sean tries to do everything he can to keep his son in his life.

Sunday, January 10th, 2016

s6e1: I Only Miss Her When I'm Breathing

Frank's newfound appreciation freaks the Gallaghers out.
Season 5
Sunday, January 25th, 2015

s5e3: The Two Lisas

Frank enlists Carl to scare off the lesbians. Debbie throws a wild party.
Season 7
Sunday, November 20th, 2016

s7e8: You Sold Me the Laundromat, Remember?

Fiona takes a DIY approach to renovating the laundromat. Lip agrees to go before the school board in hopes of getting reinstated. Meanwhile, Kev's trust in Svetlana wanes even further when the titty van goes missing.

Sunday, November 27th, 2016

s7e9: Ouroboros

Monica is back! And her first task is to help Debbie get back Franny. Meanwhile, Frank tries to avoid her, Ian has his first fight with Trevor, Lip tries to mask his relapsing alcoholism and Fiona's laundromat gets a bad review.

Sunday, December 4th, 2016

s7e10: Ride or Die

Fiona, facing mounting issues, contemplates Margo's offer to buy the laundromat. Meanwhile, Ian tries to deal with the fact that Mickey might be out of prison and Kev and V take matters into their own hands after Svetlana's betrayal.

Sunday, December 18th, 2016

s7e12: Requiem for a Slut

The Gallaghers grapple with the loss of one of their own. As Lip takes steps to improve his future, Debbie, Carl and Liam get roped into Frank's new scheme. Meanwhile, Kev and V get their revenge on Svetlana.

Sunday, November 13th, 2016

s7e7: You'll Never Ever Get a Chicken in Your Whole Entire Life

Fiona learns that owning a laundromat is costlier than expected. Frank helps Liam get into a plush new school after his old one is permanently shut down. Meanwhile, Debbie cleans up her act and grows closer to Neil.
Season 4
Sunday, January 19th, 2014

s4e2: My Oldest Daughter

Fiona enjoys living above the poverty line; the company car is damaged; Lip struggles in school.

Sunday, January 26th, 2014

s4e3: Like Father, Like Daughter

Frank stalks his daughter, Sammi; Fiona and Mike get serious; Carl tries to hear money for Frank; Sheila has a successful date.

Sunday, February 2nd, 2014

s4e4: Strangers on a Train

Fiona continues her affair with Robbie; Frank wants to construct an accident that will enable him to pay for his transplant.

Sunday, February 9th, 2014

s4e5: There's the Rub

Fiona's bad decisions about Robbie come to a head; Frank and Sammi continue their quest for a cure; Lip is visited while at college.

Sunday, February 16th, 2014

s4e6: Iron City

Fiona ends up in jail; the family waits for news about Liam; Frank wakes up in the emergency room.
Season 5
Sunday, February 8th, 2015

s5e5: Rite of Passage

Fiona's plans to announce her marriage unravel. Mickey asks for Lip's help.

Sunday, March 8th, 2015

s5e8: Uncle Carl

Fiona is confused by the status of her relationship when Gus announces he's leaving to go on tour. Meanwhile, Carl is asked by his boss to run drugs to Indiana; Frank sees a way to get revenge on Sammi by using Chuckie as the mule and having him busted; and Lip, still in need of tuition money, convinces Kev to come to the dorms and sell drugs. Plus, as Ian refuses to accept his bipolar diagnosis, Debbie is tasked with minding his new meds
Season 7
Sunday, October 2nd, 2016

s7e1: Hiraeth

Frank wakes up after a month-long coma to find no one missed him. Worried she isn't a good mother, Debbie takes a criminal approach to making sure Franny grows up wealthy. Meanwhile, Lip successfully completes rehab and is determined to stay "sober;" Carl looks into surgery after learning he's the only uncircumcised brother; and Ian gets a bad feeling about Caleb's friend Denise.

Sunday, October 9th, 2016

s7e2: Swipe, F**k, Leave

Ready to disown his family, Frank takes Liam under wing and starts a new life barricaded on the top floor of the Gallagher home. Fiona, meanwhile, adopts a new, relaxed attitude and starts running Patsy's Pies on her own terms. Debbie gets into trouble in the stroller business; Ian tries out heterosexuality; and Carl finds himself forced into abstinence.

Sunday, October 16th, 2016

s7e3: Home Sweet Homeless Shelter

Kevin, Veronica and Svetlana start a topless maid service. At the shelter, meanwhile, Frank makes new friends to replace his old family - leading them to a for-sale house converted into the Gallagher Home for the Homeless. Plus, Debbie's new lifestyle comes to an abrupt end; Carl gets a syphilis scare; Ian struggles with a breakup; and with Fiona on the run to clean up after her siblings, business at Patsy's hits the skids.

Sunday, October 23rd, 2016

s7e4: I Am a Storm

Frank worries that he and his new family will lose their Home for the Homeless shelter, so he plans a little goodwill for the neighborhood. Meanwhile, Fiona drums up business by throwing a speakeasy party at Patsy's Pies.

Sunday, October 30th, 2016

s7e5: Own Your Sh*t

Frank learns that a billionaire philanthropist has bought the homeless shelter and he and his clan can stay. Meanwhile, Fiona gets smart financial advice from a Tinder hookup as Ian struggles with his feelings for Trevor.

Sunday, November 6th, 2016

s7e6: The Defenestration of Frank

Fiona sees opportunity in a laundromat for sale and decides to invest. Frank revels in the good fortune of his scam, but the troops catch a whiff of foul play. Meanwhile, Kev and V discover a shocking secret about Svetlana's father.

Sunday, December 11th, 2016

s7e11: Happily Ever After

Frank and Monica have an interesting proposal for the kids. Lip buckles under pressure from Debbie to get his sobriety under control. Meanwhile, Fiona sees a business opportunity as Kev and V attempt to start a new chapter.