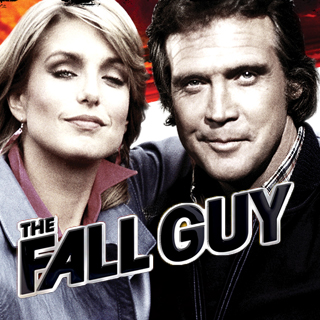 Season 0
not specified

s0e1: Remembering The Fall Guy An American Classic

not specified

s0e2: The Unknown Stuntman - The Theme Song
Season 1
Wednesday, November 4th, 1981

s1e1: The Fall Guy

Big Jack sends Colt, with Howie, to find a driver who was responsible for a hit-and-run that hospitalized a young child, and who has since jumped bail. Arriving in a small backwater town, Colt discovers that the man is actually a crooked sheriff, and finds himself up against the entire town's police force.

Wednesday, November 11th, 1981

s1e2: The Meek Shall Inherit Rhonda

Milton Bach is a computer hacker who ripped off the bank and ran. His wife, Rhonda, and friend Jerry stole the money and went to Mexico. He wants her back.

Wednesday, November 18th, 1981

s1e3: The Rich Get Richer

The bounty keeps them on the run as he tries many places to sell the bonds he stole. Kay Faulkner is a recurring character as the insurance agent trying to recover the bonds.

Wednesday, November 25th, 1981

s1e4: That's Right, We're Bad

Danny was framed by 'Animal' for an armored car robbery. If he goes to jail, 'Animal' will kill him. Colt and Howie go undercover in prison to protect him and it all goes awry.

Wednesday, December 2nd, 1981

s1e5: Colt's Angels

Colt is sent to the Mohave Desert to bring back a biker wanted for drug dealing, rape, and assault. He infiltrates the biker's club and competes with them in difficult stunts.

Wednesday, December 9th, 1981

s1e6: The Human Torch

Colt is sent to a country town to pick up an arson suspect. The townspeople of Federalsburg, and the suspect's mother, insist he is dead and buried.

Wednesday, December 16th, 1981

s1e7: The Japanese Connection

Pursuing the Rio Brothers, two small time crooks, to Hawaii, Colt and Howie find that the pair have trod on the toes of a dangerous Japanese syndicate.

Wednesday, January 6th, 1982

s1e8: No Way Out

In Las Vegas at a cycle show, Shecky turns himself in to Big Jack and tells her he needs a bodyguard. Reluctantly, Colt takes the assignment.

Wednesday, January 13th, 1982

s1e9: License to Kill (1)

Colt and company go to Hawaii to catch a man who turns out to be trying to stop an assassination. Things get mixed up and Colt becomes a target.

Wednesday, January 20th, 1982

s1e10: License to Kill (2)

Colt and company go to Hawaii to catch a man who turns out to be trying to stop an assassination. Things get mixed up and Colt becomes a target.

Wednesday, January 27th, 1982

s1e11: Goin' for It

A trio of small time crooks are using cars to smuggle jewels out of the country and hit a snag when one of them sells the cars to Howie to smash up for the movie.

Wednesday, February 3rd, 1982

s1e12: The Adventures of Ozzie and Harold

Harold had a run-in with his brother and now faces life as Ozzie, a homeless man. He witnesses a murder and becomes a target.

Wednesday, February 10th, 1982

s1e13: Soldiers of Misfortune

Colt and Howie 'join up', as they go undercover to try and nail a master criminal who is a mercenary trainee. In the process, they meet a woman journalist with her own reasons for pursuing this story.

Wednesday, February 17th, 1982

s1e14: Ready, Aim, Die

A man says he must find his brother, a gambler with a big debt to a bookie who's sworn to make an example of him, before a hit-man does.

Wednesday, February 24th, 1982

s1e15: Ladies On the Ropes

Eddie needs three days, so he can attend bout and prove his innocence. These skips always have a good reason to delay. He manages women wrestlers. Howie is persuaded to take part as Handsome Howard.

Wednesday, March 3rd, 1982

s1e16: The Snow Job

In Aspen, a politician's wife tells Colt that she shot her husband in self-defense, but he is saying he did it himself.

Wednesday, March 17th, 1982

s1e17: Guess Who's Coming to Town?

With Colt injured and laid up from a stunt accident, he reluctantly agrees to let Howie and Jody take the case of bringing in a criminal from a small rural town. The case is made more difficult by the fact that the wanted man is related to a local bigwig.

Wednesday, March 24th, 1982

s1e18: Child's Play

Colt is sent to bring in a gambler who is to testify against the mob, only to find he is on the run from mobsters out to silence him, and ends up looking after his fiesty, young daughter, Libby.

Wednesday, April 7th, 1982

s1e19: Charlie

Colt and the gang are in Las Vegas to attend a stuntman convention, where Colt meets up with old friend Charlie, a female stuntman whose brother is being hunted down by some heavies after becoming mixed up in a fraudulent scheme.

Wednesday, April 14th, 1982

s1e20: Three for the Road

A pretty jewel thief hops off to Mexico with Colt and his friends, joined by insurance investigator Kay Faulkner, hot on her trail.

Wednesday, April 28th, 1982

s1e21: The Silent Partner

To avoid being arrested for fraud, a country western singer frames his chauffeur for the murder of his ghost writer.

Wednesday, May 5th, 1982

s1e22: Scavenger Hunt

Some naval officers were involved in a $5 million robbery in Hawaii and they are looking for the man holding the money. For some reason, they just can't find the money.

Wednesday, May 5th, 1982

s1e23: Scavenger Hunt

Some naval officers were involved in a $5 million robbery in Hawaii and they are looking for the man holding the money. For some reason, they just can't find the money.
Season 2
Wednesday, October 27th, 1982

s2e1: Bail and Bond

Colt and Howie are in Rio de Janeiro filming stunts for a spy movie, and find themselves involved in a real life James Bond-style adventure when Terri assigns them to bring back a bail-jumper involved with money laundering.

Wednesday, November 3rd, 1982

s2e2: The I'ves Have It

Terri sends Colt to Aruba to bring back a burglar, but it turns out she is one of twins and had a good reason for the breaking and entering, but which one did it?

Wednesday, November 10th, 1982

s2e3: Colt's Outlaws (1)

While shooting on location, Colt and his mentor Dan Wild go drinking and when they come out of the bar, the Sheriff arrests Wild for being drunk. The next day Colt learns that while in custody Wild shot someone. Colt returns to L.A. and learns that the Mayor of the town is crooked. He also finds out that the Governor is trying to build a case against the Mayor but so far the only person willing to testify against him was the man Wild killed. Obviously Wild was set up. Colt then comes up with a plan. He organizes some of the stunt men who are Wild's friends and they pose as bikers and go down to the town and tear it up

Wednesday, November 10th, 1982

s2e4: Colt Breaks Out (2)

After breaking Dan out of jail and with Mary who witness the murder Littlefield engineered, Colt goes back to L.A. to vindicate Dan. But when Littlefield learns that Mary's a witness against him, He calls someone in the National Guard and they capture Howie and the stunt men who were making their way back to L.A. So Colt can't let Mary testify and with no other choice, he goes back to Littlefield to break Howie and the others out, with Dan and Mary. But Littlefield is ready for him.

Wednesday, November 17th, 1982

s2e5: Mighty Myron

Colt and Howie visit the circus to bring in a jewelry thief, only to find him murdered, and an orangutan seemingly responsible. With the primate on the run, Colt and Howie must track him down and prove his innocence before he is put to sleep

Wednesday, November 24th, 1982

s2e6: Reluctant Traveling Companion

Colt is sent to bring a woman back from the East Coast. Problem is that the woman is not going easy and refuses to go by plane. So they go by train and she continues to be disruptive. And right next to them is Richard Burton. And it seems that someone wants her dead.

Wednesday, December 1st, 1982

s2e7: A Piece of Cake

Terri sends Colt to New York City to bring in a bail jumper, only for Colt to find himself stepping into the middle of an FBI stakeout to try and nail a syndicate member - via any means necessary!

Wednesday, December 8th, 1982

s2e8: Hell On Wheels

When Colt is sent in to investigate a criminal at a roller derby team, Jody is persuaded to go undercover and join the skating stars to try and root out the real culprit.

Wednesday, December 22nd, 1982

s2e9: How Do I Kill Thee? Let Me Count the Ways

A man is tricked into supplying computer tapes by using a fake auto accident and telling him the other victim died, thus making him a murderer. Two bumbling detectives take the case.

Wednesday, January 5th, 1983

s2e10: Win One for the Gipper?

Colt's nephew and a friend are kidnapped by some army men who want to have a winning football team.

Wednesday, January 12th, 1983

s2e11: Happy Trails

Colt is filming stunts for a new Roy Rogers film. Howie finds himself accused of theft when he buys a car to be used for filming, not realizing it's stolen. Colt tries to uncover the conmen's auto theft racket.

Wednesday, January 19th, 1983

s2e12: Manhunter

Colt is sent off to Mexico to bring back two jewel thieves. An undercover private detective has the same objective.

Wednesday, January 26th, 1983

s2e13: The Further Adventures of Ozzie & Harold

Down-and-out Ozzie is back with his invisible friend. This time he witnesses a murder in a penny arcade, and with the killers now after him, he turns to Colt for help.

Wednesday, February 2nd, 1983

s2e14: Death Boat

When a jewel thief has plastic surgery and takes a cruise to recover, Colt and insurance investigator Kay Faulkner join the cruise along with Howie and Jody who pretend to be an invalid and his nurse. Now if only they could identify the thief.

Wednesday, February 9th, 1983

s2e15: Eight Ball

Howie and Jody are concerned that Colt is acting very secretive. Little do they realize that he's helping a former pool champ, now a recovering alcoholic, practice for a big comeback game. But mobsters who have money on their own.

Wednesday, February 16th, 1983

s2e16: Spaced Out

While Colt is involved in a brawl with a troublemaker, the rest of a small town are held spellbound by a supposed U.F.O. and its mysterious pilot. With the local bank robbed and Jody seemingly abducted, Colt is certain that.

Wednesday, February 23rd, 1983

s2e17: Strange Bedfellows

A wild tale in which a man who fails to convince Colt to bail out a woman, takes Jody hostage to further his cause. The woman has an urgent need to pick up a million dollars.

Wednesday, March 2nd, 1983

s2e18: The Molly Sue

Terri took the airplane as collateral and it was stolen, so Colt is sent to Panama to retrieve it for Ace.

Wednesday, March 9th, 1983

s2e19: One Hundred Miles a Gallon

The son of one of Colt's friends skips and Colt goes to South Carolina after him, but they aren't running moonshine like he thought and the regular drivers quit.

Wednesday, March 16th, 1983

s2e20: P.S., I Love You

Tab Hunter is framed for the murder of a debt collector and Colt sets out to find the real culprit.

Wednesday, April 6th, 1983

s2e21: The Chameleon

A man who was a master of disguise takes part in a staged accident to cover the robbery of an armored car.

Wednesday, April 13th, 1983

s2e22: The Chase

Max sees a murder in the parking lot where he was about to steal a car. He is arrested and the killers escape. Now he is the target.

Wednesday, May 4th, 1983

s2e23: Just a Small Circle of Friends

An industrialist begs Colt to rescue his daughter from a cult which she thinks is great, but isn't quite what she believes.
Season 3
Wednesday, September 21st, 1983

s3e1: Devil's Island

Fred wants Mary detained long enough to keep her from testifying against his boss. She is in Mexico. Opening stunt is a choreographed battle in free fall.

Wednesday, September 28th, 1983

s3e2: Trauma (concluded on series Trauma Center)

Howie is seriously hurt in a sabotaged stunt meant to keep them from testifying against a thief. This episode is part one and part two was on "Trauma".

Wednesday, October 5th, 1983

s3e3: Pleasure Isle

Ivy bides her time and then uses the computer to abstract Vessman's assets. He kidnaps her and attempts to get the code numbers from her to regain his assets. Colt to the rescue

Wednesday, October 19th, 1983

s3e4: Baker's Dozen

Colt is sent to a dude ranch in Arizona after a bail jumper, but he finds it is a paramilitary encampment

Wednesday, October 26th, 1983

s3e5: The Last Drive

Colt is sent to a dude ranch in Arizona after a bail jumper, but he finds it is a paramilitary encampment

Wednesday, November 2nd, 1983

s3e6: TKO

Colt tries to protect a fight manager from the mob.

Wednesday, November 9th, 1983

s3e7: Dirty Laundry

Flo hits an amourous man, is jailed, and then jumps bail. She flees to Reno where she is involved with a money laundering scheme.

Wednesday, November 16th, 1983

s3e8: Inside, Outside

Colt refuses a bribe, so Terri is kidnapped to pressure him not to testify.

Wednesday, November 23rd, 1983

s3e9: Nashville Pirates

Colt encounters a case of piracy when he goes after a bounty in Nashville. He performs 'The Unknown Stuntman'

Wednesday, November 30th, 1983

s3e10: Hollywood Shorties

A drug dealer needs a midget to retrieve his stash. Opening stunt: the midgets trip and 'net' a man.

Wednesday, December 7th, 1983

s3e11: To the Finish

Fargo is afraid pat will recognize him from the past, so he hires two thugs to keep him away from a car race.

Wednesday, December 21st, 1983

s3e12: Wheels

A former stuntman, now disabled, is reunited with his former fiancee by Colt in Seattle. He dumped her after his accident. Colt has a wild ride downhill in a wheelchair.

Wednesday, January 4th, 1984

s3e13: Cool Hand Colt

A corporation wants to drain the bayou. Colt is sent to bring back Junior to testify, but is put in a chain gang and the sheriff is out to kill him

Wednesday, January 11th, 1984

s3e14: The Huntress

Colt searches for a hit woman who like expensive art

Wednesday, January 18th, 1984

s3e15: Bite of the Wasp

They set up a sting to catch a politician who is extorting money from a movie producer

Wednesday, January 25th, 1984

s3e16: Rabbit's Feet

Colt and his assistants become fugitives after they are involved in a jail break in Argentina

Wednesday, February 1st, 1984

s3e17: Olympic Quest

Colt's sister inadvertantly tapes a kidnapping at the Winter Olympics in Sarajevo. Colt comes to her assistance when she is threatened by two thugs who want the tape.

Wednesday, February 22nd, 1984

s3e18: Always Say Always

Actresses (Joanna Pettet, Britt Ekland, Lana Wood) interrupt work on a ``James Bond'' film to help Colt catch smugglers in Hong Kong and return a Ming vase.

Wednesday, February 29th, 1984

s3e19: King of the Cowboys

Roy Rogers and former TV cowboy stars John Russell, Peter Breck, Jock Mahoney and Roy Rogers Jr. join Colt's posse to track a gang of diamond smugglers using horses.

Wednesday, March 7th, 1984

s3e20: Boom

A drug dealer who lost $250,000 when Colt nabbed his bail-jumping son holds hospitalized Jody and others hostage for $1 million.

Wednesday, March 21st, 1984

s3e21: Undersea Odyssey

An insurance investigator (Mary Crosby) trying to retrieve sunken gold deals with both Colt and his bail-jumping quarry.

Wednesday, May 2nd, 1984

s3e22: Old Heroes Never Die

An ex-baseball player is now a swindler with a big debt
Season 4
Wednesday, September 19th, 1984

s4e1: Losers Weepers (1)

A cast of comedians, an insurance agent and the theft of $3 million interact in this episode

Wednesday, September 19th, 1984

s4e2: Losers Weepers (2)

A cast of comedians, an insurance agent and the theft of $3 million interact in this episode.

Wednesday, September 26th, 1984

s4e3: Stranger Than Fiction

A novelist, who made an incriminating tape, is chased through the Everglades, by a syndicate boss who wants the tape, after his aide accidentally falls out a window and she is accused of pushing him.

Wednesday, October 10th, 1984

s4e4: Prisoner

Jody is arrested in a small town and sent to the prison farm where female inmates are destined to be sold into white slavery

Wednesday, October 17th, 1984

s4e5: Terror U.

Colt hides in a frat house from hit men, after he picks up his latest bounty, who was turning state's evidence in a money laundering case.

Wednesday, October 24th, 1984

s4e6: Private Eyes

Former private eyes, Cannon and Petrocelli, stick their noses into the case of the stolen stunt cars

Wednesday, October 31st, 1984

s4e7: October the 31st

Elvira and company are offered a night in a haunted house

Wednesday, November 7th, 1984

s4e8: Sandcastles

Colt and Howie pursue a murder suspect (Tim Dunigan) to Hawaii, only to discover that Jody has fallen in love with him and let him escape.

Wednesday, November 14th, 1984

s4e9: Dead Bounty

Colt has to leave his prisoner in the care of the local sheriff and finds that, during the night, his prisoner has been severely beaten and is in a coma. The sheriff accuses Colt of brutality and Colt becomes a fugitive

Wednesday, November 21st, 1984

s4e10: The San Francisco Caper

A bored teen-aged girl stows away in Colt's truck while he is searching for a diamond thief

Wednesday, November 28th, 1984

s4e11: Baja 1000

Dell Loomis is the man who gave Colt his break and he has been holding it over his head to get him to do things for him. He is also duplicitous. Presently, he has Colt working on a tenth rate picture, and provides him with shoddy equiptment and when Colt's truck is damaged, he says that Colt has to pay for it himself. He then tells Colt that if he competes in a desert race to get some footage he needs for the film, he might be able to pay for his truck. But what he doesn't tell Colt is that he made a wager with a Vegas wise guy who, after learning how good Colt is and that they stand to lose $500,000, sends a man whom Colt once caught to make sure that Colt doesn't win.

Wednesday, December 19th, 1984

s4e12: The Winner

Problems arise at the Special Olympics

Wednesday, January 2nd, 1985

s4e13: Semi-Catastrophe

Colt helps an independent trucker who is the victim of a loan shark and a gambling habit.

Wednesday, January 9th, 1985

s4e14: Her Bodyguard

Colt is assigned to be the bodyguard for a woman who is the target of a hitman

Wednesday, January 16th, 1985

s4e15: I Love Paris

Colt is sent to Paris on false pretenses. His real object is to identify a terrorist assassin only he can recognize

Wednesday, January 23rd, 1985

s4e16: Sheriff Seavers

Colt acts as sheriff in a town owned by the bounty's father

Wednesday, January 30th, 1985

s4e17: Tailspin

Wild Bill Hillman needs some money to keep his air show afloat, so he 'borrows' some from a buried stash. Unfortunately, he is caught and the mobsters want all the money

Wednesday, February 6th, 1985

s4e18: High Orbit

Thieves change the stunt to cover the theft of a chip from a space shuttle.

Wednesday, February 13th, 1985

s4e19: Rockabye Baby

Colt trails a bail-jumping girl singer accused of murder. Cameos: The Four Tops, the Temptations, LaToya Jackson.

Wednesday, February 20th, 1985

s4e20: Spring Break

Colt is in Florida on the trail of a computer hacker, who inadvertantly copied the secret account kept by his Professor in the same file as his next exam questions

Wednesday, February 27th, 1985

s4e21: Split Image

A mobster who has been threatened finds a shoe salesman who is a look-a-like for a him and then the fun begins

Wednesday, March 6th, 1985

s4e22: Skip Family Robinson

Nick, the boss, has undergone plastic surgery, but Shelby can identify him and has a grudge against George. He promises his honest daughter that he will go straight if she will help him this one last time

Wednesday, April 10th, 1985

s4e23: Reel Trouble

Colt takes three stunt women to Turkey for a film that is meant to fail. One of the women is a self-willed novice and botches some scenes, while they all get mixed up with a drug deal.
Season 5
Thursday, September 26th, 1985

s5e1: Dead Ringer

Colt is sent after a jumper and then discovers his quarry has entered an Elvis Presley impersonator contest and merged with the crowd.

Thursday, October 3rd, 1985

s5e2: King of the Stuntmen

There is a 'King of the Stuntmen' contest

Thursday, October 10th, 1985

s5e3: Femme Fatale

Howie goes undercover as a female impersonator, Denise, when the skip is a material witness in hiding

Thursday, October 17th, 1985

s5e4: A Fistful of Lire

Colt has to protect an Italian village

Saturday, November 30th, 1985

s5e5: The Life of Riley

When Colt catches a young man wanted in Los Angeles, he stumbles into a 'kidnapping for adoption' ring in Sacramento. Simon begs Colt to wait one more day while he checks out his last lead--a VW that matches the one used in the kidnapping

Saturday, December 7th, 1985

s5e6: October the Thirty Second

Elvira and company are filming a horror movie in an old haunted mansion during a storm, of course

Saturday, December 14th, 1985

s5e7: Seavers, Dead Or Alive

The tables are turned when Colt is framed and becomes a fugitive.

Saturday, December 21st, 1985

s5e8: Escape Claus

A fitting story for Christmas--Santa is arrested for freeing the reindeer. He asks what each wants for Christmas. Jody wants a 'white' Christmas in spite of the current heat wave; Colt reluctantly says he needs a new truck. There is a child care center threatened with eviction and some crooks want the bonds Santa's cellmate is hiding. Trench's slogan: "You bust 'em, we bond 'em"

Saturday, January 4th, 1986

s5e9: No Rms Ocean Vu

Colt is stranded on a desert isle with a spoiled socialite, who has a perfume company, after their plane is shot down by robbers. Prologue is filming a perfume commercial

Friday, January 10th, 1986

s5e10: Miami's Nice

An FBI agent persuades Colt to participate in a cocaine sting. Jody presents awards to Miss Stuntwoman USA winners

Friday, January 17th, 1986

s5e11: Reunion

One of Colt's old classmates steals his own jewels for the insurance money.

Friday, January 24th, 1986

s5e12: Trial By Fire

An old army buddy begs Colt to rescue one of the group that was betrayed years ago in Vietnam. He insists a recent photo shows the man as a POW even though everyone believes he is dead.

Friday, January 31st, 1986

s5e13: In His Shadow

A young man arrives who might be Colt's son.

Friday, February 7th, 1986

s5e14: The Lucky Stiff

Jerry has lost his money, house and wife, so he puts out a contract on himself--then wins the lottery.

Friday, February 21st, 1986

s5e15: Beach Blanket Bounty

A severe earthquake rocks L.A. and Colt coincidentally is involved with a 'rock' group, who want $20,000, and an industrial

Friday, February 28th, 1986

s5e16: The Last Chance Platoon

Colt becomes the drill instructor for a platoon of misfits.

Friday, March 7th, 1986

s5e17: I Now Pronounce You ... Dead

Pearl wants Colt to grab the skip during his wedding, but one of his wives beats him to it. As his creditors chase him, more wives turn up. Song--On The Road Again.

Friday, March 21st, 1986

s5e18: Two On a Skip

Trench sends Colt after another bounty hunter who he thinks is taking too long and spending too much.

Friday, March 28th, 1986

s5e19: The Lady in Green

An old actor who played "Silver Blade", a Zorro type crime fighter, in his earlier days, witnesses a murder and wants to go after the killer

Friday, April 4th, 1986

s5e20: Tag Team

Colt wins two pro wrestlers (losers) and Howie trains them. They do come in handy in a pinch

Friday, April 11th, 1986

s5e21: War On Wheels

A town was bought to become a reservoir, but one resident refuses to leave. His granddaughter wants to put him in a rest home. Howie has a remote 'out-of-control' tank. A gang of bikers have them all trapped in the town

Friday, May 2nd, 1986

s5e22: The Bigger They Are

A cop wants evidence against a club owner who sells pcp to kids.