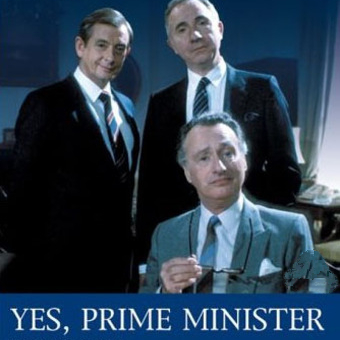 Season 0
not specified

s0e1: Paul Eddington A Life Well Lived

Monday, January 13th, 1986

s0e2: Paul Eddington Interview

Wogan Talk Show

Thursday, January 9th, 1986

s0e3: BBC Breakfast Time Cabinet Ministers Interview

Friday, December 25th, 1987

s0e4: Christmas Morning with Noel Show

Monday, December 17th, 1984

s0e5: Party Games

Series opener as Jim Hacker rises to the position of Prime Minister.
Season 1
Thursday, January 9th, 1986

s1e1: The Grand Design

After talking with his military advisers, Jim comes up with the idea of cancelling trident and reintroducing conscription. He also gets what no other Prime Minister has gotten, a cook / housekeeper.

Thursday, January 16th, 1986

s1e2: The Ministerial Broadcast

Jim is coached in the world of show business as he prepares to address the nation on his defence policy.

Thursday, January 23rd, 1986

s1e3: The Smoke Screen

Jim favors abolishing smoking through heavy taxation but runs into strong opposition from the tobacco lobby and the Treasury department.

Thursday, January 30th, 1986

s1e4: The Key

Office politics take precedence over national issues when Sir Humphrey and Bernard fall out with each other after Jim tries to restrict Sir Humphrey's access to No 10.

Thursday, February 13th, 1986

s1e5: A Real Partnership

Sir Humphrey tries to get his scheduled pay raise even though increases for MPs have been put on hold for budgetary reasons.

Thursday, February 13th, 1986

s1e6: A Victory For Democracy

Jim must take action to avert a Marxist takeover of a Commonwealth island nation despite the efforts of the Foreign Office to keep him ignorant.

Thursday, February 20th, 1986

s1e7: The Bishop's Gambit

Jim has to choose a new bishop but doesn't like either the Church or Sir Humphrey's choices.

Thursday, February 27th, 1986

s1e8: One of Us

Hacker threatens to place Sir Humphrey on leave while a security inquiry looks into why he cleared a confessed Soviet spy many years earlier, so Sir Humphrey retaliates with a dog in distress on Salisbury plain.
Season 2
Thursday, December 3rd, 1987

s2e1: Man Overboard

Sir Humphrey makes Jim suspicious of the Minister of Employment when he needs the PM's support in opposing a plan to shift military personnel from the south to the north of England.

Thursday, December 10th, 1987

s2e2: Official Secrets

Jim considers approving the publication of his predecessor's memoirs, but it becomes a plumber's nightmare as a series of leaks spring up.

Thursday, December 17th, 1987

s2e3: A Diplomatic Incident

Jim uses the occasion of his predecessor's state funeral to negotiate with the French over the conditions of the channel tunnel.

Thursday, December 24th, 1987

s2e4: A Conflict of Interest

Hacker and Sir Humphrey clash over the appointment of the governor of the Bank of England and the cover up of a banking scandal in the City.

Thursday, December 31st, 1987

s2e5: Power To The People

Sir Humphrey makes a very strange ally out of the formidable Agnes Moorhouse, a radical political reformer from a London council, in his efforts to stop Hacker's plans to make local government more democratic.

Friday, January 1st, 1988

s2e6: The Patron of the Arts

Sir Humphrey works against Hacker over the issues of funding the National Theater when the PM asks for help containing criticism from the Theater's director.

Friday, January 8th, 1988

s2e7: The National Education Service

Sir Humphrey faces a conflict of interest when Hacker devises a plan to improve educational standards by abolishing the Department of Education and Science.

Thursday, January 28th, 1988

s2e8: The Tangled Web

Sir Humphrey has to decide if he will support the PM or inform Parliament when Hacker denies knowledge of a wiretap authorized by his office without his knowledge.