update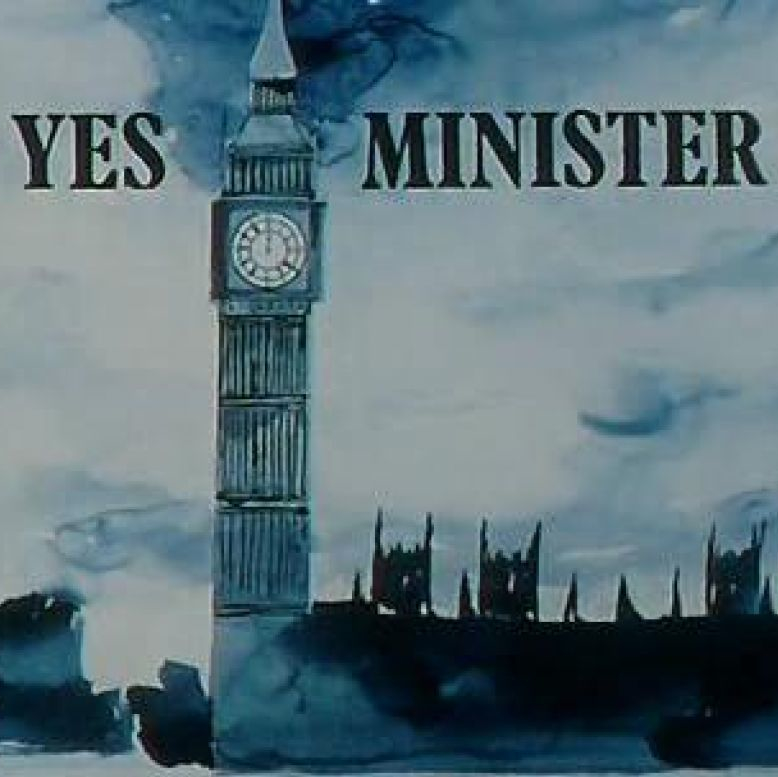 Season 0
Monday, December 17th, 1984

1: Party Games

Jim Hacker tells Bernard that he is currently up to his neck in the Euro sausage. Implementing European regulations would mean that the British sausage would have to be renamed to the Emulsified High-Fat Offal Tube. Jim is not pleased about this. Jim Hacker asks about his next meeting with Humphrey, but Bernard tells him this has been canceled because Sir Humphrey had to meet the Cabinet Secretary. Sir Humphrey visits the Cabinet Secretary Sir Arnold at his office. Sir Arnold informs Sir Humphrey that he is going to retire early and that he is assessing who he should recommend as the next Cabinet Secretary. Sir Humphrey asks him what he will be doing after he is retired, as he can continue to be of service to the nation. Together they put together a long list of chairmanships that Sir Arnold is interested in. Sir Arnold further wants guarantees that certain information remains secret after his successor has taken over the job. Sir Humphrey is more than happy to promise this. Now Sir Arnold has decided to recommend to the PM Sir Humphrey as the next Cabinet Secretary. When Sir Humphrey tells Jim Hacker about his new appointment in very vague terms, Jim first thinks Humphrey is about to die and he gets very emotional. As soon as he realises that Sir Humphrey is becoming Cabinet Secretary, he starts to compliment him on his achievements and their marvelous teamwork over the past years. At the Christmas drinks party at the DAA Jim Hacker gets awfully drunk as they bid goodbye to Sir Humphrey. Sir Humphrey thanks everyone for their work at the DAA and reminds everyone of the Home Secretary's campaign "Don't drink and drive at Christmas". Jim Hacker is being picked up for drunken driving however that very same evening, but gets away with it because he can show the Police his silver badge. The Home Secretary was not as fortunate as Jim, as he was also picked up for drunken driving after causing an accident with a lorry loaded with nuclear waste. This causes the resignation of the Home Secretary. Then suddenly the Prime Minister announces he is going to retire in the new year to give his successor a good run-up to the next election. There are two candidates for his succession: Eric - the Chancellor of the Exchequer - and Duncan - the Foreign Secretary. Jim Hacker does not know which candidate he can best support, because if he makes the wrong choice he is out. Both candidates talk to Jim Hacker (he is also Chairman of the Party) and make vague promises that Jim could become Minister at a prestigious department. Jim tells both that he will support their candidature. Sir Humphrey and Sir Arnold have dinner together to discuss who should become the next Prime Minister. Sir Humphrey thinks that both candidates have silly notions about running the country themselves and will likely cause a split in the party. Sir Arnold thinks the party should look for another candidate that is more flexible, has no firm opinion about anything and who can be manipulated. They look at each other and burst out into laughter as they realise the perfect choice....Jim Hacker. Sir Arnold advises Humphrey to check out the MI5 files of the two current candidates. When Bernard Woolley joins, Sir Humphrey tells Bernard about the plan and demands that Bernard makes sure Jim Hacker does nothing controversial over the next few weeks. At the DAA Bernard suggests to Jim that instead of supporting Eric or Duncan, he can also go for the Prime Minister job. This makes Jim Hacker think. Sir Humphrey has a meeting with the Chief Whip and he tells him about security question marks regarding both current candidates. He has also invited Jim Hacker to have a look at the MI5 files on the candidates. These files reveal that Eric has not been faithful to his wife and Duncan has made a number of dubious financial transactions. They all agree that both candidates should not become Prime Minister. Then Sir Humphrey asks whether Jim himself is interested in becoming Prime Minister. The Chief Whip is in favour and emphasizes that Jim Hacker should not make his candidature public yet. Jim Hacker first has to make sure the other candidates pull out, using his knowledge about the security question marks. Jim Hacker has talks with both Eric and Duncan about their candidature. He convinces them that they should pull out and support a new candidate who is able to protect them. They both realise the new candidate is Jim, although he denies he has any ambitions to become Prime Minister. Sir Humphrey has arranged a meeting with Jim Hacker and Maurice, the European Commissioner dealing with the Euro sausage. Sir Humphrey tells Maurice that Jim is planning to block any further European harmonization. Certainly now that the EEC wants to ban the British sausage. Maurice gets the hint and they agree that the British sausage can be called the British Sausage, and not the Emulsified High-Fat Offal Tube. At the DAA however, Jim Hacker informs reporters about the plans of the EEC to rename the British sausage, even though the issue has been solved. In a speech broadcasted by the BBC and ITN Jim Hacker speaks out against the EEC regulation to ban the British sausage. He firmly stands up for the British sausage and condemns any intervention from the EEC on this part. In an interview with Ludovic Kennedy he repeats this. When Ludovic asks him about the timing of the speech (during the party leadership election), Jim Hacker states that he has no ambitions to become Prime Minister although if he is asked by party members he will reluctantly accept. As Jim can announce his success in solving the British sausage problem, his candidature is made public. At Sir Humphrey's office he awaits the result of the party vote. When it finally gets in Jim wants to know whether he has become PM. Sir Humphrey can say: "Yes, Prime Minister".
Season 1
Monday, February 25th, 1980

1: Open Government

Jim Hacker wins a seat in the election and is given a cabinet post in the new government He meets the permanent secretary for his department Sir Humphrey Appleby but Jim decides to change the way things are done in the civil service so Sir Humphrey starts a plan to stop him

Monday, March 3rd, 1980

2: The Official Visit

When the leader of an African country is killed in a coup, his successor, who is an old friend of Jim's, comes in his place. They negotiate a £50 million deal to help buy oil exploration equipment.

Monday, March 10th, 1980

3: The Economy Drive

Jim Hacker is determined to reduce the Civil Service, but he is frustrated by Sir Humphrey, and the only numbers he can alter are the numbers of tea ladies.

Monday, March 17th, 1980

4: Big Brother

When the Government is planning to introduce a national database, Jim wants to bring in safe guards, but Sir Humphrey stalls until with some help from the opposition, Jim gets his way.

Monday, March 24th, 1980

5: The Writing on the Wall

A rumour starts that Jim's department is about to be axed. So with help from Sir Humphrey, they try and defeat the Prime Minister's plans.

Monday, March 31st, 1980

6: The Right to Know

Jim faces rebellion at home and in the office over the removal of protected status from a badger habitat, while he tries to circumvent Sir Humphrey's efforts to keep him ignorant of things.

Monday, April 7th, 1980

7: Jobs for the Boys

Jim goes on radio to support the Solihull project a Government, union and private enterprise building scheme, that he has inherited from the last administration, but unknown to him the project is close to bankruptcy, Sir Humphrey hopes to save the deal by offering a Quango to the director of the bank involved
Season 2
Monday, February 23rd, 1981

1: The Compassionate Society

When Jim learns that a brand new hospital still has no medical staff, but hundreds of civil servants working there, he proposes that half of the civil servants be sacked and use the money saved to open wards with medical staff.

Monday, March 2nd, 1981

2: Doing the Honours

When Jim learns that he can block civil servant's honours, he blackmails them into cutting their budgets, but when he hears that he might be in line for an honorary degree, he has to back down.

Monday, March 9th, 1981

3: The Death List

When Jim learns that when in opposition he was bugged by the secret service, he decides to bring in legislation to kerb the bugging. only to find out that he is on the death list of a group of terrorist's, and the best way to find them, is by bugging phone lines

Monday, March 16th, 1981

4: The Greasy Pole

Jim has the chance of creating jobs,and saving a chemical company, when they are offered the chance to manufacture a highly dangerous chemical, but when the news gets out that it might be too dangerous, he has to back down.

Monday, March 23rd, 1981

5: The Devil You Know

When Jim is betrayed by a Cabinet colleague over his plans to bring in jobs for British workers, he thinks about leaving Westminster and becoming a European Commissioner, But when Sir Humphrey learns who his replacement will be, he tries to change Jim's Mind.

Monday, March 30th, 1981

6: The Quality of Life

Sir Humphrey uses Jim's promise to keep a popular city farm project open to get special permission for an additional nine floors on a proposed skyscraper.

Monday, April 6th, 1981

7: A Question of Loyalty

Jim and Sir Humphrey pass the buck to protect each other when they appear before a select committee investigating charges of waste in Hacker's ministry, until Jim's higher loyalties are called upon.
Season 3
Thursday, November 11th, 1982

1: Equal Opportunities

Jim decides to promote more women to high civil service positions despite Sir Humphrey's opposition.

Thursday, November 18th, 1982

2: The Challenge

When Jim tackles local council administration and civil defense, he runs afoul of a BBC interviewer.

Thursday, November 25th, 1982

3: The Skeleton in the Cupboard

Jim uses a costly mistake from Sir Humphrey's past to escape chastising an efficient local council for being late with their paperwork.

Thursday, December 2nd, 1982

4: The Moral Dimension

Jim is forced to back down about exposing bribery used to obtain a lucrative foreign contract when Bernard allows a valuable vase from a foreign government to be undervalued so that Mrs. Hacker can keep it.

Thursday, December 9th, 1982

5: The Bed Of Nails

Jim accepts an unpopular position pushing a transportation bill desired by No 10, but opposed by everyone else.

Thursday, December 16th, 1982

6: The Whisky Priest

Jim faces opposition from all sides when he learns that British munitions have been sold to terrorist groups and he decides to start an inquiry into how it happened.

Saturday, December 25th, 1982

7: The Middle-Class Rip-Off

Jim and Sir Humphrey collide when Jim acts as an MP to sell an art gallery and museum in his district to support a popular local soccer club.