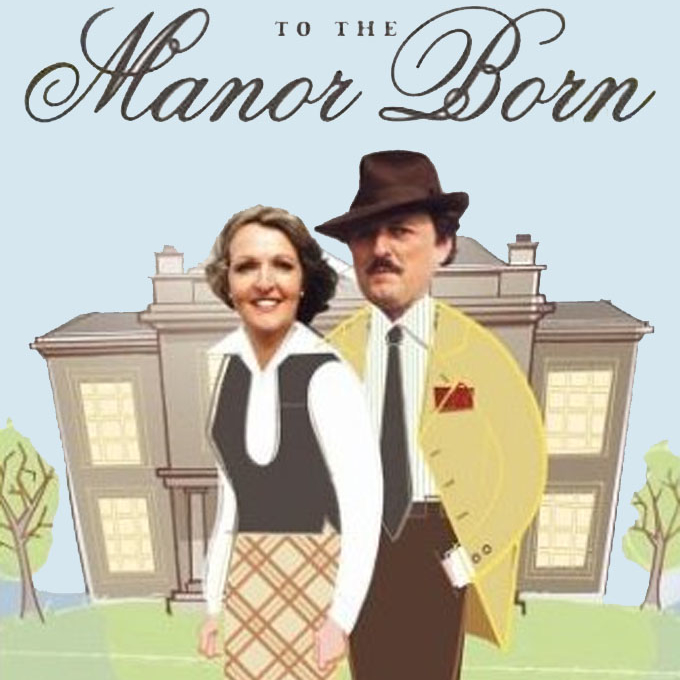 Season 0
Tuesday, December 25th, 1979

s0e1: Christmas Special

Richard and Audrey compete in supplying the traditional Christmas crèche to the village church, and the question soon becomes which offer is more ridiculous her homemade monstrosity or his crassly commercial model?

Thursday, March 13th, 2003

s0e2: A Conversation with Peter Spence

An Interview with Peter Spence (Script Writer)

Friday, September 29th, 2000

s0e3: Funny Turns - Penelope Keith

A 30 minute documentary highlighting the career of British leading actress Penelope Keith.

not specified

s0e4: Turning Points - Peter Bowles

Tuesday, December 25th, 2007

s0e5: To the Manor Born - 25th Anniversary Special

It is now a quarter of a century since we last heard from Grantleigh Manor. That was the day that the indomitable Audrey Fforbes-Hamilton, the dispossessed Lady of the Manor, finally got round to marrying Richard Devere, her usurper and supermarket tycoon of Czechoslovakian stock. It was a perfect love match, yet their romance was never less than a tempestuous on-off affair due to their one-and-only source of disagreement - which was pretty well everything. Audrey and Richard are still living in the Manor. Marjory lives in The Lodge. Richard and Audrey's 25th wedding anniversary is coming up so there is a party to plan. But before that, there is the local two in hand horse trial to conquer as well as Audrey's nephew (Alexander Armstrong) to attend to. But Richard has a secret which threatens to destroy the community, a happy marriage and a lifetime of friendships.

not specified

s0e6: Making of the Silver Anniversary Special
Season 1
Sunday, September 30th, 1979

s1e1: Losing Grantleigh Manor

Newly-widowed Audrey fforbes-Hamilton, rejoicing in finding herself the sole owner of Grantleigh Manor Estate, is devastated to find out she must sell the estate to pay the debts left by her late husband, Marton.

Sunday, October 7th, 1979

s1e2: The New Owner

The staff of Grantleigh Manor bid Audrey farewell with evident relief at her departure, only to find out the well kept secret of where she's moving--only a few hundred yards down the drive to the old gatekeeper's lodge, where she can still keep an eye on things and keep the new owner in his place.

Sunday, October 14th, 1979

s1e3: Going to Church

Audrey berates Richard for failing to attend church at the Manor chapel on his first Sunday at Grantleigh, as well as lecturing him about other duties she feels he's failing to live up to as the new lord of the manor.

Sunday, October 21st, 1979

s1e4: The Fireplace

Audrey is appalled at Richard's plans to remodel the Manor, including his removal of the old fireplaces, though she never especially liked them and only wants a chance to lecture him about respecting history and "put him in his place" yet again.

Sunday, October 28th, 1979

s1e5: The Hunt Ball

Richard uses psychology to trick Audrey into organizing the annual Hunt Ball at Grantleigh, then becomes so distracted by ongoing business deals that he forgets to invite her to the Ball as his guest.

Sunday, November 4th, 1979

s1e6: Audrey Goes on Holiday

No longer able to afford an annual holiday to an exotic locale, Audrey pretends to leave for Spain while actually hiding inside the lodge with a sunlamp and Spanish language records.

Sunday, November 11th, 1979

s1e7: TV Commerical

Richard is chosen to star in a tv commercial as the quintessential English gentleman enjoying spirits at his country estate, but Audrey, who now knows Richard isn't English, reveals it to the producers and lands the starring role for herself.

Tuesday, December 25th, 1979

s1e8: Christmas Special

Audrey and Richard engage in battle yet again, this time to see who can provide the best Christmas creche to the local church, Audrey with her homemade version or Richard with his commercially bought one.
Season 2
Sunday, October 5th, 1980

s2e1: New Farm Manager

Richard sends Audrey over the edge yet again as he brings in an efficiency expert to try to modernize every aspect of the estate's management, and sending everything and everyone into varying states of chaos.

Sunday, October 12th, 1980

s2e2: Podge Hodge

Audrey gleefully sets up a blind date between Richard and an old school chum of hers who was always dumpy and unattractive, then does everything in her power to prevent it when she finds out that her old friend is now an attactive single woman who she fears might catch Richard's interest.

Sunday, October 19th, 1980

s2e3: Missing Art Piece

Audrey agrees to help Richard catalog his antique china collection, then becomes the prime suspect when a valuable piece goes missing.

Sunday, October 26th, 1980

s2e4: The Tramp

A wandering itinerant laborer pits Audrey and Richard against each other in a contest to show that each is the most charitable towards him.

Sunday, November 2nd, 1980

s2e5: Hedgerows

Richard upsets Audrey again, this time by proposing to cut down the estate's ancient hedgerows in order to increase the amount of farmable acreage, and Audrey leads a local protest to stop him.

Sunday, November 9th, 1980

s2e6: National Health

Audrey learns firsthand the horrors of the national healthcare system when she injures her back and her private doctor refuses to treat her due to her unpaid bills, and refers her to the public clinic. Meanwhile, Richard, who's never skied in his life, learns the folly of pretending to the world that he's an expert on skis.
Season 3
Sunday, October 18th, 1981

s3e1: New Scout Hut

Richard, leading the local Boy Scout troup, and Audrey, heading the local Girl Guides group, nearly come to blows as they compete for their troups' rights to use the building both groups must share.

Sunday, October 25th, 1981

s3e2: Station Closing

When Audrey learns of plans to close the local railway station, she leads a protest to save it. Meanwhile, Richard plans to buy the site so he can tear down the station and build a new grocery store in its place.

Sunday, November 1st, 1981

s3e3: Birds vs. Bees

Audrey becomes a beekeeper to raise needed money from selling the honey her bees produce, only to find her bees being eaten by a bird which turns out not only to be extremely rare, but also to draw hordes of birdwatchers from all over to come trampling across her property. Leave it to resourceful Audrey to again find a creative solution to triumph against the odds!

Sunday, November 8th, 1981

s3e4: Horses vs. Cars

Unable to pay the repair bills for her ancient Rolls, Audrey decides to go everywhere by horse and carriage, much to the dismay of Richard, who has secretly bought her a tiny car to get around in.

Sunday, November 15th, 1981

s3e5: Cosmetics

Richard must get Audrey to agree to pose as his wife for a weekend so he can fend off the amorous attentions of a cosmetics businesswoman who has decided to visit the estate.

Sunday, November 22nd, 1981

s3e6: Business Troubles

The stockholders of Richard's company conspire to throw him off the board of directors, and Audrey asks her rich uncle to help him fight off the threat.

Sunday, November 29th, 1981

s3e7: The Wedding

Richard loses control of his company when his main supporter, Audrey's rich uncle, dies suddenly, and Richard is forced to sell most of his assets, including Grantleigh Manor.