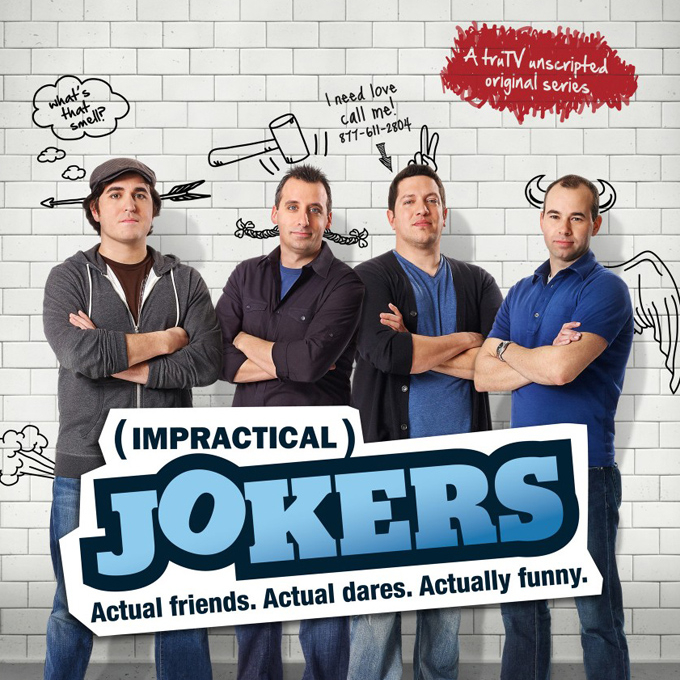 Season 1
Thursday, December 15th, 2011

s1e1: Pay It Forward

In the series premiere, the four jokers "cook up" some fun at a local burger joint, scam tourists, and prepare a trick for customers at a warehouse store.

Thursday, December 15th, 2011

s1e2: Butterfly Crime Scene

The guys rub sunbathers the wrong way and steal from others' grocery baskets.

Thursday, December 22nd, 2011

s1e3: Unmotivational Speaker

The guys use lame pickup lines while speed dating, tell victimized people walking by false fortunes at the boardwalk, and stink up the hygiene aisle at a local pharmacy.

Thursday, December 29th, 2011

s1e4: Boardwalk of Shame

The guys approach strangers with humiliating one-liners on the streets of New York, play a unique word game in a grocery store, and try to get shoppers to hop in a trunk at a car dealership.

Thursday, January 5th, 2012

s1e5: Drawing a Blank

The guys demonstrate their odd living habits while interviewing for roommates, cut the line for Broadway tickets in Times Square, and push puppies on customers in a pet store.

Thursday, January 12th, 2012

s1e6: Panty Raid

The guys massage beachgoers on the boardwalk, broadcast the news from Times Square, and get their kicks teaching a karate class.

Thursday, January 19th, 2012

s1e7: Out of TP

The guys swipe food off other people's plates at a buffet, tutor students in a foreign language they don't speak, and try to start a dance party in a public park.

Thursday, January 26th, 2012

s1e8: Who Arted?

The guys conduct a focus group with unique consumer questioning, are totally unfit as trainers in a gym class, and pretend to work at a famous New York bakery.

Thursday, February 2nd, 2012

s1e9: Joker's Choice

Joe, Murr, Q, and Sal are back for more. See what kind of pranks they pull on each other this time.

Thursday, February 16th, 2012

s1e10: A Loser Presents

The guys look to create some more laughs as they pull pranks on each other and innocent bystanders.

Thursday, March 29th, 2012

s1e11: What Did I Eat?

The pranksters try to sell diamonds to engaged couples.

Thursday, March 29th, 2012

s1e12: Starfart Macchiato

The pranksters regale each other with embarrassing text messages in a quiet waiting room, try their hands as shampoo boys at an upscale women's hair salon, and teach a crash course in driver's ed.

Thursday, April 5th, 2012

s1e13: Bellydancer

The pranksters take jobs at a garden center, try their luck as CPR instructors and see if they can cut it as deli-counter workers.

Thursday, April 12th, 2012

s1e14: Charity Case

The pranksters tee it up as golf instructors; line up investors as Broadway producers; and play cat-and-mouse with customers at a pet store.

Thursday, April 19th, 2012

s1e15: Theater del Absurado

The pranksters raise dough for unusual charities at a donut shop, interrupt some fed-up diners mid-meal in a Chinese restaurant and provide shoppers with unsolicited advice at a mall.

Thursday, April 26th, 2012

s1e16: Pick a Loser

The pranksters try stealing kisses from strangers on the streets of Manhattan and play word games with shoppers.

Thursday, May 3rd, 2012

s1e17: Supercuts

Season 1 concludes with the guys using bizarre props to toy with customers at a candy store and thumbing their noses at proper elevator etiquette.
Season 2
Thursday, September 6th, 2012

s2e1: Elephant in the Room

The guys give some lip to patients in a dentist's office and throw popcorn at moviegoers.

Thursday, September 13th, 2012

s2e2: The Stoop Sessions Part 1

Part 1 of 2. Featured: Season 1 highlights; the jokesters recalling favorite moments; and never before seen clips.

Thursday, September 20th, 2012

s2e3: Art Attack

The guys get chummy with patrons in a comic-book store and run races around a grocery store.

Thursday, September 27th, 2012

s2e4: The Stoop Sessions Part 2

Conclusion. Highlights of the first season.

Thursday, December 13th, 2012

s2e5: Strip High Five

The pranksters prove insensitive while conducting a sensitivity training class, have surprise celebrity encounters on the street and try being unreceptive receptionists in a busy office.

Thursday, December 13th, 2012

s2e6: Birds and the Bees

The pranksters share shameful secrets in the park, don headsets at a fast food drive through, and ask unsuspecting strangers to dance.

Thursday, December 20th, 2012

s2e7: Sound EffeXXX

The pranksters dumbfound focus groups with lackluster inventions, use park goers as pillows for a nap, and persuade grocery store shoppers to reconsider their original selections.

Thursday, January 10th, 2013

s2e10: The Truth Hurts

The pranksters get help from strangers in their quest to find imaginary places. Also: a search for a house sitter.

Thursday, January 24th, 2013

s2e12: Love Expert

The guys teach a dance class, attempt to sell tickets to Broadway plays and demand a rematch in sudden death debates.

Thursday, December 27th, 2012

s2e8: Do Something to My Face

The pranksters ask mall shoppers to settle some senseless debates, scream for ice cream in a sweetshop, and protest offbeat causes in a park.

Thursday, January 3rd, 2013

s2e9: Psychotic Not-line

The guys endure a shakedown at a discount store, test fate with the ''Wheel of Doom'' and attempt to become Hibachi chefs.

Thursday, January 17th, 2013

s2e11: Get Out of Dodge

The pranksters see how far they can go as optometrists, give unsound financial advice and push outlandish political ideas in an attempt to snag votes.

Thursday, February 7th, 2013

s2e13: Out of Fashion

The guys host a taste test with uncomfortable survey questions afterward, negotiate for worthless items at a flea market and work as attendants at a gas station.

Thursday, February 14th, 2013

s2e14: Scaredy Cat

The joker's advertise terrible ideas to a bunch of agency professionals, work as custodians at a mall food court and test themselves with the terrifying wheel of doom.

Thursday, February 21st, 2013

s2e15: TBA

Thursday, August 8th, 2013

s2e17: Human Pinata

The pranksters hug strangers in the park and present zany inventions to customers. Later, they stage a manhunt for their fictitious spouses.

Thursday, August 22nd, 2013

s2e19: Film Fail

The pranksters visit a foot doctor and seek assistance as they bury items in the park. Later, they engage in a race at a supermarket.

Thursday, September 5th, 2013

s2e21: The Alliance

The pranksters attempt to stifle their laughter during humorous presentations; Q turns the tables when the others gang up on him.

Thursday, October 24th, 2013

s2e23: Enter the Dragons

Sal, Murr, Q and Joe have dared one another to do the most ridiculous, humiliating public pranks imaginable.
Season 3
Season 0
Monday, June 16th, 2014

s0e2: Deleted Scenes

Check out deleted scenes from Impractical Jokers challenges.
Season 3
Thursday, October 30th, 2014

s3e31: Brother-in-Loss

Sal, Q and Murr are sent to some employers this episodes and get cheeky whilst explaining their uninspired resumes as they try to gain a job working at a mobile phone shop. Following this they head off to the ferry as they pile on bizzare gesture after bizarre gesture on top of one another. The loser tonight witnesses an unholy matrimony.

Thursday, October 23rd, 2014

s3e29: TBA

Tuesday, October 28th, 2014

s3e30: Just Say No

Sal, Q and Murr all head off to a casino in order to try their luck at being Blackjack dealers. They form a team to play a complicated guessing game in a park as well as polishing some strangers shoes to a less than sparkling shine. The loser of tonights show gets to take a beating on the Cyclone game at Brooklyn however theres a twist: a mysterious lover delivers the blows.
Season 4
Thursday, February 26th, 2015

s4e5: Elevating The Game

The guys work the register at a burger restaurant before taking their fun to a department store. Later, the loser faces their fears in a terrifying elevator ride.

Thursday, March 5th, 2015

s4e6: The Blunder Years

The guys try to justify getting humiliated at a convenience store, they give conflicting info about their event planning companies at a wedding expo, and the loser awkwardly meets his celebrity childhood crush: Danica McKellar.

Thursday, March 26th, 2015

s4e8: Damned If You Do

The guys take to the ice for a game that puts them on the cutting edge of embarrassment; the guys try to persuade some New Yorkers to support some ridiculous causes.

Thursday, April 23rd, 2015

s4e12: Car Sick

The guys ask and answer questions in a focus group again and have a toilet paper battle at the grocery store.

Thursday, May 7th, 2015

s4e13: Cruisin' For a Bruisin'

The guys mix it up with fellow passengers by turning the pool deck into their personal playground, then offer a boatload of misinformation as they pose as entertainment directors

Thursday, July 30th, 2015

s4e16: Captain Fatbelly

Joe, Sal, Murr and Q lend an unhelpful hand while working at a high tech store, then play detectives at the mall in search of perps on the loose. Tonight's loser gets the shakes while soaring high above the city.

Thursday, August 20th, 2015

s4e19: Tied and Feathered

The guys teach a crash course in sorry behavior, ask strangers to settle bizarre debates and spread surprisingly good news at the mall. Plus, tonight's loser has his hands tied when a day at the park turns into a frightful mess.

Thursday, August 27th, 2015

s4e20: Episode 20
Season 0
Thursday, February 4th, 2016

s0e11: Impractical Jokers' Joker Bowl: The Pros Weigh In

For the first time ever, our host and two former NFL players are in the studio giving in-depth analysis of each Joker's strategy and execution as well as statistical analysis and review of game-day footage.
Season 4
Thursday, September 3rd, 2015

s4e21: Live Punishment Special

Sal, Joe, Q and Murr celebrate 100 episodes of Impractical Jokers with a LIVE punishment in the heart of NYC. Hosted by Howie Mandel, the hour long special opens with pre-taped challenges that involve the guys crossing items off their bucket lists, faking injuries at the grocery store and making their glorious return to the infamous two way mirror. The episode then shifts to South Street Seaport for a four way punishment in which each joker walks a five story high tightrope, live.
Season 0
Wednesday, September 2nd, 2015

s0e9: FAN-Tastic Countdown

The Jokers count down the most memorable moments of the show, according to their fans. 10. Q speaking olde English at the "Castle of White" 9. Murr jumping on the couches with the over excited roommate 8. Sal doing the "Double Dutch" 7. Joe freaking out while teaching CPR 6. Q putting whipped cream on the shopping cart 5. Sal chanting "Let's get sexy" in the baseball stadium 4. Q's encounter with the "What does that mean" guy 3. Joe singing "Scoopski Potatoes" 2. Murr's skydive 1. All of Joe's various "Larry" moments

Thursday, April 30th, 2015

s0e6: Funny 'Cause It Hurts

The guys look back at the series' best punishments. They also share new secrets and show never before seen footage.

Thursday, May 8th, 2014

s0e1: Inside Jokes

In this special episode, learn exclusive trivia and behind the scenes details with on-screen joke notes! Did you know that Sal accidentally hit a crew member in the face with a hot dog? Or the story behind Q's brown jacket? Find out who Murr called before his sky diving punishment, and much more!

Monday, August 31st, 2015

s0e7: Anatomy of a Challenge

In this special the Jokers break down how to succeed in each challenge and how to make each other trip up and lose.

Tuesday, September 1st, 2015

s0e8: Unseen Scenes

In this special episode the guys show more never before seen clips... or in this case, "unseen scenes". The impractical jokers unveil all the hilarity that was left on the cutting room floor; unaired challenges to behind the scenes antics.
Season 4
Thursday, September 24th, 2015

s4e23: Hopeless and Changeless

The guys head to the park asking strangers to agree with their bizarre points of view, then give classless lessons about real estate. Tonight's loser finds himself in a harrowing race to the finish at the racetrack.
Season 6
Thursday, March 2nd, 2017

s6e4: Catastrophe

Joe, Sal, Q and Murr serve up the goods posing as trainees at a juice bar and plead with strangers to get things untangled. Tonight's big loser confronts his biggest fear in a punishment that leaves him practically catatonic.

Thursday, March 9th, 2017

s6e5: Vampire Weakened

Joe, Sal, Q and Murr act frosty while working the ice cream counter. Later they take Joe's dogs for a romp in the park with some help from strangers. Tonight's big loser watches his blood boil while performing with a gospel choir.
Season 0
Sunday, March 12th, 2017

s0e18: NCAA March Madness Bracket Attack

Going head-to-head, the Jokers compete for the championship title in a Sweet Sixteen bracket, this time using punishments.

Monday, October 31st, 2016

s0e17: A Day in the Life

In this special, a documentary crew gets a behind-the-scenes look at the making of Impractical Jokers. Subjects mentioned include how to place the cameras, the crew's favorite moments, and what happens when someone recognizes the Jokers.

Thursday, September 1st, 2016

s0e15: One Night at the Grand

In this 90-minute special, the Jokers have their usual shenanigans at the Grand Opera House in Wilmington, DE. The guys tear up the stage on their sold-out show. A mix of stand-up, never-before-seen clips and exclusive behind-the-scenes footage. This episode is similar to "One Night Stand Up"

Thursday, September 8th, 2016

s0e16: Fan-tastic Access Presented by Geico

The Jokers answer questions from the fans by showing never-before-seen footage. Some of the Jokers' funniest moments took place behind the scenes, huddled around a monitor or waiting for a turn to begin; revisit some of the most memorable behind-the-scenes exchanges.

Thursday, July 14th, 2016

s0e14: British Invasion

In this one-hour episode, the Jokers wreak havoc across the city of London. The guys serve up pints of awkwardness at a pub, try to sell ridiculous theatre tickets in the West End, team up to work at a fish and chips shop, and use their infamous bullhorns that are controlled by the other guys. Loser(s): Joe and Murr Punishment: For the 8th double punishment, Joe and Murr are set up to become goalies at a soccer (or "football") game, though they're actually merely target practice for professional soccer players. This was Sal and Q's revenge for the last double punishment they faced in the Season 4 episode "Deal with the Devils".

Thursday, May 19th, 2016

s0e13: All Aboard!

The Impractical Jokers show highlights and unseen clips and play games with the fans on their latest cruise that set sail early this year.

Sunday, June 15th, 2014

s0e3: Happy Father's Day

The Jokers and their fathers show some classic scenes in a Father's Day episode. This episode has a dedication at the end, in honor of Joseph S. Gatto, Joe's dad: 1939–95.

Thursday, March 26th, 2015

s0e4: Practically Live!

In this one-hour special, the Jokers offer a behind-the-scenes look at their stand-up tour and personal lives.

Sunday, March 13th, 2016

s0e12: NCAA March Mardness Showdown

Going head-to-head, the Jokers compete for the championship title in a Sweet Sixteen bracket from four divisions: Grocery Store, Mall, Park and Posing as Employees.

not specified

s0e5: Damned! The Movie by James Murray

*This is not an Impractical Jokers Special* This is a 1998 James Murray movie: http://imdb.com/title/tt4739392/ Plot: An alternative re-telling of biblical stories told as Jesus being a teenager, Bible mystery solvers, and other comedic religious figures.