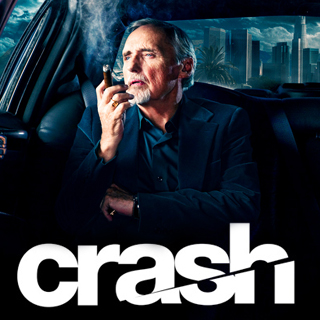 Season 1
Friday, October 17th, 2008

s1e1: Crash

Premiere. Axel investigates a K-Town murder. Officers Kenny and Bebe collide with a mysterious woman. Ben (Dennis Hopper) hires a limo driver from South Central. And Christine insists that her father move in.

Friday, October 17th, 2008

s1e2: The Doctor Is In

Christine and Peter argue about the remodel of the bathroom, while Lou complains about his nurse. Anthony can't quite understand Ben's unusual friendship with the doctor. And Axel's investigation gets complicated, as he takes steps to insure that Eddie doesn't share his knowledge of the K-Town murders.

Friday, October 24th, 2008

s1e3: Panic

The cops investigate a shooting of one of their own. Christine is taken with her new architect. Ben gives Anthony a shot at the big time. And a young Guatemalan man begins his perilous journey to the U.S.

Friday, October 31st, 2008

s1e4: Railroaded

Ben's doctor takes a tumble, but Eddie turns up to help. Anthony samples the show business lifestyle. Kenny's obsession affects his marriage. And Christine wonders if she's taken on too much.

Friday, November 7th, 2008

s1e5: Your Ass Belongs to the Gypsies

A wildfire rages near Peter's failing development. Kenny digs a deeper hole, bending the law to make a problem go away. And Ben's life takes an unexpected and traumatic turn.

Friday, November 14th, 2008

s1e6: Clusterfuck

Megan sneaks out with Charles, and Christine and Peter have a blazing row. Annoyed with Ben, Anthony hooks up with an old gang buddy. And Kenny and Bebe interrupt a hold-up at Roger's barbershop.

Friday, November 21st, 2008

s1e7: Los Muertos

Ben makes a reluctant Anthony drive him deep into the desert to see his shaman. Cesar takes his first steps on American soil, only to be faced with relentless hunger, thirst and endless desert.

Friday, December 5th, 2008

s1e8: Three Men and a Bebe

Cesar considers his past and the dangerous journey that brought him to Los Angeles. Amy and Kenny's marriage takes a turn for the worse, making Kenny wonder why he ever pursued Inez.

Friday, December 12th, 2008

s1e9: Pissing in the SandBox

Ben wants to take his company back from his daughter. A new detective causes a few upsets at the precinct. And when Eddie helps a Korean man, he finds a young girl in desperate trouble.

Friday, December 19th, 2008

s1e10: The Future is Free

Cesar gets a job in a car wash, while Christine learns more about Peter's departure. A K-Town rapist is questioned, Jules gives Ben a challenge, and Kenny tries to makes amends with Amy.

Friday, December 26th, 2008

s1e11: F-36, Sprint Left, T-4

Kenny and Amy begin counseling. Eddie runs into more trouble as an EMT. Ben hires an MBA graduate to help him with new ideas. And Cooper thinks he has Axel right where he wants him.

Friday, January 2nd, 2009

s1e12: Ring Dings

Doubts are raised in the precinct when Axel is questioned about the K-Town shootings. Kenny is left holding the kids for once. And Ben learns some disturbing news about his former business partner.

Friday, January 9th, 2009

s1e13: The Pain Won't Stop

Anthony and Ben visit Ben's old partner, while Eddie confronts Mr. Park. Bebe joins the search for Axel, Christine tries to re-enter the job market, and Inez crosses the line with Kenny.
Season 2
Friday, September 18th, 2009

s2e1: You Set the Scene

Former music mogul Ben Cendars returns to L.A. from a year's stint in rehab. Billionaire entrepreneur Seth Blanchard plans on bringing L.A. an NFL football team.

Friday, September 25th, 2009

s2e2: Always See Your Face

Seth enlists security guard Kenny Battaglia on his quest to discover the meaning of his bizarre visions. Bo Olinville gets offered a position coaching Tyler.

Friday, October 2nd, 2009

s2e3: The World's A Mess, It's In My Kiss

Ben's investigation into his daughter's murder leads to a shocking source for black-market surveillance tapes. Inez and Jimmy pay off Jimmy's gambling debts.

Friday, October 9th, 2009

s2e4: Can't Explain

Ben and Anthony visit the athletic club where Cassie was murdered, but are dissuaded from investigating further. Eddie ridicules advice Bo gives Tyler, which prompts Bo to prove his macho prowess.

Friday, October 16th, 2009

s2e5: You, I'll Be Following

Seth moves into an eco-friendly loft where he announces a dramatic venture for the future betterment of Los Angeles. Kenny strikes up a friendship with Tess, who runs a homeless center.

Friday, October 30th, 2009

s2e6: No Matter What You Do

Ben visits his ex-wife (Peggy Lipton) and her husband (Keith Carradine) and stumbles into a crisis of desperation. Inez is romanced by a new man, while Jimmy ends up in a violent conflict.

Tuesday, November 3rd, 2009

s2e7: Johnny Hit and Run Pauline

Bo explodes as Wendy pushes him to admit he wants to sell the hobby shop. Inez's new man, a rich Englishman, takes her to London on a romantic interlude. Kenny takes Tess on a date.

Friday, November 13th, 2009

s2e8: Lovers In Captivity

Seth gets a visit from a televangelist who wants to join forces. Ben rebuilds his relationship with Suzy as he continues to look for a murderer. Wendy is jealous of Bo's relationship with Lily.

Friday, November 20th, 2009

s2e9: Endangered Species

Ben Cendars (Dennis Hopper) and Anthony Adams (Jocko Sims) track down coke-dealer Roxanne Thigpen (Tania Raymonde), who was close friends with Cassie, and Anthony shares his own disappointments with Ben.

Friday, November 27th, 2009

s2e10: Master of Puppets

Ben and Anthony force Roxanne into withdrawal with the hope that she'll disclose more about Cassie's death. Seth mounts a town hall event to muster support for his homeless project.

Friday, December 4th, 2009

s2e11: Calm Like a Bomb

Seth grows more convinced that God is manifesting through him, although Kenny becomes more doubtful of the illusions. Inez meets a Hollywood director who holds out the promise of a new career.

Friday, December 11th, 2009

s2e12: All Alone Or ...

Kenney and Maggie pressure Seth to agree to an operation for his brain tumor. Director Bauer Lermontov takes Inez to the Cinematheque's Moving Picture Ball to fast-track her acting career.

Friday, December 18th, 2009

s2e13: Los Angeles

A group of Charles Manson fanatics reveal what happened to Ben's daughter; Seth has a party to celebrate his homeless city project; a Hollywood director offers Inez relationship advice; honors for Wendy's work in a project may be interrupted.