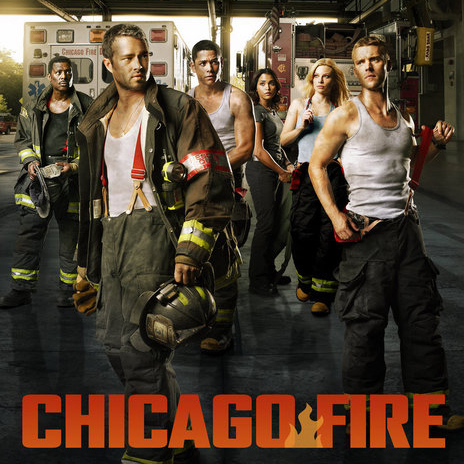 Season 1
Wednesday, October 10th, 2012

s1e1: Pilot

When a fire claims one of their own, there's plenty of guilt and blame to go around. Lt. Matthew Casey, in charge of the Truck, tries to carry on, but butts heads with the brash Lt. Kelly Severide of the Rescue Squad - and each blames the other for their fallen team member. The firehouse also includes: Battalion Chief Wallace Boden, a fireman's fireman who is confronted by important personal decisions; paramedics Gabriela Dawson and Leslie Shay, who share a close bond and team together to face some of the most harrowing situations imaginable; Peter Mills, an academy graduate who is the latest generation in a family of firefighters; and Christopher Herrmann, a seasoned veteran who loses his home to foreclosure and now must uproot his family to move in with his in-laws.

Wednesday, October 24th, 2012

s1e3: Professional Courtesy

Casey faces pressure to cover for a cop's son, who was responsible for a drunken-driving accident that left a teenager paralyzed. Meanwhile, Severide ignores his doctor's warnings that his neck injury may never heal if he doesn't seek treatment; and Mills must choose between working at the fire department full-time or helping his mom with her restaurant.

Wednesday, October 31st, 2012

s1e4: One Minute

Chief Boden is accused of leaving a homeless man to die in a warehouse fire after ordering his men to evacuate the scene, creating negative press and bad feeling within the department. Meanwhile, Lieutenant Severide helps an elderly woman facing some neighborhood problems. Detective Voight ramps up his intimidation tactics aimed at Casey in an attempt to discourage him from testifying against his son. Shay is forced to revisit her heartbreak over her ex-girlfriend Clarice, when she finds herself face-to-face with the ex and her husband during a call. Hermann's temper flares during a rescue call at a Halloween block party.

Wednesday, October 17th, 2012

s1e2: Mon Amour

Severide is hiding a serious shoulder injury sustained in the fire that killed Andy Darden, and grapples with his guilt as he fights to rescue a construction worker trapped in a building collapse. Adding to the burden, Darden's wife Heather turns on Severide at the annual firefighters' barbecue, blaming him for her husband's death. A call is made to an accident site at Hancock Tower, where two teenagers are pinned in a vehicle trapped beneath the falling debris of a broken window washer's cart. Meanwhile, Casey and Hallie work to figure out their future together.

Wednesday, November 7th, 2012

s1e5: Hanging On

Casey confronts Detective Voight about his harassing tactics, vowing never to back down, and ends up paying the price for his decision. Dawson faces disciplinary action for her on-the-job conduct. Meanwhile, Severide finds his arm failing him during a rescue at a construction accident, and reaches out to Anna, an old flame and pharmaceutical rep, hoping she might be able to help alleviate his injury problems.

Wednesday, November 14th, 2012

s1e6: Rear View Mirror

Facing suspension, Dawson gets a hand from the same girl she saved through the procedures that landed her in front of the disciplinary board. Lieutenant Casey finds his fuse shortening as Detective Voight stops at nothing to get him to retract his statement. However, when Casey lays his life on the line during an apartment fire, he may have unknowingly caught the break he was needing.

Wednesday, November 21st, 2012

s1e7: Two Families

Everyone in the firehouse is ordered to take a drug test after a call to a daycare center exposes them to a makeshift meth lab, and Severide stalls, not wanting his injury, or the painkillers he takes, to be discovered. Meanwhile, Truck and Squad find themselves pinned down by gunfire while trying to help the victim of a gang shooting, and a deep-fried turkey fire grows from small to explosive when a garage catches fire. Elsewhere, Dawson saves a bleeding man and Casey delivers a baby on the scene of a massive car pileup on the freeway.

Wednesday, December 5th, 2012

s1e8: Leaving the Station

At the site of a train accident, Peter Mills becomes deeply upset when he observes the dead body of a young victim. Unable to shake his emotional distress about the event, he questions his future as a firefighter. Dawson and Shay save a 6-year-old girl whose mother is abusing her ? but their confrontation leads the woman to resort to dire actions. Meanwhile, Severide aggravates his injury while rescuing a heart attack victim and Shay sends Clarice, her married, pregnant ex-girlfriend, back home to her husband.

Wednesday, December 12th, 2012

s1e9: It Ain't Easy

After he's injured in a terrible fire at an auto machine shop, Jose Vargas is forced to go on disability and leave his life as a firefighter behind - a task he finds incredibly difficult. Chief Boden tries to help a suspected teenage firebug. Also, Severide receives an enticing invitation from Renee, a woman who he saved from a car crash incident involving live electrical wires. Meanwhile, Cruz tries to save his younger brother Leon from the gang he is involved with.

Wednesday, December 19th, 2012

s1e10: Merry Christmas, Etc.

After putting out a kitchen fire in an upscale townhouse, Casey, Herrmann, Mouch, Cruz, Otis and Mills find themselves accused of stealing a $50,000 diamond necklace from the home, touching off an internal investigation. Cruz's brother Leon is caught in the middle of an escalating gang war, leaving Cruz to make a desperate choice to save him. Meanwhile, Dawson invites Casey to her cousin's fancy Christmas party, and a frustrated Shay has reached her limit with Severide.

Wednesday, January 2nd, 2013

s1e11: God Has Spoken

Eaten up by his guilt over Flaco's death in the fire, Cruz goes to Casey to confess. While Shay recovers from a head injury sustained in the ambulance crash, Severide asks Dawson for her help in dealing with his own injury. Casey is caught in the middle of a family conflict between his mother and sister. Elsewhere, Herrmann finds a business deal hard to stomach.

Wednesday, January 9th, 2013

s1e12: Under the Knife

Severide finally addresses Chief Boden about his injury and makes some important personal decisions about his future. Meanwhile, Casey struggles with family matters and Dawson takes matters into her own hands when she discovers a young girl who is the sole survivor at the scene of a rescue call.

Wednesday, January 30th, 2013

s1e13: Warm and Dead

A troubled Chief Boden goes to the police when a man dies in a hardware store fire set by Ernie, the troubled teenage firebug he's been trying to help, and his Uncle Ray. Meanwhile, Severide decides on his future and reaches out to his father. Elsewhere, Otis finds camaraderie when he fills in for a few shifts at the slowest firehouse in the city, and makes a decision of his own, while Dawson and Shay find themselves in a bad predicament during a call to a tenement.

Wednesday, February 13th, 2013

s1e15: Nazdarovya!

Dawson attempts to help her brother Antonio unravel the details of his drugs-and-gang investigation, and goes behind his back in turning to an unlikely source for assistance. Casey and his mother, Nancy struggle with their new relationship. Meanwhile, as a favor to Lieutenant Whaley, Severide visits someone important from his past, while Herrmann and Otis learn some hard truths about their "silent partner" in the bar.

Wednesday, February 20th, 2013

s1e16: Viral

The anguish that haunts Cruz over his previous actions boils over, as he puts himself and his fellow firefighters in jeopardy. Casey and his sister Christie try to solve their issues with their mother and each other. Meanwhile, Severide reaches out again to an important person from his past as a favor to Lieutenant Whaley and the squad gains new perspective after assisting the bomb squad on an extremely dangerous call.

Wednesday, February 6th, 2013

s1e14: A Little Taste

Severide finds that he shares a familiar past with Eric Whaley, the Lieutenant who was brought into the firehouse to help out. Dawson lets Shay in on her secret, while Casey deals with family issues. Meanwhile, a bad batch of heroin on the streets has Boden and the team scrambling, while Clarice and Shay find they have a new problem to overcome.

Wednesday, February 27th, 2013

s1e17: Better to Lie

Old emotional wounds are opened when Lieutenant Severide's father Bennie comes to town and clashes with Chief Boden over the death of their former colleague. Mills helps a distraught driver who caused an accident and Shay makes a decision about her future with Clarice. Meanwhile, Herrmann, Otis and Dawson get to the bottom of a mystery about their bar.

Wednesday, March 20th, 2013

s1e18: Fireworks

With tensions still running high between Chief Boden and Bennie Severide, things boil over when Mills confronts Bennie about the fire that killed his father. Meanwhile, Severide, Casey and Bennie uncover the truth behind two mysterious diner fires and Shay takes a new direction with her plan to have a baby.

Wednesday, March 27th, 2013

s1e19: A Coffin That Small

Tragedy strikes when a rescue attempt at a tenement building proves unsuccessful, leaving the men and women of firehouse 51 affected by the loss of the victim. Severide's decision to put Mills on the fast track to move from Truck to Squad doesn't sit well with some of the others and tension mounts between Severide and Casey over Heather Darden. Shay and Dawson are forced to deal with a junkie's crazy behavior while on a call and Shay considers a different way to have a family. Meanwhile, the team draws the ire of local drug dealers who threaten the peace and safety of the neighborhood and firehouse.

Wednesday, April 3rd, 2013

s1e20: Ambition

Mills finds himself the target of resentment from some colleagues when Severide supports his desire to join Squad. Tara, a paramedic candidate, joins Dawson and Shay on the job for a few shifts. Meanwhile, Shay comes to the aid of Cindy Herrmann, who suffers from pregnancy complications while her husband Christopher is out of town. Elsewhere, Dawson and Casey draw closer as the grand opening of Molly's draws near, and Casey receives a surprise visit.

Wednesday, May 1st, 2013

s1e21: Retaliation Hit

Accused of sexual misconduct by a former paramedic candidate, Severide faces potentially dire consequences and fights for his survival both within the Chicago Fire Department and the legal system. Detective Voight returns, looking to collect on the favor that Dawson owes him for helping her brother, Antonio. Casey falls back into old patterns in his personal life, while Dawson, Herrmann and Otis become the proud owners of a real neighborhood bar as Molly's prepares for its grand opening.
Season 2
Tuesday, October 22nd, 2013

s2e5: A Power Move

Boden's future with Firehouse 51 is on the line and McLeod keeps on him about his past wrongdoings, pushing him toward an early retirement. With Boden considering his options, McLeod calls on an unlikely candidate to potentially replace him as Chief. Meanwhile, it becomes clearer who the mole inside the firehouse is and everyone takes measures to make their disdain for him known. Meanwhile, Shay's social life is in full bloom and Arthur continues to take money from the struggling Molly's.
Season 1
Wednesday, May 8th, 2013

s1e22: Leaders Lead

A frustrated Severide, turns to an unlikely ally to resolve his current dilemma. Casey begins to find satisfaction in his personal life, while Mills and Dawson face personal challenges. Meanwhile, the squad is called to the scene of a harrowing apartment building collapse.

Wednesday, May 15th, 2013

s1e23: Let Her Go

Events force Lieutenant Casey to team up with the Intelligence Unit, now run by Voight, who doesn't appear to have changed his crooked ways after his stint in prison. Shay's excitement at the prospect of becoming a parent grows, while Mills and Dawson face some personal challenges. Meanwhile, the house comes together to support the opening of Molly's.

Wednesday, May 22nd, 2013

s1e24: A Hell of a Ride

When a call comes in from the Cook County jail, the squad steps into a volatile predicament and are tasked with trying to defuse an escalating situation. Shay remains hopeful about her baby dreams and Hermann's wife Cindy goes into labor with their fifth child. Meanwhile, Mills and Dawson face key decisions in their personal lives.
Season 2
Tuesday, September 24th, 2013

s2e1: A Problem House

An arsonist targets Lt. Severide. Meanwhile, Station 51 is under scrutiny by Gail McLeod, a financial consultant for the city who is deciding if any firehouses should be closed. Mouch receives a visit from his Japanese girlfriend, Lt. Casey "celebrates the one-year anniversary of Andy's death, and Shay suspects Severide's paternity.

Tuesday, October 1st, 2013

s2e2: Prove It

In the wake of Heather's incident, Lt. Casey is having a hard time handling his newfound responsibilities. Lt. Severide is on edge dreading the next attack from the firehouse's arsonist. Meanwhile, with Renee back from her mother's, Severide knows he has to confront her about his paternity suspicions. Elsewhere, Mouch begins his campaign for union president and Shay and Dawson feel that they need to get out more.

Tuesday, October 8th, 2013

s2e3: Defcon 1

Lt. Severide has his strong ideas on who the serial arsonist is, but first needs to find proof to back up his suspicions. Meanwhile, Lt. Casey adjusts to his new lifestyle in the wake of recent events and Molly's bar is failing, much to the dismay of owners Hermann, Dawson and Otis. Elsewhere, Dawson goes out on a date with Jay Halstead, one of the bar regulars, and Mouch's campaign trail starts to get on track with the aid of Isabella, an old friend of Dawson's.

Tuesday, October 15th, 2013

s2e4: A Nuisance Call

Lieutenant Severide is anxious to implicate the serial arsonist, while Dawson and Shay get a shock on a routine call. Meanwhile, suspicions continue to point to Clarke as the mole inside the firehouse and Molly's falls deeper into the red. Elsewhere, Mouch campaigns for union president, with the aid of Isabella, and Boden butts heads with Gail McLeod.

Tuesday, November 12th, 2013

s2e6: Joyriding

While out on a jog, Severide comes across a secluded and empty construction site and encounters a young boy who has been trapped in a backhoe loader and is in dire need of assistance. Boden and McLeod continue to butt heads about the future of the firehouse and Boden breaks news about his future to Casey. Meanwhile, it's election day for the union presidency and Mouch and Greg Sullivan have a debate on Otis' podcast. With rival bar Game Day's future in peril, the finger is being pointed at Molly's.

Tuesday, January 7th, 2014

s2e11: Shoved In My Face

Lt. Casey returns to work at Firehouse 51 after nearly being killed in a building collapse and Shay meets Allison Rafferty, her new partner, who is friendly to everyone except her. Dawson begins her rigorous training at the Chicago Fire Academy, while Lt. Severide prepares for his stint as instructor. Meanwhile, Clarke stubbornly does not speak with the police about the murder in which he is the prime suspect and the future of Molly's looks bleaker than ever.

Tuesday, January 14th, 2014

s2e12: Out with a Bang

Lieutenant Casey tries to convince himself and everyone around him that he is one hundred percent healthy following his near-death incident in the line of duty. Shay, not wanting to delve into the emotionally traumatic incident, continues to elude a lawyer who wants to speak with her about Daryl's suicide. Meanwhile, Otis and Katie bond over board games, Boden helps out a woman with a negligent landlord and Dawson notices fellow recruit Rebecca Jones undertaking some interesting test-taking techniques at the Academy.

Tuesday, February 25th, 2014

s2e14: Virgin Skin

Severide feels sidelined as he leaves Detective Lindsay and the Intelligence Unit to do their job and locate his sister Katie. Shay gets an unusual tip from Chicago Blackhawk players Brent Seabrook and Duncan Keith, who makes friends with Clarke and stop by Molly's. Meanwhile, Casey learns more about his head injuries after another close call and Dawson pushes hard to pass the physical test at the Academy.
Season 3
Tuesday, October 14th, 2014

s3e4: Apologies Are Dangerous

Dawson tries to strike a balance with Casey during her first day as a candidate. Mills ponders an uncertain future. Severide faces his demons. A city inspector visits Molly's.

Tuesday, October 7th, 2014

s3e3: Just Drive the Truck

The members of Firehouse 51 and the Austin firehouse clash when trucks collide on the way to a call. Boden comes up with a plan to get Dawson her badge. Mills faces his past and future. The Molly's group hits a speed bump starting the food truck.

Tuesday, October 21st, 2014

s3e5: The Nuclear Option

Casey deals with the aftereffects of his sister's divorce announcement. Dawson and Mills get used to their new roles at Station 51. Brett ponders whether to leave Chicago. The Molly's crew works to get the food truck started.
Season 2
Tuesday, May 13th, 2014

s2e22: Real Never Waits

A fire at a boarding school leaves Lt. Severide shaken and wondering if he could have done more. Meanwhile, with the firehouse in full support of Dawson as she retakes the fireman's exam, Lt. Casey attempts some political maneuverings on her behalf. Elsewhere, Mills looks for answers about his father's mysterious past and Chief Boden's grand plans take a detour.

Tuesday, May 6th, 2014

s2e21: One More Shot

With everyone's support, Dawson makes final preparations to retake the fireman's exam, but a call to the field may throw a major wrench into her plans. Elsewhere, Lt. Casey has an important matter to discuss with Antonio. Meanwhile, Lt. Severide and the firehouse welcome Rick Newhouse , the latest addition to the squad, Shay gets an uninvited surprise guest and Chief Boden makes a bold move.

Tuesday, April 29th, 2014

s2e20: A Dark Day

Lt. Casey and Dawson volunteer to help at a charity run at Chicago Medical when a massive explosion sends Chicago into chaos. With one of their own missing in the blast, the firehouse is tested like never before.

Tuesday, April 15th, 2014

s2e19: A Heavy Weight

A suicide note is delivered to a surprised Dawson and Lt. Severide digs deeper into Bloom's dark past. Elsewhere, Chief Boden learns shocking news, and with the help of Shay, Lt. Casey goes on the search for a life-changing item.

Tuesday, April 8th, 2014

s2e18: Until Your Feet Leave the Ground

Lt. Severide sticks his neck out for Dave Bloom, a fellow firefighter from Denver who is troubled by addiction. Elsewhere, Dawson and Shay leave town for a "girl's weekend" at a cabin in the woods. Meanwhile Jones struggles with the knowledge that her father is pressuring Chief Boden about her career path and Mouch's internet dating profile gets an upgrade with the help of Mills and the guys.

Tuesday, November 19th, 2013

s2e7: No Regrets

When a tanker collides into a commuter train that subsequently crashes into a warehouse, the firehouse is called to the horrific scene that tests everyone to the limits as life and death hangs in the balance. With the ultimatum in place for him or the firehouse, Boden is tasked with making life-changing decisions regarding his future. Severide learns more about Katie, the young woman he saw with his father. Meanwhile, Shay and Dawson are still at odds and Casey's responsibility of being a surrogate father takes a sharp turn.

Tuesday, November 26th, 2013

s2e8: Rhymes with Shout

When the shooting of a young girl happens in their neighborhood, Cruz and his brother, Leon are forced to think about the gang they have tried to escape. The battle between Chief Boden and McLeod continues to escalate and Isabella convinces Mills to dress up for a fancy gala. Meanwhile, Lt. Casey is sad Dawson won't be coming by as much now that his parental duties are over, Shay is fed up with the firehouse and digs in deeper with Devon and Zoya's visa is expiring, prompting her to come up with an idea.

Tuesday, December 3rd, 2013

s2e9: You Will Hurt Him

Chief Boden prepares to counterattack McLeod in a final effort to save the firehouse from closure and the romance between Dawson and Casey escalates. Leon is making progress in the gang murder investigation, but Cruz cannot stand being left in the dark by Voight, fearing for his brother's safety. Meanwhile, Severide and Katie bond to make up for lost time and Otis feels uncomfortable living with Severide and Shay after Devon's latest escapade.

Tuesday, December 10th, 2013

s2e10: Not Like This

All seems lost with firehouse 51 on the verge of closing its' doors, thanks in no small part to Gail McLeod, but Chief Boden and the rest of the house refuse to allow themselves to sit by and let it happen. An emergency call to an apartment structure fire tests everyone's limits and puts the squad in harm's way. Meanwhile, Dawson receives some life-changing news and union president Greg Sullivan makes headlines, which has an immediate impact on Mouch.

Tuesday, January 21st, 2014

s2e13: Tonight's the Night

When a drunk driver knocks down a transformer, the entire neighborhood is left without power on a frigid Chicago night and members of Firehouse 51 step up to lend their much needed help. While many from the community ride out the night at the station, in the midst of such close quarters, romances speed up and tempers flare. Meanwhile, Casey continues to lie to both himself and Dawson about his condition and the stakeholders in Molly's bicker about the bar's direction.
Season 3
Tuesday, September 30th, 2014

s3e2: Wow Me

Severide returns to Firehouse 51, but he is clearly not his usual self. Dawson counts down the weeks until she gets started as a candidate at the Austin Firehouse. Mills learns more about his father's family. Herrmann asks the rest of the Molly investors to come up with some new ideas to turn the business around.
Season 2
Tuesday, March 4th, 2014

s2e15: Keep Your Mouth Shut

Severide is getting impatient with the police as Vince Keeler walks free. Meanwhile, the house pulls out all the stops to save a girl trapped inside a donation bin, Mouch learns that Boden's secretary Connie is not someone to mess with and the squad and truck are called to a serious high rise fire inside a 20-story downtown office building.

Tuesday, March 11th, 2014

s2e16: A Rocket Blasting Off

Lt. Severide hits the top of the list as Det. Lindsay starts calling in suspects with the clearest motives to make the guy who kidnapped Katie disappear. Meanwhile, Jones is still having trouble fitting in as word of her disruptions reach the fire department's headquarters. Elsewhere, Herrmann celebrates his twentieth anniversary with his wife, but no one supports his idea on the gift he intends to give.

Tuesday, March 18th, 2014

s2e17: When Things Got Rough

Lt. Severide is reminded of his own past by a man he saves from a car accident and feels compelled to help him. Elsewhere, Lt. Casey and Chief Boden grapple with how to dock Jones per her father's orders. Meanwhile, Mouch and Dawson have troubles with the opposite sex and an emotional call to duty creates ripples throughout Firehouse 51.
Season 3
Tuesday, September 23rd, 2014

s3e1: Always

Boden forces members of Firehouse 51 to pull themselves back together in the aftermath of a harrowing fire explosion. While Severide goes missing for one week too many, Casey works to track down his whereabouts. Newhouse brings some unexpected news regarding one of Mills' relatives. Herrmann and Otis make some new goals regarding Molly's.

Tuesday, October 28th, 2014

s3e6: Madmen and Fools

Casey comes to the aid of his sister Christie and faces down his corrupt brother-in-law, while Brett goes above and beyond for a mother in need. Elsewhere, Mills gets educated on the exciting world of unlicensed private investigation and Dawson begins training with Herrmann.

Tuesday, January 13th, 2015

s3e12: Ambush Predator

Severide and Dawson discover startling evidence found at a storage unit fire that appears connected to the fire that took Shay's life. Meanwhile, the firehouse bands together when Chaplain Orlovsky is the victim of a bad car accident. Elsewhere, Chief Boden's father visits, but quickly wears out his welcome with his unsolicited parenting advice.

Tuesday, February 3rd, 2015

s3e13: Three Bells (1)

More clues surface surrounding the fire that killed Shay, leading Severide to a most unexpected source who may be able to provide pertinent information. Shay's sister comes to town, prompting members of the firehouse to remember Shay's life. Cruz is in for a surprise when Otis' grandmother moves into their apartment. Boden finds a way to help his dying father make the most of his last few weeks. (A Little Devil Complex (2) aired on Chicago P.D., season 2, episode 13.)

Tuesday, February 10th, 2015

s3e14: Call It Paradise

Mills and Brett race to recover a missing teenager and are left stranded in the unforgiving elements, while the rest of Firehouse 51 babysits an abandoned newborn. Severide receives an interesting job proposal. Boden finds himself at odds with his father over his treatment and the planning of a big party in his honor.

Tuesday, March 17th, 2015

s3e18: Forgiving, Relentless, Unconditional

Herrmann tries to rescue a toddler from a structure fire. Mills discovers unexpected news.

Tuesday, April 7th, 2015

s3e19: I Am the Apocalypse

The Chicago fire team works seamlessly with Chicago Med personnel to help aid victims of a deadly gas leak, but things quickly take a turn for the worse when the hospital is suddenly forced into quarantine.

Tuesday, April 21st, 2015

s3e20: You Know Where to Find Me

Truck and squad are called to the scene of a car crash that has Mills desperately working to save the life of a driver seriously injured in the wreck. Meanwhile, Casey has some doubts about Jack Nesbitt, whose strip club he is remodeling on the side. Elsewhere, Hermann, Otis, Cruz and Chaplain Orlovsky help get their team ready for the peewee hockey championship, but Herrmann might prove more of an obstacle than the other team.

Tuesday, April 28th, 2015

s3e21: We Called Her Jellybean (1)

An apartment fire linked to a case of rape and attempted murder calls for members of the CPD to team with the Special Victims Unit, which had a similar unresolved case that has eluded them for more than 10 years. This prompts Sgt. Benson to come in from New York to assist with the investigation in which she is all too familiar. Meanwhile, doubts among the squad towards one of their own causes Severide to lay down the law and Dawson puts her life on the line during a call. (The Number of Rats (2) aired on Chicago P.D., season 2, episode 20. Daydream Believer (3) aired on Law & Order: Special Victims Unit, season 16, episode 20.)

Tuesday, May 5th, 2015

s3e22: Category 5

At Sgt. Voight's urging, a determined Lt. Casey agrees to go undercover in an effort to provide proof of Jack Nesbitt's shady dealings. Meanwhile, Otis and Severide continue to disagree about the integrity of Scott Rice, causing tensions to flare between members of truck and squad. Meanwhile, Herrmann helps out a fellow member of the firehouse.

Tuesday, March 10th, 2015

s3e17: Forgive You Anything

Severide lobbies Chief Boden for a favor for Scott Rice, an old friend needing a second chance with the CFD, but Casey and Otis have their doubts. Elsewhere, Mills works to regain his active squad status while Brett and Dawson decide they need a big night out.

Tuesday, May 12th, 2015

s3e23: Spartacus

Lt. Casey puts his life on the line and digs deeper into the shady dealings of Jack Nesbitt. Chief Boden must figure out how to create unity in a divided house, while Severide comes to question his own judgment. A dangerous warehouse blaze quickly gets out of control and threatens members of firehouse 51.

Tuesday, February 17th, 2015

s3e15: Headlong Toward Disaster

A temporary chief fills in for Boden, who is forced to take some time off for personal reasons.

Tuesday, November 18th, 2014

s3e8: Chopper

When a massive helicopter explosion in a densely populated area leaves a trail of debris scattered across a full city block, members of the firehouse spring into action as lives hang in the balance. Squad 3 finds itself in a precarious position, Brett is cornered by a dangerous man in the midst of the madness and Dawson is shocked to discover what actually brought the chopper down.

Tuesday, November 25th, 2014

s3e9: Arrest in Transit

When the team responds to a semi-truck leaking hydrochloric acid in a busy intersection, Casey and Dawson find their relationship being put to the test. Meanwhile, Severide learns more about Brittany's past and Mouch has some difficulties in his dating life.

Tuesday, December 2nd, 2014

s3e10: Santa Bites

A house fire leads members of the truck and squad to race to save the lives of the couple trapped inside, and then are faced with the perplexing aftermath. Meanwhile, Chief Boden prepares to start his new family, while the combination of life at work and home pushes Casey and Dawson apart. Elsewhere Molly's II has its chance to shine at the Chicago Holiday Fest.

Tuesday, January 6th, 2015

s3e11: Let Him Die

The firehouse receives unsettling news when two of their own come up missing following a routine call, prompting members of Chicago P.D. to lead the search. Meanwhile, Casey and Dawson have a hard time figuring how to juggle their personal and professional lives. Elsewhere, Chief Boden and Donna struggle with news that their newborn has potential complications and they receive a surprise out-of-town visitor.
Season 4
Tuesday, October 13th, 2015

s4e1: Let It Burn

Casey is placed in a dangerous situation while working undercover to bring down a trafficking ring being run out of Nesbitt's club. The squad's high turnover rate results in an unwelcome surprise for Severide. Dawson recognizes that her life is about to change. A new candidate makes an unusual first impression. Residents band together to protest a drug den in their neighborhood.

Tuesday, October 20th, 2015

s4e2: A Taste of Panama City

Boden's job is on the line pending an internal investigation. Severide adjusts to Patterson, his new commanding officer. Dawson shakes things up at the work. Casey searches for important evidence in his investigation of Nesbitt. Herrmann tries to keep the peace with Molly's new neighbors.

Tuesday, October 27th, 2015

s4e3: I Walk Away

Evidence that seems to exonerate Boden may not be enough. Brett and Chili find themselves in a precarious situation. The team responds to a stuck elevator in a hotel. Jimmy Borrelli's older brother wants him transferred to a different house.

Tuesday, November 3rd, 2015

s4e4: Your Day Is Coming

The squad members come together to support one of their own. Herrmann tries to figure out how to reopen Molly's after it gets shut down. Severide digs deep into the arson investigation.

Tuesday, November 10th, 2015

s4e5: Regarding This Wedding

Boden offers to host a wedding at the firehouse after a fire destroys the original location, but it doesn't sit well with Chief Riddle, who also butts heads with Dawson over her ability to perform. Severide fights for his old position. Capt. Patterson finds himself torn between leadership and his colleagues.
Season 3
Tuesday, November 11th, 2014

s3e7: Nobody Touches Anything (1)

In part one of the crossover with Law & Order: SVU and Chicago P.D., Severide returns from Vegas with a huge surprise that sends ripples through Firehouse 51. Mills wonders if the dangers of Newhouses' off-duty gig are worth the cash returns, while Molly's II is in dire need of a good chef. Members of Firehouse 51 are forced to contend with a house fire, but when the injured owner is rescued from his cellar clutching a suspicious box, Severide brings in Sergeant Voight and Detective Lindsay into the mix for further investigating. (Chicago Crossover (2) aired on Law & Order: Special Victims Unit, season 16, episode 7. They'll Have to Go Through Me (3) aired on Chicago P.D., season 2, episode 7.)
Season 4
Tuesday, November 17th, 2015

s4e6: 2112

Boden's new neighbor asks him for a favor that could have serious repercussions. Severide is upset when he's treated like a candidate by Patterson. Cruz is visited by a gangbanger who knows his brother. The team responds to a call that involves an 18-wheeler; and is thanked with tickets to see Rush.

Tuesday, November 24th, 2015

s4e7: Sharp Elbows

Boden suspects his neighbor is setting him up; Severide, who's still on probation, receives a surprise visit from his father and also learns something about Patterson that could be a game changer. Romance blossoms at a fire department gala.

Tuesday, January 5th, 2016

s4e10: The Beating Heart (1)

Members of Firehouse 51 band together and anxiously await word at Chicago Med when one of their own falls victim to a life-threatening stabbing. Cruz urgently works with members of Chicago P.D. to track down Freddie's whereabouts when he goes missing. Dr. Choi and Dr. Halstead tend to an attempted suicide victim whose condition raises some eyebrows. Meanwhile, Mouch surprises Trudy and Chili's odd behavior has Brett and Jimmy worried. (Malignant (2) aired on Chicago Med, season 1, episode 5. Now I'm God (3) aired on Chicago P.D., season 3, episode 10.)

Tuesday, February 9th, 2016

s4e14: All Hard Parts

Severide confronts Chili about her erratic behavior. Members of the firehouse rally around Casey, who they think would make a great candidate for alderman. Jimmy squares off against Antonio in the first annual "Battle of the Badges" boxing match.

Tuesday, February 16th, 2016

s4e15: Bad for the Soul

The team responds to a suspicious call from a neighboring firehouse; and welcomes a new firefighter, though her addition has repercussions. Casey moves forward in his run for alderman.
Season 3
Tuesday, March 3rd, 2015

s3e16: Red Rag the Bull

The interim chief makes a tactical error during an apartment fire, stirring up tensions and putting careers in jeopardy. Meanwhile, Mouch discovers that his donation to a fertility clinic has resulted in a child, and Dawson goes out on a double date with Brett and Cruz.
Season 4
Tuesday, December 1st, 2015

s4e8: When Tortoises Fly

Boden believes Maddox is behind Serena's accusations. Severide reaches out to Jamie, who's Maddox's lawyer, in an attempt to help. Patterson questions whether Boden can remain chief. Brett and Chili suspect that a man passed out in a garden is connected to a previous call. Otis has problems with his social calendar.

Tuesday, December 8th, 2015

s4e9: Short and Fat

Patterson fills in for Boden, who's trying to clear his name. Severide learns where Serena may be hiding. Herrmann and Otis give Freddie a job that keeps him close by. Jimmy and Chili draw more attention then either bargained for.

Tuesday, January 19th, 2016

s4e11: The Path of Destruction

A tornado threatens Chicago. Chili makes a major mistake, which causes Brett to report her to Boden. Otis asks Dawson to help him solve his women troubles. Severide assists a Department of Homeland Security agent.

Tuesday, February 2nd, 2016

s4e13: The Sky Is Falling

The team responds to a mass shooting; Casey investigates the missing money from the fund-raiser. Jimmy agrees to represent the firehouse in a boxing match against the Chicago PD's 21st District. Chili's behavior continues to be an issue for Brett.

Tuesday, February 23rd, 2016

s4e16: Two Ts

Casey reconsiders his run for alderman after he's targeted by a propaganda campaign. The squad responds when a man is trapped inside of a burning car. Trudy's nerdy brother plans Mouch's bachelor party. Jimmy and Brett investigate a kidnapping on their own.

Tuesday, March 29th, 2016

s4e17: What Happened to Courtney

Severide and Cruz find a child's remains inside a chimney while investigating a possible carbon monoxide leak inside a home. In other events, Casey braces for the worst in his run for alderman while Alderman Becks continues to bad mouth him to the press.

Tuesday, April 5th, 2016

s4e18: On the Warpath

Sylvie witnesses a murder and is threatened by the shooter not to go to the police. Firehouse 51 jumps into action when a fire breaks out at a restaurant and traps several people inside a vault. Mouch starts to get cold feet.

Tuesday, April 19th, 2016

s4e19: I Will Be Walking

When a high school student becomes an innocent victim of a gang retribution incident, a very determined Lt. Casey tries all means necessary to resolve the issue. Severide lends a hand to Detective Holloway, who is working a dangerous undercover investigation, and watches over her 9-year-old son at the firehouse. Brett and Jimmy are called to aid a woman who takes a fond liking to Jimmy. Meanwhile, Otis makes a surprising discovery that leaves him very concerned and Herrmann goes toe-to-toe with Stella to claim bragging rights over who can best run a bar.

Tuesday, April 26th, 2016

s4e20: The Last One for Mom

Firehouse 51 unites to help a young boy in tragic circumstances. A high-powered political consultant helps Casey navigate a potential scandal. Cruz makes a mistake that nearly costs him his life.
Season 5
not specified

s5e5:

not specified

s5e6:

not specified

s5e7:

not specified

s5e8: One Hundred

Tuesday, November 1st, 2016

s5e4: Nobody Else Is Dying Today

Lt. Casey finds himself in a bad spot when a forklift accidentally pierces a tank storing acid. Casey is forced to use extreme measures to help a father and daughter in peril. Dawson and Brett respond to an elderly woman who has a difficult senior advocate. Mouch and Brett continue with their secret project, and Otis shares some exciting news as he prepares himself for an unusual expedition.

Tuesday, January 17th, 2017

s5e10: The People We Meet

Severide agrees to a bone marrow donation but a work accident throws everything into flux. Casey and Dawson try to find harmony at home. Meanwhile, Otis and Mouch decide to film a PSA encouraging people to join the Chicago Fire Department but hit a creative wall in the process.

Tuesday, January 24th, 2017

s5e11: Who Lives and Who Dies

Dawson finds it hard to keep her emotions in check during an ambo run involving a pregnant teen. Elsewhere, the firehouse is called to the site of a building fire and Casey is forced to make a split-second decision when two victims are each in need of life-saving assistance. In the aftermath, Casey is left to deal with the repercussions. Meanwhile, Severide shares a bond with Anna, as she makes her recovery.

Tuesday, February 7th, 2017

s5e12: An Agent of the Machine

The team is on high alert when a previous incident during a fire call leaves a dangerous man on the loose with a vendetta to target Lt. Casey and Firehouse 51, and prompts CPD to step in. Dennis Mack, a buddy firefighter of Severide's father, comes to town to shadow the squad but may have ulterior motives. Meanwhile, Brett and Antonio's relationship hits some bumps in the road when his ex-wife Laura surfaces and Casey has a present for Dawson.

Tuesday, February 14th, 2017

s5e13: Trading in Scuttlebutt

When truck and squad are summoned to the scene of a dangerous accident, Chief Boden makes a split-second decision that overrides Chief Anderson, the incident commander whose house was the first to respond to the call. Feeling his authority was undercut and his reputation damaged, Anderson uses his power to make things miserable for Boden and all of House 51 feels the repercussions. Meanwhile, Severide contemplates a major life-changing decision, Herrmann does a good deed and Brett looks to make some personal changes to herself.

Tuesday, May 2nd, 2017

s5e20: Carry Me

Casey goes to drastic measures to help his friend Kannell. Lt. Severide helps an old widow come to terms with letting go, but realizes he may be the one needing help. Otis and Cruz deal with surprises when they find a new roommate to move in. Dawson and Brett get crafty to save a young girl.

Tuesday, May 9th, 2017

s5e21: Sixty Days

Cruz finds himself in a bad spot when an off-duty incident begins to unravel, prompting Mouch to step in and offer help in hopes of avoiding serious consequences from the CFD. Casey goes head to head with a big politician to get his measure for first responders passed. Lt. Severide makes life difficult for newest team member Jason Kannell and Dawson gets an unexpected visit from her father.

Tuesday, May 16th, 2017

s5e22: My Miracle

A dangerous warehouse fire puts truck and squad at risk. Tensions are high for Dawson and Casey when Dawson's father overstays his welcome at their home. Meanwhile, Casey continues to fight for his first responders bill, Mouch makes a serious decision regarding his future and Herrmann goes to tremendous lengths to make a young boy smile.
Season 6
Thursday, September 28th, 2017

s6e1: It Wasn't Enough

The sixth season opens with most of the squad still trapped inside the burning warehouse fire. Chief Boden makes a risky last-minute decision in an effort to save his men. Dawson continues to deal with her father, who has new plans for himself. Brett's childhood friend Hope visits the Windy City and strikes the attention of someone within the firehouse, while Kidd goes head-to-head with her landlord. Meanwhile, a fire at a high school hits close to home for Boden.