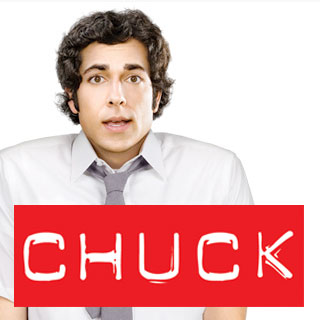 Season 1
Monday, October 1st, 2007

s1e2: Chuck Versus the Helicopter

As Chuck is beginning to adapt to his new life as a spy, a doctor who could possibly "cure" Chuck is murdered. Chuck then begins a high-speed fight for his life, all while trying to decide which of his two new colleagues might be out to get him. Meanwhile, Chuck's sister Ellie invites Sarah to dinner to meet the family.

Monday, October 8th, 2007

s1e3: Chuck Versus the Tango

Chuck needs the help of Morgan and the Nerd Herd to prove that he is ready to become the store's assistant manager. Sarah and John assign Chuck his first undercover spy mission to foil a terrorism plot.

Monday, October 15th, 2007

s1e4: Chuck Versus the Wookiee

Chuck's latest mission has him raiding a Malibu mansion to grab a million dollar diamond being used to fund terrorism. Tagging along is an attractive but less-than-trustworthy DEA agent.

Monday, October 22nd, 2007

s1e5: Chuck Versus the Sizzling Shrimp

After his intuition is wrong while working on a stakeout, Chuck feels morally obligated to make things right, even when both Sarah and Casey refuse to help with Chuck's new mission. Meanwhile, Morgan has to participate in a sales competition that could decide his fate at Buy More.

Monday, October 29th, 2007

s1e6: Chuck Versus the Sandworm

In this Halloween episode Chuck meets a Federal agent just like him: A computer whiz whose brain is important to national security. However, Chuck soon has a personal dilemma arise when he has to decide whether or not to turn the man over to Sarah and Casey or to help him escape his handlers.

Monday, November 5th, 2007

s1e7: Chuck Versus the Alma Mater

Returning to Stanford, the University that expelled him, Chuck has to help a former professor who is a government agent being hunted for a sensitive top-secret file he has in his possession. At the same time, Chuck learns much about himself and about the death of his friend Bryce Larkin.

Monday, November 12th, 2007

s1e8: Chuck Versus the Truth

Chuck must learn to balance a real love life with his cover love life when he meets a charming young woman by the name of Lou. At the same time, his relationship with Sarah gets interesting when the duo must explain their sexual relations with Ellie and Captain Awesome on a double date. Meanwhile, there is trouble when someone is using truth poison in order to retrieve codes for nuclear facilities.

Monday, November 19th, 2007

s1e9: Chuck Versus the Imported Hard Salami

Not all of Sarah's feelings for Chuck may have been a cover, as she finds out, when Chuck begins to date Lou, a sandwich maker. When things couldn't get even more complicated, Lou turns out to be part of a smuggling ring.

Monday, November 26th, 2007

s1e10: Chuck Versus the Nemesis

Chuck discovers that his former roommate and old nemesis, Bryce Larkin, is still alive, and that a renegade group within the CIA is after the Intersect. Chuck then has to balance helping Bryce return to the legitimate CIA, with the year's busiest shopping day at the Buy More.

Monday, December 3rd, 2007

s1e11: Chuck Versus the Crown Vic

While coping with the realization that Sarah still has feelings for Bryce, Chuck must assume his toughest cover yet by going on a mission as Sarah's husband. The team must foil the plot of a politically connected counterfeiter, who may be endangering the lives of Anna, Morgan and Anna's parents. Both Morgan and Anna also find themselves in the cross hairs.

Thursday, January 24th, 2008

s1e12: Chuck Versus the Undercover Lover

The episode begins with a flashback to the year 2004, where John Casey is involved with a female Russian named Ilsa, who claims she is a photo journalist. Later, in present day, Ilsa returns with a fiancé, named Victor Federov. Things get complicated when it is revealed that Ilsa is a French spy.

Thursday, January 24th, 2008

s1e13: Chuck Versus the Marlin

Two new characters are introduced, both of whom want to take the Intersect. One is a beautiful, young female enemy agent that works in the Pita Palace next to the Buy More, and the other is a handsome CIA agent who is posing as an undercover police detective investigating a theft at the Buy More who wants to take Chuck into his custody. The former quickly blows Chuck's cover, while the latter kidnaps him and makes him vanish from his former life.
Season 2
Monday, September 29th, 2008

s2e1: Chuck Versus the First Date

Chuck must prevent a menacing operative from obtaining a device that would ultimately lead to a new intersect. Meanwhile Chuck asks Sarah out on a real first date as Casey deals with a difficult assignment.

Monday, October 6th, 2008

s2e2: Chuck Versus the Seduction

Chuck needs to go undercover to seduce a woman named Sasha Banachek, so an old school spy named Roan Montgomery is assigned as his mentor. Meanwhile, Captain Awesome finds himself in need of some relationship advice, and and turns to Morgan, and Lester faces his first problems as assistant manager.

Monday, October 13th, 2008

s2e3: Chuck Versus the Break-Up

Bryce Larkin returns to town with news about Fulcrum. They have hired a wealthy software magnate named Von Hayes to decrypt information on a stolen chip containing a refresh to the Intersect with highly classified information. Bryce and Sarah have to pose as a married couple at Von Hayes' dining party to steal back the chip, while Chuck has to pose as a waiter. Meanwhile, Morgan has an encounter with the Mighty Jocks at the Buy More.

Monday, October 20th, 2008

s2e4: Chuck Versus the Cougars

Chuck goes undercover at Sarah's 10-year High School reunion, where they meet the girl that tortured Sarah back in the old days.

Monday, October 27th, 2008

s2e5: Chuck Versus Tom Sawyer

Efficiency expert Emmett Milbarge pays the Buy More a visit to inspect the branch, while a global terrorist looks for Jeff. Chuck needs to socialize with Jeff to find out about his connection to the terrorist. Finally, it all comes down to video games and the prevention of World War III.

Monday, November 10th, 2008

s2e6: Chuck Versus the Ex

At a BioScience conference, Chuck runs into Jill, his ex-girlfriend who broke up with him and later dated Bryce Larkin. He flashes on her boss, Guy Lafleur, who is suspected to be working on biochemical weapons. Chuck is ordered to reconnect with Jill in order to gain more information on Lafleur. Meanwhile, Emmett wants the staff to take CPR lessons including a test.

Monday, November 17th, 2008

s2e7: Chuck Versus the Fat Lady

The team needs to acquire a Fulcrum agent list by solving several riddles left behind by Guy Lafleur. Meanwhile, Emmett tries to find out why Chuck is absent so often and goes after his colleagues to get the information.

Monday, November 24th, 2008

s2e8: Chuck Versus the Gravitron

After finding out that Jill is a Fulcrum agent, Chuck is ordered to use her to infiltrate Fulcrum. Meanwhile, Ellie is preparing the apartment for Thanksgiving and the arrival of Captain Awesome's parents. Morgan, Jeff and Lester are assigned to guard the store over Thanksgiving.

Monday, December 1st, 2008

s2e9: Chuck Versus the Sensei

The team is assigned to survey the Global Launch Agency, when intel shows that someone might penetrate their security. During the surveillance someone intrudes the lab who turns out to be Casey's former sensei Ty Bennett. Meanwhile, Captain Awesome's perfect parents decide to pay Devon and Ellie a surprise visit to help them plan the wedding, and Emmett Milbarge introduces an "Employee of the Month" contest to the Buy More, but the employees start their own contest instead.

Monday, December 8th, 2008

s2e10: Chuck Versus the DeLorean

Sarah's father, a con artist, comes to meet her, revealing that he conned a Saudi Arabian sheik, Rajiv Amad, out of nearly a million dollars. The sheik turns out to be connected to terrorist fundings, so the General wants Sarah and Chuck to gain intel from Sarah's father, but things get complicated when Amad shows up. Anna wants to take her relationship with Morgan a step further and asks him to move in an apartment with her. Devon lends him some money to buy one, but instead, he buys a car.

Monday, December 15th, 2008

s2e11: Chuck Versus Santa Claus

Christmas Eve does not go as planned when an amateur criminal on the run from the police crashes into the Buy More and takes Chuck, Ellie, Awesome and the rest of the Buy More gang hostage. In order to protect Chuck's cover and the safety of the other hostages, Sarah and Casey secretly go in to the store to remove Chuck, but the mission quickly falls apart when Chuck refuses to leave his friends and family behind.

Monday, February 2nd, 2009

s2e12: Chuck Versus the Third Dimension

Chuck foils a plan to kill Tyler Martin, an international rock star. Chuck's night out with Tyler leads to trouble. Morgan holds a contest among his fellow employees.

Monday, February 16th, 2009

s2e13: Chuck Versus the Suburbs

Chuck and Sarah must pose as a happily married couple living in the suburbs, where they meet some interesting characters. Meanwhile, after his wife files for divorce, Big Mike goes on a rampage at work.

Monday, February 23rd, 2009

s2e14: Chuck Versus the Best Friend

Chuck uses his burgeoning spy skills to help keep an eye on Anna for a heart sick Morgan. But their discovery leads to a chance that Anna's new boyfriend may be part of a dangerous gang. Meanwhile, Jeff and Lester nag Ellie into hiring their band, Jeffster!, to play at her wedding.

Monday, March 2nd, 2009

s2e15: Chuck Versus the Beefcake

Chuck gets jealous when Sarah has to seduce a Fulcrum agent. Meanwhile, Jeff and Lester start looking for the "Buy More Babe" as a way of finding a new employee.

Monday, March 9th, 2009

s2e16: Chuck Versus the Lethal Weapon

Chuck, Sarah and Casey learn about a man called "Perseus" who is behind Fulcrum's plans to build their own Intersect. While Sarah and Casey are sent to find Perseus, Chuck and Agent Cole Barker are forced to stay in a safety bunker. When the mission takes a dangerous turn, their orders to stay out of harm's way go out the window. Meanwhile, Morgan tries to convince Anna that moving in with him would be a bad idea

Monday, March 23rd, 2009

s2e17: Chuck Versus the Predator

Chuck is contacted by the one person that can erase the Intersect from his mind. He starts having trust issues and doesn't know who to lean for help. Meanwhile, Buy More is having problems with the Buy More from Beverly Hills.

Monday, March 30th, 2009

s2e18: Chuck Versus the Broken Heart

A female agent is sent to evaluate Sarah's performance, when Chuck's feelings for her are revealed. Meanwhile, Morgan, Jeff and Lester are trying to get invited to Captain Awesome's bachelor party.

Monday, April 6th, 2009

s2e19: Chuck Versus the Dream Job

Chuck's life seems to be coming together, his long-absent father has returned and he landed his dream job. Unfortunately for Chuck, neither turns out to be quite what he expected.

Monday, April 13th, 2009

s2e20: Chuck Versus the First Kill

After Chuck's father Steve is kidnapped by Fulcrum, Chuck learns the only chance he has to find him is by putting his trust and life into the hands of the person he trusts the least—his ex-girlfriend Jill Roberts. Meanwhile, the Buy More team tries to sabotage Emmett's corporate evaluation.

Monday, April 20th, 2009

s2e21: Chuck Versus the Colonel

While Chuck and Sarah go on to rescue Steve they realize they have a chemistry together. Meanwhile Morgan becomes a pariah at the Buy More after mistakenly getting Emmett promoted.

Monday, April 27th, 2009

s2e22: Chuck Versus the Ring

Ellie's big day finally arrives and Chuck must save her life and her wedding from being ruined by Ted Roark and FULCRUM.
Season 3
Sunday, January 10th, 2010

s3e1: Chuck Versus the Pink Slip

As the upgraded Intersect, Chuck trains to become a full-fledged spy but hits rock bottom when he flunks out of spy school and loses Sarah in the process. Meanwhile, Morgan comes home from Benihana School to help Chuck get over Sarah.

Sunday, January 10th, 2010

s3e2: Chuck Versus the Three Words

Chuck gets a new mission when Sarah's best friend Carina comes through town with her fiancé Karl. Things get complicated when Chuck wants to hash out his and Sarah's relationship problems while they're on the mission. Meanwhile, Morgan finds himself in trouble when he lies to Jeff and Lester.

Monday, January 11th, 2010

s3e3: Chuck Versus the Angel de la Muerte

Chuck must use his relationship with Awesome to protect a visiting dictator, Premier Goya, who is the target of an assassination. While Awesome is excited about the prospect of being a spy, Chuck is more concerned about Awesome and Ellie's safety.

Monday, January 18th, 2010

s3e4: Chuck Versus Operation Awesome

When Awesome is mistaken for a super spy by the evil Sydney Price, Chuck must become his handler and show him the spy ropes. While on a mission for The Ring, they meet the mysterious Daniel Shaw. Meanwhile, Morgan gets promoted to assistant manager and must deal with Jeff and Lester's latest hijinks.

Monday, January 25th, 2010

s3e5: Chuck Versus First Class

CIA agent Daniel Shaw assigns Chuck to his first solo mission in Paris, ignoring Sarah and Casey's wishes. During the flight to France, Chuck befriends Hannah and flashes on another passenger the imposing Hugo Panzer. Meanwhile, Casey helps Morgan battle Jeff and Lester for control of the Buy More.

Monday, February 1st, 2010

s3e6: Chuck Versus the Nacho Sampler

Chuck juggles his two lives as he trains new Nerd Herder Hannah and gets his very own asset who is caught up with The Ring. Chuck thinks he can handle his asset all on his own but Sarah and Casey feel the need to intercede. Meanwhile, Awesome must lie to Ellie when she starts to ask questions about Chuck and Morgan, Jeff and Lester do some recon work to learn more about Hannah.

Monday, February 8th, 2010

s3e7: Chuck Versus the Mask

Chuck and Hannah unexpectedly become part of agent Daniel Shaw's latest mission. Much to Sarah's chagrin, she gets paired with Shaw, who seems to be trying to get close to her. Meanwhile, Morgan and Ellie continue their mission to get to the bottom of Chuck's secretive and strange behavior.

Monday, March 1st, 2010

s3e8: Chuck Versus the Fake Name

Chuck promises to cook dinner for Hannah, Ellie and Awesome but must first assume the identity of the world's most dangerous assassin for his latest mission. Meanwhile, Sarah is determined to keep her relationship with Shaw strictly professional.

Monday, March 8th, 2010

s3e9: Chuck Versus the Beard

Chuck feels like his life is falling apart when he can't flash and gets left behind for a mission. While Shaw, Sarah and Casey go on without him, Chuck finds himself in a sticky situation back at the base.

Monday, March 15th, 2010

s3e10: Chuck Versus the Tic Tac

Casey carries out a side mission for his old commanding officer James Keller that leads to him committing treason. When Chuck learns the dark truth about Col. Keller, he and Sarah set out to break Casey out of jail and clear his name. Meanwhile, Awesome's plan to keep Ellie out of danger gets more difficult when she gets her dream fellowship.

Monday, March 22nd, 2010

s3e11: Chuck Versus the Final Exam

Chuck learns that his latest solo mission will be a final test to see if he is ready to be a spy. Chuck needs to put everything he has learned into action to avoid going back to his old life while Sarah and Shaw observe his every move.

Monday, March 29th, 2010

s3e12: Chuck Versus the American Hero

Chuck has his pick of the best CIA agents for an undercover operation, but he has only one girl in mind for the job, Sarah. Casey, Morgan and Awesome team up to help Chuck win her back.

Monday, April 5th, 2010

s3e13: Chuck Versus the Other Guy

Chuck, Sarah and Shaw reunite to find the Ring operative behind the death of Shaw's wife. Sarah has faith that Shaw is ready for the mission but Chuck is worried about his emotional stability. Meanwhile, Morgan considers leaving the Buy More.

Monday, April 26th, 2010

s3e14: Chuck Versus the Honeymooners

While in Europe, Sarah and Chuck realize they?re traveling on a train with Spanish spies. Even though they?re all alone, they decide to take on these rogue agents. Of course, this impromptu mission doesn't go smoothly. Meanwhile, Beckman orders her newest ?unlikely? spy team ? John Casey and Morgan Grimes ? to track down the missing couple.

Monday, May 3rd, 2010

s3e15: Chuck Versus the Role Models

Chuck and Sarah are assigned to train under Craig and Laura Turner, a married CIA team who, despite their impeccable record, hate one another. The Turners' stormy relationship forces Chuck and Sarah to wonder if they're doomed with the same fate. Meanwhile, Casey must train the newest member of the team Morgan.

Monday, May 10th, 2010

s3e16: Chuck Versus the Tooth

Chuck struggles with disturbing dreams and now he believes his most recent dream predicts danger for a visiting head of state. General Beckman however, is unconvinced and assigns Chuck to meet with a CIA psychiatrist Dr. Leo Dreyfus. Meanwhile, Ellie gets surprising news and Anna returns to the Buy More to talk to Morgan.

Monday, May 17th, 2010

s3e17: Chuck Versus the Living Dead

After his last dream, Chuck asks Morgan to help him on a side mission. Their investigation becomes complicated when Stephen J. Bartowski returns and learns that Chuck downloaded the Intersect 2.0. Luckily, Chuck's father may be able to help his son.

Monday, May 24th, 2010

s3e18: Chuck Versus the Subway

The Ring is closing in on Chuck and Operation Bartowski. Fortunately, Chuck's dad Steven is working hard to save his son. Meanwhile, Casey must secretly protect his daughter from the Ring, and Big Mike receives some serious news about the Buy More.

Monday, May 24th, 2010

s3e19: Chuck Versus the Ring: Part 2

Shaw returns to threaten everything that Chuck holds dear as his friends, family and the woman he loves are all put in mortal danger. Chuck has to find Shaw and stop him before his own world gets torn apart.
Season 4
Monday, September 20th, 2010

s4e1: Chuck Versus the Anniversary

Chuck and Morgan go on a rogue globe-spanning mission to find Chuck's mom. Meanwhile, Sarah and Casey follow a trail to Russia as they investigate the mysterious Volkoff Industries and its operative, Marco. Back at home, Ellie delivers big news to her family.

Monday, September 27th, 2010

s4e2: Chuck Versus the Suitcase

When Chuck go undercover in Milan, Chuck realizes the "Achilles' Heel" in their relationship, but must set personal issues aside for the mission. Meanwhile, Morgan recognizes a fatal flaw that compromises the new Buy More. Elsewhere, Casey struggles to put down roots in Burbank.

Monday, October 4th, 2010

s4e3: Chuck Versus the Cubic Z

Chuck and Sarah's romantic mission is canceled with the arrival of Hugo Panzer and Heather Chandler. But Chuck grows more interested when the manipulative Heather claims to know a secret about his mom. Meanwhile, as Morgan prepares the Buy More for a huge video game release, he gets a surprise from Big Mike.

Monday, October 11th, 2010

s4e4: Chuck Versus the Coup D'Etat

Chuck and Sarah try to become better communicators as they join Ellie and Awesome on a trip to Costa Gravas; a forbidden romance may put Morgan at odds with Col. John Casey.

Monday, October 18th, 2010

s4e5: Chuck Versus the Couch Lock

When Colonel Casey's former team returns looking for him, Chuck must decide what he's willing to sacrifice in order to find his mom. Elsewhere, Morgan works up the nerve to reveal a potentially dangerous secret to Casey.

Monday, October 25th, 2010

s4e6: Chuck Versus the Aisle of Terror

Chuck, Sarah, Casey and Morgan must stop Dr.Stanley (Robert Englund) from releasing a toxin that induces nightmares... Chuck's mother's allegiances are questioned; Lester and Jeff celebrate Halloween at the Buy More.

Monday, November 1st, 2010

s4e7: Chuck Versus the First Fight

After their first real fight, Chuck avoids confronting Sarah by going on a rogue mission that leads him to his mom's MI-6 handler, Gregory Tuttle, and a mysterious Russian agent. Meanwhile, Ellie is on her own mission to uncover the Bartowski family's long-buried past.

Monday, November 15th, 2010

s4e8: Chuck Versus the Fear of Death

Afraid that his latest setback is driving a wedge between him and Sarah, Chuck resolves to prove himself by going on a dangerous mission with the overeager Agent Rye. Meanwhile, Morgan and Casey scramble as the "Buy Morons" attempt to uncover the true identity of Greta.

Monday, November 22nd, 2010

s4e9: Chuck Versus Phase Three

Chuck, Sarah, Casey and Morgan venture into the jungles of Southeast Asia when The Belgian attempts to unravel the secrets of the Intersect. Meanwhile, Captain Awesome and Ellie try to decipher a secret left behind by her father.

Monday, November 29th, 2010

s4e10: Chuck Versus the Leftovers

It's the day after Thanksgiving and Chuck faces the most awkward of family reunions when mom comes over for dinner?along with the dangerous Alexei Volkoff. Back at the Buy More, Morgan deals with the busiest shopping day of the year as Jeff and Lester hatch their latest scheme.

Monday, January 17th, 2011

s4e11: Chuck Versus the Balcony

Chuck tries to create a romantic getaway for Sarah while tracking down a nano-chip at a French vineyard. Lester asks Big Mike for love advice.

Monday, January 24th, 2011

s4e12: Chuck Versus the Gobbler

Sarah takes dangerous measures to help Mary Bartowski bring down Alexei Volkoff, as Chuck worries that she may be getting in too deep. Sarah, though, must enlist the help of Chuck, Morgan and Casey to complete her undercover mission. Meanwhile, Ellie and Awesome are at odds over what to name the baby.

Monday, January 31st, 2011

s4e13: Chuck Versus the Push Mix

The mission to take down Volkoff reaches a dangerous new level, while big changes loom at home. As Sarah works to free Chuck's mom, Chuck and Morgan embark on their own mission to take down Alexei Volkoff. Meanwhile, Casey bonds with his daughter, Alex, while Ellie tries to ease Awesome's anxieties over fatherhood.

Monday, February 7th, 2011

s4e14: Chuck Versus the Seduction Impossible

Casey, Chuck and Sarah are sent to Morocco to rescue Roan Montgomery. Morgan plans to meet Alex's mother and Mary spends some time with her family.

Monday, February 14th, 2011

s4e15: Chuck Versus the Cat Squad

Chuck surprises Sarah with her old spy team, The C.A.T. Squad, leading to a mission in Rio. As The C.A.T. Squad works to settle a score with Augusto Gaez, old secrets and grudges come to light. Back at the Buy More, Morgan fends off the advances of Carina, a former flame and frisky member of The C.A.T Squad.

Monday, February 21st, 2011

s4e16: Chuck Versus the Masquerade

Valentine's Day is interrupted when Chuck and the team are sent on a mission to England to protect a reclusive young heiress, Vivian McArthur. Meanwhile, Casey gets an offer from the mysterious Jane Bentley. Back at home, Ellie and Awesome find an unlikely solution to a parenting problem, as Morgan ponders a big move.

Monday, February 28th, 2011

s4e17: Chuck Versus the First Bank of Evil

Chuck encourages Vivian to get in touch with her inner villain for a mission. Morgan's search for a new roommate has unexpected results.

Monday, March 14th, 2011

s4e18: Chuck Versus the A-Team

Chuck and Sarah suspect Casey is carrying out private missions. Chuck fears the CIA's new operatives will render him obsolete. Morgan settles in with a new roommate. Awesome becomes uncomfortable with Ellie's research.

Monday, March 21st, 2011

s4e19: Chuck Versus the Muuurder

Chuck is put in charge of a top-priority mission, but his leadership skills are pushed to the limit when there is a murder in Castle. Meanwhile, Awesome takes on a mission of his own when Ellie finds an alarming new hobby. Elsewhere, Morgan's leadership is also tested when his Buy More troops wage war against Large Mart.

Monday, April 11th, 2011

s4e20: Chuck Versus the Family Volkoff

A bad day gets worse when Sarah throws Chuck a surprising relationship curveball as the CIA orders Vivian Volkoff assassinated. In order to prove Vivian's innocence, Chuck must put his trust in a dangerous ally her father Alexei Volkoff. Meanwhile, Ellie suspects that her mother is interfering with the search into her father's past.

Monday, April 18th, 2011

s4e21: Chuck Versus the Wedding Planner

When Chuck and Sarah get conned out of their wedding money, there is only one man they can turn to for help -- Sarah's conman father, Jack Burton. Meanwhile, Morgan pressures Casey to face Alex's mother.

Monday, May 2nd, 2011

s4e22: Chuck Versus Agent X

Chuck and Sarah put aside spy work to have a weekend of debauchery, but Awesome's plans for Chuck's big night don't go quite as expected. Meanwhile, Ellie's investigation into her father's computer leads to a life-changing discovery.

Monday, May 9th, 2011

s4e23: Chuck Versus the Last Details

Chuck and Sarah's wedding prep includes one final detail: ensuring that the mother-of-the-groom makes it to the ceremony alive. Meanwhile, Morgan's responsibilities as Best Man include his most dangerous mission yet, as he faces Vivian Volkoff. Elsewhere, Ellie tends to the last details of the rehearsal dinner and seeks help from an unlikely source.

Monday, May 16th, 2011

s4e24: Chuck Versus the Cliffhanger

Before he can kiss the bride, Chuck must enlist his wedding party to take down Vivian Volkoff and stop her from destroying the big day. When he turns to Alexei Volkoff for help, the CIA sends its toughest agent, Clyde Decker, to stop them.
Season 5
Friday, October 28th, 2011

s5e1: Chuck Versus the Zoom

Without the Intersect in his head or the support of the CIA, the world of espionage is a much more dangerous place for Chuck Bartowski and his team of freelance spies. To start, Carmichael Industries takes on a slick, rich thief named Jean Claude, and a conniving investor, Roger Bale, who has stolen money from some of the world's most dangerous people. Meanwhile, Morgan helps Chuck with a special surprise for Sarah. Back in the Buy More, Jeff and Lester have taken things to another level with their latest scheme.

Friday, November 4th, 2011

s5e2: Chuck Versus the Bearded Bandit

As the team takes on a missing persons case, Chuck and company struggle to establish themselves as Carmichael Industries in the face of a rival security firm led by the tough and efficient Gertrude Verbanski (recurring guest star CARRIE-ANNE MOSS – The Matrix). Meanwhile, Morgan continues to adjust to the Intersect, while Chuck adjusts to being Morgan's handler. Also, the Buy More finds an unlikely spokesperson to help motivate business. JEFF FAHEY (Lost, Grindhouse) and JUSTIN HARTLEY (Smallville) also guest star.

Friday, November 11th, 2011

s5e3: Chuck Versus the Frosted Tips

As the team is tasked with finding one of the CIAs most wanted, Chuck fears that the Intersect may be going to Morgan's head. Meanwhile Sarah helps Casey navigate his relationship with Gertrude. Elsewhere, Captain Awesome makes a startling revelation about Jeff and Lester.

Friday, November 18th, 2011

s5e4: Chuck Versus the Business Trip

Chuck and Sarah track an assassin who is trying to eliminate the new intersect. Morgan tries to adjust to having the intersect. Jeff exposes a new side of himself.

Friday, December 9th, 2011

s5e5: Chuck Versus the Hack Off

Chuck turns to Verbanski for help tracking a computer virus. Lester and Jeff's relationship is complicated by a new Buy More employee.

Friday, December 16th, 2011

s5e6: Chuck Versus the Curse

Chuck and Sarah must race against time and a ruthless spy Robyn Cunnings, to destroy a dangerous computer virus. Meanwhile, Ellie and Awesome are spending their date night which takes on a dangerous turn and Morgan is sent on a special mission to recover Chuck's P.A.N.T.S.

Friday, December 23rd, 2011

s5e7: Chuck Versus the Santa Suit

Chuck and Sarah learn who is trying to destroy Carmichael Industries. Ellie's Christmas plans come undone. A computer virus threatens to ruin Christmas at Buy More.

Friday, December 30th, 2011

s5e8: Chuck Versus the Baby

Sarah is forced to confront a secret from her past and feels she must do so alone, while Chuck urges her to let him help. When Sarah encounters her original handler, Kieran Ryker, she fears that he will harm those closest to her, including her mom.

Friday, January 6th, 2012

s5e9: Chuck Versus the Kept Man

While Chuck and Sarah contemplate the next step for Carmichael Industries, Casey's forbidden love, Gertrude Verbanski, walks back into his life with a questionable mission in South Beach. Meanwhile, Jeff's enhanced intelligence leads he and Lester to suspect that something unusual may be happening at the Buy More.

Friday, January 13th, 2012

s5e10: Chuck Versus Bo

As Chuck and Sarah try to realize a new, safer future, Morgan's past as the Intersect sends them to Vail on one last mission, where they enlist the help of an unlikely source ? the legendary Bo Derek. Elsewhere, Jeff and Lester continue their own spy mission.

Friday, January 20th, 2012

s5e11: Chuck Versus the Bullet Train

When a mission in Japan becomes a hostage situation, Sarah and Chuck must face the merciless Nicholas Quinn aboard a speeding Japanese bullet train. Meanwhile, the mission leaves Casey with an impossible decision.

Friday, January 27th, 2012

s5e12: Chuck Versus Sarah

After a harrowing mission, Sarah returns to Chuck with a huge secret. Meanwhile, Ellie and Awesome are presented with a new opportunity that could change their lives.

Friday, January 27th, 2012

s5e13: Chuck Versus the Goodbye

In the series finale, Chuck enlists his family, friends and some unexpected allies as he races to Stop Nicholas Quinn from destroying Everything Chuck has built over the past five years.
Season 0
Tuesday, February 3rd, 2009

s0e1: Chuck Versus the Third Dimension (2D)

Chuck foils a plan to kill Tyler Martin, an international rock star. Chuck's night out with Tyler leads to trouble. Morgan holds a contest among his fellow employees. 2D version of the Episode originally aired in 3D

Monday, October 6th, 2008

s0e2: Buy More #15: Employee Health

John Casey explains how to rid the Buy More of unwanted pests.

Monday, October 13th, 2008

s0e3: Buy More #17: Leadership

Even Big Mike knows that sometimes a manager has to look the other way.

Monday, October 20th, 2008

s0e4: Buy More #7: Customer Service

At the Nerd Herd service desk, not all occupational hazards are unwelcome.

Monday, October 27th, 2008

s0e5: Buy More #24: Youth Marketing

Young or old, loyal customers are created by great sales associates, like Morgan Grimes.

Monday, November 3rd, 2008

s0e6: Buy More #14: Work Ethic

Emmett's secrets for Buy More career success: show up early and keep your eyes and ears open.

Tuesday, September 7th, 2010

s0e7: Buy Hard - The Jeff and Lester Story - Episode 1

Jeff and Lester adjust to living life on the lam.

Wednesday, September 8th, 2010

s0e8: Buy Hard - The Jeff and Lester Story - Episode 2

Jeff and Lester arrive at the Encino Buy More for the release of Halo: Reach.

Thursday, September 9th, 2010

s0e9: Buy Hard - The Jeff and Lester Story - Episode 3

Along with Big Mike, Jeff and Lester come up with a plan to get the game.

Friday, September 10th, 2010

s0e10: Buy Hard - The Jeff and Lester Story - Episode 4

Jeff, Lester and Big Mike infiltrate the Encino Buy More.

Monday, September 13th, 2010

s0e11: Buy Hard - The Jeff and Lester Story - Episode 5

Jeff, Lester and Big Mike make their final attempt to get Halo: Reach.
Season 1
Monday, September 24th, 2007

s1e1: Chuck Versus the Intersect

Chuck Bartowski is an average computer geek until files of government secrets are downloaded into his brain. He is soon scouted by the CIA and NSA to act in place of their computer.