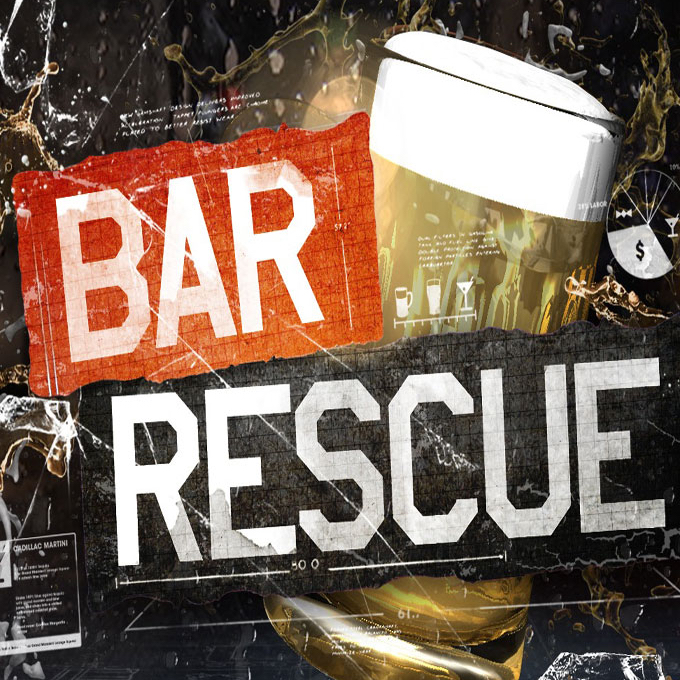 Season 3
Sunday, February 17th, 2013

s3e2: Rock N Roaches

Headhunters Austin, TX Jon Taffer descends on a grotesque goth and rock bar in Austin, TX. Tasteless performances and cockroach infestations are the least of his problems as he spars with the worst bar owner to date.
Season 1
Sunday, July 31st, 2011

s1e3: Shabby Abbey

The Abbey Pub Legendary Chicago music venue The Abbey Pub is a family-owned bar on its last legs. When bar expert Jon Taffer tries to return the pub to its original glory, he discovers that two of the sibling managers don't see eye-to-eye.

Sunday, July 24th, 2011

s1e2: Downey's and Out

Downey's Irish Pub Philadelphia, Pennsylvania Bar expert Jon Taffer attempts to resuscitate Downey's, a failing Irish pub in Philadelphia, Pennsylvania. To do that, he'll have to inspire Dom, a one-time star chef turned negligent owner, who has let the bar go to ruin.

Sunday, July 17th, 2011

s1e1: Fallen Angels

Angel's Sports Bar Corona, California Bar expert Jon Taffer attempts to class up Angels, a failing biker bar in Corona, California. To do that, he'll have to transform their rowdy clientele, scantily-clad bikini bartenders and strip club persona.

Sunday, August 7th, 2011

s1e4: Beach Bummer

Kilkenny's Bar expert Jon Taffer is called to Redondo Beach, CA, to save Kilkenny's, an Irish pub on the decline. Though bar manager Carlos threatens Jon's method and the pub's success, owner Allie refuses to fire him.

Sunday, August 14th, 2011

s1e5: Swanky Troubles

Bar expert Jon Taffer attempts to breathe new life into failing Philadelphia champagne bar Swanky Bubbles. To accomplish that, he'll need to deal with a playboy owner, a sprawling menu, and the worst bar layout in America.

Sunday, August 28th, 2011

s1e7: Bad to the Bone

The Chicken Bone Bar expert Jon Taffer heads to Boston to help Bill, the owner of The Chicken Bone, avoid financial ruin. Bill, a former customer who took over the Bone, learned the hard way that running a bar is much tougher than it looks.

Sunday, August 21st, 2011

s1e6: The Blue Frog Sings the Blues

The Blue Frog 22 Chicago, Illinois Bar expert Jon Taffer attempts to get The Blue Frog 22, a failing bar in Chicago, to grow up. To do that, he'll need the mother-and-son owners, Mimi and John, to ditch the "Mom's Basement" aesthetic that's dragging them down.

Sunday, September 11th, 2011

s1e8: Chumps

Champs Burbank, California Bar expert Jon Taffer attempts to take Champs, a dated sports bar in Burbank, CA out of retirement. To do that, he'll need owner Joe to go on the offensive, and take control of his over-pouring bartenders.

Sunday, September 18th, 2011

s1e9: Bar Fight

Canyon Inn Bar expert Jon Taffer goes toe-to-toe with a former baseball player turned bar owner as he tries to revive the Canyon Inn, a decaying bar on its last legs.

Sunday, September 25th, 2011

s1e10: Hogtied Ham's

Angry Ham's Garage Bar expert Jon Taffer attempts to save automotive-themed Angry Ham's Garage from stalling out. Rowdy owners and stonewalling city officials are all lurking right under the hood.
Season 3
Sunday, February 24th, 2013

s3e3: Bro's Got to Geaux

TJ Quills New Orleans, LA Bar Expert Jon Taffer must rescue a rundown college bar with a bad reputation for serving minors. But can he get the owner and his bartender buddies to ditch their frat boy ways and focus on the business?

Sunday, April 7th, 2013

s3e9: A Horse Walks Into a Bar

Kid Chilleen's Black Canyon City, AZ Horses defecating inside this Arizona bar are the least of Jon Taffer's problems. He must contend with drunk owners, a family in turmoil, and a bank foreclosure if he hopes to save this business.

Sunday, March 24th, 2013

s3e7: In a Pinch

Lona's Wardlow Station Long Beach, CA Lona's Wardlow Station has locals upset over a controversial lobster tank game. Can Jon Taffer bring peace and profitability back to this blue-collar watering hole?

Sunday, August 11th, 2013

s3e16: Characters Assassination

Characters Quarters Garner, NC Characters Quarters might be the worst bar concept ever, but it's only 1 of the problems Jon must overcome at this confused establishment run by a family of Yankees in heart of Dixie.

Sunday, August 25th, 2013

s3e18: A Bar Full of Bull

Libad's New Bedford, MA A rickety mechanical bull fails to attract customers in this salty New England whaling community. Can Jon right this ship and prevent two siblings from sinking the bar and their father's retirement?

Sunday, September 15th, 2013

s3e20: Barely Above Water

Marley's On The Beach Warwick, RI Taffer makes two bars out of one in an attempt to save both a beachfront bar in Warwick, Rhode Island, and the owner's marriage.

Sunday, October 13th, 2013

s3e22: Jon of the Dead

The Underworld Grill & Bar Las Vegas, NV Underworld is a "horror" bar run by 2 rocker-burnouts who managed to surpass their music industry failure with an even bigger failure in the bar biz. Jon attempts to transform this hive of scum & villainy into a profit center.
Season 4
Sunday, October 5th, 2014

s4e1: Bug Bite

The Artful Dodger - Huntington, NY A nightclub resorts to an 18-and-over night to draw a crowd, but ends up liable for unruly teenagers while an infestation of mosquitos and fruit flies puts the owner in a precarious position.

Sunday, October 12th, 2014

s4e2: Thugs with Mugs

Undisputed Sports Bar & Grill - Yonkers, NY Rowdy customers at a New York sports bar attack Taffer's crew when they discover they are being served cheap booze at premium prices, prompting Jon to teach the importance of serving quality drinks and maintaining crowd control.

Sunday, October 19th, 2014

s4e3: Schmuck Dynasty

Rhythm & Brews - Staten Island, NY A Staten Island bar that is overrun by customers who are cooking their own food and getting their drinks, due to the employees poor work ethic and the owner's hands off approach in running the bar. Jon must re-ignite the owner's fire and teach the staff why they need to do their own work.

Sunday, October 26th, 2014

s4e4: El Moronte!!

Laguna Lounge - Jersey City, NJ A passionate Puerto Rican bar owner berates his staff and sons as the bar sinks further into debt. Can Taffer deflate the owner's ego in order to save his bar?

Sunday, November 2nd, 2014

s4e5: Anything You Can Yell, I Can Yell Louder

Jack's Ale House - Sunnyside, NY Three loud-mouthed firefighting brothers struggle to keep their Queens bar afloat. Can Taffer calm the sparks before this family implodes?
Season 3
Sunday, October 20th, 2013

s3e23: Grandpa Got Run Over by His Grandkids

Kerry's Sports Pub Las Vegas, NV William invested $4 million on a Vegas bar to secure his kids & grandkids' futures. In return they use it as their private boozing & breeding grounds, wasting millions in the process. Can Jon turn this family tragedy around?

Sunday, November 17th, 2013

s3e27: Hole In None

Fairways Golf & Grill Murfreesboro, TN This golf-themed bar is a swing and a miss and its horrendous sanitary conditions are completely out of bounds. Jon must clean house and get rid of the filth as well as the staff responsible for making his expert sick.

Monday, November 25th, 2013

s3e28: Music City Mess

BoondoxXx BBQ Nashville, TN A country music snob with an explosive personality turns to Jon for help. Note: The episode was originally supposed to air on November 24, 2013, but was replaced with an encore after the owner was accused of fatally shooting a patron, and then claimed the shooting was in self-defense. However, it aired unintentionally three hours later in a late-night "encore slot" due to technical or human error.

Sunday, December 15th, 2013

s3e30: Twin Vs. Twin

RG's Lounge Independence, MO Lights, sirens and handcuffs greet Jon before he even enters the door of this Kansas City bar. Sibling rivalry between two identical twins with identical huge egos, present Taffer with one of his toughest rescues.

Sunday, December 8th, 2013

s3e29: Brawlin' Babes

Longshots Grain Valley, MO. A sports bar with no TV's isn't Jon's biggest problem at this Missouri establishment. Taffer must get brawling buckle bunny bartenders and their spineless owner to unite in one common cause: Gut the competition!
Season 0
Sunday, June 1st, 2014

s0e1: The Lost Episode

In this special 'lost' episode, Taffer takes on a hot-tempered New Jersey bar owner who can't stop kicking customers and employees out of his bar. Originally filmed in June of 2010, this episode was the pilot of the series.

Sunday, June 22nd, 2014

s0e2: Taffer's Top 10: Worst Owners

Nightlife expert Jon Taffer counts down the ten worst owners he's encountered from the first three seasons of Bar Rescue.

Sunday, June 22nd, 2014

s0e3: Taffer's Top 10: Most Disgusting Bars

Nightlife expert Jon Taffer counts down the ten most disgusting bars he's encountered from the first three seasons of Bar Rescue.

Sunday, June 29th, 2014

s0e4: Taffer's Top 10: Angriest Moments

Nightlife expert Jon Taffer counts down his ten angriest moments from the first three seasons of Bar Rescue.

Sunday, June 29th, 2014

s0e5: Taffer's Top 10: Toughest Rescues

Nightlife expert Jon Taffer counts down his ten toughest rescues from the first three seasons of Bar Rescue.

Sunday, April 5th, 2015

s0e6: Back to the Bar: Hot-Headed Owners

Jon Taffer returns to bars with the most hot-headed owners, including Solids & Stripes and Corporate Bar & Grill aka Piratz Tavern, to judge whether they continued to succeed or fail without him.

Sunday, August 2nd, 2015

s0e7: Back to the Bar: Stubborn Owners

Jon returns to bars with the most stubborn owners to see if they continued to fail or succeed without him.

Sunday, August 30th, 2015

s0e8: Back to the Bar: Delusional Owners

Bars with the most delusional owners are revisited by Jon Taffer to judge whether they continued to succeed or fail without him, including former hookah bar Taza and Metal and Lace.

Sunday, December 20th, 2015

s0e9: Back to the Bar: No Laughing Matter

Taffer revisits Jack's Fire Department to see if the McGowan brothers have cooled their fiery relationship, and its no joke when he takes on an angry stand up comedy club owner from Scottsdale.
Season 2
Sunday, July 29th, 2012

s2e1: Yo-Ho-Ho and a Bottle of Dumb

Piratz Tavern Silver Spring, MD Bar expert Jon Taffer must patch holes in a sinking Pirate-themed bar in Silver Spring, MD. But mutiny is in the air when Jon forces the pirate staff to cater to the city's corporate clientele.

Sunday, July 29th, 2012

s2e2: Tiki Curse

The Bamboo Beach Tiki Bar Fort Lauderdale, FL Located on a prime stretch of beach, The Bamboo Beach Tiki Bar is still failing. Can Bar Expert Jon Taffer get a bevy of beautiful barmaids to fix this oceanfront eyesore instead of working on their suntans?

Sunday, August 5th, 2012

s2e3: Murphy's Mess

J.A. Murphy's Fells Point, Maryland Bar expert Jon Taffer must fix a dirty, binge-drinking bar owned by two fraternity brothers in Fells Point, Maryland. But the rescue gets derailed when Jon discovers the building is about to collapse.

Sunday, August 12th, 2012

s2e4: Mystique or Murder?

Mystique Lounge West Palm Beach, Florida Mystique Lounge in West Palm Beach, Florida, has operated under the shadow of a murder for three years. Can bar expert Jon Taffer restore a positive mystique to this once-cursed venue?

Sunday, August 19th, 2012

s2e5: Bottomless Pit

Olive Pit Orange, California Bar expert Jon Taffer has his hands full with a failing dive bar in Orange, CA. When he discovers the owner is incapable of running the bar, Jon must pin his hopes on the owner's untested but eager daughter.

Sunday, August 26th, 2012

s2e6: Broke Black Sheep

Black Sheep, Cheviot, Ohio Bar expert Jon Taffer is called in to save the family-run Black Sheep in the Irish-German community of Cheviot, Ohio. But Jon discovers that the bar may be beyond rescue due to the owners' massive debt.

Sunday, September 9th, 2012

s2e7: Weber's of Lies

Weber's Place Reseda, California Bar expert Jon Taffer must make a former strip club turned music venue profitable. But when the bar's staff is found to be contributing to the financial problems, Jon must convince the owner to take a stand.

Sunday, September 16th, 2012

s2e8: Owner Ousted

Win, Place, or Show Fairfield, Ohio Bar expert Jon Taffer must rescue a bar owned by a former Naval Officer from total ruin. But when Jon discovers one of the owners isn't pulling his weight, Jon shows him the door.

Sunday, September 23rd, 2012

s2e9: On the Rocks

Rocks, Laguna Niguel, California Bar expert Jon Taffer must save a failing former smoker's haven in Laguna Niguel, California from burning out for good. However, the bar's gang of hard-drinking regulars aren't about to give up...

Sunday, September 30th, 2012

s2e10: Bikini Bust

Extremes Orange, California Despite beautiful bikini-clad bartenders, Extremes is less than a month from closing its doors. Can Bar Expert Jon Taffer successfully use the sexually-charged atmosphere to create a profitable bar?
Season 3
Sunday, February 10th, 2013

s3e1: Turtle on Its Back

Turtle Bay New Orleans, LA For a bar to fail on Bourbon Street in New Orleans it takes a special kind of incompetence. Can bar expert Jon Taffer get these delusional owners to ditch their copy-cat ways and start thinking for themselves?

Sunday, March 3rd, 2013

s3e4: Tears for Beers

The Brixton Austin, TX Bar Expert Jon Taffer fights to save a terminally hip bar on 6th St in Austin, TX that is too cool for its own customers. If he fails it will not only cost a husband & wife their business but possibly their marriage.

Sunday, March 10th, 2013

s3e5: Empty Pockets

Zanzibar Denver, CO Bar Expert Jon Taffer must rescue a pool hall in Denver from closing, but a prideful immigrant owner stands in his way. Can Jon help him fulfill his American Dream or will it continue to be a nightmare?

Sunday, March 17th, 2013

s3e6: Jon T, He Don't Like It

Kasbah Aurora, CO 10 years ago, The Kasbah Lounge in Aurora, Colorado was an urban hotspot. Now it is a relic. Bar Expert Jon Taffer must breathe new life into this dying nightclub otherwise it will become extinct for good.

Sunday, March 31st, 2013

s3e8: Karaoke Katastrophe

Dimples Burbank, CA At Dimples, America's first karaoke bar, Jon Taffer must deal with dated décor, an angry chef, and an oblivious owner… who's also a hoarder.

Sunday, April 14th, 2013

s3e10: Meat Sauna

Stand Up Scottsdale Scottsdale, AZ Bad ventilation cause hot, moist burger smoke to fill Scottsdale's least funny comedy club. Jon Taffer arrives to clear the air and use proven bar techniques to create bigger laughs and bigger profits for the troubled owners.

Sunday, July 7th, 2013

s3e11: Don't Mess With Taffer's Wife

Sand Dollar Las Vegas, NV An aggressive Las Vegas bar owner tries to pick up Nicole Taffer, sending Jon into a rage. Can he set this owner's wandering eyes straight and save a once famous blues bar without coming to blows first?

Sunday, July 14th, 2013

s3e12: Don't Judge a Booze by its Bottle

Cashmere Raleigh, NC North Carolina's Cashmere Nightclub has a bad name, poor décor and an embarrassing manager, but when Jon learns that they are refilling premium liquor bottles with cheap booze, all hell breaks loose.

Sunday, July 21st, 2013

s3e13: Two Flew Over the Handlebars

The Handlebar Café Pawcatuck, CT Two buxom sisters have driven their biker bar in Pawcatuck, Connecticut into a ditch. Can Jon get these party women to stop binge drinking and focus on the real assets of their bar?

Sunday, July 28th, 2013

s3e14: There's No Crying in the Bar Business

Barlow's Bar & Grill Tucker, GA Jon heads to a Georgia sports bar and encounters an owner who's incessant crying seems to prevent her noticing the massive employee theft issue occurring right under her nose.

Sunday, August 4th, 2013

s3e15: Play Some Janet Jackson!

Gipsy Las Vegas, NV Las Vegas' first gay nightclub, Gipsy, is months from closing its doors thanks to its verbally abusive and over intoxicated owner. Can Jon rescue one of Sin City's most famous landmarks?

Sunday, August 18th, 2013

s3e17: Corking the Hole

Cliques Hope Mills, NC 13 miles from Fort Bragg, Cliques suffers from a juvenile name and a repugnant reputation. Jon puts the owners through his personal bar boot camp in the hopes of making it the R&R destination of choice for local military personnel.

Sunday, September 8th, 2013

s3e19: Beer and Loathing in Las Vegas

The Hammer Las Vegas, NV Hammers is a watering hole for blue-collar locals, owned and operated by two classically trained chefs and former friends. Taffer arrives to discover that both their business and their friendship appear beyond repair.

Sunday, October 6th, 2013

s3e21: Crappy Cantina

Rocky Point Cantina Tempe, AZ Two brothers have drained their parents' retirement fund by opening an ill-conceived death-metal concert bar. Taffer arrives to run off the metal-head clientele & straighten out this festering mosh pit of failure.

Sunday, October 27th, 2013

s3e24: Hurricane Jon Vs Hurricane Sandy

Bungalow Bar Rockaway Beach, NY It's the biggest rescue in series history: resurrect the hurricane battered Bungalow Bar in Rockaway Beach, NY. But with the summer season fast approaching, Jon races to repair the structure & retrain the staff in time.

Sunday, November 3rd, 2013

s3e25: Drunk & Dirty Dolls

The Alibi Las Vegas, NV This Vegas motorsports bar has come off the track thanks to an inept owner & a staff of busty cougars. Can Jon create a new & classy concept to tap into the largest single & divorced MILF population in the country?

Sunday, November 10th, 2013

s3e26: Empty Bottles Full Cans

MT Bottles Murfreesboro, TN Customers bringing in their own booze and bartenders flashing their boobs aren't Jon's biggest problems with this Tennessee watering hole. Taffer must ignite a lazy owner's ingenuity to save the bar from going bust.

Sunday, March 9th, 2014

s3e31: Hostile Takeover

O'Banion's Bar & Grill Omaha, NE A heavy drinking owner of an Irish sports bar is the subject of a hostile takeover… by his co-owners!

Sunday, March 16th, 2014

s3e32: Critters And Quitters

KC's Bar and Grill Johnsonville, KS A raccoon infestation threatens to exterminate this member's only bar in Kansas.

Sunday, March 23rd, 2014

s3e33: Punch-Drunk & Trailer Trashed

OFace Bar Council Bluffs, IA A dysfunctional family's feuding pushes Jon Taffer to the limit. Will their outrageous antics force Jon into an extreme decision?

Sunday, April 6th, 2014

s3e34: Grow Some Meatballs!

The Tailgate Santa Clarita, CA At a family run bar, a brother and sister are locked in conflict with their explosive father. But while Taffer struggles to train an inexperienced staff, disaster is about to ignite in the kitchen.

Sunday, April 20th, 2014

s3e35: When Life Doesn't Hand You Lemons

Pat's Cocktails North Hollywood, CA Too busy canoodling to notice his staff is sinking, a manager treats his bar like a romantic playground, forcing Taffer to demand inside help from the bartenders.

Sunday, March 30th, 2014

s3e36: Scoreboard To Death

Scoreboard Norwalk, CA Jon visits a subpar sports bar that's failing due to ownership issues and an undertrained staff. Maria Menounos and Adam Carolla are guests.

Sunday, April 13th, 2014

s3e37: Taxed Out in Texas

Bryant's Ice House Katy, TX Torn apart by a dysfunctional staff and a bad reputation, a tax accountant turned bar owner struggles to keep his biker bar afloat.

Sunday, April 27th, 2014

s3e38: I Smell A Rat

Oasis Hookah Bar Omaha, NE Oasis Hookah Bar is in dire straits. They serve toxic drinks and have terrible service. To top it all off, there's a dead rat somewhere in the building, but nobody knows where.

Sunday, May 4th, 2014

s3e39: Scary Mary's

Mary's Outpost Grand Prairie, TX The lecherous owner of a dying Texas dive crosses the line with one of Taffer's experts.

Sunday, May 11th, 2014

s3e40: Muscle Madness

The End Zone Houston, TX Two muscle-bound meatheads can't see pec-to-pec on how to run their Houston bar. Now, their tempers and testosterone threaten to tear their friendship apart.
Season 4
Sunday, November 9th, 2014

s4e6: To Protect And (Over) Serve

Lickety Split - Philadelphia, PA A former Philly detective-turned-bar owner hits the bottle hard after years of dark days on the force when Jon Taffer shows up to straighten him out.

Sunday, November 16th, 2014

s4e7: A Dash Of Bitters

Plush - Glenside, PA A rescue turns testy when Taffer enlists the help of the bar owner's ex-wife and former manager.

Sunday, November 23rd, 2014

s4e8: Swinging From the Rafters

Dirty Rooster - Antioch, IL An outrageous lakeside bar owner spends more time swinging from the rafters than managing his bar, causing Taffer to abandon ship until the owner can face reality.

Sunday, December 7th, 2014

s4e9: Spoiled Brat Party

Y-Not III Milwaukee, WI A third generation Milwaukee bar owner puts his father's legacy on the line by living off his family instead of trying to cut his own piece of the pie.

Sunday, December 14th, 2014

s4e10: Irish Eyes Aren't Smiling

Packey's Pub - Milwaukee, WI The American dream becomes a hard reality for this Irish bar owner after Taffer discovers he withheld employee paychecks to keep the business afloat.

Sunday, February 8th, 2015

s4e11: Second Base, Third Strike

Second Base - Orange, CA In a first-ever re-rescue, Jon Taffer returns to Second Base Bar & Grill to find a disengaged owner who has let the bar deteriorate. Will Jon save this bar once again?

Sunday, February 15th, 2015

s4e12: Crayons & Anger Lines

Underground Wonder Bar - Chicago, IL A hippy-dippy live music bar owner is more concerned with the spirit of wonderment than appealing to her trendy Chicago community, causing Taffer to enforce some tough love.

Sunday, February 22nd, 2015

s4e13: Beach Rats

Toucans Oceanside Bar & Grill - Hollywood, FL This failing beachfront bar is shut down after rodents invade the kitchen, but Taffer is brought to tears upon discovering what the owners have endured.

Sunday, March 1st, 2015

s4e14: All Twerk & No Pay

Heat Restaurant & Lounge - Hollywood, FL Too busy dancing on the bar top to pour drinks, these out-of-control bartenders are in for a shock when Jon Taffer puts an end to the party.

Sunday, March 8th, 2015

s4e15: Bromancing the Stone

Sandbar Sports Grill - Coconut Grove, FL Jon Taffer has his hands full with the owner of an outdated college sports bar who is more interested in managing his fantasy football team than running a business.

Sunday, March 15th, 2015

s4e16: Storming the Castle

Friar Tucks - Pomona, CA Jon Taffer arrives at this castle-shaped bar to a surly owner with anger management issues whose attitude has pushed his staff to their breaking points.

Sunday, March 22nd, 2015

s4e17: Lagers and Liars

The Los Angeles Brewing Company - Los Angeles, CA Celebrity guest Maria Menounos joins Jon Taffer at this Los Angeles beer bar where a million dollar debt and decision to keep or sell the business has triggered a family divide.

Sunday, March 29th, 2015

s4e18: Loose Lips Loose Tips

The Holding Company - San Francisco, CA Four bickering Irish sisters talk themselves in circles as their San Francisco bar takes a nosedive. Can Jon Taffer turn their luck around before they miss the boat on their American dream?

Sunday, April 12th, 2015

s4e19: Mandala Down

Mandala Lounge - San Mateo, CA A self-proclaimed "nightlife expert" afflicted by mounting debt and a ballooning ego butts heads with Jon Taffer as he battles to show him the error of his ways.

Sunday, June 21st, 2015

s4e20: Sticky Situation

Park 77 - San Francisco, CA A family-owned bar faces shutdown due to a son's excessive drinking and resulting bad management, which leads to a sticky and unclean bar, a staff with no leadership, and questionable decision making. Jon must determine if the son can clean up his act and lead the bar, or if his family should take him off management. Note: This episode debuted on Amazon Prime, the Spike app and on-demand prior to its airing.

Sunday, June 28th, 2015

s4e21: Take Me Out of the Bar Game

The Bullpen Bar Sparks, Nevada A retired professional baseball player turned bar owner strikes out as his intoxicated staff gives away his profits. Can Jon Taffer fix his slump and save his business before he's forced to retire for a second time?

Sunday, July 5th, 2015

s4e22: Emergency Exit

Murphy's Law Irish Pub Reno, Nevada Before he's able to save a bar from spiraling out of control, Jon Taffer is forced to navigate a turbulent partnership between an ex-pilot and his ex-girlfriend that's neither business nor pleasure.

Sunday, July 12th, 2015

s4e23: It's Always Sunny In Portland

Six Point Inn - Portland, Oregon Tempers ignite in this Portland bar, when Jon Taffer and his experts face off with a stubborn chef, while an owner is ready to cut the cord as his over-bearing step-daughter and business partner berates her staff.

Sunday, July 19th, 2015

s4e24: Brokedown Palace

The Palace - Upland, California Alexander Siddig and Iddo Goldberg help Jon rescue a Moroccan bar with an identity crisis, due the exterior and interior's conflicting designs. The designs are the least of his worries however, when he discovers a staff untrained in Moroccan foods and a chef who has no cleaning standards.

Sunday, July 26th, 2015

s4e25: Ants with Wings, Bro!

Tonic Lounge - Portland, Oregon Motivating the inattentive owner of a failing Portland music venue that has an ant infestation.

Sunday, August 9th, 2015

s4e26: Put A Cork In It

Brix Sunset Beach - Sunset Beach, California One eccentric wine bar owner is too occupied to notice his business is withering on the vine.

Sunday, August 16th, 2015

s4e27: Too Many Managers, Not Enough Man

Pro's Sports Bar - Chicago, Illinois Jon battles a management-heavy staff that disrespects their owner at a suburban Chicago sports bar with their attitudes and constant arguing.

Sunday, August 23rd, 2015

s4e28: Jon Ain't Afraid of No Ghost

Myerz PourHouse - El Cajon, California In order to save a haunted bar with a cursed past, Jon is forced to stir up a different type of spirit than he is used to. Note: For the recon, Jon brought in podcast hosts Matt Mira and Jordan Morris.

Sunday, October 4th, 2015

s4e29: Till Debt Do Us Part

Caribe Night Club - San Diego, California A womanizing owner and his enraged wife struggle with their run-down Caribbean bar; Taffer tries to turn the bar around before the business hits the rocks and the owner's wife bails.

Sunday, October 11th, 2015

s4e30: Shamrocks and Shenanigans

Molly Malone's - Ramona, California A failing Irish bar with battling bartenders calls in Taffer to show an idle owner the error of his ways, before his fiancee leaves him.

Sunday, October 18th, 2015

s4e31: Blowing Royal Smoke

Royal Oaks - Youngstown, Ohio The oldest bar and BBQ joint in Youngstown, Ohio is in the pits as feuding brothers drive away customers with their obnoxious behavior. Can Jon Taffer put the fire back in their bellies before their business goes up in smoke?

Sunday, October 25th, 2015

s4e32: Sour Lemons and Bitter Business

Martini Brothers Burger Bar - Youngstown, Ohio Bitter owners clash with their landlord and partner, who would rather paint fruit in the name of art, than fight to save this failing Ohio burger bar.

Sunday, November 1st, 2015

s4e33: Ripper's Rookie House

Ripper's Rock House - Akron, Ohio Rock legend and former Judas Priest front man turned bar owner calls on Jon Taffer to amp up his struggling live music venue before he's forced to pull the plug on the entire business.

Sunday, November 8th, 2015

s4e34: Big Sister's Watching

Filling Station Pub - San Diego, California In a struggling military bar, a distrustful owner spends her time spying on her staff instead of watching her bottom line.

Sunday, November 15th, 2015

s4e35: Vulgar Vixens

The Hooch - Dearborn Heights, Michigan Jon confronts a foul-mouthed owner in this failing Michigan bar with a confusing theme. Can Taffer turn profanity into profits before this bar goes bust?

Sunday, November 22nd, 2015

s4e36: Unnecessary Toughness

The Arena - Ann Arbor, Michigan At a college alumni bar, Taffer is forced to deal with a hot-headed sports bar owner whose fiery temper keeps his staff on edge and his million dollar debt on ice.

Sunday, December 6th, 2015

s4e37: Boss Lady Blues

Jazz Katz - Southfield, Michigan Jon helps a former psychologist who now runs a Detroit jazz club, but her interfering family undermines her leadership and allows her staff to be lazy and complacent.

Sunday, December 13th, 2015

s4e38: Bare Rescue

In a Bar Rescue first, Jon Taffer helps a failing Detroit strip club in the hopes of stimulating profits before the entire business goes bottoms up.

Sunday, December 20th, 2015

s4e39: Back to the Bar: No Laughing Matter

Taffer revisits Jack's Fire Department, and takes on an angry comedy-club owner in Scottsdale.
Season 5
Sunday, August 14th, 2016

s5e2: Wheels of Misfortune

In a desert town, Taffer collides with the owner of a bar in a roller rink, a local landmark close to closing for good.

Sunday, August 21st, 2016

s5e3: 12 Beers a Slave

After gambling his life savings on a run down Las Vegas bar, a desperate owner tries out a fetish night to whip up new business.

Sunday, October 9th, 2016

s5e7: Listen Y'all It's Sabotage

New bar owners accuse their manager (and the bar's former owner) of sabotaging their business to try to steal it back. With no clear proof, Jon uses a stress test to determine who's right and who's wrong.

Sunday, October 16th, 2016

s5e8: Gettin' Jigger With It

Jon visits a historical bar owned by a brother and sister in conflict over profits and responsibilities.