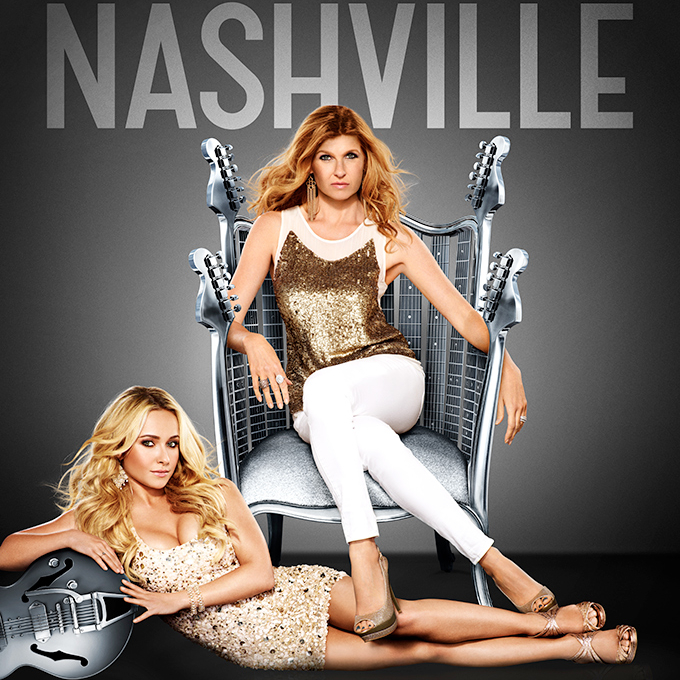 Season 1
Wednesday, October 10th, 2012

s1e1: Pilot

Rayna learns that her record label wants her to tour as the opening act for newcomer Juliette Barnes, and when she refuses, the stage is set for the ultimate power struggle for popularity. Complicating matters, Lamar's drive for power results in backing Teddy in a run for Mayor of Nashville, against Rayna's wishes.

Wednesday, October 17th, 2012

s1e2: I Can't Help It (If I'm Still in Love With You)

Teddy's mayoral campaign is moving ahead and Rayna reluctantly endures an investigation that reveals some explosive family secrets. Meanwhile Coleman Carlisle is starting to lay down the groundwork for his campaign when he discovers Lamar is poised to go head to head with him... even if it means exposing his longtime friend; Juliette, who will stop at nothing when it comes to getting her hands on Deacon; and Scarlett is torn between pursuing her dream of songwriting with Gunnar and her commitment to Avery.

Wednesday, October 24th, 2012

s1e3: Someday You'll Call My Name

Rayna immerses herself in her kids' lives and her husband's campaign, and is sobered to learn that she and Teddy are facing financial ruin; Juliette offers Deacon an exclusive contract to write and tour with her; and Juliette's troubled mother, Jolene, re-enters her daughter's life in dramatic fashion. Meanwhile, Scarlett and Gunnar's big break with Watty is threatened.

Wednesday, October 31st, 2012

s1e4: We Live in Two Different Worlds

Rayna and Teddy's relationship is tested when Rayna performs with Deacon at Teddy's campaign fundraiser and a woman from Teddy's past (Kimberly Williams-Paisley) shows up with a secret. Meanwhile, Juliette tries to burnish her image with an appearance on "Good Morning America" and is interviewed by Robin Roberts; Gunnar makes a connection with his publisher's assistant, Hailey; and Teddy and Coleman agree to take the moral high ground during the campaign -- but will it last?

Wednesday, November 7th, 2012

s1e5: Move It on Over

Rayna thinks about moving on when Deacon sets boundaries in their relationship; as Juliette struggles with her mother's addictions, Deacon is reminded of difficult moments in his past; tension between Gunnar and Avery puts pressure on Scarlet.

Wednesday, November 14th, 2012

s1e6: You're Gonna Change (Or I'm Gonna Leave)

Rayna wants to change her sound and seeks out the help of a highly successful music producer, Liam McGuinnis; Juliette goes on a sham date with a squeaky-clean NFL quarterback as a PR move for her tarnished image; meanwhile, Lamar's plan to delay Coleman with a police traffic stop on his way to an important photo op for both candidates works too well, and Scarlett's relationship with Avery gets rocky.

Wednesday, November 28th, 2012

s1e7: Lovesick Blues

Marshall Evans continues to pressure Rayna and Juliette to collaborate at an event at the Ryman theater, Teddy is forced to reveal the truth to Rayna when Peggy's desperation hits its peak, and in an effort to move past her failed relationship with Avery, Scarlett finds herself getting closer to Gunnar.

Wednesday, December 5th, 2012

s1e8: Where He Leads Me

Rayna needs to take a look at what's really important to her after hearing Teddy's side of the story about Peggy; Juliette feels a sense of belonging with Sean's family that she has never experienced before; Gunnar risks his partnership with Scarlett when he confesses his feelings; and music producer Dominic Wells invites Avery to Atlanta to work together while Deacon gets an amazing offer to tour -- but both opportunities come with a price.

Wednesday, January 9th, 2013

s1e9: Be Careful of Stones That You Throw

Rayna and Juliette are locked for their tour. When Rayna suggests taking her girls with her, she finds that Lamar's not above holding her hostage with some long forgotten family secrets. To everyone's surprise Juliette and Sean have eloped, though not everyone is celebrating. Deacon reconnects with a former flame, and Avery follows the advice of a new music producer that puts more space between him, the band and Scarlett.
Season 0
Wednesday, January 2nd, 2013

s0e1: Nashville: The Whole Story

"Nashville: The Whole Story" features clips that tell the intersecting tales of music industry greats Rayna James and Juliette Barnes -- one a legend, another on the rise -- as they make their own ways in life, love and in their careers. Rayna's lead guitarist, Deacon, shares a tortured past with her, but has also opened his heart and his arms to Juliette, as Rayna struggles to save her marriage to Teddy, who's running for Mayor. The election pits Teddy against longtime family friend Coleman Carlisle and quickly turns ugly, thanks to the machinations of Rayna's plotting father, Lamar. Meanwhile struggling artist Avery, budding singer/songwriter Scarlett and soulful troubadour Gunnar form a love triangle that produces not only incredible passion and moving but heartfelt music.
Season 1
Wednesday, January 16th, 2013

s1e10: I'm Sorry for You, My Friend

Rayna and Juliette get ready to perform in San Diego in their first arena concert on the same bill. Rayna finds that working without Deacon is too disruptive and makes an interesting proposal to Liam, while Juliette sends Sean a message through the press. Gunnar takes a road trip to Austin to visit his brother, and Scarlett tags along for the ride so she can catch Deacon's performance in Texas with the Revel Kings. Meanwhile Avery makes his move to sign with Dominic, and Teddy and Coleman's campaigns find them in a dead heat.

Wednesday, January 23rd, 2013

s1e11: You Win Again

Edgehill Records celebrates the success of "Wrong Song" with a lavish party attended by Rayna, Juliette and real-life country stars including Brantley Gilbert and Chris Young (who cameo as themselves). But the party gets awkward for Juliette, who brings her mom along, and for Rayna when she's aggressively pursued by Calista, an exec from a competing record label. Meanwhile Teddy confronts Rayna about his suspicions over her relationship with Liam, Gunnar deals with family issues and Avery gets too comfortable with his newfound success.

Wednesday, February 6th, 2013

s1e12: I've Been Down That Road Before

Rayna begins to settle into the tour when she discovers that Deacon has joined Juliette's band on the road, and she can't help but think that maybe the time has come to make some hard decisions. But will a heart to heart with Deacon help ease the sting of the revelation? Meanwhile Juliette is tired of her bubble gum pop success and is interested in exposing who she really is, though her team is convinced that will damage her commercial success. And Scarlett is counting pennies to keep her head above water -- until Gunnar makes her an offer she can't refuse.

Wednesday, March 27th, 2013

s1e15: When You're Tired of Breaking Other Hearts

Katie Couric guest stars as herself when Rayna appears on the "Katie" show, trying to set the record straight about her marriage and balancing her career with motherhood. Juliette attempts to take her album launch into her own hands but it backfires when she tweets out a surprise concert location. Maddie lies to Teddy about her whereabouts — with dangerous consequences — and Deacon is drawn to his dog's pretty new veterinarian, Stacey. Meanwhile Avery tries to control his musical destiny by flouting Dominic and Marilyn, and things are awkward between Scarlett and Gunnar, as he continues to process his brother's death.

Wednesday, April 3rd, 2013

s1e16: I Saw the Light

Rayna takes her children and sister with her on tour in NYC, but Rayna doesn't like the influence Juliette is having on her daughters. Meanwhile Dante gives Juliette some career guidance that helps her see him in a whole new way; Deacon's feelings for Stacey force him to reconsider his life on the road; a hunky new neighbor, Will, befriends Gunnar and Scarlett; Gunnar is thrown by Scarlett's hiding information from him; Lamar threatens Peggy; and Avery jeopardizes his own future.

Wednesday, May 22nd, 2013

s1e21: I'll Never Get Out of This World Alive

A shadow has been cast over country music's biggest night: Juliette discovers a letter from Jolene revealing her mother's true feelings; Rayna and Deacon's fairytale evening at the CMA Awards, even performing with Brad Paisley – who guest stars as himself — may not end in a happily-ever-after; and Gunnar will do whatever it takes to win Scarlett's heart back — but is it too late? Meanwhile the U.S. Attorney's office is closing in on Teddy, and Peggy returns with a secret of her own.

Wednesday, May 8th, 2013

s1e19: Why Don't You Love Me

Rayna and Juliette are both nominated for CMA Awards and Edgehill Records hosts a party in their honor. Meanwhile Teddy worries about his relationship with Maddie, Juliette copes with new challenges, Scarlett is concerned about Gunnar, and tension grows between him and Will.

Wednesday, May 1st, 2013

s1e18: Take These Chains From My Heart

Liam invites Rayna to run away with him to finish her album, and Deacon is surprised by his own reaction, as well as Stacy's accusations; Jolene warns Juliette about Dante's loyalty, which only drives the two women further apart; Teddy faces off with Peggy about the leaks, and in the wake of her father's illness, Tandy proposes a new alliance to Coleman. Meanwhile Gunnar tries out some new music, and Avery and Scarlett reconnect.
Season 2
Wednesday, October 2nd, 2013

s2e2: Never No More

Edgehill has appointed a new chief, Jeff Fordham. He's powerful, sexy and on a mission to place the label back on top. That means it's time to reveal his vision for the future. The question is -- who will be part of it? Rayna has returned from her hiatus and the plan includes her own label, with Will and Scarlett attached. Though Jeff seems supportive, he has a different agenda. Juliette meets with the chief to discuss her new mature sound and look. She details her passion to grow and her natural desire to be taken more seriously as an artist. Jeff could care less. In the meantime, a reality show vixen is the talk of the town and posing a new threat to Juliette's career.
Season 1
Wednesday, February 13th, 2013

s1e13: There'll Be No Teardrops Tonight

Rayna finds comfort in the arms of an old friend after revealing to Daphne and Maddie her plans to divorce. Juliette is invigorated by the response to her new sound and takes steps to reinvent herself -- against the guidance of her management. Things are looking up for Scarlett and Gunnar when Rayna makes an offer to sign them to her label. While their hard work begins to show signs of success, Avery struggles to find his old sound and is forced to consider an attractive offer.

Wednesday, February 27th, 2013

s1e14: Dear Brother

Juliette plans a surprise birthday party for Deacon, which is attended by real-life country stars Dan Auerbach, Vince Gill, Pam Tillis, Kate York and Kip Moore. During the celebration, Rayna sings, backed up by Pam Tillis and Kate York as themselves, Watty White and Adria. However, Juliette's own performance is derailed by her mother. As Rayna and Teddy's divorce moves forward, the tabloids move in, speculating about Rayna's cheating and thrusting her children into the spotlight; Teddy decides to bring Peggy into his mayoral fold and holds a press conference to make it look like it's all business; and Gunnar's brother charms Scarlett with his singing.

Wednesday, April 10th, 2013

s1e17: My Heart Would Know

A personal crisis in Nashville causes Rayna to leave the tour in New York City before her sold-out concert with Juliette, but for Juliette, the show must go on. Jolene stakes a claim on her sober counselor Dante as Juliette gets closer to him personally and professionally, and Deacon doesn't like the woman Juliette has become and tells her point-blank. Gunnar declares the next 24 hours a "Scarlett O'Connor party" to celebrate her success, and she brings Will along to join the fun. Meanwhile Avery becomes a roadie for Juliette, and secrets involving the men in Rayna's life see the light of day.

Wednesday, May 15th, 2013

s1e20: A Picture From Life's Other Side

Rayna finds an unlikely ally in Lamar when he sides with her against Teddy about the girls. Jolene sees Juliette struggling and tries to find a way to help. Avery and Will, separately, both get a chance to shine with bigger stars -- but will it translate to career gold? And Tandy takes her own agenda to the board of Wyatt Industries.
Season 2
Wednesday, September 25th, 2013

s2e1: I Fall to Pieces

After the crash, Rayna is in a coma and Deacon is left to wait on his pending jail sentence. Teddy is still shell-shocked about Peggy's pregnancy and struggles to understand where he belongs... Is it by Rayna's side with his daughters? Meanwhile, Maddie grapples with the revelation that Deacon is her father and, feeling alone, turns to Juliette, unwittingly revealing the details of what happened before the traumatic crash. And Gunnar and Scarlett's relationship becomes even more complicated after the proposal, so they turn to their friends, Will and Zoey, for support.

Wednesday, October 9th, 2013

s2e3: I Don't Wanna Talk About It Now

Rayna's divorce from Teddy is final as each embarks on a new path that brings them back to some familiar territory. Liam returns to help Rayna complete her album, and Peggy engages in a plan to win Teddy back. Juliette takes a high-paying private gig at a billionaire couple's anniversary party, but she soon discovers her host is interested in more than just her musical abilities. Deacon's troubled past with his own father casts a shadow over his impending relationship with Maddie, and Will and Scarlett undergo makeovers for the Stockholders Showcase.

Wednesday, October 16th, 2013

s2e4: You're No Angel Yourself

Rayna leaves Juliette in a lurch when she decides she needs to cancel the remainder of the tour. Teddy proposes to Peggy and asks her to be discreet around the girls, but when Maddie sees her grandmother's ring hanging from Peggy's neck, the charade is up. She is confused and hurt and finds herself turning to an unlikely friend. Tandy uncovers more troubling information about Rayna and her mother's death, but her attempt to share the discovery with Rayna is hijacked by Maddie's reaction to Teddy and Peggy's engagement. Deacon discovers that he has more in common with Megan than just his case.

Wednesday, October 23rd, 2013

s2e5: Don't Open That Door

In advance of a benefit concert starring all of Edgehill's best acts, Label head Jeff Fordham demands that his new artists sell themselves as hot, sexy personas—which is a major struggle for Scarlett, and Layla knows it. Since Rayna is unsure about her future as a singer, she plots to buy out Edgehill's rights to her music, and Gunnar and Avery decide to record new songs with Zoey, Scarlett's best friend. However, by the end of the concert night, nothing will be the same.

Wednesday, October 30th, 2013

s2e6: It Must Be You

Rayna sets the record straight on all things personal and professional in a candid interview with ABC News' Robin Roberts. Determined to be her own boss, Rayna attends the Belle Meade Polo Match to seek out investors for her own label, Highway 65, but is surprised by the reaction from Nashville's elite. Meanwhile, Juliette, who is also at the event, runs into Charlie Wentworth, and Luke Wheeler and Deacon have an awkward encounter. With her life about to change dramatically, Scarlett leans on Avery for advice, and Teddy announces to the press that he and Peggy are getting married.

Wednesday, November 13th, 2013

s2e7: She's Got You

As Teddy's wedding day nears, Maddie feels lost and tells Rayna she wants to get to know Deacon better, forcing Rayna to confront Deacon about stepping up to co-parent. Luke Wheeler commiserates with Rayna about the challenges of exes and parenting. While on tour in Texas, Juliette angers a lecherous but very influential radio DJ who starts promoting Layla at Juliette's expense. Deacon tries to find his way back to music and discovers an unexpected ally in Avery. While on a date with Layla, Will runs into Brent on a date with a new man, and Gunnar finds himself in a power position in his singing and songwriting.

Wednesday, November 20th, 2013

s2e8: Hanky Panky Woman

Rayna joins Scarlett on the road for her first tour date with Luke Wheeler and is blindsided when Deacon confronts her about putting too much pressure on Scarlett too soon. Jeff goes to war against Rayna on control of the album she produced with Liam, and Juliette makes a decision about Charlie Wentworth. Gunnar struggles to write a song for a major artist, and gets help from Scarlett-sparking an idea for Rayna that could potentially be liberating for her and life-changing for Gunnar.

Wednesday, December 4th, 2013

s2e9: I'm Tired of Pretending

Maddie wants to spend more time with Deacon and Teddy begins to feel like he's being replaced. Rayna is struggling to strike the right balance with the two dads and their fatherhood responsibilities. Meanwhile, Lamar makes a plea to Rayna to secure Tandy's support as a character witness. Charlie has declared his love for Juliette but she couldn't be more distracted by the fact that Layla's career is stealing some of her spotlight. Zoey and Avery make plans to visit Scarlett on the road in an effort to boost her spirits, though that feeling may be short-lived.

Wednesday, December 11th, 2013

s2e10: Tomorrow Never Comes

Juliette is the main act at Teddy's first annual Music City Festival, but the blowback by the fans and press over the Wentworths throws her for a loop and drags down the event. She demands that Glenn find out who leaked career-killing gossip to the tabloids so she can get ahead of the bad press by calling them out. Rayna is determined to buy herself out of her Edgehill contract once and for all, even though Tandy and Luke counsel otherwise. Should she risk all her assets on Highway 65? Deacon and Gunnar find themselves marginalized at the Festival and team up to to put on an unauthorized show, and Scarlett is freezing out Zoey and Gunnar but drawing closer to Avery.

Wednesday, January 15th, 2014

s2e11: I'll Keep Climbing

In The Aftermath of the death of someone in their circle, lives are changed forever in the world of "Nashville," and a new mystery arises. Kelly Clarkson guest stars as herself and makes Gunnar and Scarlett a once-in-a-lifetime offer. Juliette's reputation takes another body blow as creative video editing seems to show her proclaiming there is no God, further fueling her detractors. Rayna's bought herself out of Edgehill, but the the pressure to succeed is greater than ever, and Deacon struggles to write during his sobriety and relative stability and finds help from Maddie and Daphne.

Wednesday, January 22nd, 2014

s2e12: Just for What I Am

Scarlett's career is on fire as she sings "Free" in concert with Zac Brown, but the demands of fame are burning her out. Rayna asks Deacon to help write a much-needed hit for her new album, and it's like old times--perhaps too much. Concert venues are dropping from Juliette's tour and Jeff, her label head, is furious, and Zoey is bruised by Gunnar's inattention when he gets an invitation to co-write from Jay DeMarcus of Rascal Flatts.

Wednesday, January 29th, 2014

s2e13: It's All Wrong, But It's All Right

Jeff is expecting Juliette to formally apologize for her behavior during her Grand Ole Opry ceremony, but at the last minute she has a change of heart and decides to standby the choices she's made. Luke introduces Rayna to a power player that could help her get her distribution deal off the ground, and then surprises her with a NASCAR that is wrapped in Rayna Jayme's graphics. Deacon is discovering his record deal might not be what he expected and Scarlett's collaboration with Liam gets off to a rocky start. Will and Layla discover they aren't all that different and find comfort in one another's company and Teddy will stop at nothing to reveal Lamar's connection to Peggy's death.

Wednesday, February 5th, 2014

s2e14: Too Far Gone

Rayna welcomes an exonerated Lamar home from prison but Tandy is suspiciously aloof. When Rayna confronts her, Tandy unloads her suspicions about their father. Juliette hides out at Avery's house, avoiding the fan backlash and enjoying their new relationship. But when Deacon hires Avery to be his engineer for his upcoming recording of a live concert at the Bluebird, Juliette is home alone and not loving it. Meanwhile, Scarlett is fired up with creativity and pills.

Wednesday, February 26th, 2014

s2e15: They Don't Make 'Em Like My Daddy Anymore

Juliette's new song, "Don't Put Dirt on My Grave Just Yet," catches the ear of a high-powered, hit-making producer, Howie V. He wants to make her a superstar and brings her to Los Angeles to record, but marginalizes Glenn in the process. Meanwhile, Rayna takes charge with stoicism in the aftermath of recent events, and Scarlett feels lost and alone but finds Liam to be a receptive confidante.

Wednesday, March 5th, 2014

s2e16: Guilty Street

After performing her manifesto song at her Opry induction, major pop labels are vying to sign Juliette, overwhelming Avery, who can barely afford to take her to dinner. Rayna has major money troubles of her own, since Tandy's been bouncing checks around town for Highway 65, affecting Rayna's ability to sign new artists. Deacon finds that life on the road is filled with temptation when he runs into an old friend, Ruth Bennett at an AA meeting, and Scarlett becomes more enmeshed with Liam.

Wednesday, March 12th, 2014

s2e17: We've Got Things to Do

Juliette has a design on how she would like to announce her new deal with Highway 65, however, Rayna has a calculated roll out plan in mind. Juliette's emotions get the best of her at a label party when she starts to feel that she is being upstaged by Rayna's up-and-coming talent. Will offers Deacon and opportunity of a lifetime though he finds the excitement short-lived after noticing Megan's strange behavior. Teddy is at odds with Maddie when he finds out she is fixated with her music, and Will is concerned about his past catching up with him so he makes Layla an offer she can't refuse.

Wednesday, March 26th, 2014

s2e18: Your Wild Life's Gonna Get You Down

Rayna plays a mini-set on Luke's tour, and her girls meet his son, Colt, a moody teenager who has a big social media following. Juliette's growing jealous of Avery's connection to Scarlett and takes it out on her while they tour together to help raise awareness of Highway 65. Will and Layla make a plan that Gunnar refuses to support, and Teddy forbids Maddie from attending Deacon's latest concert.

Wednesday, April 2nd, 2014

s2e19: Crazy

Maddie's news goes viral and stirs a media frenzy including being a "Hot Topic" on "The View." Rayna tries to manage the fallout by going on "Good Morning America" and real-life anchor Robin Roberts guest stars as herself. When Juliette faces more empty seats on her tour, she reaches out to Charlie Wentworth for a favor, and Scarlett's mother, Beverly surprises her daughter in San Francisco.
Season 3
Wednesday, September 24th, 2014

s3e1: That's Me Without You

In the uniquely structured season premiere, a torn Rayna must choose not just between two men, but two directions that her life could take. Juliette, struggling to repair her relationship with Avery, auditions for the leading role of a film biopic. Meanwhile, Scarlett, determined to start fresh, embarks on a road trip home and bonds with an unexpected stowaway, and Will and Layla manage the fallout from his on-camera confession.

Wednesday, October 1st, 2014

s3e2: How Far Down Can I Go

After Will's debut album bumps Rayna's to second place, she's more determined than ever to make Highway 65 and her record a hit. In turn, she decides to pursue some new and unexpected opportunities for publicity, including a visit to "Good Morning America" where her friend Luke Bryan surprises her on stage. Layla becomes especially disgruntled about her fleeting career and pressures her husband Will, Edgehill Records' new #1 artist, to help her rebuild it. Meanwhile, Juliette deals with some life-changing news and prepares for a big audition, where she runs into some familiar competition. Then later, Maddie continues to act out while Deacon deals with the brunt of her adolescence, and Zoey becomes paranoid about Gunnar's past with Scarlett. Her suspicions are only heightened when she finds them collaborating again on a new song

Wednesday, October 8th, 2014

s3e3: I Can't Get over You to Save My Life

Rayna sets a wedding date which reverberates through the lives of those she loves. Juliette struggles to manage her secret which could prevent her from getting a career-defining movie role, and she meets the leading man who would play her love interest if she got the part. Luke's new back-up singer, Pam, makes her presence known, Gunnar gets a visit from his first love, Kiley, and Layla decides to wield her power over Will.

Wednesday, November 12th, 2014

s3e7: I'm Coming Home to You

Rayna's campaign to raise Highway 65's sales and profile finds her performing her latest single on "Dancing with the Stars." But when she agrees to be shadowed by a reporter all weekend for the cover of a magazine, just as Luke hopes to rekindle the romance, she realizes she may have pushed her public access too far. Juliette struggles to prepare for motherhood alone, and Will and Layla brace themselves for the premiere of their reality show.
Season 0
Wednesday, April 23rd, 2014

s0e2: On the Record

Cast members perform songs from the show and songwriters discuss the writing process. Among those performing: Hayden Panettiere; Charles Esten; Clare Bowen; and Sam Palladio.
Season 2
Wednesday, April 30th, 2014

s2e20: Your Good Girl's Gonna Go Bad

Scarlett's breakdown is driving everyone to point fingers at who might be responsible for her condition. Deacon is blaming Rayna for pushing her too fast, Rayna is blaming Juliette and for forcing her on stage and Beverly thinks Rayna is only interested in seeing her label succeed. It always feels like everyone has an axe to grind with Juliette so she turns to Avery, only to find him preoccupied with Scarlett. During her moment of weakness, she is driven right into the hands of her nemesis. Meanwhile, Layla tries to convince Will to join her in a reality show.

Wednesday, May 7th, 2014

s2e21: All or Nothing with Me

Rayna organizes a charity concert at Fort Campbell after finding out Luke has been injured in Afghanistan, forcing him to cut his tour short. Deacon and Maddie are brought closer together as they chart a new course for their future. Teddy is beginning to feel like his family is slipping further and further away from him. Juliette is racked with guilt knowing that her back is against the wall after Jeff threatens to go to Avery with the truth. Gunnar is feeling pressure to reveal a secret about Juliette to Avery until Zoey urges him that his professional and private life should be kept separate. And Will and Layla begin shooting their new reality series.

Wednesday, May 14th, 2014

s2e22: On The Other Hand

As Will Lexington's album climbs the chart with the help of Jeff Fordham's deep pockets, Rayna enlists Teddy's help to plan a huge, free concert at LP Field to draw attention to her Highway 65 debut. She will perform with Luke Wheeler and duet with Juliette before thousands of fans. Zoey, Avery and Gunnar rock out at a benefit for Deacon's favorite charity, Sober House, and Avery plans to serenade Juliette with a song he wrote for her. But when he attempts to sing it, he doesn't understand why she is not present, and Scarlett makes a decision about her future in Nashville.
Season 3
Wednesday, October 15th, 2014

s3e4: I Feel Sorry for Me

Rayna goes after Sadie Stone as a new artist to sign to her record label Highway 65. In order to woo her, Rayna invites Sadie out for a girl's day on the town, which she thinks may help to seal the deal. Juliette continues to try her best at hiding her pregnancy but when she starts to have stomach pains and mood swings, she has to let down her wall. Later, an assertive and sultry backup singer takes a liking to Deacon but his down in the dumps attitude does nothing but shut her out. Then, Zoey witnesses odd behavior between Scarlett and Gunnar and lets her inner jealousy get the best of her. She tries to mend things at the Bluebird but they end up backfiring terribly. Meanwhile, Avery continues to use alcohol to drown his sorrows, which only takes him to new lows, and Jeff has ulterior motives as he pursues Teddy and the girls.

Wednesday, October 22nd, 2014

s3e5: Road Happy

Juliette frets over hiding her pregnancy before filming a sex scene with movie star Noah West. Rayna flies her kids to meet her on tour, but learns that her increased fame now that she's engaged to Luke is making Daphne feel entitled, while Maddie is simply miserable. Kiley tells Gunnar she's leaving town, Will starts making careless mistakes in his personal life, and Scarlett is inspired by a homeless man she meets while songwriting

Wednesday, October 29th, 2014

s3e6: Nobody Said It Was Going to be Easy

After a health scare, Juliette decides to ask Avery if he wants to be a part of her life as the baby's father. Then, Gunnar deals with some recent life changing news and seeks advice from Scarlett. Meanwhile, Rayna sweeps the nominations for the CMA Awards but is up against her fiancé Luke for the most prized "Entertainer of the Year" category. Her glory is abruptly interrupted when she finds out Maddie and Daphne have been misbehaving back at home. While out on tour, Deacon finds his purpose in music thanks to the help of Pam, a backup singer in Luke's band and country music star Sara Evans guest stars as herself, performing "Put My Heart Down" with Luke. Later, Scarlett befriends an unlikely new friend.

Wednesday, November 19th, 2014

s3e8: You're Lookin' at Country

It's country music's biggest night of the year at the 48th Annual CMA Awards in Nashville. Up for a total of 11 awards between them, Rayna and Luke's evening begins with an unfortunate hitch when Rayna stumbles upon Luke's pre-nuptial agreement documents, causing for some friction between them. Later, Avery's parents are in town for the show as Avery is nominated for a CMA Award. What should be a lovely reunion takes a turn when Avery introduces them to Juliette. Meanwhile, Gunnar and Zoey's relationship is tested and Deacon and Scarlett watch the awards from home.

Wednesday, December 3rd, 2014

s3e9: Two Sides to Every Story

Rayna continues to pull out all stops in self-promotion, this time by agreeing to do a televised Christmas special from her home for charity, with Luke and the children. But when she invites Deacon to join in, things get awkward fast. Her magazine cover story has reverberations for her personal life. Meantime, it's Nashville's Winterfest and Zoey, Gunnar and Avery have an opportunity to perform. With Scarlett's coaching, Terry sings for the crowd and blows them away, but cannot handle the limelight. Will and Layla go to Winterfest and each find solace, but separately.

Wednesday, December 10th, 2014

s3e10: First to Have a Second Chance

When Luke finally returns home after wrapping up his Moon or Shine Tour just days before he and Rayna tie the knot, Rayna starts to feel conflicted about leaving their kids to go out on the road again, especially after she discovers that Luke has been making parenting decisions without her. Meanwhile, Will invites Layla on tour in an effort to keep her close but when he sees her flirting with his boss at a party, he begins to feel like he's losing control of their situation. Then, Teddy uses his Mayoral powers to track down a recent flame and Sadie crosses paths with an unexpected ex. Later, after getting some advice from his mom, Avery makes an unexpected decision.

Wednesday, February 4th, 2015

s3e11: I'm Not that Good at Goodbye

Now that Rayna has cancelled their wedding, Luke is not going quietly, and Rayna's own daughters don't take the news well, either. Juliette and Avery adjust to married life with a few bumps along the way, and Gunnar fights for custody of Micah. Sadie tries to take control of her own problems with her ex by buying a gun, and Deacon gets dire news about his medical condition.

Wednesday, February 11th, 2015

s3e12: I've Got Reasons to Hate You

Rumors start to fly surrounding Rayna and Luke's breakup but Rayna's determined not to let them bring her down and finds a way to return to the public eye on her own terms. Juliette's pregnancy is starting to make her stir crazy and she's eager to get her career back on track, but at what cost? Then, Scarlett plans a surprise for Deacon, but it doesn't pan out as she had hoped. Later, Gunnar travels to Austin to mend fences with his estranged nephew and Teddy stops by Maddie and Daphne's recording session at school where he unexpectedly runs into Jeff.

Wednesday, April 1st, 2015

s3e16: I Can't Keep Away from You

Rayna refuses to let Deacon wallow in his condition, but her support only frustrates him and pushes him away. Meanwhile, Avery, Gunnar and Scarlett are opening for Rascal Flatts on tour, but, when her past public meltdown haunts her on social media, Scarlett becomes wary of performing again. Meanwhile, Jeff and Layla continue to blur the lines of business and pleasure, sending Layla into a state of confusion. Will is enjoying his new writing partner Kevin, but hits a bump in the road when Kevin is mysteriously no long available. Then, Sadie finds herself in a dangerous situation with her relentless ex-husband.

Wednesday, April 29th, 2015

s3e20: Time Changes Things

Rayna travels to Natchez, MS to try to help Deacon and we learn how her past with him affects his life-and-death struggle today. Jade invites Luke, Jeff and Layla to her beachfront bash in her home in Malibu which turns into an all-night rager. Back in Nashville, new mom Juliette tries to jump-start her career with a last-minute rooftop concert, and Kiley returns to Gunnar with news that changes everything.

Wednesday, February 25th, 2015

s3e14: Somebody Pick Up My Pieces

After Rayna reveals Jeff's indiscretions to the board members, Edgehill Republic begins to fall apart. Deacon considers a clinical trial. Scarlett reconnects with Gunnar. Juliette poses for a magazine spread.

Wednesday, March 4th, 2015

s3e15: That's The Way Love Goes

The Grand Ole Opry honors Rayna on a special anniversary, so she asks Deacon and her daughters to sing with her. Meanwhile, Will's distressed to be collaborating with a gay man on a songwriting project and Sadie shares her private ordeal on national TV.

Wednesday, April 8th, 2015

s3e17: This Just Ain't a Good Day for Leavin'

Juliette is excited about Rayna throwing her a star-studded baby shower, but when Rayna gets pulled into Sadie's drama instead of hosting, Juliette starts her own mama drama. Bucky and Luke Wheeler both are interested in signing rising singer/songwriter Ron Pope. Gunnar is upset by Scarlett growing closer to Dr. Rand, and Sadie finds a kindred spirit in an old friend

Wednesday, April 15th, 2015

s3e18: Nobody Knows but Me

With the arrival of his former fiancee in Nashville, Jeff finds himself face-to-face with Jade St. John. A powerhouse pop-star in Nashville on tour, Jeff is forced to revisit his past and work with the woman who once played a large role in both his personal and professional lives. Meanwhile, Deacon continues to cope with his cancer diagnosis - a secret that weighs heavily on his family -- especially Maddie, who struggles with the news herself. While Juliette is eager to get back to work following the birth of her daughter, she quickly finds balancing motherhood and a music career challenging to say the least, while Avery struggles with his own responsibilities and his Triple Exes bandmates
Season 4
Wednesday, September 23rd, 2015

s4e1: TBA
Season 3
Wednesday, February 18th, 2015

s3e13: I'm Lost Between Right and Wrong

Rayna learns about Jeff's plan to sign Maddie to Edgehill. Luke and Gunnar come up with some revenge songs.

Wednesday, April 22nd, 2015

s3e19: The Storm Has Just Begun

The brightest stars of Nashville have gathered in support of Teddy's music education initiative, "Note By Note," where Juliette plans her return to the spotlight – and Layla finds herself thrust into it – alongside Jade St. John. At the gala, Rayna, Deacon, Maddie and Daphne get ready to take the stage and perform, but before they can, Deacon receives the call he's been waiting for containing some life-changing news.

Wednesday, May 6th, 2015

s3e21: Is the Better Part Over

Juliette is back in the news – and back to feeling like her old self -- following her rooftop performance high above Highway 65, but while she enjoys the attention, her team has growing concerns that she may be suffering from postpartum depression. Meanwhile, Will is surprised with an unexpected visit from his father, and learns his private life is about to become public when a tabloid obtains photos of Will and Kevin together. With Deacon's cancer diagnosis no longer a secret, he and Rayna grapple with the future and the real possibility that their time together will be cut short.

Wednesday, May 13th, 2015

s3e22: Before You Go Make Sure You Know

When Juliette becomes so focused on her album that she puts it ahead of everything else, Avery makes a major decision; Rayna and the girls stand by Deacon as his life hangs in the balance.
Season 4
Wednesday, October 14th, 2015

s4e4: The Slender Threads That Bind Us Here

Rock star Marcus Keen makes demands on Rayna as she struggles to tend to those around her. Layla and Jeff get into a lover's quarrel. Jeff arranges for a journalist to shadow Juliette on tour, but after another emotional setback, she leans on pills and alcohol to get through her days, and Zoey returns to see Scarlett

Wednesday, October 21st, 2015

s4e5: Stop the World (and Let Me off)

Rayna pushes back on Layla's romantic relationship with Jeff, and Markus pushes back on his producer, Avery — which does not go well. Maddie joins Colt on Luke's tour, giving the teens opportunities for more freedom than Maddie can handle. She turns to Juliette for advice and shocks Luke with the results. Meanwhile, Deacon and Scarlett head to Natchez despite their falling-out, and Gunnar enlists Kevin and Will's help as "wingmen" in an effort to pick up a new woman.

Wednesday, October 7th, 2015

s4e3: How Can I Help You Say Goodbye

A second aneurysm leaves Beverly brain dead and Deacon consumed with guilt, while Scarlett is forced to decide whether or not to keep Beverly on life support. Meanwhile, Juliette continues a destructive pattern of erratic behavior, pushing Avery to make the heart-wrenching decision to file for divorce.

Wednesday, November 18th, 2015

s4e8: Unguarded Moments

Rayna wants to turn down Sony's contract offer for Maddie to be a solo artist and finds her family life distracting her from her work with Markus. Luke is desperate to regain Colt's trust; Gunnar's girlfriend, Erin, causes issues on tour with Scarlett and Avery scrambles to make money doing insipid jingles.
Season 0
Wednesday, December 16th, 2015

s0e4: On the Record (3)

Fans of the hit ABC series "Nashville" get a rare and intimate look at life on the road when cameras follow cast members Clare Bowen, Chris Carmack, Charles Esten, Sam Palladio, Aubrey Peeples and Lennon and Maisy Stella, as they tour around the country performing the music of "Nashville" as well as original material they have written, during sold-out concerts and appearances.
Season 4
Wednesday, December 9th, 2015

s4e10: We've Got Nothing but Love to Prove

It's a big morning for Markus Keen when "Good Morning America" comes to Nashville to broadcast a live concert in support of his new album launch, but come show time, Markus finds he's anything but ready. Meanwhile, Luke's relationship with Colt continues to be strained while Luke learns of another setback to launching his brand. And living in the same house, but feeling further apart than ever, Rayna and Deacon face a big decision.

Wednesday, May 25th, 2016

s4e21: Maybe You'll Appreciate Me Someday

Wednesday, May 4th, 2016

s4e18: The Trouble with the Truth

Rayna and Deacon fight to regain the trust of a determined Maddie as she seeks independence, but their efforts are undermined by someone they thought was an ally. Scarlett and Gunnar disagree on the history of their musical partnership during a press interview. Luke tries to do the right thing for an artist he admires, but it ends up backfiring. Country music star Kelsea Ballerini performs "Peter Pan" in a guest appearance as herself,
Season 5
Thursday, December 15th, 2016

s5e1: The Wayfaring Stranger

Rayna and Deacon face a new normal; the shocking news about Juliette creates a wave of emotions throughout Nashville; Rayna sets off on a journey of discovery.

Thursday, January 5th, 2017

s5e2: Back in Baby's Arms

Rayna approaches Deacon about making a concept album together; Scarlett can't trust Gunnar; Juliette seeks out her guardian angel.