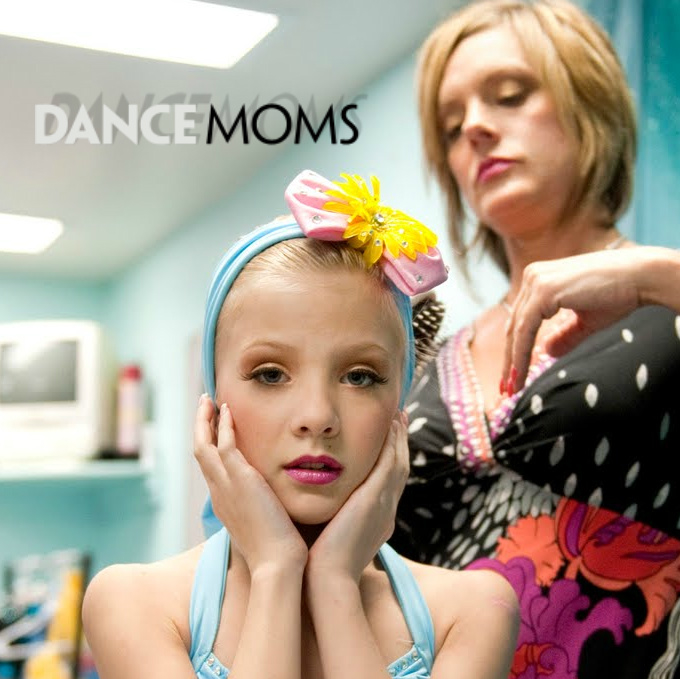 Season 3
not specified

s3e8: Worst Birthday Party Ever!

Tuesday, February 26th, 2013

s3e9: Bye Bye Baby
Season 0
Tuesday, June 5th, 2012

s0e1: Abby's Most OMG Moments

Tuesday, June 5th, 2012

s0e2: Abby's Most OMG Moments
Season 1
Wednesday, July 13th, 2011

s1e1: The Competition Begins

Meet the dance instructor Abby Lee Miller, the dance moms and their daughters as the competition season begins and they travel from Pittsburgh to Phoenix. 

Wednesday, July 20th, 2011

s1e2: Wildly Inappropriate

The Dance Moms allow their girls to wear outfits at the competition that are revealing and the scandal threatens to bring down the house. Abby's attempt to turn up the competition heat blows the audience away with what some may call an inappropriate dance number. She hopes it will give them their next big win. But it could backfire.

Wednesday, July 27th, 2011

s1e3: Cheerleader Blues

The Dance Moms need to win this week's competition to stay in the game, but chaos ensues when Mom Kelly's daughter wants to drop out of dance as she hurts her hip and she wants to be a cheerleader. Kelly convinces her daughter to stay in dance, pushing her so far that it may cause permanent injuries. 

Wednesday, August 3rd, 2011

s1e4: Stealing the Show

Abby gives each girl a solo dance for their next competition. However, she gives two solos to her star dancer, Maddie, clearly providing her with an advantage over the others. Christi has seen this too many times and lashes out at Abby in uncontrollable fury. 

Wednesday, August 10th, 2011

s1e5: When Stars Collide

The Abby Lee Dance Company is on the edge after learning that a big Broadway casting director will attend their annual showcase, an exhibition in which she shows off her accomplished dancers. Abby's desire to push the girls to the max could have catastrophic effects if they don't do their best. 

Wednesday, August 17th, 2011

s1e6: Dying to Dance

On their way to a big competition, Christi finds out that her grandmother has been admitted into a hospital. She now must choose whether to go to the hospital to sit by her grandmother's side or go to the dance competition. 

Wednesday, August 24th, 2011

s1e7: She's a Fighter

Abby's typecasting of Nia sends Holly over the edge. Meanwhile, minister Dawn returns to the Abby Lee Dance Company and Abby is fully prepared for any heated argument that might erupt. 

Wednesday, August 31st, 2011

s1e8: Love On The Dance Floor

Abby plays cupid with Brooke and her duet partner.

Wednesday, September 7th, 2011

s1e9: From Ballerinas to Showgirls

Chloe finds herself at the top of Abby's pyramid; Cathy prepares her dancers to compete against Abby's dancers.

Wednesday, September 14th, 2011

s1e10: Cathy Brings It On!

Kelly secretly hires choreographers to give Brooke and Paige an edge; Cathy's dancers arrive to go head to head against Abby's dancers.

Wednesday, September 28th, 2011

s1e11: It All Ends Here

After competing all season, it all boils down to the National Title Competition. Abby's dancers have been on a losing streak and this is their last chance to prove they can win. Meanwhile, Melissa leaves the competition early to go on vacation. Her ex-husband, Kurt, steps in as a "Dance Dad", sending Melissa into a panic. 

Wednesday, October 5th, 2011

s1e12: There's Only One Star

Abby brings everyone back to Los Angeles and the girls audition and are cast for a music video. The girls compete against each other because only one girl can be cast as the lead in the video. The directors end up casting Chloe as the lead because she looks the part. 
Season 2
Tuesday, January 10th, 2012

s2e1: Everyone's Replaceable

Abby holds an open audition for her dance group; Holly's career schedule forces her to miss Nia's rehearsals and competitions; Abby must come to terms with Chloe's growing success.

Tuesday, January 17th, 2012

s2e2: Return of the Candy Apples

Abby's dancers compete against Cathy's Candy Apples but Cathy sets a trap for the moms by inviting them to an anonymous cocktail party.

Tuesday, January 24th, 2012

s2e3: Brooke's Turning Point

Brooke tries out for cheerleading leaving Abby and the other dancers in the lurch the day before a big competition. Their group dance "Born to Dance" places 1st.

Tuesday, January 31st, 2012

s2e4: No One Likes a Bully

Abby choreographs a bully-themed dance; Abby replaces Brooke with Payton. Abby puts Jill, Kendall, Leslie, and Payton all on probation as they batttle for the one spot on ALDC. Payton ruined her chances with staying on their dance team by making a rude comment to the group stating that she is better than all the other dancers because she is the oldest. Jill doesn't think Payton should be on the team because she is too tall and stands out from the other girls. Their group dance "What Comes Around" places 1st in the age group but it is not seen on the show.

Tuesday, February 7th, 2012

s2e5: Brooke's Back

Brooke's return leaves no room for Payton. Abby announces Kendall is off probation, but Jill gets put on. The group dance "Avalanche" places 2nd overall.

Tuesday, February 14th, 2012

s2e6: Wardrobe Malfunction

Abby puts the moms in charge of making the girls costumes for the competition. Meanwhile, Dance Explosion is canceled so Abby finds another competition, in Texas. Jill turns out to have bought an expensive dance outfit for Kendall, leading to a conflict with Abby. Maddie is injured in a fall while performing and has to be carried off the floor.

Tuesday, February 21st, 2012

s2e7: Bullets and Ballet

The moms go ballistic when Abby choreographs a flashy number complete with guns. Maddie finds herself at the bottom of the pyramid is determined to dance her way back on top.

Tuesday, February 28th, 2012

s2e8: The Runaway Mom

After Kendall is put back on probation, Jill has had enough and decides to take Kendall to dance for Candy Apple's Dance Center. Abby finds out when she runs into the Candy Apple's dance team during this week's competition. Holly leaves the competition early.

Tuesday, March 6th, 2012

s2e9: Topless Showgirls

The Dance moms think Abby has pushed the envelope too far when she creates a dance number where the girls are made to appear nude. Cathy offers Chloe a chance to be in a commercial for her husband's beef jerky business. This episode also known as "Costume Drama" and "Fanning the Flames" and was pulled by Lifetime due to controversy.

Tuesday, March 13th, 2012

s2e10: Miami Heat Wave

The dance company heads for the steamy climes of South Beach; the mothers scramble when Paige's foot surgery creates an open position.

Tuesday, March 20th, 2012

s2e11: Melissa Pleads the 5th

Christi and Kelly continue to meddle in Melissa's private life; Abby choreographs a number to bring awareness to the plight of the homeless; Holly takes a leave of absence from her job.

Tuesday, March 27th, 2012

s2e12: Waiting for Joffrey

The dance company is on edge after learning that a scout will be attending the upcoming competition; Abby pits the girls against each other by creating two trios; Nia pushes herself too hard.

Tuesday, April 3rd, 2012

s2e13: Abbygeddon

The second season ends with Abby's dancers competing in the regionals and for a scholarship with the Joffrey Ballet School. Unfortunately for her, the Candy Apples also compete

Tuesday, June 5th, 2012

s2e14: The Battle Begins

With Maddie out until she regains confidence, the fate of Abby Lee Dance Company lies in Chloe's hands. Meanwhile, the mothers begin to lose trust in Abby's choreography.

Tuesday, June 12th, 2012

s2e15: Night of the Living Dancers

Kelly makes a drastic decision moments before her daughters take the stage; Maddie struggles to find confidence; Holly tries to create elaborate costumes for a group number.

Tuesday, June 19th, 2012

s2e16: I Know What You Did Last Competition

Melissa faces a cheating scandal. Kelly's daughters are put on probation. Payton rejoins the competition team causing tension among the Dance Moms.

Tuesday, June 26th, 2012

s2e17: Maddie Has A Secret

Tuesday, July 10th, 2012

s2e18: How Do You Like Them Apples?

After their humiliating loss to Candy Apple's Dance Center, ALDC prepares to beat them once and for all. Kelly secretly re-choreographs Paige's solo after finding it has little technique and doesn't showcase her ability. Chloe rehearses a solo called "Angry Bird". At the competition, Paige finds herself pitted against Kendall. Luckily, Kendall's solo is a mess and while Paige places seventh, Kendall does not place at all. Chloe places sixth. The group routine "Land Unforgiving" places fifth, but Abby is happy as they still defeated CADC. Jill gets into an argument with Cathy and decides that Candy Apple's isn't the place for her.

Tuesday, July 17th, 2012

s2e19: Worst Birthday Party Ever!

Tuesday, July 24th, 2012

s2e20: Guess Who's Back

Tuesday, August 7th, 2012

s2e21: Break A Leg

Tuesday, August 14th, 2012

s2e22: Revenge of the Candy Apples

Tuesday, August 21st, 2012

s2e23: The Recital to End All Recitals

Tuesday, August 28th, 2012

s2e24: New Girl In Town

Paige is allowed to dance again after her foot is healed. New girl Nicaya and her mother join the team, creating competition between her and Paige for a position in the group number. Meanwhile, Nia and Chloe's solos place very poorly, although the group dance places first.

Tuesday, September 4th, 2012

s2e25: Solo Fever

Tuesday, September 11th, 2012

s2e26: Nationals 90210

Tuesday, September 18th, 2012

s2e27: Reunion, Part 1

Tuesday, September 25th, 2012

s2e28: Reunion, Part 2
Season 3
not specified

s3e1: The Battle Begins

not specified

s3e2: Night of the Living Dancers

not specified

s3e3: I Know What You Did Last Competition

not specified

s3e4: Maddie Has A Secret

not specified

s3e5: Abby's Dance-a-Thon

not specified

s3e6: How Do You Like Them Apples?

not specified

s3e7: Guess Who's Back

Tuesday, March 5th, 2013

s3e10: All's Fair in Love and War

not specified

s3e11: The Recital to End All Recitals

Tuesday, March 26th, 2013

s3e13: She's a Maniac

not specified

s3e15: Reunion, Part 1

Tuesday, April 16th, 2013

s3e16: May I Have This Dance?
Season 0
Tuesday, July 3rd, 2012

s0e3: Abby's Dance-a-Thon
Season 3
Tuesday, April 23rd, 2013

s3e17: The View from the Top

Tuesday, April 30th, 2013

s3e18: #318

Tuesday, June 11th, 2013

s3e23: Two Girls, One Solo

Abby decides to have Maddie and Chloe dance the exact same solo shocking the moms to see who really is the best dancer at the Abby Lee Dance Company. Chloe ends up winning first, and Maddie ends up taking second. Abby Is upset with Maddie losing, she go to the competion director and tells them the counted it wrong, the director comes in an gives Maddie first and Chloe second. Abby then lies saying the director pointed the mistake out but when the director comes back in the room and thanks abby for pointing out the mistakes the moms look horrified. Asia and Mackenzie go head to head as well, but Asia comes in first, while Macknenzie places second. After last week's big fight Christi and Kelly find that their friendship will never be the same again. Abby notices this and makes the two go down stares and die the pink ribbon together alone. Meanwhile, the theme of the group dance causes Abby to have painful memories to Abby and the moms.

Tuesday, June 18th, 2013

s3e24: An Apple a Day Keeps Abby Away

Cathy is determined to rebuild her team and the trust she once had. Cathy recruits new dancers, including her old friend and Abby Lee Dance Company nemesis, Patsy.

Tuesday, June 4th, 2013

s3e21: Boy Crazy, Mom Crazy

Abby plays matchmaker when Brooke dancers with the Seniors and she sets her up on a date. meanwhile Kelly is keeping to herself and Jill is not happy with it. Cathy discovers there is a rotten apple and asks Gino and Mikey to leave, Mikey asks Abby if there is a place on her team for Gino, and it is told the Gino has a crush on Maddie as they are always texting, he gave her a valentine and kissed her cheek backstage.

Tuesday, June 4th, 2013

s3e22: Boy Crazy, Mom Crazy

Abby plays matchmaker when Brooke dancers with the Seniors and she sets her up on a date. meanwhile Kelly is keeping to herself and Jill is not happy with it. Cathy discovers there is a rotten apple and asks Gino and Mikey to leave, Mikey asks Abby if there is a place on her team for Gino, and it is told the Gino has a crush on Maddie as they are always texting, he gave her a valentine and kissed her cheek backstage.

Tuesday, June 25th, 2013

s3e25: No Room for Rotten Apples

The pressure is on for Candy Apple's team and no one's spot is guaranteed. Rick is worried when Jalen is assigned his first contemporary solo. Cathy battles it out with Anthony as she struggles to gain back control of her studio.

Tuesday, July 2nd, 2013

s3e26: Chatter, Part 1

This week the all-new Dance Moms Chatter talk show welcomes special guests Dance Moms Christi, Kelly and Patsy, along with celebrity blogger Nadine Rajabi and comedian Lisa Arch. During the special the moms will mash up with the famous fans, discuss and dispel rumors and provide some snarky chatter about past events. Chatter specials will be interactive, fans can tweet along using #DanceMoms for a chance to see their posts live.
Season 4
Tuesday, January 28th, 2014

s4e5: No One is Safe

Holly is worried about Nia's featured role in the group dance. Abby's second open call audition has all the moms and girls on edge. Meanwhile, Melissa finds herself on the defensive when the other moms attack her choice to homeschool Maddie and MacKenzie.

Tuesday, February 11th, 2014

s4e7: Big Trouble in the Big Apple

With her final open casting call in NY, Abby announces that she's putting together an entirely new all-star, junior elite team to rival her own girls. The Abby Lee Dance Company has two competitions this week and Paige has more dances than ever. Abby will do anything to win and makes a bold decision, leading to a clash with Dance Mom Kelly.

Tuesday, February 18th, 2014

s4e8: Wingman Down

With Kelly and her daughters no longer at the studio, a lonely Christi isolates herself from the other moms. Kira and her daughter Kalani are tested for a spot on Abby's competition team. Holly worries that Nia won't be prepared for her solo due to Abby's inattentiveness.

Tuesday, March 11th, 2014

s4e11: Blame It on the New Girl

Abby's new completion team is taking shape and another new girl and dance mom tryout. Cathy readies her team to end the Abby Lee Dance Company's winning streak. Meanwhile Abby's girls dance at a nursing home to help cheer up her ailing mother.

Tuesday, April 15th, 2014

s4e16: Presenting My New Team

Abby presents her new junior elite competition team during pyramid, which shocks the original squad and their moms. With the new troupe in place, original dancers are pitted against their new counterparts.

Tuesday, July 29th, 2014

s4e20: Double the Moms, Double the Trouble
Season 0
Tuesday, January 6th, 2015

s0e12: Girl Talk 2

Hosted by singer and actress Coco Jones, in this second installment of "Girl Talk," the "Dance Moms" girls will answer their fans' questions, covering topics like boyfriends, rivalries...and Abby. We'll see clips of the girls' favorite dances over the years and even learn how to perform some of their signature moves.
Season 4
Tuesday, August 5th, 2014

s4e21: Kiss of Get off the Pot

Tuesday, September 30th, 2014

s4e30: Hollywood Here We Come, Part 1

While the ALDC is in Los Angeles to compete at Nationals, Abby makes a major announcement that will forever change the Elite Competition Team. Ex-ALDC dance mom, Jeanette, stalks the team to LA and vows revenge against Abby. Cathy schemes to ruin Abby's west coast visit by challenging the ALDC to a dance off, and everyone is shocked when Abby's moves steal the show.
Season 5
Tuesday, February 3rd, 2015

s5e5: Hello Hollywood, Goodbye Abby

The ALDC has finally arrived in Los Angeles and they are in for their toughest competition yet, when a top West Coast dance studio declares war. Abby sets up an audition with a casting agent for the girls but the pressure of LA is too great and Abby suffers her biggest breakdown yet, forcing the moms to question her abilities as a manager.

Tuesday, March 10th, 2015

s5e10: The New Maddie?

Tuesday, March 3rd, 2015

s5e9: The Great Divide

It's the ALDC's first week back in Pittsburgh and the pressure is on to win after the girls' lackluster showing in Los Angeles. There is division amongst the moms based on who stayed to film the MattyB music video and who left. In true Abby fashion, the group dance is a personal attack against the mothers. Making matters worse, Abby discovers the team is in the teen division and one older member must sit out, sparking even more controversy amongst the team.

Tuesday, March 17th, 2015

s5e11: Nia's Last Chance

This week the ALDC heads to Philadelphia with a risky non-lyrical routine. Nia, Maddie and Kendall are feeling the pressure with solos, and Nia is singled out with an ultimatum from Abby. Frustrated with the lack of support from Melissa and Jill and tired of being victimized by Abby, Holly makes friends with two unlikely allies, which angers and alienates the original moms.

Tuesday, April 28th, 2015

s5e17: Showdown in Pittsburgh, Part 1

With the ALDC back in Pittsburgh to wrap up loose ends before they make the full-time move to LA, Abby has scheduled the team to attend both a competition and a convention. Adding to the pressure, two of Abby's biggest enemies, Cathy and Jeanette will be at the competition and are confident they can win. Meanwhile, Holly has organized a premiere party for Nia's music video, but not everyone in the ALDC is excited about her big debut.

Tuesday, May 5th, 2015

s5e18: Showdown in Pittsburgh, Part 2

Tuesday, May 12th, 2015

s5e19: Seeing Stars

Abby Lee Miller and the Dance Moms get together to talk about the highs and lows of this season and try to hash out any remaining bad feelings. Holly and Abby go head to head once again; Abby's nemeses, Cathy and Jeanette, stir things up; and Maddie talks about her newfound fame and upcoming events. On the verge of leaving for Australia and then Los Angeles for three months, the team reflects on all that they've learned, shared and lost during their time at the ALDC, and Abby reveals her plans for world domination.

Tuesday, June 30th, 2015

s5e25: Abby vs. Kira

The moms push Abby for more dance classes after losing two competitions in a row. When Abby refuses to take responsibility for the girls' lack of training, Kira takes matters into her own hands and brings in outside help, which infuriates Abby. Meanwhile, Abby pressures Maddie to regain her standing as ALDC's top dancer.
Season 6
Tuesday, January 5th, 2016

s6e1:

Tuesday, March 15th, 2016

s6e11: The Maddie Rumor

Maddie is nominated for a People's Choice Award and the media is abuzz with rumors that she is leaving the ALDC. The moms are furious when Abby invites an unexpected guest as her date to the People's Choice and the biggest moment of Maddie's professional career. The minis are back, along with a new mom whose daughter's attitude causes a dance catastrophe.
Season 7
Season 6
Tuesday, September 6th, 2016

s6e22: Girl Talk Part 3

To kick off season 6B of Dance Moms, Jai Rodriguez and the girls of the ALDC are back to give the latest on Abby and the team and debut some brand new dances. Some super fans get up close and personal with the girls, the newest member of the Mini Team is introduced. The Dads of Dance Moms finally make an appearance to spill their daughters' deepest secrets and show off their own moves.

Tuesday, September 6th, 2016

s6e23: Abby's New Beginning

The season begins with a newly motivated Abby Lee promising to no longer overlook her remaining dancers now that her star, Maddie, is gone. Abby assigns Brynn and Kendall head-to-head duets with boy partners and Brynn struggles with the pressure. When Jess calls out Abby's favoritism for Brynn, Ashlee hits her boiling point.

Tuesday, September 13th, 2016

s6e24: Nia & Kendall Face Off

not specified

s6e25: