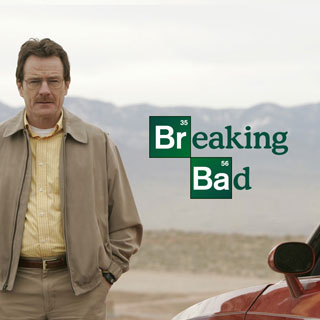 Season 0
Tuesday, February 17th, 2009

s0e2: Wedding Day

Walt and Hank have a talk before Hank gets married.

Tuesday, February 17th, 2009

s0e3: TwaughtHammer

Jesse and Badger make a behind the scenes video about their band "TwaughtHammer" and show a music video for their song "Fallacies."

Tuesday, February 17th, 2009

s0e4: Marie's Confession

Marie records a video diary.

Tuesday, February 24th, 2009

s0e5: The Break-In

Walt and Badger attempt to retrieve a vacuum cleaner stuffed with drug money from an elderly woman's locked garage.

not specified

s0e6: Season 4 Sneak Peak
Season 1
Sunday, January 20th, 2008

s1e1: Pilot

When an unassuming high school chemistry teacher discovers he has a rare form of lung cancer, he decides to team up with a former student and create a top of the line crystal meth in a used RV, to provide for his family once he is gone.

Sunday, January 27th, 2008

s1e2: Cat's in the Bag...

Walt and Jesse attempt to tie up loose ends. The desperate situation gets more complicated with the flip of a coin. Walt's wife, Skyler, becomes suspicious of Walt's strange behavior.

Sunday, February 10th, 2008

s1e3: ...And the Bag's in the River

Walter fights with Jesse over his drug use, causing him to leave Walter alone with their captive, Krazy-8. Meanwhile, Hank has a scared straight moment with Walter Jr. after his aunt discovers he has been smoking pot. Also, Skylar is upset when Walter stays away from home.

Sunday, February 17th, 2008

s1e4: Cancer Man

Walter finally tells his family that he has been stricken with cancer. Meanwhile, the DEA believes Albuquerque has a new, big time player to worry about. Meanwhile, a worthy recipient is the target of a depressed Walter's anger, and Jesse makes a surprise visit to his parents home.

Sunday, February 24th, 2008

s1e5: Gray Matter

Walter and Skyler attend a former colleague's party. Jesse tries to free himself from the drugs, while Skyler organizes an intervention.

Sunday, March 2nd, 2008

s1e6: Crazy Handful of Nothin'

The side effects of chemo begin to plague Walt. Meanwhile, the DEA rounds up suspected dealers.

Sunday, March 9th, 2008

s1e7: A No-Rough-Stuff-Type Deal

Walter accepts his new identity as a drug dealer after a PTA meeting. Elsewhere, Jesse decides to put his aunt's house on the market and Skyler is the recipient of a baby shower.
Season 2
Sunday, March 8th, 2009

s2e1: Seven Thirty-Seven

Having completed their deal with Tuco in the junkyard, Walt and Jesse realize just how crazy and violent he can be. Jesse is convinced that he has seen Tuco's black SUV going up and down his street. Walt puts it down to paranoia—until he sees a black SUV parked just down the block from his house. Jesse's solution is to shoot Tuco before he kills them, but Walt has a better idea using ricin. Panic sets in, however, when they think Tuco is killing his associates. Hank reviews the security surveillance footage of the warehouse break-in without realizing it's Walt and Jesse. Skyler tells Hank about Marie's shoplifting, and learns she is getting therapy for kleptomania. Tuco kidnaps Jesse and Walt.

Sunday, March 15th, 2009

s2e2: Grilled

Having been kidnapped by a crazed Tuco, Walt and Jesse are held prisoner by him in a desert shack where he often hides out and takes care of his sick uncle. Walt's brother-in-law Hank and the DEA have rolled Tuco's entire organization, and Tuco thinks that one of his associates ratted him out. Walt unsuccessfully tries to feed Tuco the poison he prepared. Hank, meanwhile, takes a bit of time off to look for Walt. Skyler is sick with worry and has been distributing handbills with Walt's photo. Hank remembers that Jesse Pinkman was Walt's source of marijuana and tries to track him down. Tuco's mute wheelchair-bound uncle alerts him to the fact that his prisoners are up to something, he takes them outside and plans to kill Jesse, Walt and Jesse manage to wound Tuco and escape. Hank shows up looking for Jesse, and is confronted by a wounded Tuco. A brief firefight ensues and Hank shoots Tuco dead.

Sunday, March 22nd, 2009

s2e3: Bit by a Dead Bee

Having gotten away from Tuco, Walt and Jesse now have to get home and explain where they have been. Walt has a plan and they split up. He goes to a supermarket and takes off all of his clothes while walking around the aisles. He is hospitalized and claims to have no memory of where he has been for the last few days. Jesse returns to his house to clean out the basement and get rid of the RV. When the DEA track him down, he claims that he has been shacked up with a prostitute for the weekend. The police don't believe him and think they know how to nail him: they bring in Tuco's uncle to identify him, but he refuses to cooperate with the authorities.

Sunday, March 29th, 2009

s2e4: Down

Walt and Jesse appear to be in the clear, but Jesse has no money and Walt can't leave the room without Skyler's wondering where he is. Jesse's parents are still fed up with him and his drug use, so they order him out of the house—it turns out they own it, not Jesse. He finds himself without a place to stay or any friends who will put him up for the night. He ends up tracking down his RV and spends the night in it. Walt's overly correct behavior sets Skyler off on a binge of not telling him anything about what she is up to or whom she is seeing. She is fed up with Walt's behavior and wants to know what is really going on.

Sunday, April 5th, 2009

s2e5: Breakage

Walt continues his treatment and is starting to feel better but is concerned at the growing medical bills. Jesse begins to re-establish himself, paying off his debts and getting a new place to live. He develops an interest in his new next-door neighbor and landlord Jane Margolis. Walt and Jesse soon rev up the RV and are cooking again. Jesse's not keen on selling the stuff on the street and suggests he and Walt take over Tuco's role as a distributor. Hank and the DEA have come across the name Heisenberg and aren't sure if he is real or just an urban legend. Hank is promoted and soon appointed to a tri-state drug task force, however he may have health issues of his own. Skinny Pete (one of Jesse's dealers) has been ripped off by a drug-addicted couple, and Walt has made it plain to Jesse that unless he does something about it, word will get around pretty quickly that Jesse and his crew are an easy mark.

Sunday, April 12th, 2009

s2e6: Peekaboo

Jesse decides to confront the couple who ripped off Skinny Pete, but he soon realizes that he isn't a very effective enforcer, and soon finds himself in over his head. Walt goes back to work, but not all is going smoothly. Walt's story starts to unravel when Skyler gets a call from Gretchen Schwartz and Skyler thanks her for paying for Walt's treatment. Gretchen doesn't reveal the truth, but Walt's bitterness at their past relationship—personal and business—comes out. Jesse has been overpowered and held hostage by the drug-addicted couple, but the female addict kills her partner, Spooge, by unbalancing a stolen ATM onto his head in retaliation for his repeatedly calling her a "skank" and in order to take the meth in his pocket. Jesse calls the police and flees the scene.

Sunday, April 19th, 2009

s2e7: Negro y Azul

Walt has trouble getting in touch with Jesse, who's been avoiding him since his encounter with Spooge. Jesse is also not providing product to his dealers, so Walt arranges to deliver it. He learns that the word on the street is that Jesse killed Spooge and, due to his new reputation as a cold-blooded killer, they're having no problem at all collecting payment. Walt decides the time has come to expand their territory and put Jesse's new reputation to good use. Skyler decides to get a job and goes back to her old employer. Hank starts his new job on the task force. He has told his wife Marie it's just a desk job, but he is on the front lines and very soon learns just how dangerous it can be.

Sunday, April 26th, 2009

s2e8: Better Call Saul

Walt and Jesse have yet another problem to deal with when one of their dealers, Jesse's friend Badger, is arrested by the Albuquerque police. They end up hiring a shady lawyer, Saul Goodman, who has a unique way of ensuring that Badger gets off with a light sentence without having to give away Jesse or Walt's identity. As Walt learns however, it may come at a very high price. Following the bombing in Juarez, Hank returns to his old job as a DEA Agent and is suffering from posttraumatic stress disorder. He puts on a brave face but is having trouble just getting out of bed in the morning. Walt decides to cheer him up and tells him to move on. One day Saul meets Walt at the school and offers his services as an adviser for a cut of the profit.

Sunday, May 3rd, 2009

s2e9: 4 Days Out

Walt is convinced that his medical condition is deteriorating. He continues to have coughing fits and is now coughing up blood. After his attorney/adviser Saul crunches the numbers, Walt realizes that there isn't much money left for his family. With an excuse of meeting his mother, he and Jesse set off for the desert for a marathon cooking session over an extended weekend. Jesse continues to cause trouble for them, this time by leaving the keys in the ignition and inadvertently draining the RV's battery. They find themselves stuck in the middle of the desert, cold and without food and water. Walt's knowledge of chemistry again saves the day.

Sunday, May 10th, 2009

s2e10: Over

Despite the good news about his condition, Walt is feeling out of sorts and is generally unhappy, verging on anger. Skyler decides to throw a party to celebrate the news and thank all of their friends for their support, but Walt gets drunk and then into an argument with Hank that puts a damper on things. He is embarrassed about his behavior and tries to make amends all around, but it's proving to be a challenge. He tries to channel his energies but eventually realizes what the problem is. Walt also tells Jesse the good news and tells him that he is finished with their little enterprise. Jesse's relationship with Jane continues to grow, but he is taken aback when her father drops in to see her and she doesn't introduce him as her boyfriend. The ensuing confrontation clarifies their relationship.

Sunday, May 17th, 2009

s2e11: Mandala

After one of their dealers is murdered by a rival gang, Saul proposes new distribution method for Walt and Jesse's product. Under stress, Jesse tells Jane what he does. Saul puts Walt in touch with a meth distributor named Gus, who agrees to purchase Walt's product. However, Gus expresses concern about Jesse's drug problem, which has escalated into heroin use due to Jane's relapse. Skyler finds out that her boss at work, Ted, has been stealing from the firm, but due to their past relationship, she decides not to report it. Walt receives a large offer for the short-notice delivery of the remainder of their inventory, but at the same time receives a call from Skyler, notifying him of her imminent labor.

Sunday, May 24th, 2009

s2e12: Phoenix

Walt delivers the inventory in time, but misses his daughter's birth. Jesse confronts Walt about his share of the payment, but Walt refuses to disburse the funds until Jesse can prove his sobriety. Jesse and Jane's addiction is discovered by Jane's father, Donald, who agrees to give her one day to settle her affairs before going to rehab. In an effort to minimize the cost of Walt's upcoming surgery, Walt Jr. sets up a website to gather donations for his father's medical expenses. It is quickly used by Saul as a way to forward Walt's earnings without raising suspicion. After discovering Jesse's payday, Jane blackmails Walt into delivering Jesse's share. By chance, Walt goes to a bar and meets Jane's father. Later, Walt returns to Jesse's to attempt to make amends and to help him break his addiction. He finds Jesse and Jane passed out in bed after a drug binge, both lying on their sides. He tries to shake Jesse conscious and as he does so, Jane flops over onto her back. Jane vomits and begins to suffocate. Walt does nothing to help and lets her die.

Sunday, May 31st, 2009

s2e13: ABQ

Jesse awakens, discovers Jane is dead, and contacts Walt. Walt contacts Saul, who sends his PI/cleaner Mike (Jonathan Banks) to mitigate Jesse's involvement with Jane's death. Thinking Jane's death was his fault, Jesse gets depressed and runs away. After finding him in a crack house, Walter takes Jesse to rehab. Walt's funds are funneled into his son's website, which attracts the attention of the media, causing Walt to be overcome with guilt. Walt's secretive behavior is made prominent once again when he accidentally references a second cell phone while under the initial effects of anesthesia moments before his surgery. This prompts Skyler to investigate deeper, thereby revealing many of Walt's lies, which spurs her to leave him. Jane's father, an air traffic controller, distraught from his daughter's death, causes a mid-air collision, resulting in debris and human remains raining down onto the Whites' residence, as well as the rest of Albuquerque.
Season 3
Sunday, March 21st, 2010

s3e1: No Mas

Walt faces a new threat on a new front and deals with an increasingly angry Skyler, who must consider what to do next with her life and the kids'. Meanwhile, Jesse comes face-to-face with some startling self-revelations.

Sunday, March 28th, 2010

s3e2: Caballo Sin Nombre

Despite ever-increasing tension between Walt and Skyler, he pulls out all the stops in an effort to reconcile with the family. Elsewhere, Saul is instrumental in getting Jesse involved in a most-unusual investment opportunity.

Sunday, April 4th, 2010

s3e3: I.F.T.

Walt ignores Skyler's demands, furthering the rift between them and pushing her to break bad. Still suffering from panic and anxiety attacks, Hank crosses a line at work.

Sunday, April 11th, 2010

s3e4: Green Light

Walt loses control as he reacts to Skyler's news, endangering his job and relationships with Saul and Jesse. Hank throws himself into his blue meth investigation. Jesse enacts a new plan.

Sunday, April 18th, 2010

s3e5: Mas

Gus tries to lure Walt back into the business with a high-tech superlab. Skyler doubts her new relationship. Marie is concerned for Hank's well-being. Hank finds a link between the R.V. and Jesse.

Sunday, April 25th, 2010

s3e6: Sunset

Walt settles into his new surroundings; Walt, Jr. wants answers about his parents' relationship; Hank's investigation causes problems for Walt and Jesse.

Sunday, May 2nd, 2010

s3e7: One Minute

Hank's increasing volatility forces a confrontation with Jesse and trouble at work. Skyler pressures Walt to make a deal. Gus' actions have severe consequences.

Sunday, May 9th, 2010

s3e8: I See You

The family waits for news about Hank. While Jesse covers at the lab, Walt attempts to placate Gus. After witnessing a disturbing outburst, Walt worries he and his family are in danger.

Sunday, May 16th, 2010

s3e9: Kafkaesque

As Hank's hospital bills stack up, Skyler hatches a plan. Walt and Gus come to a better understanding. Jesse, looking for more independence, pursues a new opportunity.

Sunday, May 23rd, 2010

s3e10: Fly

Walt becomes obsessed with a contaminant in the lab and refuses to finish the cook until it is eliminated. A frustrated Jesse attempts to get Walt back on track.

Sunday, May 30th, 2010

s3e11: Abiquiu

Skyler gets involved with Walt's business while Hank struggles with recovery. Jesse has a startling discovery after meeting a girl at group therapy.

Sunday, June 6th, 2010

s3e12: Half Measures

Against Walt's advice, Jesse lashes out. Fearing for Jesse's safety, Walt takes drastic action to intervene. A tragic event leads to a shocking confrontation.

Sunday, June 13th, 2010

s3e13: Full Measure

With Jesse on the run and Mike in hot pursuit, Walt negotiates a bargain with Gus and concocts a disturbing plan to provide for his and Jesse's safety.
Season 4
Sunday, July 17th, 2011

s4e1: Box Cutter

Walt and Jesse's lives hang in the balance as Gus takes some expensive steps to guarantee that he continues to be supplied with a "pure" product. Meanwhile, Skyler is concerned about Walt's whereabouts, and Marie puts on a happy face to deal with a depressed Hank.

Sunday, July 24th, 2011

s4e2: Thirty-Eight Snub

Walt attempts to form a new alliance. Skyler pushes towards a new business opportunity in hopes of protecting the family.

Sunday, July 31st, 2011

s4e3: Open House

Skyler asks for Saul's help. Meanwhile, Marie returns to an old pastime and a friend asks Hank for help.

Sunday, August 7th, 2011

s4e4: Bullet Points

Walt and Skyler plan to tell Hank that they paid for the car wash with illicit gambling winnings. Hank reveals to Walt that Gale was the cook of the high-grade blue meth. Jesse's detached complacence leads to over seventy-thousand dollars in cash being stolen from his house. Mike reports to Gus that Jesse has become "incautious" and something needs to be done.

Sunday, August 14th, 2011

s4e5: Shotgun

Mike takes Jesse on collections, and assures Walt that he is safe. Walt and Skyler purchase the car wash, after which Skyler asks Walt to move back into the house. When Hank suggests to an intoxicated Walt that Gale was a genius, Walt tells Hank that he believes Gale more likely copied another's work. Because of that Hank's pursuit of the case is renewed, and he finds a Los Pollos Hermanos napkin in Gale's belongings.

Sunday, August 21st, 2011

s4e6: Cornered

Walt buys a flashy new car for Walt Jr. against Skyler's wishes to protect their cover story. Walt tells Jesse that he suspects Gus is driving a wedge between him and Jesse.

Sunday, August 28th, 2011

s4e7: Problem Dog

Skyler is unsure how she'll launder Walt's meth-lab earnings through the car wash successfully. Walt convinces Jesse to kill Gus and concocts a ricin poison in the lab that Jesse then hides in one of his cigarettes. Jesse hesitates and doesn't poison Gus. The cartel offers Gus an ultimatum, which he rejects. Jesse returns to the 12-step group. Hank visits Gus' restaurant with Walt Jr. and obtains Gus' fingerprints from a cup.

Sunday, September 4th, 2011

s4e8: Hermanos

Skyler develops an unusual solution to her money troubles. Hank enlists Walt to investigate a theory. Walt's impatience with Jesse grows.

Sunday, September 11th, 2011

s4e9: Bug

Walt drives to Gus's restaurant with an eager Hank to retrieve the tracking bug he left on Gus's car. Hank's suspicious when the bug only shows Gus driving between home and work

Sunday, September 18th, 2011

s4e10: Salud

Walt's family worries when he doesn't show up for Walt Jr's birthday. Jesse puts his lab skills to the test without Mr White's help.

Sunday, September 25th, 2011

s4e11: Crawl Space

Walt takes drastic action to protect his secret and Gus. Skyler's efforts to solve Ted's financial problems hit a wall.

Sunday, October 2nd, 2011

s4e12: End Times

Hank pushes Gomez to pursue one last lead, while Walt struggles to protect the family. Jesse gets alarming news and rushes to meet with Mr. White.

Sunday, October 9th, 2011

s4e13: Face Off

A showdown with Gus occurs. Walt finds an unexpected ally through Saul's help.
Season 0
Tuesday, February 17th, 2009

s0e1: Good Cop Bad Cop

Hank and Marie try to spice up their relationship on Valentine's Day.
Season 5
Sunday, July 15th, 2012

s5e1: Live Free or Die

As Walt deals with the aftermath of the Casa Tranquila explosion, Hank works to wrap up his investigation of Gus' empire.

Sunday, July 22nd, 2012

s5e2: Madrigal

Walt and Jesse pursue an unlikely business partner. The DEA filters through various leads in hopes of finding something. A German businessman commits suicide to evade questioning by DEA about his ties to Gus Fring

Sunday, July 29th, 2012

s5e3: Hazard Pay

Walt, Jessie, and Mike's business starts back up. Walt finds an ingenious solution to the problem of where to set up the lab, Jesse makes a decision about his personal life, and Mike visits each of his crew to ensure that they stay mum, even with the feds pressuring them. Hank goes back to work. Skyler remains numb, and Marie badgers her about what's wrong. Walt is in for a surprise when Mike divides the money from the first cook.

Sunday, August 5th, 2012

s5e4: Fifty-One

Walt celebrates another birthday. Skyler contemplates her options, and an associate puts a crimp in Walt and Jesse's business strategy.

Sunday, August 12th, 2012

s5e5: Dead Freight

Walt's team gets creative to obtain the methylamine they need to continue their operation.

Sunday, August 19th, 2012

s5e6: Buyout

Walter, Jesse, Mike and their associate deal with the aftermath of the methyl-amine train heist. Mike and Jesse begin to have doubts about their ability to continue in the meth business. Walter invites Jesse to his home to talk Walter tells Jesse that Skyler sent their children to live elsewhere and is waiting for his "cancer to come back", and that that he intends to continue cooking meth at all costs, because "the business" is all he has left.

Sunday, August 26th, 2012

s5e7: Say My Name

Walt takes control of business matters. Mike deals with the consequences of his actions. The DEA takes down Mike's lawyer losing everyones money to the DEA again but Walter finds out and warns Mike. Walter being the only person not being watched by the DEA agrees to take Mike his emergency getaway bag.

Sunday, September 2nd, 2012

s5e8: Gliding Over All

Walt ties up loose ends nine prisoners and Mike's lawyer including at least one ready to flip for Hank.

Sunday, August 11th, 2013

s5e9: Blood Money

As Walt and Jesse adjust to life outside of the business, Hank grapples with a troubling lead.
Season 0
not specified

s0e8: Better Call Saul - Carl B.
Season 5
Sunday, August 18th, 2013

s5e10: Buried

While Skyler's past catches up with her, Walt covers his tracks. Jesse continues to struggle with his guilt.

Sunday, August 25th, 2013

s5e11: Confessions

Jesse decides to make a change, while Walt and Skyler try to deal with an unexpected demand.

Sunday, September 1st, 2013

s5e12: Rabid Dog

An unusual strategy starts to bear fruit, while plans are set in motion that could change everything.

Sunday, September 8th, 2013

s5e13: To'hajiilee

Things heat up for Walt in unexpected ways.

Sunday, September 15th, 2013

s5e14: Ozymandias

Everyone copes with radically changed circumstances.

Sunday, September 22nd, 2013

s5e15: Granite State

Events set in motion long ago move toward a conclusion.

Sunday, September 29th, 2013

s5e16: Felina

All bad things must come to an end.
Season 0
not specified

s0e9: Better Call Saul - Saul Better Help My Mom

not specified

s0e10: Better Call Saul - Badger

not specified

s0e11: Better Call Saul - Tiger Trouble

not specified

s0e12: Better Call Saul - Wayfarer 515

not specified

s0e13: Team S.C.I.E.N.C.E

not specified

s0e14: Better Call Saul - Wendy

not specified

s0e15: Better Call Saul - Who Can You Sue

not specified

s0e16: Letters to Saul - Did I Murder an Old Man

not specified

s0e17: Live Saul Cam