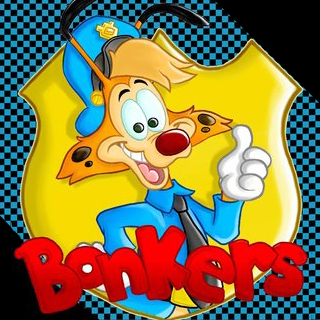 Season 1
Tuesday, September 7th, 1993

s1e2: Hear No Bonkers, See No Bonkers

Wednesday, September 8th, 1993

s1e3: Out Of Sight, Out Of Toon

Thursday, September 9th, 1993

s1e4: Is Toon Fur Really Warm?

Friday, September 10th, 1993

s1e5: Calling All Cars

Toon tow-truck Ma Parker charms Lucky into letting her in the Police Garage, where she steals police car parts.

Monday, September 13th, 1993

s1e6: Fall Apart Bomb Squad

A crazy Toon Bomb who wants to be a stand-up comic terrorizes the city, and Lucky and Bonkers take the case with their new explosives expert, Fall-Apart Rabbit.
Season 0
Saturday, September 4th, 1993

s0e1: Going Bonkers Part 1

Saturday, September 4th, 1993

s0e2: Going Bonkers Part 2
Season 1
Monday, September 6th, 1993

s1e1: In The Bag

A toon handbag is stealing everything from the ""D"" from the ""Hollywood"" sign to Lucky's pants.

Tuesday, September 14th, 1993

s1e7: In Toons We Trust

Lucky arrests giant toon bird Baby Hubert for a string of jewel thefts, but Bonkers believes he's innocent. Then Lucky suspects that Bonkers is in on the thefts, too.

Wednesday, September 15th, 1993

s1e8: Never Cry Pig

The Three Pigs try to pin their badly-constructed houses collapsing on the Mean Old Wolf.

Thursday, September 16th, 1993

s1e9: Hamster Houseguest

Bonkers and Lucky reluctantly help out the toon team, Tiny the Hamster and Mister Big, who are down on their luck.

Friday, September 17th, 1993

s1e10: A Cheap Sheep Sweep

Things go amuck in Toon Town as a sneaky wolf kidnaps toons, brings them to his sheep factory, and turns them into stuffed sheep. But soon enough, Bonkers gets kidnapped too, and it's up to Lucky to save him.

Monday, September 20th, 1993

s1e11: The Day The Toon Stood Still

Pops, who controls toons' sense of timing, gets fed up with being taken for granted and throws toon time out of whack.

Tuesday, September 21st, 1993

s1e12: Weather Or Not

Lucky gets annoyed when the weather reports are all wrong when he realizes that they were showing reruns because the weather toons are missing.

Wednesday, September 22nd, 1993

s1e13: Basic Spraining

Criminal mastermind Mackey McSlime sets up a phony police training academy as a trap for Bonkers and Lucky.

Thursday, September 23rd, 1993

s1e14: Once In A Blue Toon

Bonkers and Lucky try to reform the Louse, a toon monster who does nothing but eat everything in sight.

Friday, September 24th, 1993

s1e15: Luna-Toons

Aliens send Cadet Quark to take over the Earth, but no one will take him seriously because everyone thinks he's just a toon.

Monday, September 27th, 1993

s1e16: Time Wounds All Heels

Max Coody is released from prison, and wants to meet the cop who sent him up twenty years ago: Lucky Piquel.

Tuesday, September 28th, 1993

s1e17: Poltertoon

A ghost reeks havoc in the Piquel household, just on the day the Kanifky's invite themselves over for dinner.

Wednesday, September 29th, 1993

s1e18: Hand Over The Dough

Bonkers and Lucky try to determine who's blowing up the delivery trucks of the Butterman Bakery company.

Thursday, September 30th, 1993

s1e19: Ski Patrol / Bonkers in Space / The Rubber Room Song / Draining Cats and Dogs

This is the first compilation episode of Bonkers's ""Raw Toonage"" shorts. There's the title routine (lifted from ""Casabonkers"", complete with a quick glimpse of Miranda), along with the following ""He's Bonkers"" shorts from ""Raw Toonage"". ""Ski Patrol"": Ambulance drivers Bonkers and Jitters rush to help skier Grumbles, who's injured on the slopes. ""Bonkers in Space"": In the future, Bonkers and Jitters work at spaceship-wash outfit in a space station. But Jitters accidentally gets cast into space while Bonkers puts the moves on Fawn. ""Draining Cats and Dogs"": Plumbers Bonkers and Jitters rescue Fawn when her pipes burst and flood her house.

Friday, October 1st, 1993

s1e20: Tune Pig

For their anniversary, Lucky takes Dil to see her favorite crooner. What they don't know is that the crooner has a secret.
Season 2
Monday, October 4th, 1993

s2e1: New Partners On The Block

When Lucky Piquel is believed to have been killed in an explosion, it's up to Bonkers and newfound partner Miranda Wright to get to the bottom of things.

Tuesday, October 5th, 1993

s2e2: Witless For The Prosecution

Miranda can testify against publisher Lillith DuPrave at her counterfeiting trial. So, she hides out in Bonkers's house until the trial. Bonkers and his friends decide to annoy her by smothering her with attention.

Friday, October 8th, 1993

s2e3: Do Toons Dream Of Animated Sheep?

Baa-bara, one of the toon sheep that Bonkers counts to get to sleep, gets fed up with her dead-end life and starts stealing Bonkers's dreams for herself.

Tuesday, October 12th, 1993

s2e4: Quibbling Rivalry

Miranda's sister, TV reporter Shirley Wright, makes Bonkers look bad in a series of reports.

Thursday, October 14th, 1993

s2e5: Springtime For The Iguana

After acquiring a role in a live-action flick, Bonkers' arrongant actor pal Roderick Lizzard is framed for an arson fire at the studio.

Friday, October 15th, 1993

s2e6: Casa-bonkers

Bonkers's old flame, Catia Legs Go-on-a-lot, gets him involved in a fight between Flaps and Al Vermin over the Maltese Beenie.

Tuesday, October 19th, 1993

s2e7: Love Stuck

Toon porcupine Winston Prickly kidnaps bachelors from the game show ""Love Corral"", when they won't let him on the show. In investigating the kidnappings, Bonkers falls madly in love with human bachelorette Rita Love-loss.

Thursday, October 21st, 1993

s2e8: Of Mice And Menace

Bonkers takes in three toon mice left on his doorstep, not knowing that they're the accomplices of Flaps, the criminal elephant with a fixation on Dumbo.

Tuesday, October 26th, 1993

s2e9: Dog Day Aftertoon

When the ""Pits and Smarts"" series is cancelled, Pits the dog holds a bank full of people hostage with a toon bomb, demanding a new series.

Thursday, October 28th, 1993

s2e10: The 29th Page

Alowysius Vermin and his gang search for the key clue to a mobster's loot, hidden in the 29th page of some book.

Friday, October 29th, 1993

s2e11: Cartoon Cornered

Sgt. Grating gets lost in the sets of Wackytoons Studio when he gets locked in by Bucky Buzzsaw. Then Wild Man Wyatt breaks out of prison and comes after Grating.
Season 3
Monday, November 1st, 1993

s3e1: The Good, The Bad, And The Kanifky

The mayor busts Chief Kanifky all the way down to the toon division.

Tuesday, November 2nd, 1993

s3e2: I Oughta Be In Toons

Mickey Mouse, the most famous Toon in the world is replaced by a human wannabe in a rat suit by conniving Mr. Corkscrew, with Lucky's unwitting assistance?? Not if Mickey-admiring Bonkers has anything to say about it.

Wednesday, November 3rd, 1993

s3e3: Frame That Toon

Bonkers helps a toon saxophone find her brother, Alto the double bass. But they find him helping a pickpocket rip off tourists.

Thursday, November 4th, 1993

s3e4: A Wooly Bully

Mammoth Mammoth turns to crime after losing his job as a superhero on a TV show.

Friday, November 5th, 1993

s3e5: Stay Tooned

Bonkers loses a record book that's a key piece of evidence against a mobster, and he suspects everyone around him of stealing it.

Wednesday, November 10th, 1993

s3e6: Get Me a Pizza / O Cartoon! My Cartoon! / Spatula Party / Sheerluck Bonkers

In the second ""Raw Toonage"" compilation episode, Bonkers recites his own version of ""Oh, Captain, my Captain"", and Fall-Apart acts it out. ""Get Me a Pizza (Hold the Minefield)"": A black-and-white newsreel tells of how World War I hero Bonkers bravely delivered pizzas to our boys in the front. ""Spatula Party"": Bonkers new neighbor Fawn Deer wants to borrow a spatula, and so Bonkers scurries all around the neighborhood trying to get one. ""Sheerluck Bonkers"": Victorian era detective Sheerluck Bonkers tries to find out who's stolen a priceless pendant from Princess Fawn of Doe-mania.

Thursday, November 11th, 1993

s3e7: Color Me Piquel

Two black-and-white toons steal color from other toons to colorize them-selves.

Friday, November 12th, 1993

s3e8: Stand-In Dad

On a kid's television show, an evil executive is running the show, and stealing all the audience's pocket change by sucking it into a secret vacum. But when the host's ant costume is ripped off of him and the robot vacum sends him running, Lucky has to go undercover and audition for the job of being the host of the show wearing the ant suit. But Lucky's family get's in the way too; his daughter is a fan of the show, and when Lucky forgets her birthday, he wears the ant suit and pretends to be the host of the show to make her happy.

Monday, November 15th, 1993

s3e9: Cereal Surreal

Three thuggish toon elves frame spokesmen Slap, Sniffle, and Plop for stealing cereal box prizes so they can take their jobs.

Tuesday, November 16th, 1993

s3e10: Petal to the Metal / If / Dogzapoppin' / Trail Mix Bonkers

This time, Bonkers does his version of Rudyard Kipling's ""If"", with Jitters illustrating. ""Petal to the Metal"": Delivery boy Bonkers must deliver a dozen roses to Fawn in four minutes or he's through. ""Dogzapoppin'"": Bonkers has to get an important package to his boss, Grumbles, but he can't get past Grumble's nasty dog. ""TrailMix Bonkers"": Pony express rider TrailMix Bonkers delivers two money plates to California and fights the Grumbles Kid.

Wednesday, November 17th, 1993

s3e11: The Dimming

Lucky takes a vacation to a ""haunted mountain resort"" to pursue his dream of becoming a horror writer. Bonkers sends fall-apart and the grapevine to scare him, but then a ghost shows up.

Thursday, November 18th, 1993

s3e12: Toon With No Name

A crime spree mirrors an old-west cartoon Bonkers once made.

Friday, November 19th, 1993

s3e13: Get Wacky

Bonkers faces off Wacky Weasel, the cunningest toon villain that ever existed.

Monday, November 22nd, 1993

s3e14: The Final Review

Bonkers and Lucky protect Charles Quibble, a TV critic who panned Bonkers's old show from an assassin.

Wednesday, November 24th, 1993

s3e15: Quest for Firewood / Goldijitters and the 3 Bobcats / Get Me to the Church on Time / Gobble Gobble Bonkers

In the last ""Raw Toonage"" compilation, Goldijitters is just about to sit down to a tofu dinner when the Three Bobcats barge in to annoy her/him. ""Quest for Firewood"": In prehistoric times, cavecat Bonkers searches for firewood for his tribe. ""Gobble, Gobble Bonkers"": Jitters lets Bonkers take one his beloved turkeys to Grumbles for Thanksgiving dinner, not realizing that it's the dinner. ""Get Me to the Church on Time"": Bonkers and Jitters have a difficult time getting to Jitters's wedding with Tanya.

Friday, November 26th, 1993

s3e16: Seems Like Old Toons

Marilyn helps a toon team of two bees and a bear make one last cartoon, before their studio is torn down.

Saturday, November 27th, 1993

s3e17: Miracle At The 34th Precinct

Santa Claus is reported missing in a freak blizzard over Southern California. Two of his elves recruit Lucky as a substitute.

Monday, November 29th, 1993

s3e18: The Comeback Kid

Two con artists use Lucky to steal an huge diamond.

Monday, February 7th, 1994

s3e19: The Greatest Story Never Told

Toon camera Zoom and microphone Boom trash Lucky in their TV show on cops.

Wednesday, February 9th, 1994

s3e20: Fall-Apart Land

Lucky and Fall-Apart dream of running a theme park. So Fall-Apart buys and renovates a park from a crooked real-estate agent.

Monday, February 14th, 1994

s3e21: Imagine That

A toon pencil's spreading toon grafitti all over Hollywood. Marilyn goes after him, into a surreal toon world where he hides out.

Thursday, February 17th, 1994

s3e22: A Fine Kettle Of Toons

Lucky secretly plans a surprise party for the Chief for his 40th. anniversary on the force. But the Chief wants to know what he's up to, so he teams up with Fall-Apart to spy on Bonkers and Lucky.

Wednesday, February 23rd, 1994

s3e23: Stressed To Kill

Lucky suffers from severe stress in trying to nab an art thief.
Season 4
Sunday, February 28th, 1993

s4e1: Trains, Toons, And Toon Trains

Bonkers and Miranda are sent on a train to interrogate a criminal dubbed ""stiff lips"", who knows a secret formula, but others are interested in the information also.

Sunday, March 7th, 1993

s4e2: Tokyo Bonkers

Bonkers and Miranda fly to Tokyo, guarding the evil Z-Bot, when they run into the evil ninja kitties that free him.

Sunday, March 14th, 1993

s4e3: The Stork Exchange

Sleazy Lilith DuPrave kidnaps the storks who bring Toon babies, as part of a plot to smuggle a stolen weapon out of the country.

Sunday, March 21st, 1993

s4e4: Bobcat Fever

Sunday, April 4th, 1993

s4e5: The Toon That Ate Hollywood

After an unfunny clown steals Ludwig Von Drake's humorizer, he terrorizes Hollywood by stealing the humor of toons (including Bonkers), and it's up to Miranda's sense of humor to thwart his plan.

Sunday, April 11th, 1993

s4e6: When The Spirit Moves You

Sunday, April 18th, 1993

s4e7: Fistful Of Anvils

While babysitting Miranda's nephew Timmy, Bonkers tells an old west story starring ""Trail Mix Bonkers"" to coerce the youngster to go to sleep.

Sunday, April 25th, 1993

s4e8: What You Read Is What You Get

Sunday, June 6th, 1993

s4e9: Toon For A Day

Sgt. Grating gets hit on the head, and thinks he's toon beaver Bucky Buzzsaw. At the same time, Wild Man Wyatt busts out of jail to seek revenge on the seargant.