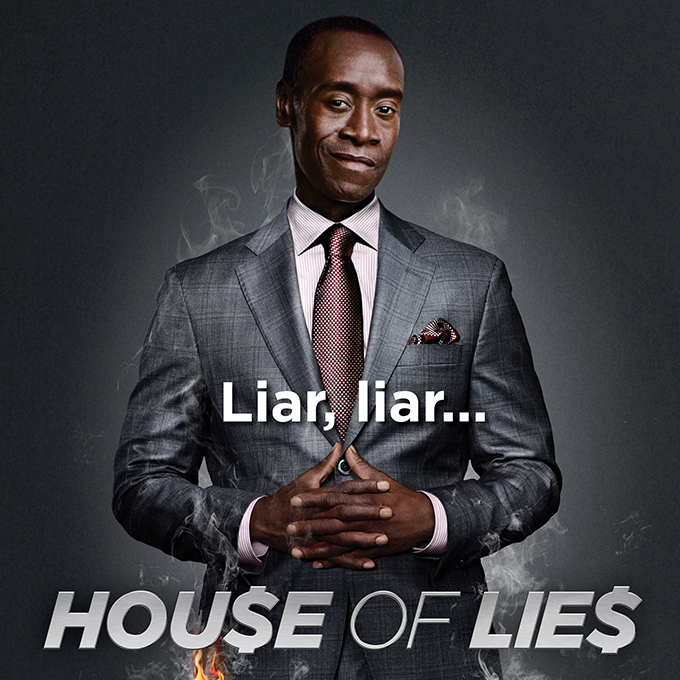 Season 1
Sunday, January 8th, 2012

s1e1: Gods of Dangerous Financial Instruments

Marty and The Pod consult for a mega-bank that wants to justify their year-end bonuses as the financial world around them burns. Back at home, Marty gets some unwanted advice on how to raise his son.
Season 2
Sunday, January 20th, 2013

s2e2: When Dinosaurs Ruled the Planet

In Las Vegas to help reinvigorate an aging casino, Marty meets the firm's newest consultant, a woman who was his biggest rival in business school. Meanwhile, Clyde is seduced by the Vegas nightlife; and Jeannie discovers a passive-aggressive adversary in Galweather Stearn's interim CEO.

Sunday, January 27th, 2013

s2e3: Man-date

Marty and Clyde attempt to woo the business of new Las Vegas casino king, Michael Carlson, a maverick self-made millionaire who notoriously hates consultants. Meanwhile, Jeannie tries to assess how big a threat Tamara is by suggesting the two of them enjoy a spa day together. Monica makes an unlikely connection with her personal vegan chef, Tessa.

Sunday, February 10th, 2013

s2e4: Damonschildren.org

Matt Damon (as himself) hires the firm to find a charity to enhance his image, but Marty soon realizes he may have to dig deeper than expected in order to keep the actor as a client. Meanwhile, Jeannie finds time to spend with Roscoe; and Tessa grills Monica about their status.

Sunday, February 17th, 2013

s2e5: Sincerity is an Easy Disguise in This Business

Marty's militant younger brother pays a surprise visit, while Doug and Jeannie work an assignment for an online-dating company. Later, Marty hits it off with a fellow consultant.

Sunday, February 24th, 2013

s2e6: Family Values

Marty's plan to spend time with Roscoe conflicts with an executive retreat, while Doug sees his fellow Pod members in a different light after introducing them to his new girlfriend. Later, Tamara offers an intriguing revelation about her personal life, piquing Marty's interest.

Sunday, March 3rd, 2013

s2e7: The Runner Stumbles

Marty faces a moral dilemma when he discovers evidence of a banking client's role in a cover-up scheme. Jeannie attempts damage control with the Pod when an ex-boyfriend posts something shocking on the web.

Sunday, March 10th, 2013

s2e8: Wonders of the World

Sunday, March 17th, 2013

s2e9: Liability

Doug and Clyde give depositions in a wrongful-death suit filed against a telecommunications conglomerate, while a casino mogul impedes Marty's efforts to close a deal. Later, Monica unravels when Roscoe moves out

Sunday, March 24th, 2013

s2e10: All In
Season 1
Sunday, March 4th, 2012

s1e8: Veritas

Marty and the Pod participate in Galweather-Stearn's annual recruiting event, where the best and brightest from Harvard Business School are wined and dined. Marty takes the sole black recruit in the predominantly white affair under his wing; Doug tries to prove to Clyde that he can coach any of the potential candidates onto "the list;" Jeannie grills a sexy, flirtatious recruit to see if she's all style and no substance, but a secret of Jeannie's is revealed that makes her stance somewhat hypocritical.
Season 2
Sunday, January 13th, 2013

s2e1: Stochasticity

In the Season 2 premiere, the aftermath of the sexual-harassment scandal leaves Marty and his Pod adjusting to a new corporate culture at Galweather Stearn, where the interim CEO entrusts consummate closer Marty with sealing a big deal. Later, a boozy night on the town leaves Jeannie reeling, while Marty's relationship with Roscoe is in need of some repair.
Season 0
not specified

s0e12: season finale
Season 1
Sunday, January 15th, 2012

s1e2: Amsterdam

Marty and The Pod are sent to Phoenix to clean up a mess at a very powerful sports franchise caused by the impending divorce of its high-powered owners. Jeannie takes a dinner meeting with Derek, an old flame, but is deflated when she finds out his real intentions toward her. On the home front, Marty continues his personal war with Principal Gita over Roscoe's cross-dressing.

Sunday, January 22nd, 2012

s1e3: Microphallus

Marty arrives at the offices to find Greg Norbert there to announce the possible acquisition of Galweather by MetroCapital; the Pod flies to Indiana to consult for a beverage company, where Marty applies his management skills to turn a loss into a win; Clyde questions whether Doug really hooked up with a transvestite; Roscoe struggles with the confusing feelings of liking both a boy and a girl.

Sunday, January 29th, 2012

s1e4: Mini-Mogul

With Jeremiah out of town, Marty is forced to bring his son Roscoe to his next job in San Francisco; hoping for some quality time with his dad, Roscoe ends up spending it all with the Pod when Marty is forced to babysit Alex Katsnelson, the teenage CEO of a security software company. Meanwhile, Jeannie reacts to her recent engagement by having a tryst with Kurt, a tortured musician she randomly meets in a coffee house.

Sunday, February 5th, 2012

s1e5: Utah

Jeannie has to take charge of the Pod when the racist CEO of a motel chain has reservations about dealing with Marty. Meanwhile, Clyde hopes to hit it off with a lovely Mormon virgin; and when Monica finds she has some free time on her hands, she decides to spend it with Roscoe.

Sunday, February 12th, 2012

s1e6: Our Descent Into Los Angeles

Marty goes to war with his son's school when Roscoe is accused of sexual harassment for trying to kiss a boy. On the home front, Marty's personal life is further complicated when April, a stripper he met in New York, suddenly reappears. Meanwhile, Jeannie starts to get cold feet at the prospect of her upcoming wedding.

Sunday, February 19th, 2012

s1e7: Bareback Town

When the Pod goes to Washington D.C. to consult for a pharmaceutical company, Marty faces a challenge from April to stay monogamous on the road, which puts Jeannie in the position of having to "take one for the team" and fully satisfy a female client; Jeremiah reveals something serious to April, asking for her discretion until he can tell Marty himself; a jealous Monica drops a huge bombshell on Marty.

Sunday, March 11th, 2012

s1e9: Ouroboros

Marty and the Pod are put through the ringer by their arch-rival firm Kinsley-Johnson as part of the due diligence performed by MetroCapital for the pending merger; Jeannie does her best to keep Wes and the marriage at bay but fails to keep it a secret from Marty; Monica and Roscoe bond but Marty learns about Jeremiah's secret and receives shocking news from Monica.

Sunday, March 18th, 2012

s1e10: Prologue and Aftermath

Jeannie embarks on a gig to establish her own legend in the consulting world when she leads the Pod to her hometown on a mission to resurrect an ailing church; Marty enters into custody mediation with Monica but her powers of manipulation are in full force, threatening Marty's relationship with April.

Sunday, March 25th, 2012

s1e11: Business

Marty and "The Rainmaker" work together to put the kibosh on their firm's acquisition by MetroCapital but a back-stabbing turn of events leaves Marty and "The Rainmaker" mortal enemies instead of valued allies; in the aftermath of the news about April, Marty must deal with attitude from Roscoe.

Sunday, April 1st, 2012

s1e12: The Mayan Apocalypse

With the help of Greg Norbert, Marty and the Pod fight to pull off an eleventh-hour reprieve and stop the MetroCapital acquisition from happening; Jeannie makes a decision about marrying Wes; Marty's son Roscoe makes a life-altering choice of his own.
Season 2
Sunday, March 31st, 2013

s2e11: Hostile Takeover
Season 3
Sunday, January 12th, 2014

s3e1: Wreckage

Marty has started his own firm and the pod is disbanded. Jeannie is now in charge of her own pod at Galweather-Stearn and Clyde is working for Monica at the competition. With everything turned upside down, it's anyone's game and anyone's guess as to who will come out on top.

Sunday, March 16th, 2014

s3e9: Zhang

Marty and the Pod tour Lukas' old neighborhood; Monica seeks help; Lex embarrasses Roscoe.

Sunday, March 23rd, 2014

s3e10: Comeuppance

Jeannie gets help from an old friend on a government contract, but it creates an issue with Marty about their future with Dollahyde. Meanwhile, Clyde causes friction to develop between Monica and a client; and Doug makes a play for Caitlin.

Sunday, March 30th, 2014

s3e11: Together

Marty and Jeannie deal with the aftermath of a tragedy; Marty questions his friendship with Dre; Monica's new company faces trouble; Doug tries to reconcile with Sarah; Marissa makes a business decision.

Sunday, April 6th, 2014

s3e12: Joshua

Kaan & Associates receive a legal blow; Jeannie tries to fix things; Roscoe finds a constructive outlet.

Sunday, March 9th, 2014

s3e8: Brinkmanship

Marty and the team execute a plan to wrestle Marissa's family's media company away from her siblings. Meanwhile, Jeannie encourages Marty to let Clyde out of the doghouse; and Doug and Sarah get tested in their relationship.
Season 4
Sunday, January 11th, 2015

s4e1: At the End of the Day, Reality Wins

Sunday, April 5th, 2015

s4e12: It's a Box Inside a Box Inside a Box, Dipshit

Sunday, March 29th, 2015

s4e11: Everything's So Fucking Obvious, I'm Starting to Wonder Why We're Even Having This Conversation

Sunday, March 22nd, 2015

s4e10: Praise Money! Hallowed be Thy Name

Sunday, March 15th, 2015

s4e9: We're Going to Build a Mothership and Rule the Universe

Marty butts heads with a turnaround artist sent by Denna to grow K&A's business; Jeannie receives a dinner invitation to the Kaan home; Clyde reaches a breaking point with his father.

Sunday, March 1st, 2015

s4e7: The Next Olive Branch Goes Straight Up Your Ass

Trouble arises at Kaan and Associates when payment is not received from a consult. Meanwhile, Clyde gets a visit from his estranged father; Marty learns of Roscoe's entrepreneurial endeavors; and Jeannie pushes back to stay.

Sunday, February 1st, 2015

s4e4: We Can Always Just Overwhelm the Vagus Nerve with Another Sensation

When the Gage presentation falls apart, Marty comes up with a last-ditch plan that includes orchestrating a move that a volatile Ellis doesn't want. Jeannie has a less-than-encouraging meeting with a headhunter regarding her prospects in the job market. Doug petitions to join Clyde and Kelsey's new business venture.
Season 5
Sunday, April 17th, 2016

s5e2: Game Theory

Jeannie's boyfriend drops a bomb. Marty shows up at Doug's Dungeons & Dragons role-play game chasing potential new business; Clyde uncovers an issue.

Sunday, April 24th, 2016

s5e3: Holacracy

Marty and the Pod consult for a company that is trying an unconventional management style; Doug considers romance with a new client; Clyde faces a breakup.